Coupons That You Can Use While Traveling in Japan
COUPONS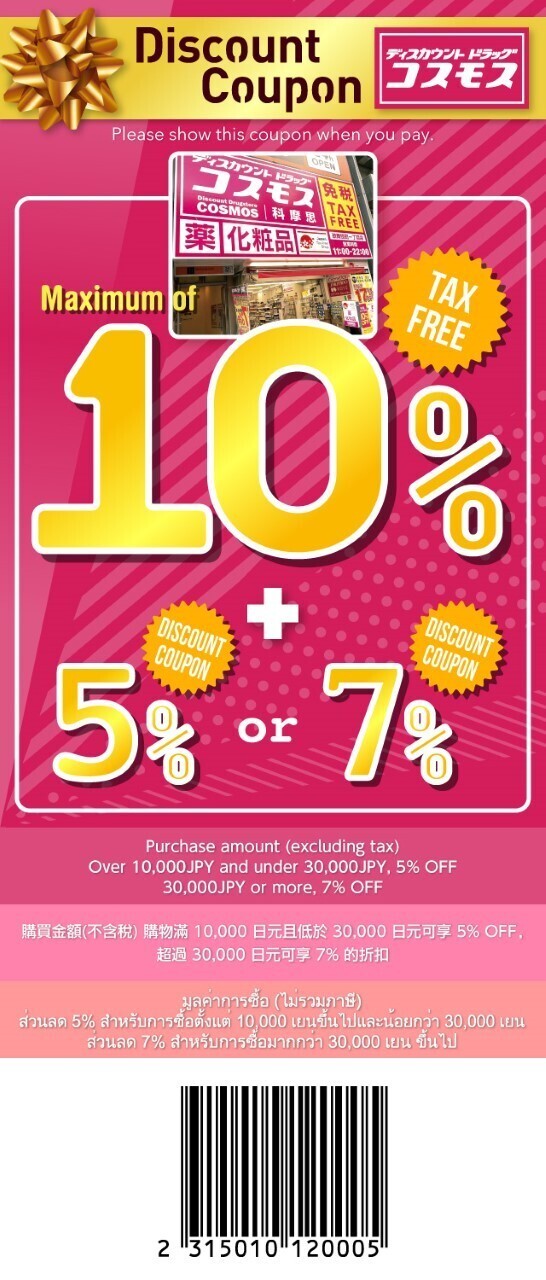 Purchase amount (excluding tax)
Over 10,000JPY and under 30,000JPY, 5% OFF
30,000JPY or more, 7% OFF
※The Japanese coupon description for coupon recipients is listed at the bottom of this page.
Subject/Terms of use
This coupon is only avalible in 6 branch store as below: Kabukicho 1-chome Store, Dotonbori Store, Hiroo Station Store, Tenjin Daimarumae Store, Nishi-kasai Station Store, Shinsaibashi Minami Store.
5% discount on sales amount for purchasing of 10,000JPY or more, 7% discount in sales amount for purchasing 30,000JPY or more
Cigarettes and alcoholic beverages are not eligible for the discount.
The coupon is only can be used once.
This coupon cannot be used with other discount coupon at the same time.
Please show your passport and the coupon when you checkout.
Only tax free users are eligible for the discount.
If there is no any pharmacist here, class 1 drugs cannot be sold.

Coupon valid through
Dec 31, 2023
How to use
Please show this coupon to the staff when you pay.
Terms of Use
How to use coupons
When using this coupon, have the coupon ready on your smartphone and please show it to the staff.
Depending on the coupon the products it is valid for and the expiration dates may vary. For details, please check the coupon screen or the page with the coupon code.
FUN! JAPAN will not be held responsible if there are problems between the store and the members using the coupon.
Accounts which have had violations with FUN! JAPAN agreements in the past may have their coupon usage suspended.
Coupon details and validity periods may be subject to change or suspension without notice.
Contact
For support regarding the contents lists on a coupon, please inquire the shop listed on the publication.
クーポンご対応者様向け
割引内容:5%Off
対象者・利用条件:
ご利用可能な店舗:歌舞伎町1丁目店、道頓堀店、広尾駅店、天神大丸前店、西葛西駅店、心斎橋南店六店舗
10000円以上の購入で売上金額の5%、30000円以上の購入で売上金額の7%の割引
となります。
たばこ、酒は割引対象外となります
使用は1回のみとなります
この優待券は他の割引券と併用できません
レジ精算時にパスポートとこのクーポン画面を掲示してください
免税利用者のみの割引対応となります
薬剤師がいない場合は、第1類医薬品の販売はできません