Parade, Dance and Fireworks at the Chichibu Night Festival(秩父夜祭)in Saitama Prefecture, Japan
Chichibu Night Festival is held on 2 and 3 December, a cold time of the year, but we can't help to be fired up and excited about it, because this festival combines firework display, parades and dances.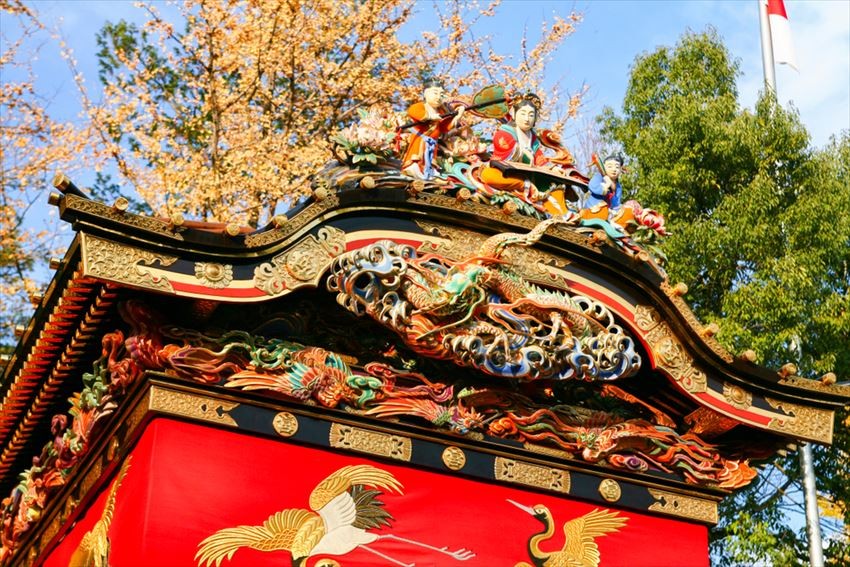 Chichibu Night Festival Event Details
In 2016, the event was registered as one of the Unesco Heritage as an intangible cultural heritage because of its long history of 2000 years and the traditional Kagura dance, a Shinto theatrical dance. This amazing event attracts tourists all over the world to watch the amazing feat of 20 tonne traditional floats carried up a steep slope.
Chichibu Night Festival (Yomatsuri) 2018 Schedule
The schedule for events may change prior to event. Please check the official website a week before you visit for any changes.
December 2 (Sunday) - Day 1
On the first day, 4 floats, Miyaji, Kamimachi, Nakamachi and Motomachi, which are floats around the size of a tiny house, will circulate around the path which is designated for the parade.
From 11am to 4pm a dance performance on the colourful float is scheduled. As the float procession will be moving around the town, you probably want to arrive early.
Around 7pm to 8pm, fireworks will be shot from the Hitsujiyama Park.
December 3 (Monday) - Day 2
A rare experience for tourists, for a night the skies will be light up by fireworks and lanterns from the floats. More tourists will visit on the second day.
At 9am, the parade begins. Near the station, sales of local food will begin around 9.30am, and it will continue till 11.00pm. Around 10am, taiko drum performances will begin.
Then, performers dressed in formal Japanese garbs and the kabuki troupe from the Chichibu Kabuki Showa Association will be joining the parade around 2.30pm till 3.30pm. The public Kabuki performance begin at 4.00pm and it ends around 5.30pm.
At night, the biggest round of fireworks will begin around 7.30pm to 10.00pm.
Chichibu Shrine
On the 2nd, 3rd and 6th of December, there will be a dance performance 'Kagura' at the Chichibu Shrine from 10 am.
Don't miss this rare sight of a traditional Japanese performance, Kagura, a shinto dance to appease the Japanese god(s).
Information
Spot name: Chichibu Shrine

Street address: 1-3 Banbamachi, Chichibu, Saitama Prefecture 368-0041, Japan

Access: Take the train to Chichibu Station, it should be a minute away. From the Seibu-Chichibu Station, it's around a 13-minute walk.

How to get to the Chichibu Night Festival Event
It is held outside Chichibu and Seibu-Chichibu station. The easiest way is to take the train from Tokyo if you arrived in Japan via Haneda or Narita Airport. It should take around two to four hours to reach the location.
A faster way is to take the train from Ikebukuro to Seibu-Chichibu station, this is around 1 hour 20 minutes, and requires reservation.
[Survey] Traveling to Japan
Recommend