The Natural Wonders of Chichibu in Saitama, Japan
Located northwest of Tokyo, Chichibu (秩父市) is the largest city of Saitama with a population of around 62,000. The town is famous for their beautiful scenery and mountains. Events at such as Chichibu such as the Night Festival (Chichibu Yomatsuri) and Icicle illumination attract tourists to this place. Plus, Saitama is very near Tokyo, and it wouldn't take more than an hour to reach from Tokyo Station, making it a perfect spot for a day trip.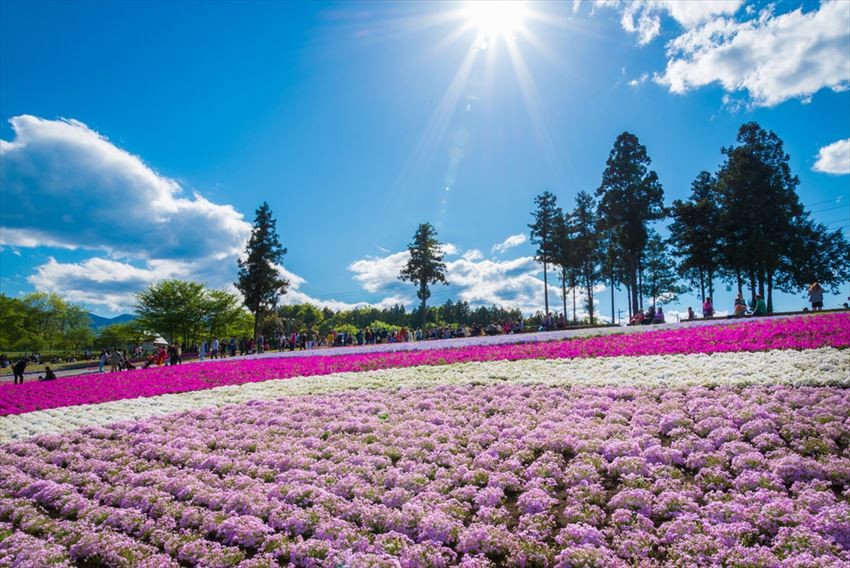 About Chichibu
Sports
There are many type of sports to enjoy in the mountainous Chichibu. Challenge yourself with a hike up Mountain. The tallest one, Kumotori Mountain which borders Tokyo, Saitama and Yamanashi Prefecture, is one of these fine mountains worth exploring in Saitama. You can also take a look of Hashidate Cave which is near the Urayama Dam. In Autumn, the Urayama Valley is a wonderful sight to behold, leisurely paths filled with brilliant fallen red leaves.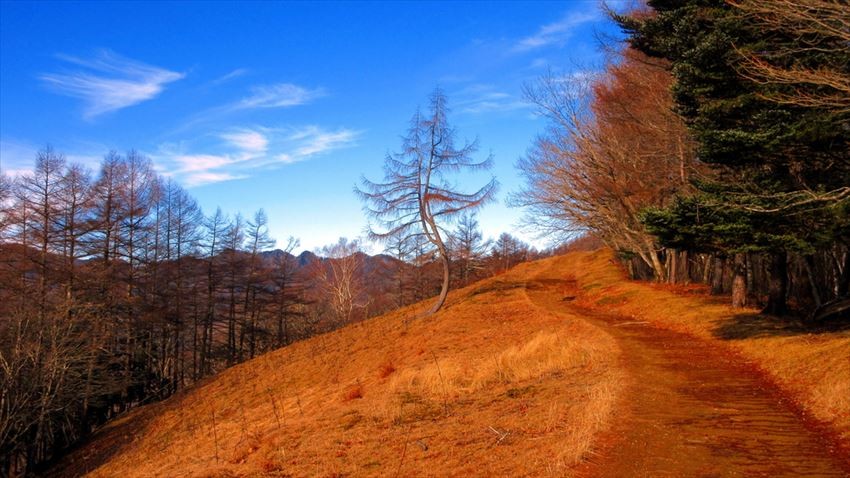 Information
Spot name: Kumotori Mountain

Street address: 675 Kamikagemori, Chichibu 369-1872, Saitama Prefecture

Access: Start the hike from Chichibu-Tama-Kai National Park.

Pray at Religious Sites
The Chichibu Fudasho Meguri, Sekiryuzan Hashitatedo and Chichibu Shrine are perfect for meditation, praying or simply a short visit for tourists. The Sekiryuzan Hashitatedo is near the Hashidate Cave. Fudasho meguri refers to the pilgrimage route. There are 34 place to explore for Fudasho Meguri, and the place is also rich in historical value. Start from the Zukyosan Shimabuji Daiichiban Fudasho, one of the famous 34 Fudasho Meguri. Many Japanese people like to collect stamps from each of the temple so they can have a complete collection.
Information
Spot name: Hashidate Cave

Street address: 675 Kamikagemori, Chichibu 369-1872, Saitama Prefecture

Access: 15 minute walk from the Urayamaguchi Station.

Information
Spot name: Fudasho meguri

Street address: 418 Tochiya, Chichibu, Saitama Prefecture 368-0002

Access: We recommend driving to the location. From Hanazono IC it is a 30 minute drive.

Night Time Icicle Illumination
Viewing the Icicles illumination is an activity limited from January to February. You can see them in places such as Misotsuchi Icicles, Icicles of Ashigakubo. The long sharp icicles are lit up in various colours, a romantic atmosphere which could inspire writers or couples. On the way to the Misotsuchi illumination via the Kanko bus, it is a popular choice to also stop by the Otaki onsen as well since it is a few stops before the Misotsuchi Icicles.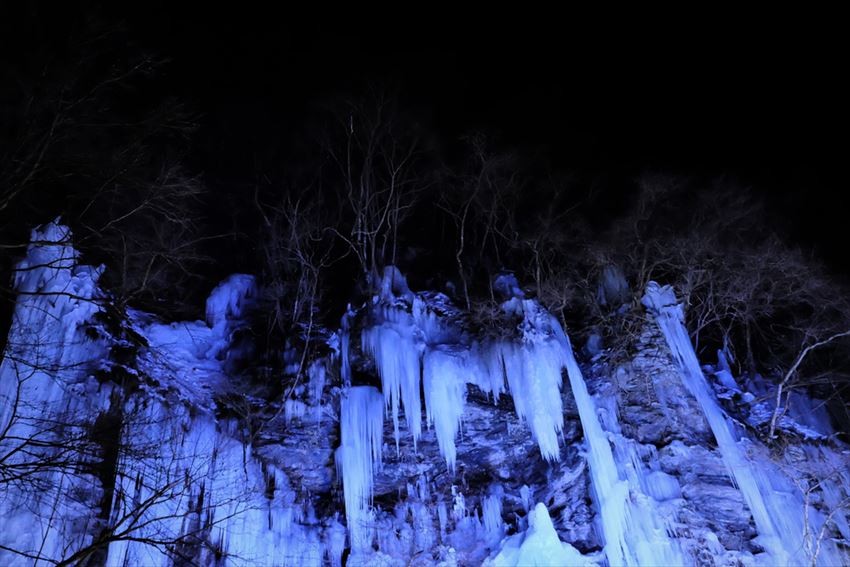 Information
Spot name: Misotsuchi no Tsurara (Icicle Illumination)

Street address: 4066 Otaki, Chichibu, Saitama Prefecture 369-1901

Access: From Tokyo, take the train Seibu Red Arrow Line from Ikebukuro Station towards Seibu-Chichibu station. Then, switch to the Seibu Kanko bus towards Mitsumine Jinja.

Information
Spot name: Icicles of Ashigakubo

Street address: Ashigakubo, Yokoze, Chichibu District, Saitama Prefecture 368-0071

Access: A ten-minute walk from Ashigakubo Station.

Chichibu Whisky
Chichibu Distillery
Whisky lovers should not miss the Chichibu Distillery where they can learn about how their favourite drink was made, and learn the story of the passionate man who left Suntory to make his own distillery in 2004, Ichiro Akuto. Ichiro's Malt which was produced here was awarded the "World's best whisky" at the World Whiskies Awards.
Tours are only available for professionals, but every year, before their Whiskey Matsuri, the distillery will have an open day where you can visit the parts of the Chichibu Distillery which are usually closed. There are only 120 tickets up for grabs! Check the official website for more information.
Information
Spot name: Chichibu Distillery (Tour available once a year)

Street address: 49 Midorigaoka, Chichibu City, Saitama Prefecture, 369-0067

Access: A 20 minute bus ride from Chichibu Shrine.

Prince Chichibu
Known as Prince Chichibu, Yasuhito was the second son of Emperor Taishō, and a general in the Imperial Japanese Army. The Prince was conferred the title of Chichibu no miya by Emperor Taisho. Prince Yasuhito was the uncle of Emperor Akihito. The prince is also popular for promoting sports, and often referred as the Sports Prince.
Chichibu Parks
Hitsujiyama Park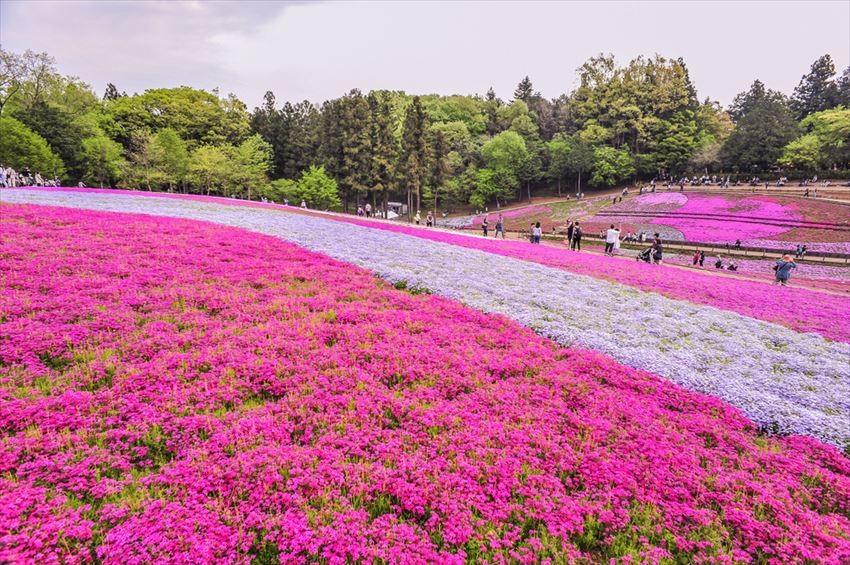 Gaze at a field of sakura, or shibazakura at Hitsujiyama Park in Chichibu. The carpet is around 17,600㎡ wide, and also more than 400,000 sakura plants. The best time to visit is from the middle of April to the beginning of May. Entry to the park is 300 yen.
Information
Spot name: Hitsujiyama Park

Street address: 6360 Ōmiya Chichibu-shi, Saitama-ken 368-0023

Access: 20 minutes walk from the Ohanabatake Station.

Chichibu Muse Park
The park is popular amongst cyclist, and you can rent the bikes at the park. Not only you can explore this wide park which has themed areas, for those who are easily tired from walking, you can take the skytrain to conserve energy. There is also an observatory with a great view of the town.
Information
Spot name: Chichibu Muse Park

Street address: 2518 Nagaru, Ogano, Chichibu District, Saitama Prefecture 368-0102

Access: Take the GuruRingo bus from Seibu-Chichibu Station (20 minutes ride).

[Survey] Traveling to Japan
Recommend