Fly into Osaka's Itami Airport in Japan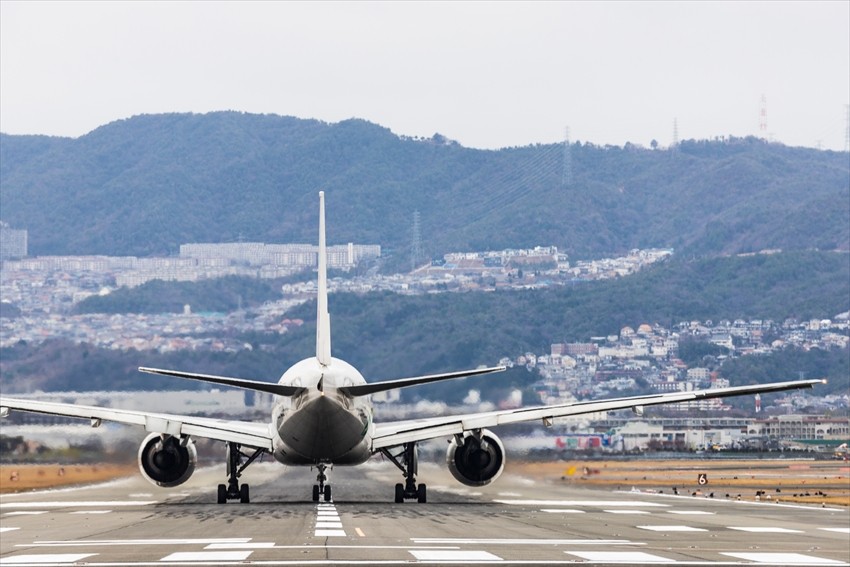 Itami Airport is the smaller, older brother of Osaka's Kansai International Airport and is the busiest airport in the Kansai region, despite being a domestic only hub. You can travel to any of Japan's domestic airports from Itami Airport in the northern suburbs of Osaka.
About Itami Airport
Itami Airport used to be the international hub for Japan's western region before the construction of Kansai International Airport. Due to the location of the airport and the advent of jet powered flight, the residents around Itami Airport were in an uproar about the noise and the problems that came with having an international airport in a residential area.
Flights to and from Itami Airport could only be scheduled for certain times of the day and construction on any new tarmacs couldn't happen without appropriating land from nearby residents.
Everything changed for Itami Airport and Osaka in 1994 when construction on Kansai International Airport was finished. With a new international airport in the middle of Osaka Bay, able to take on flights all day and night, Itami Airport was closed for international routes.
Kansai and Itami Airports combined operations in 2011 to become one overarching company, helping facilitate cooperation between the two rival airports. This has created combination routes, where you transfer from Kansai International to Itami Airport for domestic routes. From Itami Airport, you can fly to Tokyo, Fukuoka, Sapporo and various other domestic destinations.
After Typhoon Jebi in 2018, international operation resumed at Itami Airport with direct flights to Hong Kong on a seasonal basis through Japan Airlines. This will be first commercial international route from the airport in 24 years.
Hotels near Osaka Itami Airport
Staying in hotels near Osaka Itami Airport can make the domestic hub your hub for exploring Japan. With regional airlines that are usually cheaper than the big commercial air-lines it makes sense to use them instead, it even can be cheaper than taking the shinkansen to various cities.
Hotel A.P
Hotel A.P isn't the best-looking hotel, nor is it the nicest inside either, but if you're traveling throughout Japan and just need a place to crash near Itami Airport, this is your best bet. The hotel features a buffet and a free shuttle service to the airport, making it cheap in transport to the domestic hub.
Spot information
Spot name: Hotel A.P.
Street address: 2-12-27 Hotarugaike Nishimachi, Toyonaka, Osaka 560-0036
Access: A 10-minute walk from Hotarugaike Station
Osaka Air Terminal Hotel
Located adjacent to Itami Airport, the Osaka Air Terminal Hotel is the most convenient place to stay for an early morning flight. While it isn't the flashiest of hotels found in Osaka, being directly connected to the airport gives guests the full range of facilities that the airport has to offer. So, while the hotel doesn't have any restaurants, you can easily make use of the eateries in the terminal.
Spot information
Spot name: Osaka Air Terminal Hotel
Street address: 3-555 Hotarugaike Nishimachi, Toyonaka, Osaka 560-0036
Access: A 2-minute walk from Osaka Airport Station on the Monorail line
Access to Itami Airport
With Osaka Airport Monorail Station located right next to the terminal, access to Itami Airport from anywhere in the Kansai region is a breeze. Add all the bus routes that start from just outside the baggage area and you're set for easy travels.
Getting from Itami Airport to Kyoto
You have many options if you're going from Itami Airport to Kyoto. The quickest, most convenient, direct, but expensive route is via the Airport Limousine Bus. At 1,280 yen, you'll be able to get a ticket and get on as soon as you have your bags and be on your way to Kyoto Station.
Though, the cheapest way to get to Kyoto is via a monorail/train transfer. If you have a lot of luggage, this can be a little annoying, but taking the monorail from Osaka Airport station to Minami-Ibaraki Station and transferring to Kyoto can save you 500 yen. Depending on where you're going in Kyoto can mean the difference in where you transfer, so be sure to confirm your route before you head off.
Going from Itami Airport to Osaka
Being that the airport is in the city, getting from Itami Airport to Osaka should be easy, but it's not as easy as you'd think. Just like Kyoto, if you're traveling to and from Itami Airport, you'll need to transfer onto the Monorail to get to Osaka Airport station, which means if you have lots of luggage, this could be a hassle.
The best option is to take the Airport Limousine Bus. Tickets to and from Osaka are only 630 yen and take only 30 minutes to get you into downtown Osaka, being faster than the Monorail/Train combo. After a long trip, the comfort of the Limousine Bus might just be worth it.
Spot information
Spot name: Osaka Itami Airport
Street address: 3-555 Hotarugaike Nishimachi, Toyonaka, Osaka 560-0036
Access: A 2-minute walk from Osaka Airport Station on the Monorail line
[Survey] Traveling to Japan
Recommend