Kyoto in Winter, Where to Go and What to Do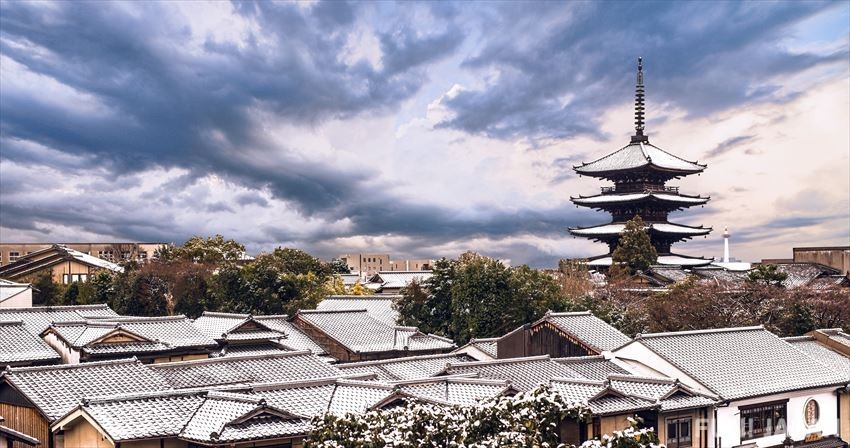 Kyoto is a place which is famous for autumn leaves and cherry blossom. In fact, Kyoto is also recommended place to be visited during winter. Kyoto is lighted up in winter and has a fantastic atmosphere for you to visit. If you happened to visit Kyoto in a good timing then you can enjoy the events and the view of beautiful scenery where the temples are covered with white snow.
Experience the fun attractions and traditional events in Kyoto during winter!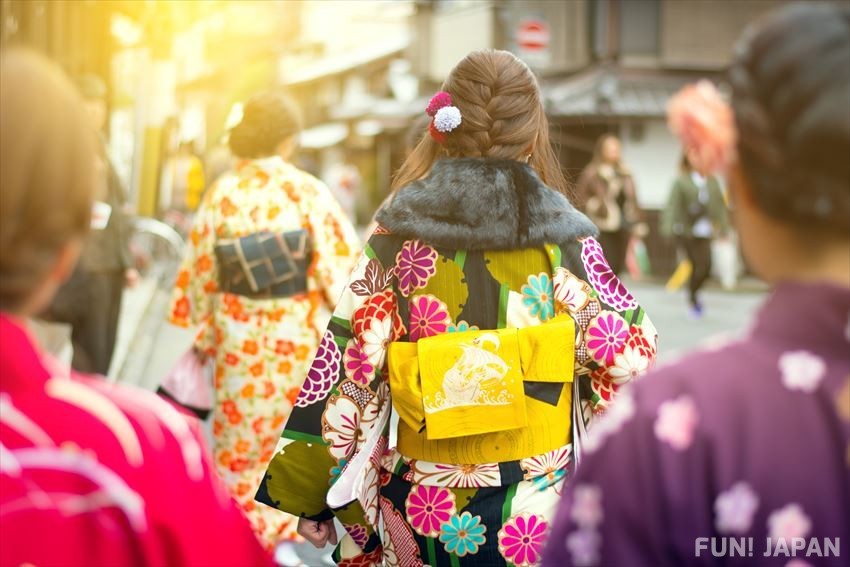 There are several traditional events are held in Kyoto during winter.
Fudehajimesai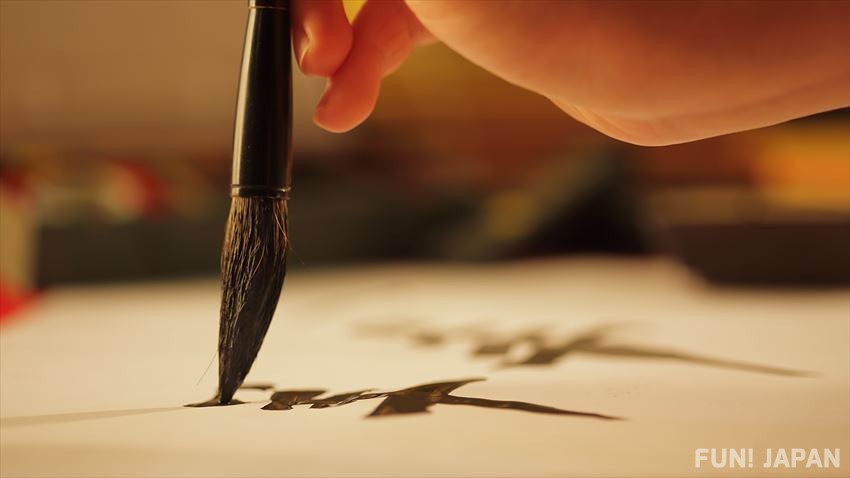 "Fudehajimesai" is held at Kitano Tenman-gu in January to pray for calligraphy improving.
Spot information
Spot name: Kitano Tenman-gu
Street address: Bakuro-cho, Kamigyo-ku, Kyoto, Kyoto 602-8386
Access: To get off at Kitano Tenman-gu City bus stop
Date: 2nd – 4th January
Kemarihajime
"Kemari Hajime" which held at Shimogamo Shrine is an event for people who dressed up in colorful traditional clothes and performed ball kick. It is so impressive for the players to keep kicking the ball without falling on land, while shouting out with the unique words.
Spot information
Spot name: Shimogamo Shrine
Street address: 59 Shimogamo izumigawa-cho, Sakyo-ku, Kyoto, Kyoto 606-0807
Access:


Approximately 25 minutes by bus from Kitaoji Station

Get off at the "Shimogamo Shrine front" or "Tadasu no Mori" bus stop

Take city bus from Kyoto station to Shimogamo Shrine front bus stop.

Date: 4th January every year
Tokaebisu
Tokaebisu is a festival which held at Ebisu Shrine on 10th January every year, from two days before 10th January until two days after 10th January. During the festival, there are events which similar with New Year event such as rice cake making. This shrine gate is opened over the night during the festival period and there is the crowd at the stores which opened there.
Spot information
Spot name: Kyoto Ebisu Shrine
Street address: 125, Komatsu-cho, Shijo Sagaru, Yamato Ojidori, Higashiyama-ku, Kyoto, Kyoto 605-0811
Access:


6 minutes on foot from Keihan Train Gion Shijo Station

8 minutes on foot from Hankyu Train Kawaramachi Station

Date: 10th January, two days before until two days after 10th January
Arashiyama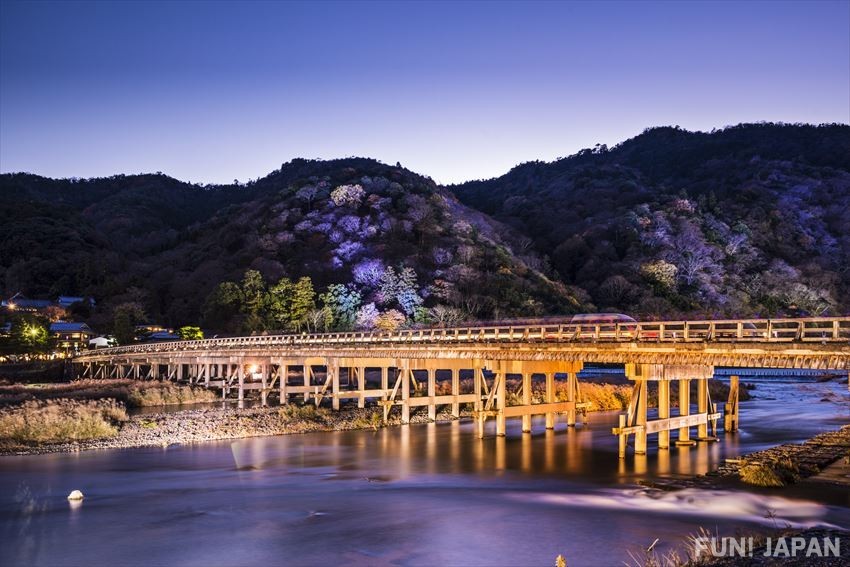 Besides, in December there are other events with all the lightings up and is to be held at Arashiyama area such as Togetsu Bridge, Takebayashi, temple, etc. The lighting of the lantern create the fantastic atmosphere. You can enjoy the different charm of Arashiyama during winter.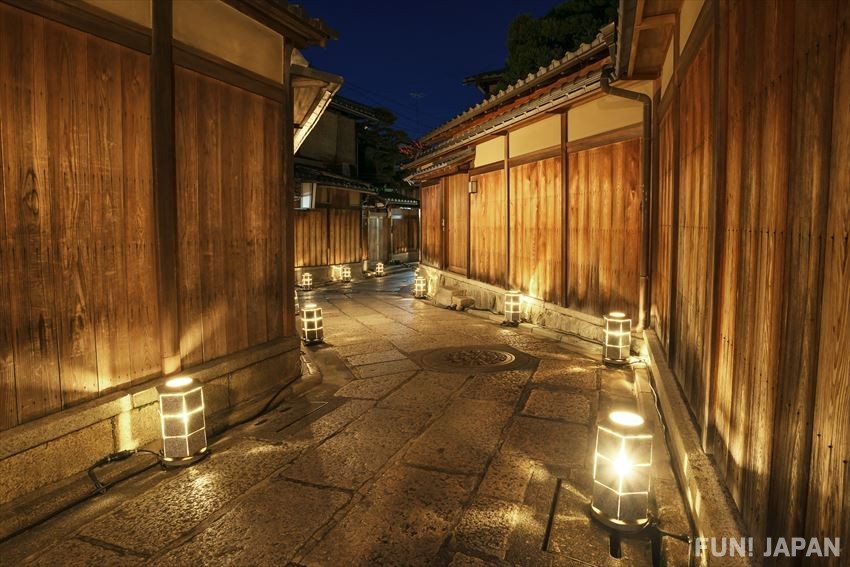 Spot information
Spot name: Arashiyama
Access:


JR Line "Saga Arashiyama" station

Hankyu "Arashiyama" station

Arashi train "Arashiyama" station

Date: Early December
Toei Kyoto Studio Park
Toei Kyoto Studio Park is a famous open set which reproduce the Edo era and allows the visitor to enjoy the events in indoor. At here, you can dress up like a princess, Maiko, samurai and other dramatic makeups and hair makeups, etc. It is recommended to experience this during the cool winter rather than makeup in summer. You can enjoy the ninja show, which is suitable for both adults and children.
Spot information
Spot name: Toei Kyoto Studio Park
Street address: 10, Uzumasa Higashihachioka-cho, Sakyo-ku, Kyoto, Kyoto 616-8161
Access:


5 minutes on foot from JR "Uzumasa" station

2 minutes on foot from Randen "Satsueisho Mae" station
Prevention against cold weather is important in Kyoto during winter
Winter in Kyoto is very cold. Especially January is the coldest period of the year, you can see snow covered the Kyoto mountain parts and northern part of the Sea of Japan. However the weather in Kyoto city is comparable stable and most of the days in winter are sunny days. So, there is no problem for tourist to travel around in Kyoto city.
Average temperatures in Kyoto City and southern Kyoto in January are around 10 degrees in the daytime and the temperature is as lower as 0 degree in the morning and evening. As the weather when it get nearer to the end of the year, it is recommended to prevent the coldness well.
Even though it is important to take coldness prevention in outdoor, but do remember that you have to take off shoes when visiting a temple or shrine. As the indoor is cold, and flooring of the corridor is cold as well, so please remember to keep your foot warm during winter.
[Survey] Traveling to Japan
Recommend