The Geisha District of Gion in Kyoto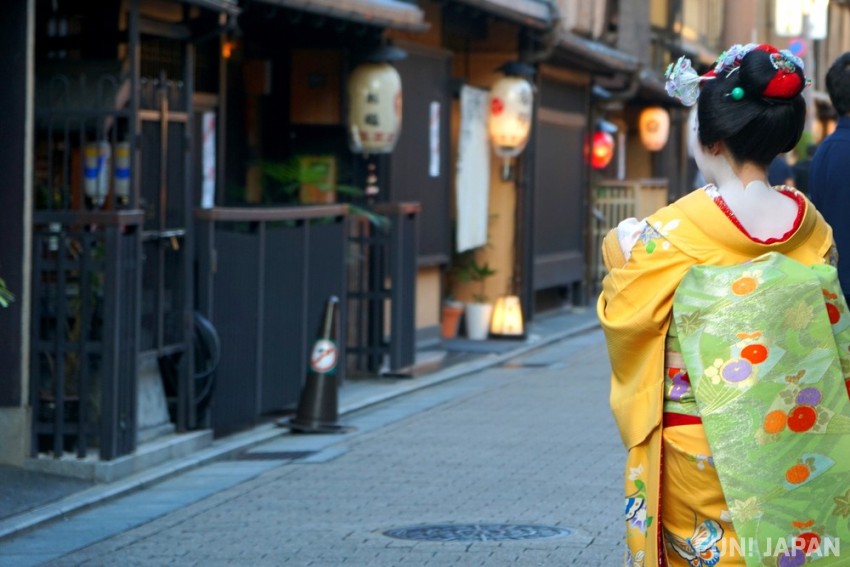 Originally developed as an area to cater to the needs of travelers and visitors, Gion flourished into one of the most famous and exclusive geisha districts in the entirety of Japan. Although not as busy as it used to be in olden times, Gion is still an amazing district to see geisha while taking a stroll through the district.
The Beauty of Gion, Kyoto's Geisha Hotspot
Located in the heart of Kyoto, Gion can be found along Shijo avenue next to the Kamo river and Yasaka shrine. Here in this traditional area, you can find many old-style buildings and houses called Machiya and Ochaya, which loosely translate to townhouses and tea houses.
However, Gion is most famous for the geisha culture, which people many say originated there. Geisha are women who have studied the traditions of art, dance, singing, and more. They are well known for the way they dress in traditional clothing and makeup.
In Kyoto, however, they are known as Geiko, which translates to "Woman of Art". Here in Gion, you can occasionally see them taking a walk through the neighborhood, however it is frowned upon to stop them to take pictures, so please avoid doing so.
If you want to see the geisha perform however, you can visit almost any of the ochaya in the Gion district. Here they perform various dances, songs, and at some venues, will even play games with you.
Aside from geisha, Gion is also well-known for having many bars, restaurants, clubs, and other nightlife for locals and tourists to enjoy. There are also many shopping spots along Shijo dori, where you can check out the various local sweets, crafts, and souvenirs.
The Famous Gion Matsuri
If you ever visit Kyoto during July, then you are definitely in luck! The Gion Matsuri is one of the most famous festivals in all of Japan and last for the entire month of July. In the downtown area of Gion is where you will find most of the celebrations.
Depending on the day in July, there are various events and ceremonies that occur for the Gion Matsuri. The biggest events to watch out for are definitely the parades on July 17th and July 24th, as well as the nights preceding the parades.
The nights preceding the parades are known as yoiyama, yoiyoiyama, and yoiyoiyoiyama and these nights are popular because the streets come alive as many street vendors sell various street food in a festive atmosphere.
During these nights, you can find many locals and tourists walking around in traditional yukata which makes the atmosphere feel like you've traveled back to the past of ancient Kyoto.
The parades themselves are also an amazing sight to see, as you can see many floats which are known as the Yama floats and the Hoko floats. These floats are elegantly decorated are amazing to see in person.
The Elegance of Gion Hatanaka
If you want to stay relatively close to the Gion district, then we recommend staying that the elegant Gion Hatanaka ryokan. Located in the southern edge of the Higashiyama ward and within walking distance of the main Gion area, this huge ryokan has many rooms available with their own private baths and geisha shows for guests and even non-guests.

At this ryokan, you can also experience traditional kaiseki cuisine that changes depending on the season. With fresh ingredients straight from Kyoto and its neighboring prefectures, you are sure to have a luxurious dinner!
If you want to stay at the Gion Hatanaka, then make sure to visit their website and reserve in advance, as the ryokan is popular and fills up very quickly. Prices can vary but start at around 32,000 yen per night and go higher depending on the room and people staying.
Spot information
Spot name: Gion Hatanaka Ryokan
Street address: 505 Gion, Minamigawa, Higashiyama-ku, Kyoto, Kyoto 605-0074
Access: A 10-minute walk from the Keihan Gion-Shijo Station
How to get to the Gion District
There are many ways to get to the Gion district, but the easiest would be to take the bus from the bus terminal at Kyoto Station. Here you can take the Kyoto City Bus #100 from D1 or the #206 bus from D2.
If you go via taxi, it will be around 1,000 yen and take about 10 to 15 minutes depending on traffic. It costs more than taking the bus or train, but if you want a direct route and want to avoid public transportation, then this is the option for you.
Heading to the Gion district by train is also easy. Just head to Gion-Shijo Station on the Keihan Main line or Kawaramachi Station on the Hankyu Kyoto line and you should arrive to the area relatively quickly!
Spot information
Spot name: Gion District
Street address: Gion, Higashiyama-ku, Kyoto, Kyoto 605-0073
Access: Next to the Keihan Main line Gion-Shijo Station and the Hankyu Kyoto line Kawaramachi Station
[Survey] Traveling to Japan
Recommend