5 Great Late Blooming Cherry Blossom Spots in Shirakawago and Nagoya! Perfect for SNS!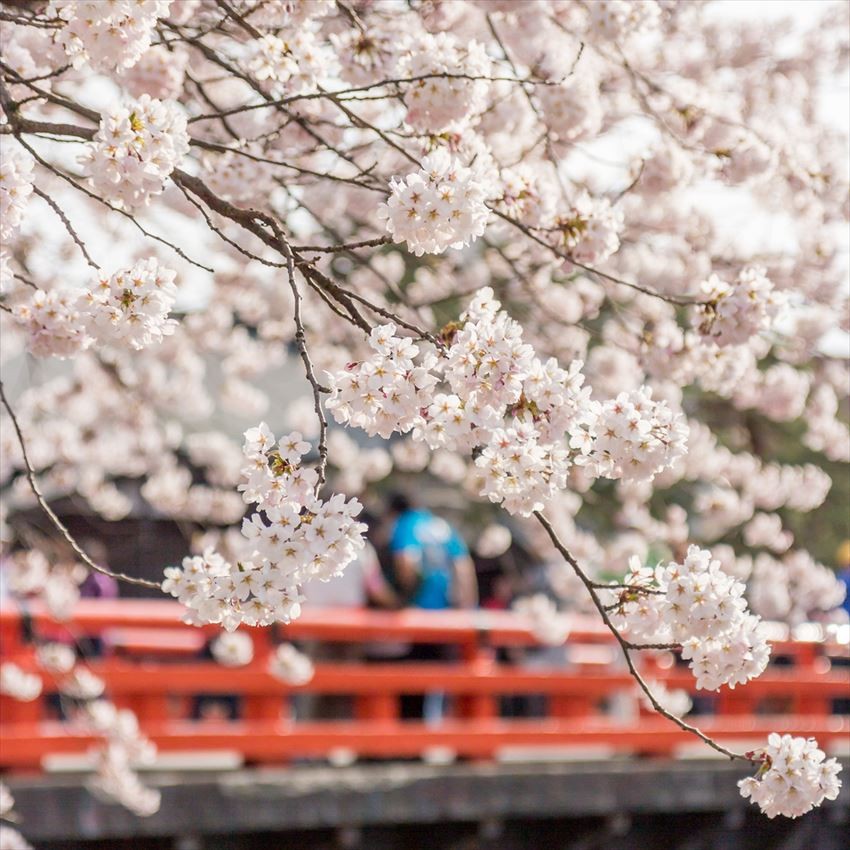 Cherry blossoms start to bloom in the central part of Japan from early March. Various species of cherry blossoms fully bloom one after another. However, there are some places which you still can enjoy viewing the cherry blossom which only bloom in early May. There is also a Japanese proverb saying "Good flowers are blooming later", I believe you would enjoy these late blooming cherry blossom until the end of the cherry blossom season.

1. Shirakawago (白川郷)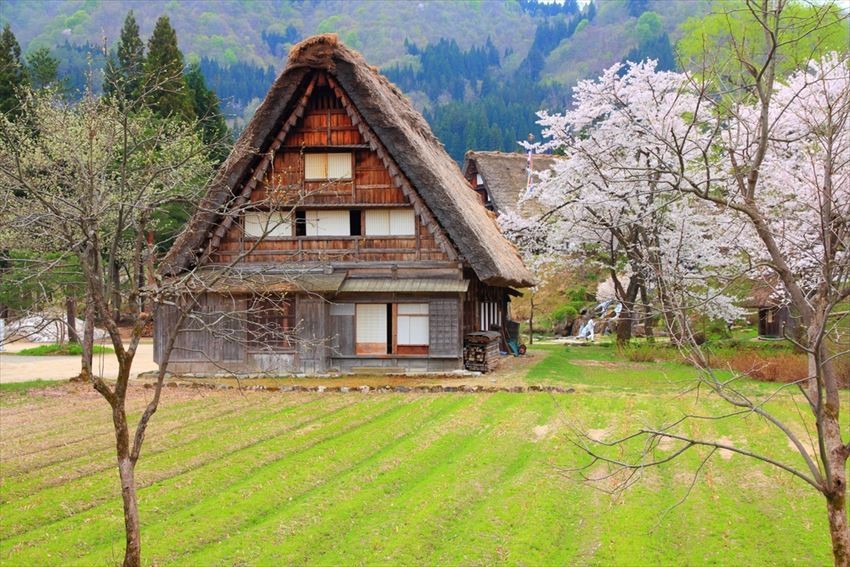 Shirakawago is a world heritage which is famous for its snow scene, however, it is also famous for its scenery of fully blooming cherry blossom trees and Plantae in spring season. The best season to enjoy viewing the cherry blossoms in the village will be in late April. It will be very fun to find a good spot to take photo of cherry blossoms with Gassho-zukuri as the background.
Shirakawago
Best period to view cherry blossoms: mid of April to early May

Address: 517 Hatoya, Shirakawa village, Ohno-gun, Gifu Prefecture (Shirakawa village office)
2. Nagoya Castle (名古屋城)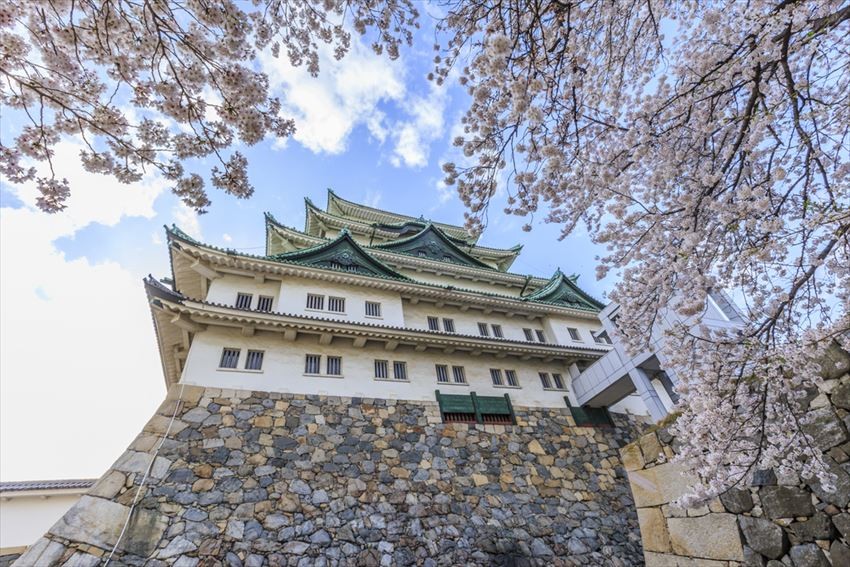 Nagoya Castle is the most representative sightseeing spot in central Japan, with gorgeously blooming cherry blossoms and approximately 1,000 cherry blossom trees. Among them, there is a rare species, "Gyoiko" which is best viewed from mid-April to the end of April. There is also a lighting illumination of cherry blossoms from end of March to early April. The most recommended cherry blossom viewing spot in the castle will be the garden of castle tower, where you can view both the castle tower and cherry blossoms.
Nagoya Castle
Best viewing period of cherry blossom: End of March to end of April

Address: 1-1, Honmaru Naka-ku, Nagoya-shi, Aichi Prefecture.

Opening hours: 9:00 ~ 16:30 No admission to Honmaru Goten, castle tower is allowed after 16:00

(The opening hours will be extended during lighting illumination period)

Admission fee: Adult: 500 yen, junior high school students or below: Free of Charge
3. Mitake (三多気)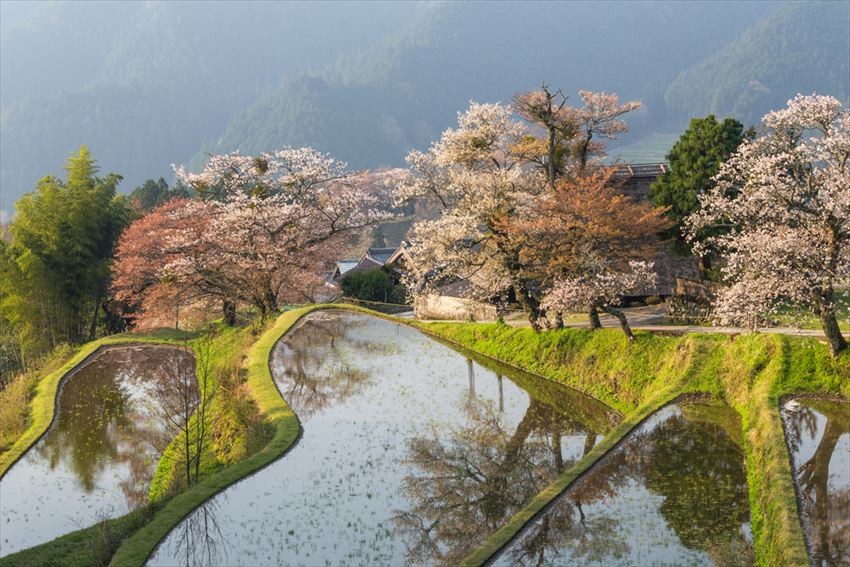 Mitake is a famous attraction spot which is selected as "Japan Cherry Blossom View Place Selection Top rank 100". There are about 500 cherry blossom tree lining up at the 1.5 kilometer route from Ise-honkaido to Shinpuku-in. Besides the cherry blossom festival, there are also lighting illumination events that allow you to view the cherry blossom in night during the cherry blossom period. Due to the height gap of Mitake's land and the existence of old cherry blossom trees, cherry blossom viewing is available for a longer period compare to other spots.
Mitake
Best viewing period of cherry blossom: Early April to end of April

Mitake Cherry Blossom Festival (9:00 ~ 15:00 on 14th and 15th April 2018)

Cherry blossom lighting illumination at night: From 1st April (Sunday) to 22th (Sunday) from 19:00-21:00

Address: 204, Mitake, Misugi-cho, Tsu-shi, Mie Prefecture
4. Hida Takayama (飛騨高山)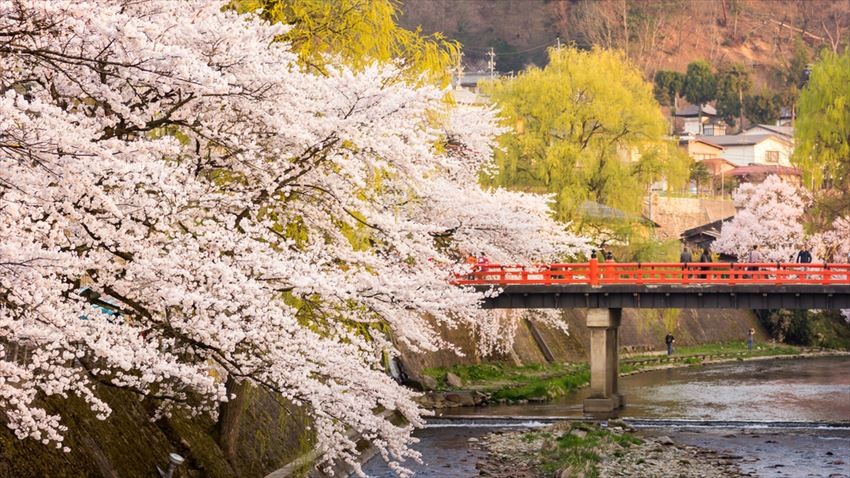 A beautiful landscape harmonized by cherry blossom and Hida Takayama representative red bridge, Nakahashi which is located at the Miya River that runs through the center of Hida Takayama City. During the night, you can enjoy viewing the fantastic spring landscape there as it will be lit up beautifully. In addition, there are also several cherry blossom viewing spots that are scattered in the downtown area. Also, you can stop by at the Wolong Park nearby to view the cherry blossom of 1100 years old in the park.
Hida Takayama
Best viewing period of cherry blossom: mid of April to end of April

Address: 49, Kawahara-cho, Takayama-shi, Gifu Prefecture. (Nakahashi)
5. Fujisan Sakura no Sono (富士山さくらの園)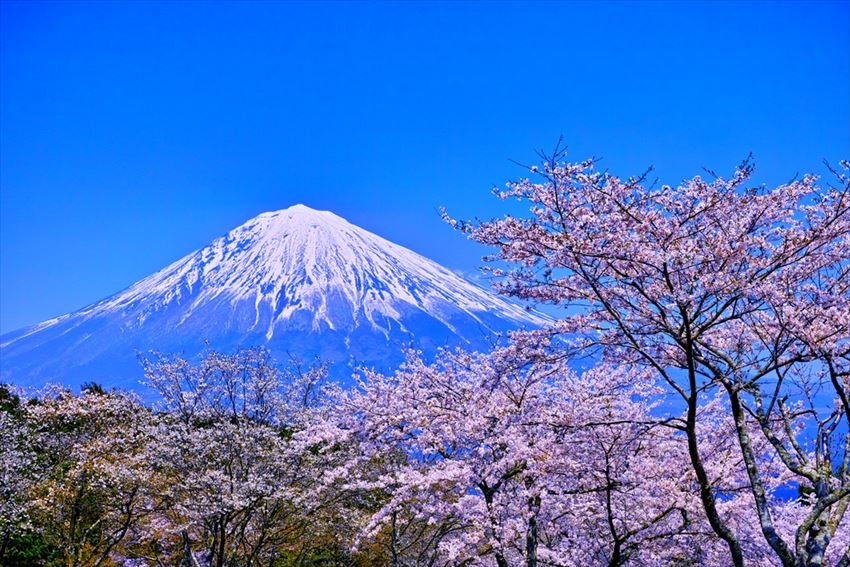 Beginning with the blooming of Kawazu cherry blossoms at the end of March, you can enjoy viewing various types of cherry blossoms at this attraction spot until early May. This is a good cherry blossom viewing spot as you can enjoy viewing both Mt. Fuji and also the fully blooming Shiba cherry blossom. Moreover, there are many cherry blossom viewing spots in Fujinomiya city. Fujinomiya City is the city with tallest altitude height in Japan, therefore the cherry blossom viewing are available all year long as cherry blossom will bloom from the lower areas, northern area, and then only bloom at the hillside area of Mt. Fuji.
Fuji-san Sakura no Sono
Best viewing period of cherry blossom: end of March to early of May

Address: 3759-463, Yamamiya, Fujinomiya-shi  
[Survey] Traveling to Japan
Recommend