The city of Nara is one of the most famous spots in Japan and is known for being one of its main cultural capitals. The reason for this is that Nara has a wealth of historic sites such as the gorgeous Todaiji Temple and it is easy to visit if you are staying in neighboring Kyoto or Osaka.
Compared to some of the main hubs in Japan, Nara has a slower pace and a more relaxed feel, and you can easily walk all over the city and explore the winding roads and alleyways that dot many of the districts here.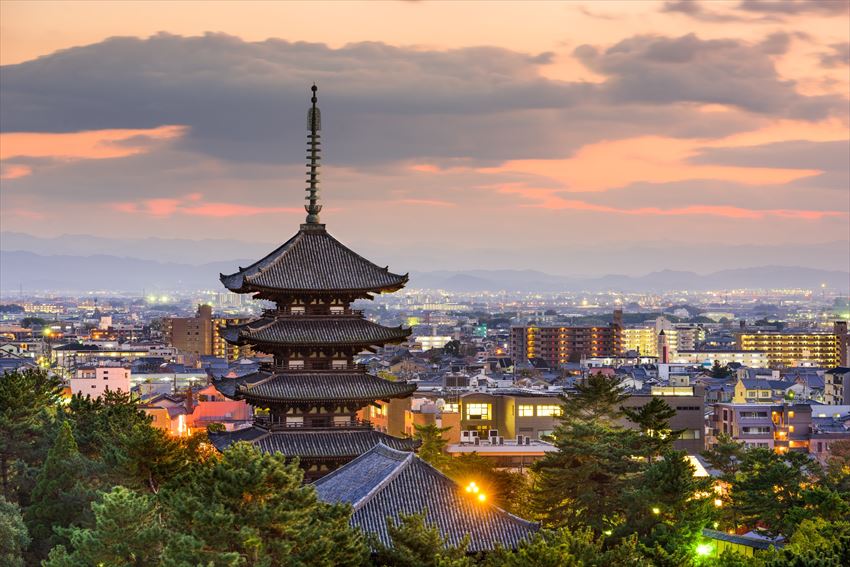 Getting to Nara:
By plane:
The closest airports to Nara are Kansai International Airport and Itami Airport in Osaka. If you are taking an international flight then you will need to fly to Kansai and if you are traveling domestically then Itami is a good choice. Those who choose to fly to Kansai can then take an airport bus into Nara which takes around one and a half hours and costs ¥2,050. If you are travelling from Itami then you can also take an airport bus which takes around an hour and costs ¥1,480.
By train:
If you are traveling from Kyoto you can take the JR Nara Line or the Kintetsu Kyoto Line to Nara. Depending which line and service you choose, trips can take from 30 minutes to 1 hour and tickets cost from ¥620 to ¥1,000.
There is also a train line from Kobe to Nara on the Hashin Namba Line which costs around ¥970 and takes around 90 minutes.
By bus:
Nara is well connected by a series of buses and these can be more cost effective as opposed to other forms of transport.
If you are traveling from Tokyo then you can choose the JR bus which will take around 7-8 hours to get to Nara. JR bus offers a number of different services including the Seishun buses and Standard buses as well as Premium buses. Fares range from around ¥3,500 to ¥7,400.
Another option from Tokyo is the Yamato bus which runs directly to Nara and costs ¥8,400.
Tourist Attractions:
Nara-kun:
Nara-kun is the Japanese name for Nara Park which is one of the best attractions in the city. One of the big draws here is the fact that the park is filled with pretty deer which are said to be messengers sent from God in the Buddhist faith. There are more than 1,000 deer that live in the park and this is also a great place to experience some much needed green space, especially if you have been visiting big cities like Tokyo.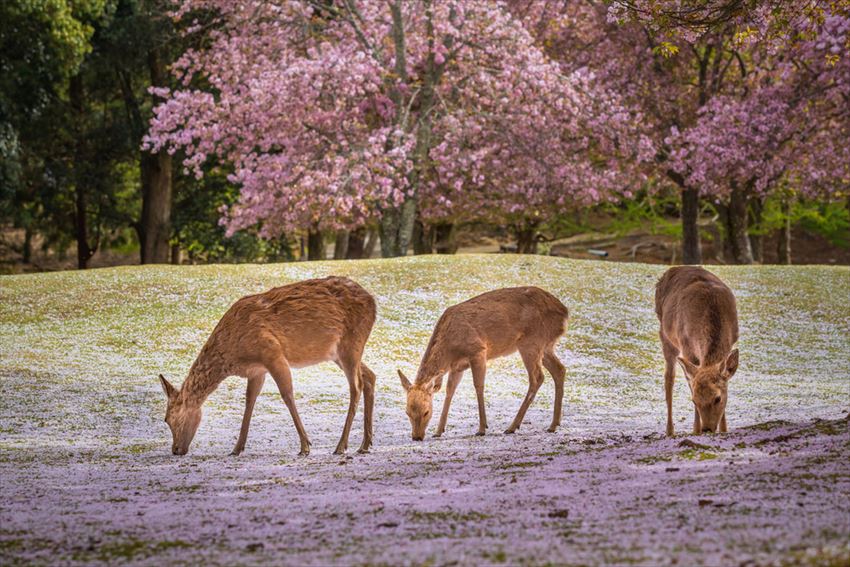 Todaiji Temple
Located in Nara Park is the Todaiji Temple which is famous for being the largest wooden building in the world. As if that wasn't enough, you will find a large bronze statue of the Buddha inside which is also said to be the biggest Buddha in the world. Perhaps not surprisingly, this is a UNESCO World Heritage Site and one of Japan's great national treasures and it is worth making the trip to Nara just to see the temple.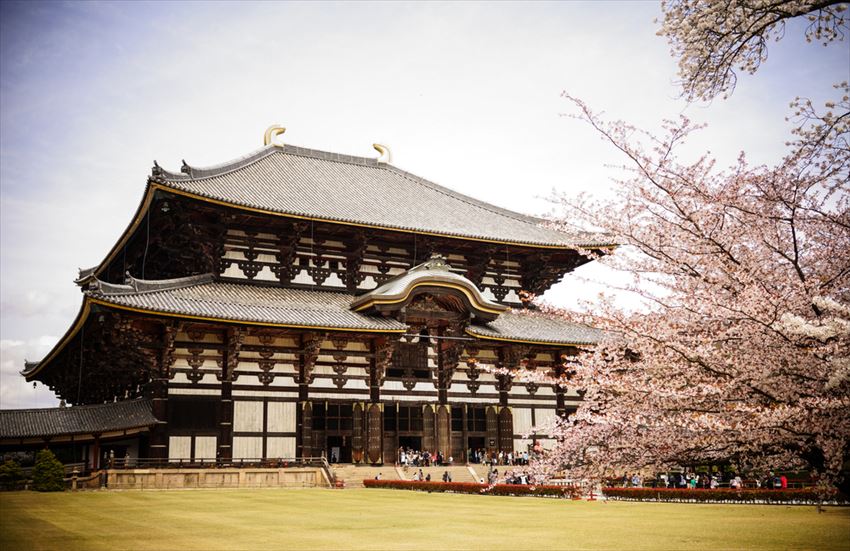 Naramchi District
One of the best things to do in Nara is pay a visit to the Naramchi District where you can experience a little piece of Japan as it would have looked in the days of old. Thanks to a variety of laws that regulate the building of houses here, the streets have a traditional feel to them and you can walk around and enjoy a range of eateries and bars, many of which have outdoor seating which is the perfect way to take in the traditional atmosphere of Nara.
Shopping and Duty Free
Sanjo-dori Avenue:
Nara is famous for its calligraphy brushes which are called narafude in Japanese. If you want to pick up some of these amazing brushes as a souvenir of your trip then the place to do it is on Sanjo-dori Avenue where you will find a selection of different specialty shops dedicated to these works of art. Many of the brushes sold at Sanjo-dori Avenue are made with animal hair and are considered collector's items and can be quite expensive.
Mochiidono Shopping Street
Mochiidono Shopping Street is the place to come if you want to pick up Nara sarashi which are fabrics that are a local specialty in the city. The fabrics would have been made with indigenous plants in the days of old although in the Edo Period cotton came into fashion and Nara began to produce towels, curtains, blinds, and handkerchiefs, all of which can be bought in the city as a souvenir of your trip.
Higashimuki Shopping Street
This is another famous shopping street in Nara in the form of a covered arcade, so it makes a good place to come if you want to shop on a rainy day. The road is lined with souvenir shops as well as clothing stores and you will also find a range of restaurants here so that you can stop for a bite to eat in the same area.
Deals:
If you plan to travel between Kyoto, Nara, and Osaka, then it is more economical to buy a Kansai thru-pass. This will give you unlimited travel for 2-3 days on a range of trains, buses, and subways all over Kansai and will ultimately save you a lot of money as opposed to buying single tickets.
Recommended times to visit:
You can visit Nara at any time of the year but if you want to see the city at its best then spring and autumn are good times to visit. If you want to take in the cherry blossom then you need to come here in April and early May, or if you want to enjoy the gorgeous autumn colors then October and November are highly recommended. In the summer it can get very hot in Nara and the humidity is also high, so if you don't like the heat it is best to avoid this time of year.
[Survey] Traveling to Japan
Recommend