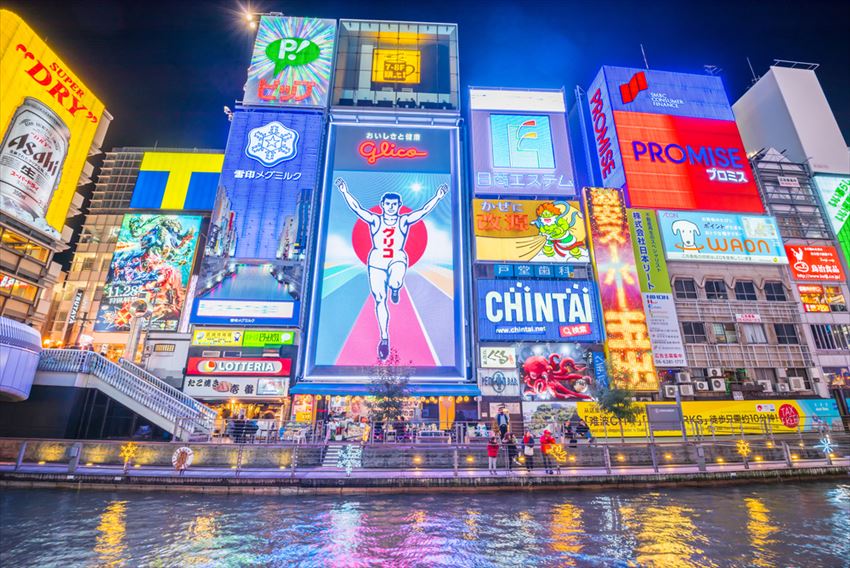 Osaka has been an important port and mercantile city in Japan since the early Edo Period and before since Toyotomi Hideyoshi founded Osaka Castle in 1596. Osaka supplied goods such as rice, sake, ceramics and fineries from Kyoto to the capital in Edo (Tokyo) by sea.


Osaka, like Tokyo, is divided into distinct areas each with their own unmistakable character: Nakanoshima is the cultural and administrative center of Osaka located on an island in the Yodogawa River, Den-Den Town (an electronics shopping area in Daikokucho and Osaka's equivalent to Tokyo's Akihabara), Umeda, Shinsaibashi and Namba are the places for shopping and nightlife.


Osaka is divided into Kita (north) and Minami (south). Kita is the main business area of the city located around JR Osaka and Umeda stations, whereas Minami is the shopping and entertainment district centered on Namba and Shinsaibashi with the more earthy Dotombori roughly in the middle of the two places.
Getting to Osaka:
Getting to Osaka is very easy. Osaka has two airports, Kansai International Airport as well as Itami (Domestic) Airport. Therefore, if you are flying in from overseas, you will arrive at Kansai International Airport. From there, you can take the Limited Express Haruka train (50 minutes; ¥2360; 1 transfer) or Nankai Airport Express train (60 minutes; ¥1100; 1 transfer) to Osaka station.


Instead of the airport express trains, it is also possible to take the JR trains. From Kansai International Airport, you can take the JR Kansai Airport Rapid Service which goes directly to Osaka station (70 minutes; ¥1200; 0 transfer).
Tourist Attractions:
Dotonbori: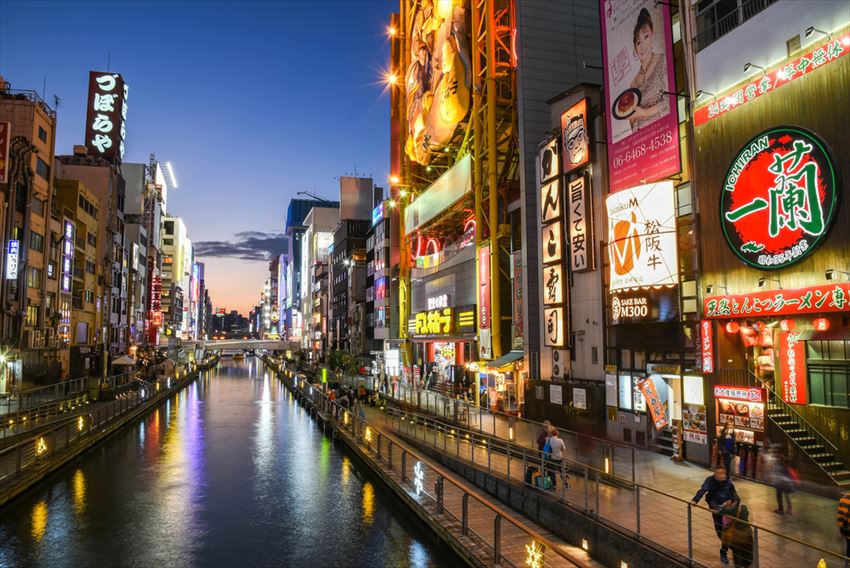 Dotonbori is a large scale downtown along the south bank of the Dotonbori-gawa Canal. Osaka is known as the gastronomists' town, and thus the entire area of Dotonbori is thronged with an unbelievable number of restaurants and amusement facilities, and is dearly loved by the locals. There are theaters that play traditional puppet shows Bunraku, storytellers' halls and other popular entertainment as well as a number of movie theaters.

Osaka Castle: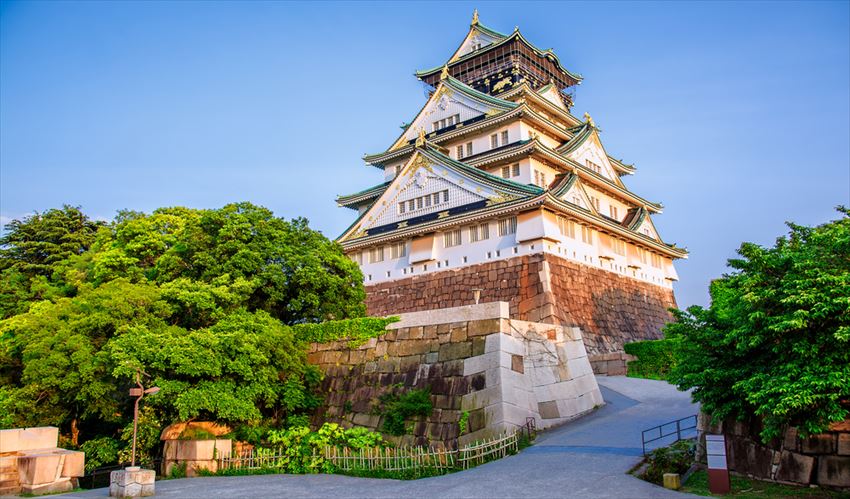 The Osaka Castle was built in the end of the 16th century by Toyotomi Hideyoshi, a well-known warlord who brought the whole country under his rule in the late 16th century. It has been burned down in a series of battles in the 17th century, and reconstructed later. Once again it was destroyed by fire, its donjon only reduced to ashes this time, and was reconstructed at last early in the 20th century. On display at its 1st to 7th floors are various weapons, armors and folklife items of those days. There is a view spot on the 8th floor.
Umeda Sky Building: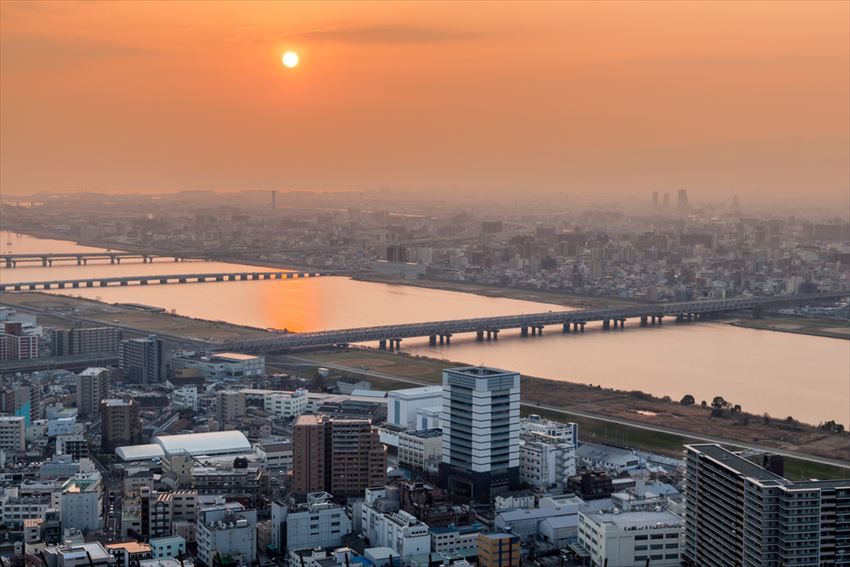 One of the most popular attractions and landmarks of Osaka is the Floating Garden Observatory on the top floor of Sky Building. The Umeda Sky Building, a "pair of skyscrapers connected in midair" is built in an unusual architectural form seldom encountered anywhere in the world. It has an open roof and 360-degree design affording panoramic views of the city, and is known as a romantic and most scenic sunset viewing spot. The photo above is taken from atop the observatory.
Recommended times to visit:
Spring:
Osaka has a temperate climate, if you want to see Osaka at its prettiest with parks covered in a mist of cherry blossoms, the spring from March to mid April is the best time for a visit. The Cherry Blossom Festival is on during this time as is the Golden Week which is held in end April and early May so this is a festive time to be in Osaka, but make sure you have your hotels booked in advance as they get sold out during this period.
[Survey] Traveling to Japan
Recommend