Trending eat-and-walk gourmet and specialties in Asakusa, Tokyo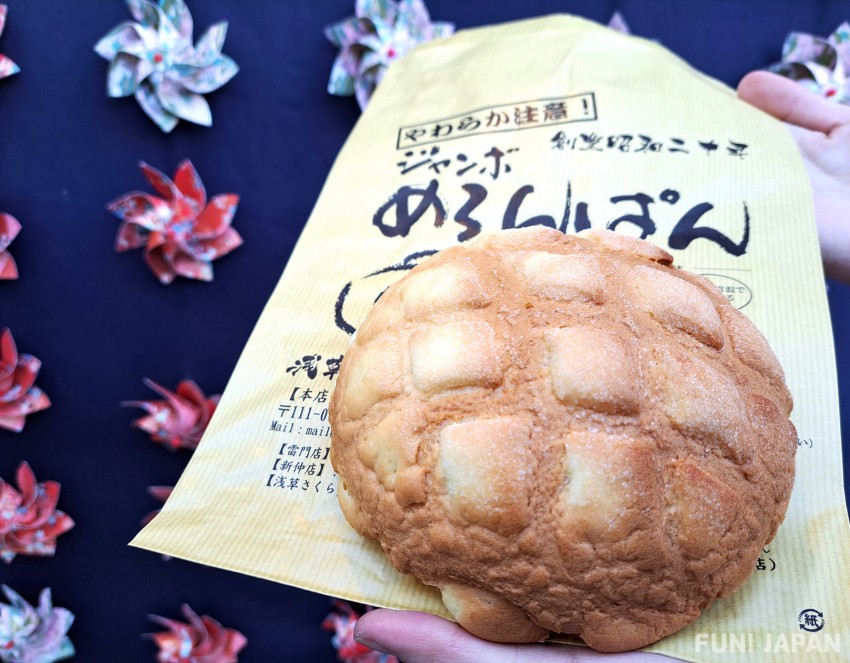 From Japanese food to Western food, sweets, and salty foods - Asakusa in Tokyo is a treasure trove of delicious food!

In this article, we'll be introducing gourmet foods that have recently become a talk-of-the-town, as well as gourmet cafes that have been loved by Asakusa locals and celebrities for over 70 years. Be sure to use this as a reference for your next trip to Japan!
Enjoy an eat-and-walk experience in Asakusa, along with the sightseeing in Sensoji, Kaminarimon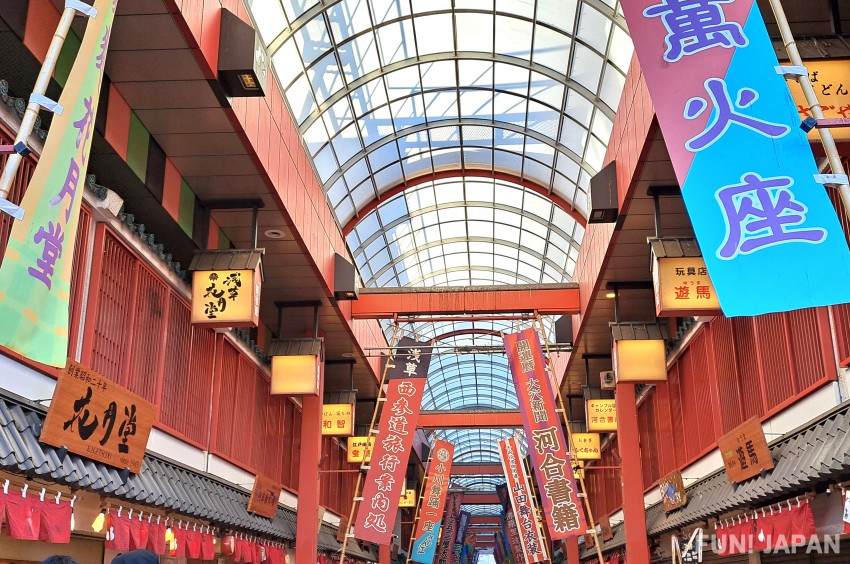 Sightseeing while wearing yukata and kimono in Asakusa goes best with an eat-and-walk experience.

Classic sweets include crepes and colorful dumplings, while freshly baked rice crackers and minced meat cutlets are some standard salty dishes.
This time, we've put together a list of photogenic gourmet foods that you can find while sightseeing in Asakusa.
Asakusa Kagetsudo's Jumbo Melonpan – The classic among the classics of Asakusa gourmet in demand even by the media!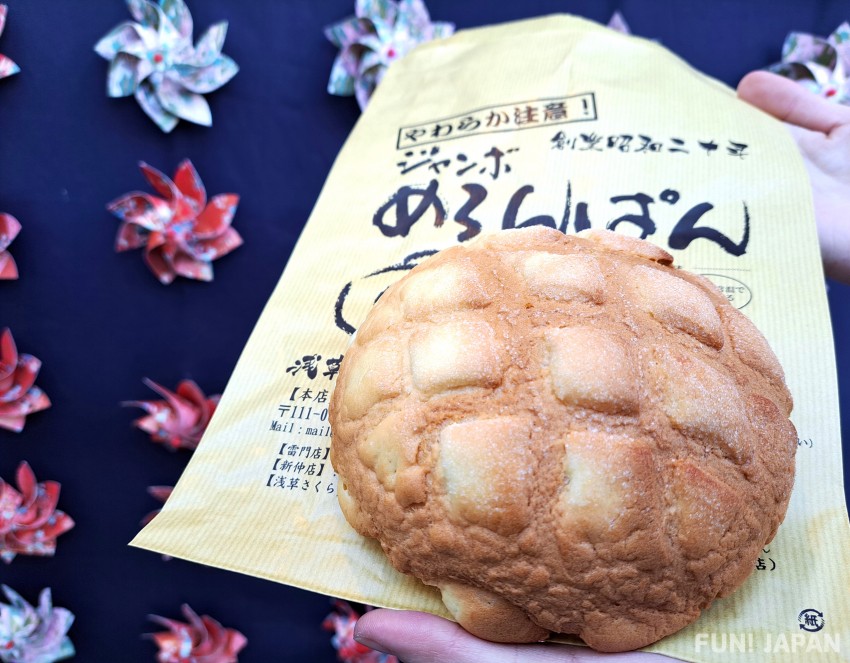 Jumbo Melonpan from Asakusa Kagetsudo (浅草花月堂) is a jumbo-sized sweet bread that completely hides your palm and is characterized by its crispy skin and fluffy texture.

Asakusa Kagetsudo is so popular that it is often featured in TV specials on Asakusa, and the Jumbo Melonpan, which sells 3,000 pieces a day, is a specialty of Asakusa.

Melonpan with vanilla and matcha ice cream is also perfect for hot summer!
The main store is located at the entrance to the Nishisando (west approach) of Senso-ji Temple on the left. There is always a long line of queue even on weekdays.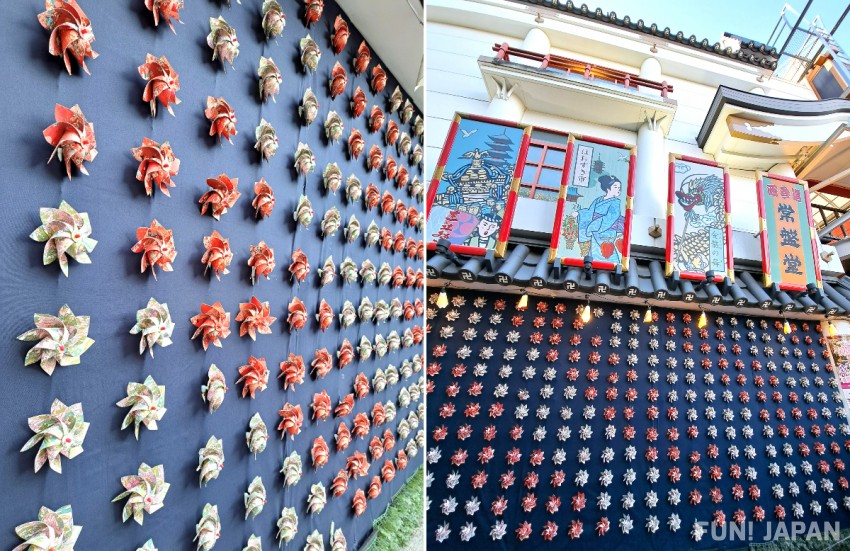 In addition, the Nishi-sando itself is also famous as a spot where you can take selfies that look great on social media.

Along the Nishisando, there are many shops such as Asakusa Seisakujo, which is recently popular for its tempura chips, a Warabimochi (bracken-starch dumpling) drink shop, and even a store where you can enjoy goldfish scooping and shooting, which are familiar at Japanese festival stalls, all year round.
If you want to fully enjoy Asakusa, whether it's photography, eating while walking, or activities, simply go to Nishisando!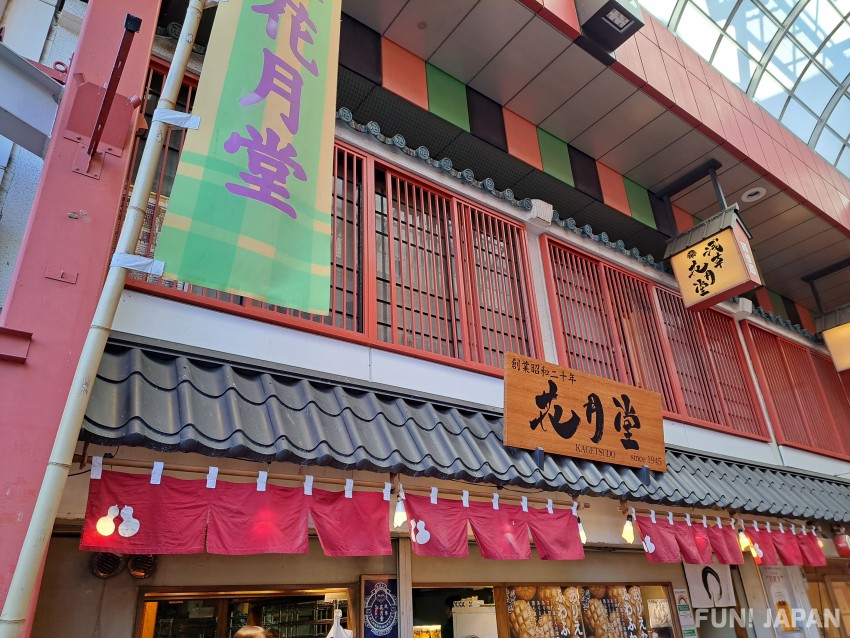 Asakusa Kagetsudo Main Store (浅草花月堂本店)
Address: 2-7-13 Asakusa, Taito-ku, Tokyo
Closed: No regular holiday
Business hours:【Weekdays】11:00 - closes open Jumbo Melonpan is sold out,【Holidays】10:00 - closes upon Jumbo Melonpan is sold out
Access: 10-minute walk from Exit 1 of Asakusa Station on the Ginza Line/Toei Asakusa Line, 3-minute walk from Exit A1 of Asakusa Station on the Tsukuba Express
Asakusa Ichigoza's Daifuku Ichigo & Strawberry Smoothie – A luxurious use of delicious strawberries from Miyagi!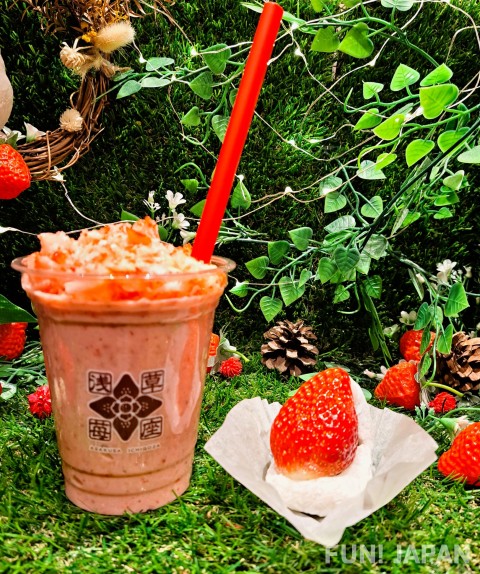 Strawberries (or 'ichigo' in Japanese) are representative of Japanese fruits. The specialty of Asakusa Ichigoza is Daifuku Ichigo, which are made with 'sweet and ripe' strawberries harvested from their own farm in Miyagi. It is a Japanese sweet that uses large strawberries that are only distributed as gifts, and it looks like a strawberry sitting on a throne.

The standard "Ichigo Daifuku" (いちご大福) is basically a strawberry wrapped in mochi, but for the store's Daifuku Ichigo, the strawberry is the lead role. In addition to the regular strained bean paste (餡 / an), there are also chocolate, raspberry, and pistachio bean pastes for daifuku - so come here with en empty stomach and try different bean pastes.
If you're thirsty, try the rich strawberry smoothie made with frozen, sweetened strawberries and milk. By the way, you can also see the Tokyo Sky Tree from the storefront, be sure to take a selfie with the Sky Tree in the background!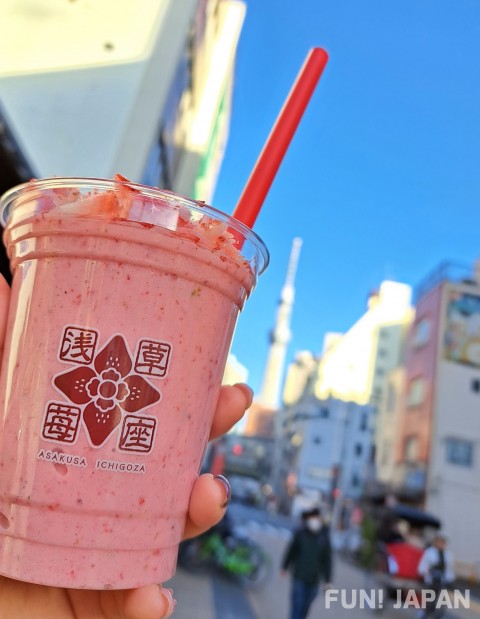 Asakusa Ichigoza (浅草苺座)
Address: 2-1-3 Asakusa, Taito-ku, Tokyo
Closed: Irregular holidays (will be announced on the store's social media accounts if temporarily closed)
Business hours: 11:00-18:00
Access: 2-minute walk from Exit 1 of the Toei Subway Asakusa Line/Tokyo Metro Ginza Line, or 6-minute walk from Tsukuba EX Asakusa Station
Nakamise, Denboin-dori, and surrounding shopping streets in Asakusa are "eat-and-walk prohibited"? What is the eating etiquette in Asakusa?

So far, we've introduced eating while walking gourmet food around Asakusa, but before heading out here's one thing you must know. In fact, in Asakusa, eating and drinking while walking is currently prohibited at Senso-ji Temple's Nakamise Street and the surrounding shopping streets.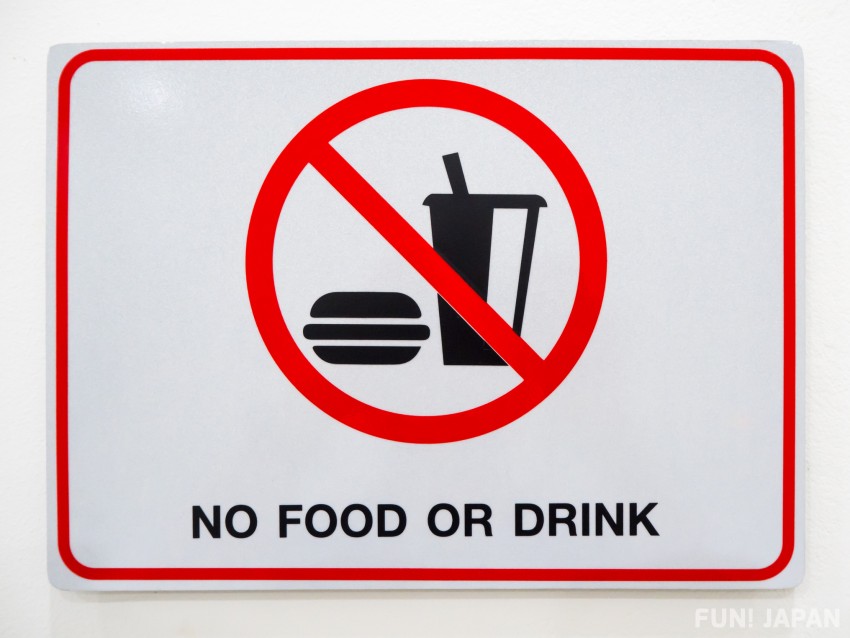 For that reason, each store has an eat-in space inside the store, and stores with few spaces such as those around Nakamise Street offer a corner for stand-up eating or designated places on the side and back of the store.

If you buy your own snacks or sweets in Asakusa, please follow the etiquette and have fun!
Been in Asakusa for 70 years! Exquisite Neapolitan and cream soda at Jun-kissa Mountain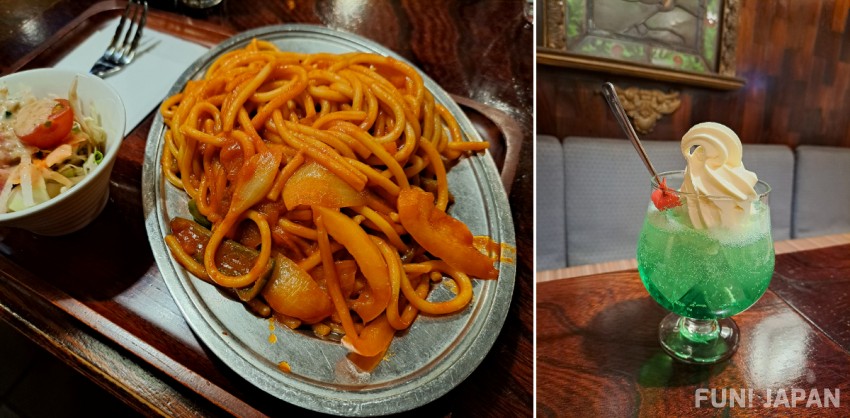 Jun-kissa Mountain is a long-established coffee shop located on Asakusa Kaminarimon Street. Founded about 70 years ago, it is a well-known restaurant that represents Asakusa and is currently run by a third-generation female owner.

The walls are covered with autographs and photos of celebrities, and the interior of the restaurant is decorated with a variety of small items that blend Japanese and Western styles, creating a relaxing retro atmosphere.

The appeal of this place is that it has a wide variety of menus unique to Japan.

The typical coffee shop gourmet, Neapolitan (a pasta dish made by stir-frying onions, green peppers, bacon, and other ingredients with a sauce flavored with tomato ketchup) is full of ingredients and chewy pasta noodles. Here you can even enjoy Japanese food such as okonomiyaki, monjayaki, and yakisoba.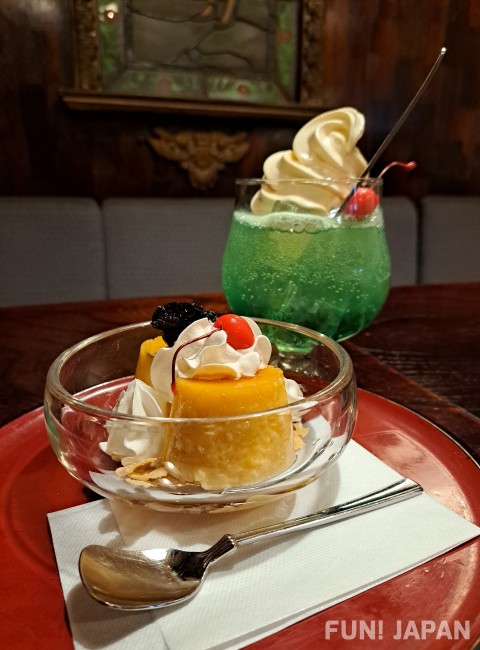 Sweets and dessert drinks are not to be missed. The cream soda is a very good match with the fizzy feeling of carbonation and plenty of soft serve ice cream!

In terms of sweets, the pudding with a large volume and cream anmitsu made with homemade red bean paste (anko) is also popular, so be sure to check them out when you visit Asakusa.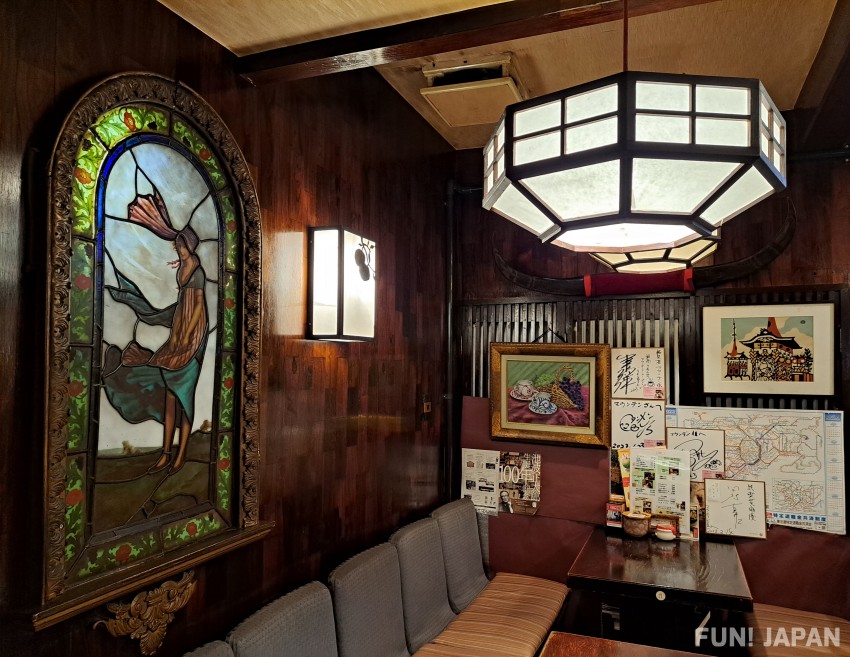 Jun-kissa Mountain (純喫茶マウンテン)
Address: 1-8-2 Asakusa, Taito-ku, Tokyo
Closed: 1st and 2nd Mondays of each month
Business hours:【Weekdays】11:30-20:00,【Saturdays, Sundays, and holidays】11:30-21:00
Access: 5-minute walk from private railway/subway Asakusa station
Articles related to Asakusa
[Survey] Traveling to Japan
Recommend