Japanese Local Cuisine Reproduction Series ⑨: Gunma Prefecture: Takasaki Torimeshi (Chicken Rice)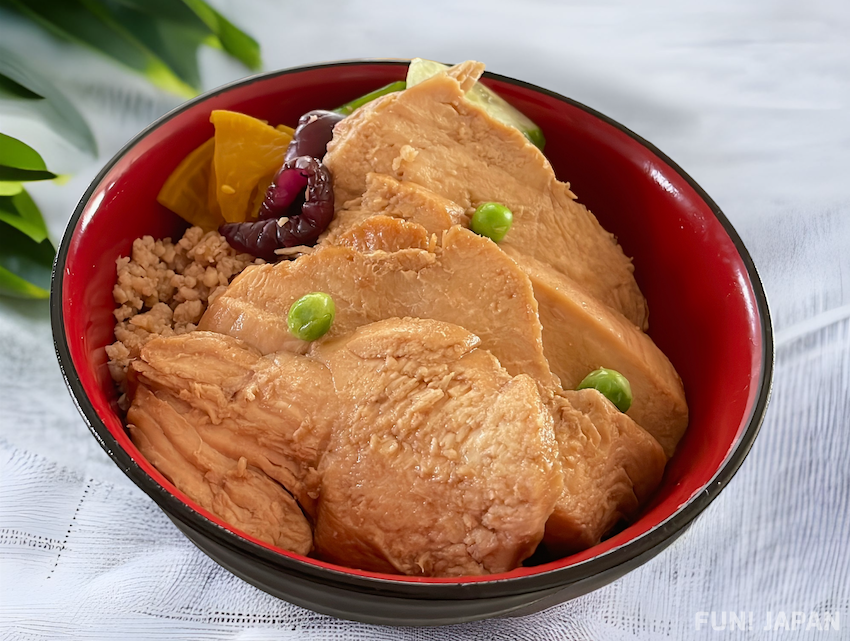 Takasaki City, one of the municipalities in Gunma Prefecture, is home to popular sightseeing spots such as Takasaki Castle and Lake Haruna, and a plenty of famous gourmet cuisine. A particularly popular local cuisine is the "Torimeshi Bento" (鶏めし弁当) from "Takasaki Bento". "Torimeshi Bento" is nationwidely popular that it can be purchased outside of Takasaki Station as well as in service areas and parking areas in other prefectures.

In this article, we will explain about the torimeshi and reproduce the recipe with a video. Why don't you try making it yourself?
What is a Japanese local cuisine?
Local cuisine (郷土料理 / Kyodo-ryouri) refers to dishes suitable for the climate that have been eaten in a local area for many years by using regional products. Many of them are comfort food and are popular among Japanese for domestic gourmet trips.
Torimeshi chicken rice is loved all over Japan as a local dish. In addition to Takasaki torimeshi, there are also torimeshi from Okayama Prefecture, Takahama torimeshi from Aichi Prefecture, and Yoshino torimeshi from Oita Prefecture. This time though, we will be focusing on torimeshi from Takasaki, Gunma Prefecture.

Origin of Takasaki Torimeshi
Takasaki's specialty, torimeshi, is a dish of thinly sliced chicken mixed with sauce and placed on top of rice.

Gunma Prefecture boasts one of the most abundant agricultural and livestock products in Japan, and chicken is no exception. In particular, "Joshu Jidori" (上州地鶏) raised on feed mixed with mulberry leaves and plum vinegar, are specialties of the prefecture characterized by its fresh and juicy taste.
In this way, torimeshi has long been a specialty thanks to the high-quality chicken. Lunch boxes such as Takasaki Bento's "Torimeshi Bento" and Torihei's "Joshu Goyo Torimeshi" were born. Recently, similar Torimeshi Bento which are thought to be models of these popular bento have been released one after another in food supermarkets.
Takasaki torimeshi-don (chicken rice bowl) recipe
Next, let's learn how to make torimeshi and make one! The recipe is similar to Chicken Char siu, but this recipe uses chicken breast instead of chicken thigh.

Ingredients for Takasaki torimeshi-don (for 2 servings)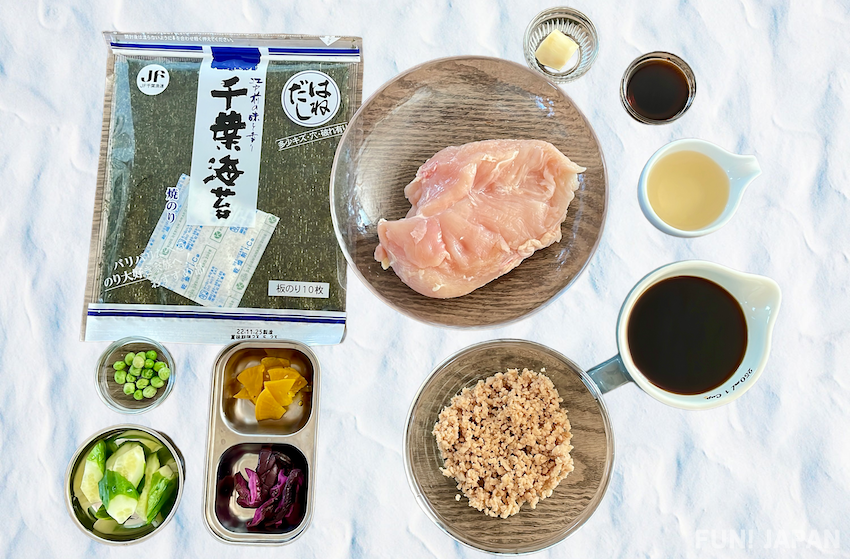 Chicken breast 300g (1 piece)



Chicken Soboro (Instructions on how to make Chicken Soboro can be found in this article)
*Liquid seasoning
Mentsuyu 150ml
Soy sauce 20ml
Mirin 50ml
Ginger 1 piece
For toppings (optional)
Nori seaweed 1 sheet
½ cucumber
Red Shibazuke (pickled vegetable with red shiso) a little
Pickled radish a little
Green peas a little
How to make Takasaki torimeshi-don
Drain the chicken breast with a paper towel.
Poke a fork into both sides of the breast meat here and there to make sure it is well cooked and well soaked in the liquid seasoning.
Put all the liquid seasoning ingredients in a pot and bring to a boil.
Add the chicken breast when the seasoning boils. Cover the pot and bring to a boil over medium heat. Cook for 10 minutes on one side, then flip over and cook for another 10 minutes.
Turn off the heat and let it sit with skin side down for about 10 minutes.
Take out the chicken and slice it to your desired thickness.
*It is easier to cut after cooling.
Return the sliced chicken to the liquid seasoning and bring to a boil.
Put the rice in a bowl or lunch box, cover with nori seaweed, put the minced chicken on top, and put #7 on top to complete.
* You may add pickles as decoration.
[Survey] Traveling to Japan