【Ehime-Hiroshima, Japan】"Cycling Shimanami" - the scenic bicycle route that offers superb ocean view!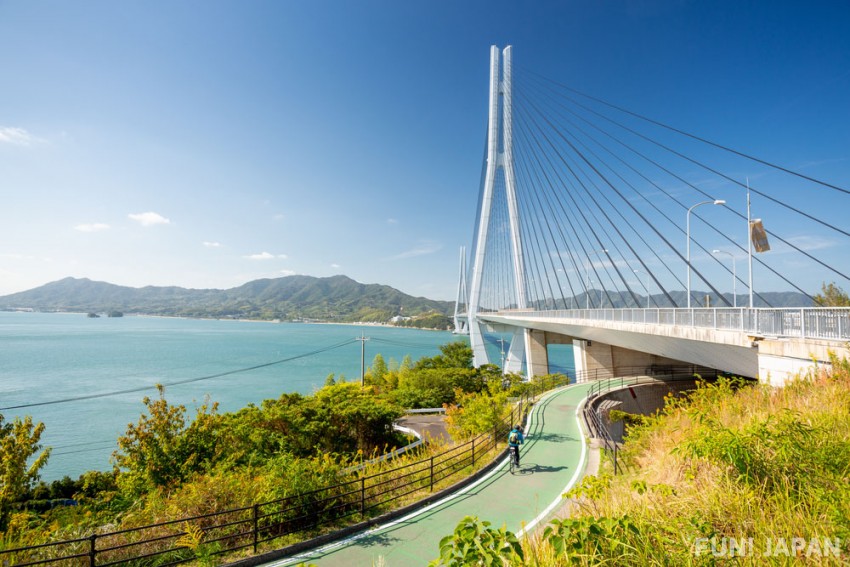 Japan's Seto Inland Sea coastal region is blessed with a mild climate with little rainfall, making it a perfect area to get around by bicycle. Thanks to that, world-class cycling courses were built in various places, including the Seto Inland Sea.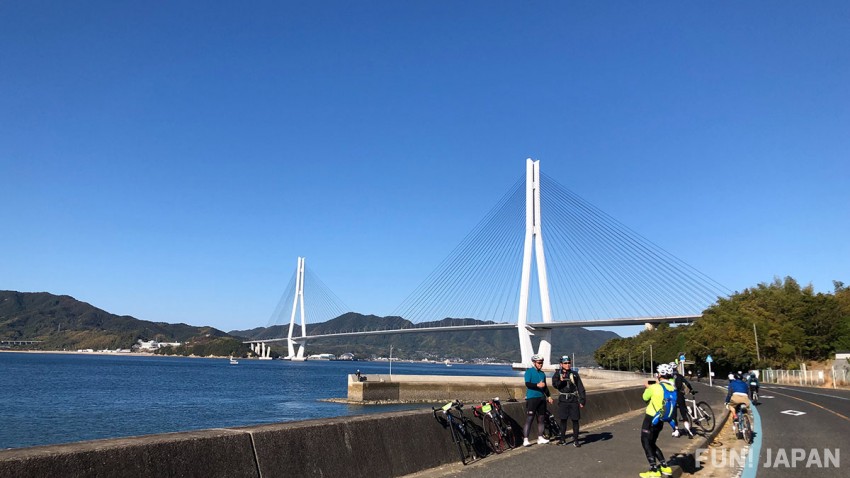 The Shimanami Kaido, which is used for the event "Cycling Shimanami" held once every two years, is regarded as a "coveted route" not only in Japan but also overseas. In order introduce the charms of "Shimanami Kaido" to our readers, our FUN! JAPAN editorial department has actually attended "Cycling Shimanami 2022". Read on to find out our personal favourite!
What is "Shimanami Kaido" loved by overseas bicycle enthusiasts?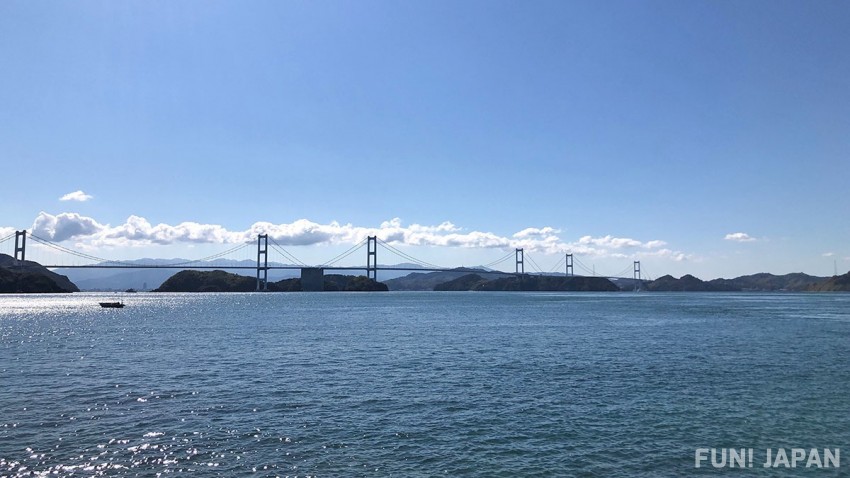 The Shimanami Kaido is a road with a total length of about 70 km that connects 6 islands in the Seto Inland Sea, inluding Mukaishima, Innoshima, Ikuchijima, Omishima, Hakatajima, and Oshima, with 7 bridges.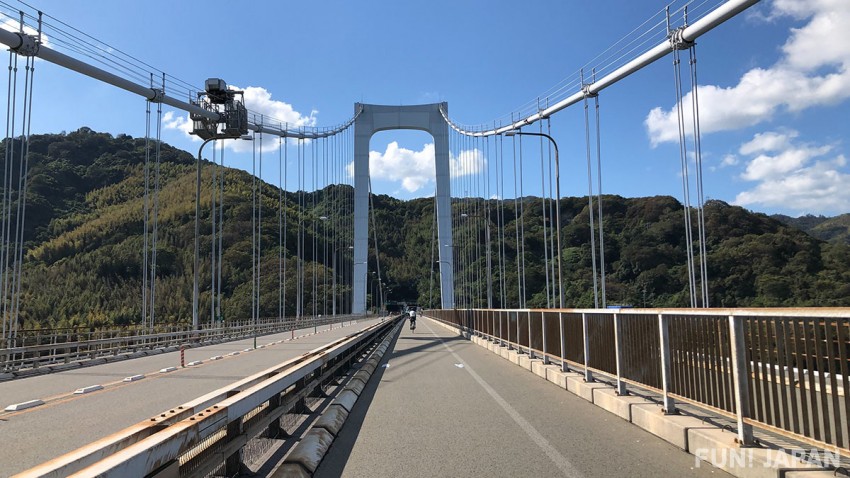 The Shimanami Kaido is Japan's only motorway that has a bicycle/pedestrian/motorcycle (125cc or below) path. For that reason, the facilities for bicycles are fully prepared. It is popular among cyclists as you can enjoy the scenery of Setouchi while riding a bicycle, sightseeing spots along the Shimanami Kaido, and enjoying local gourmet food at a 'Michi-no-Eki' roadside station.
Cycling Shimanami, a major international event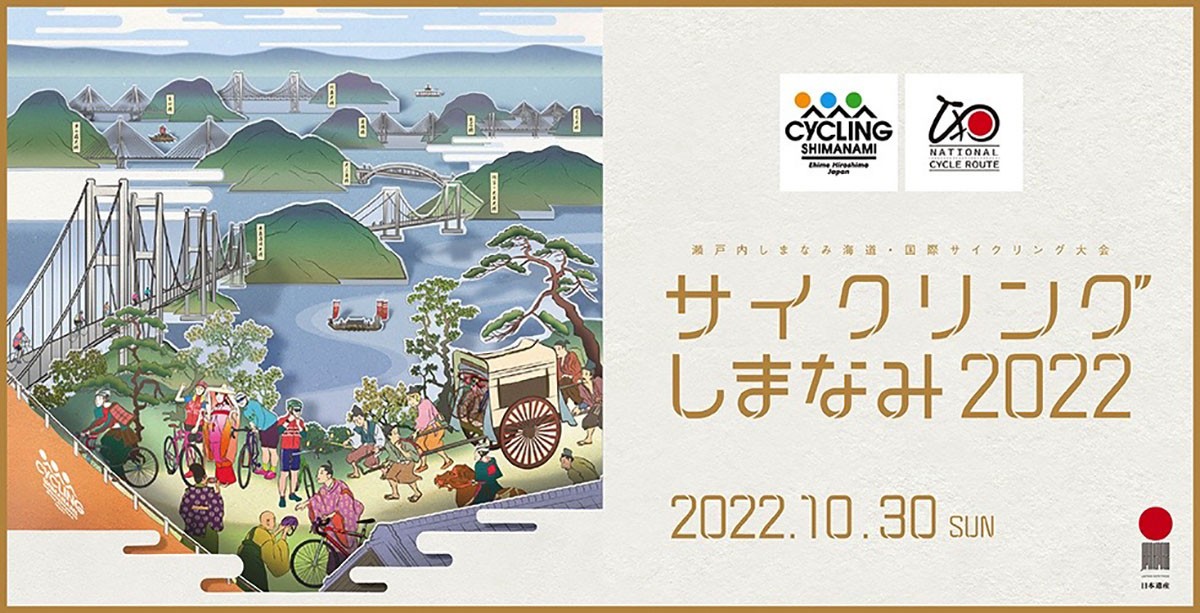 In November 2019, Shimanami Kaido was designated as a "National Cycle Route" by the government and has become one of the world's leading bicycle mecca since then. During the event period, cyclists from all over the world will gather on the motorway, whhile the bicycle/pedestrian/motorcycle path will become a bicycle-only road, allowing everyone to enjoy cycling with a sense of openness.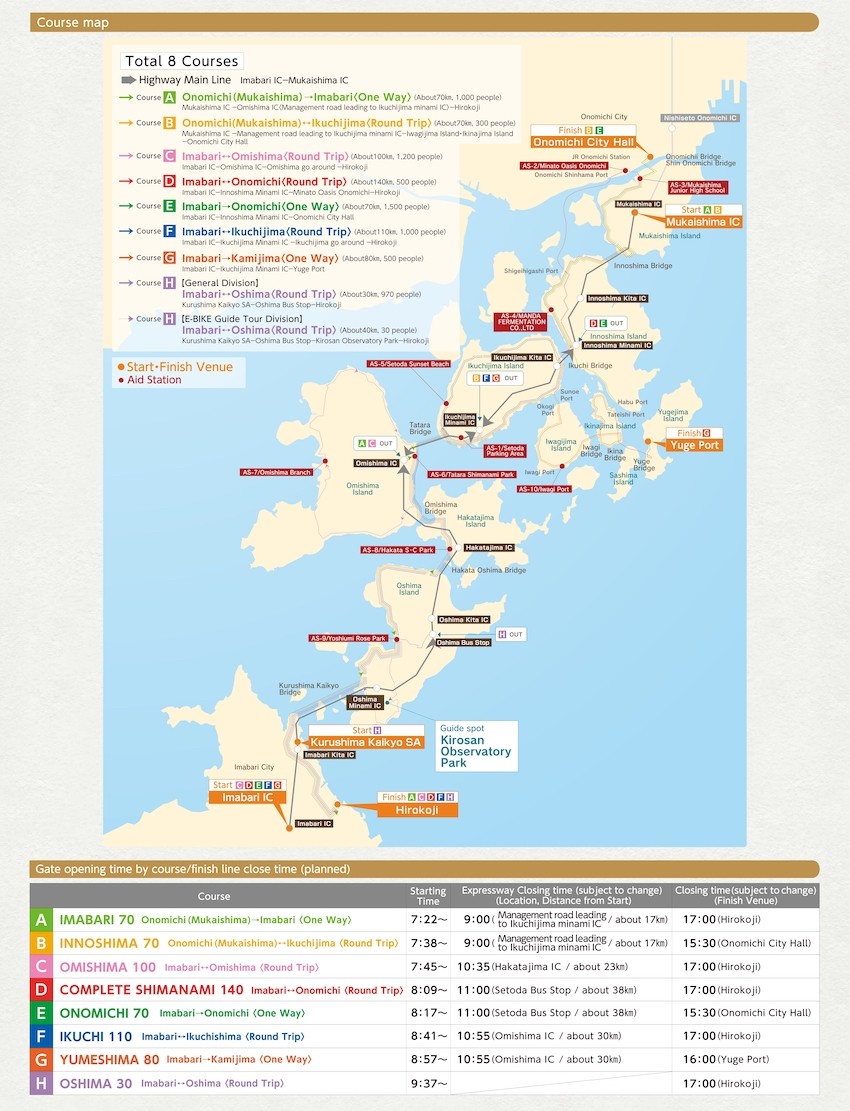 This event is not a race to compete for ranking or time, but to simply enjoy cycling. The organizers have prepared a total of 8 courses ranging from 30km to 140km so that both slow speeders and amateurs can enjoy themselves. From children (elementary school 4th grade and above) to adults, from beginners to professionals - if you are interested, you can apply for the event according to your preferences.

"2022 Cycling Shimanami" hands-on experience report
Participation preparation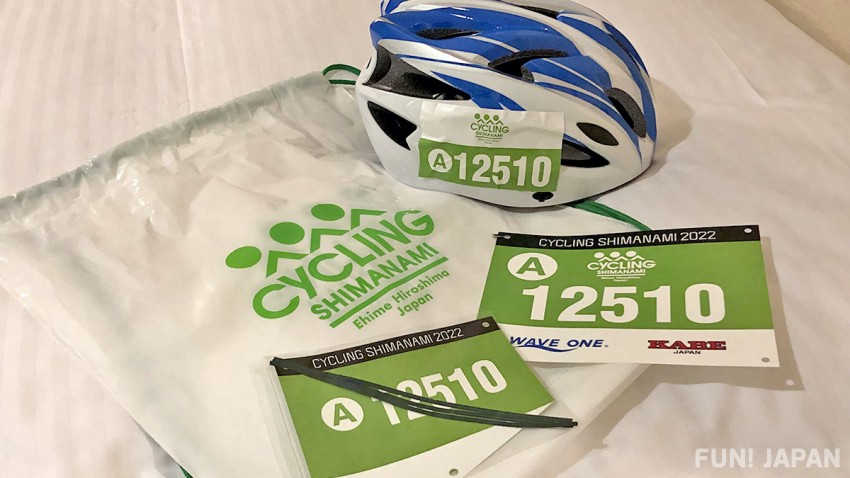 One week before the event, three bibs with participant's unique number and a contract will be delivered to your home. The bibs must be attached to the helmet, clothing (or backpack), and bicycle with a safety pin. On the event day, be sure to hand over the filled and signed contract to the staff at the reception .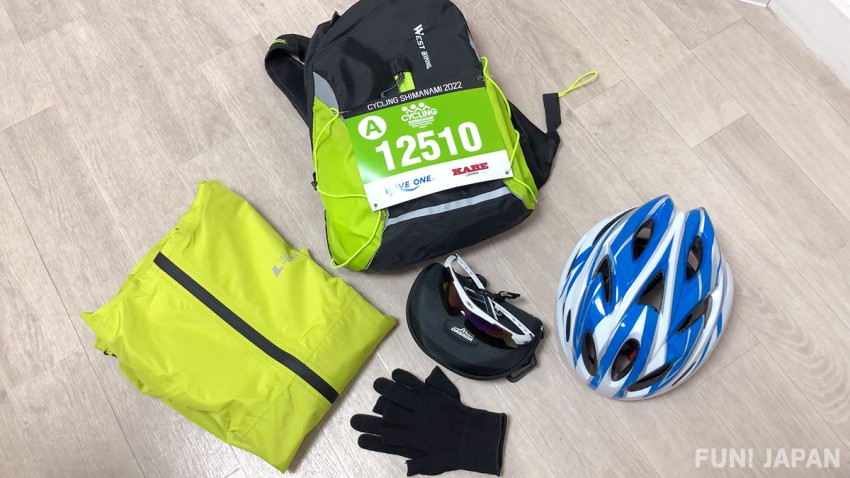 Considering safety and weather, we recommend bringing along gloves, helmets, sunglasses, waterproof backpacks, basic sportswear and warm clothes such as windbreakers and cycling pants. Aid stations are set up at intervals of several kilometers along the way, so a small amount of supplementary food will do good.

Notes on the day of event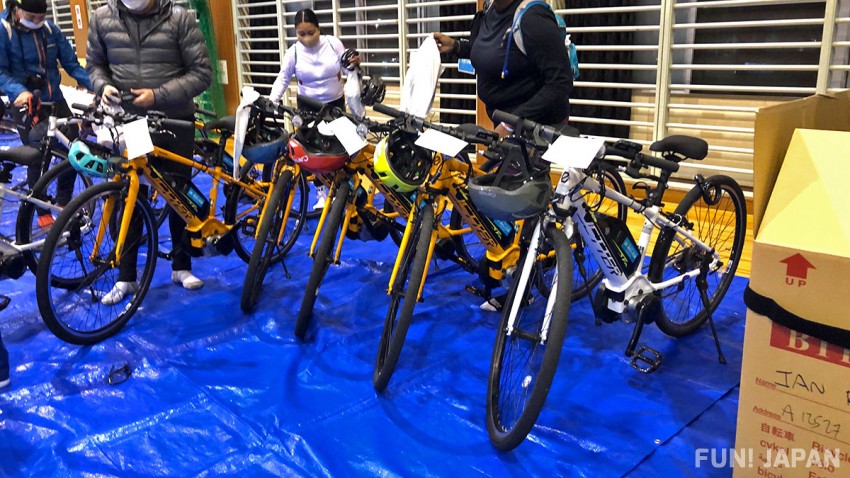 This time we went with a tour to participate in the event. On the day of the event, we left our hotel in Fukuyama at 4:00 and picked up our rental bicycles at the meeting place, Mukaishima Sports Park. Whether you bring your own or rent one, after picking up the bicycles, everyone in the tour assembled the bicycles all at once. After completing the preparation, we then headed to the starting position.

One thing to note is that there are no toilets in the section from the starting position to the first aid station. It is better to use the restroom before departure.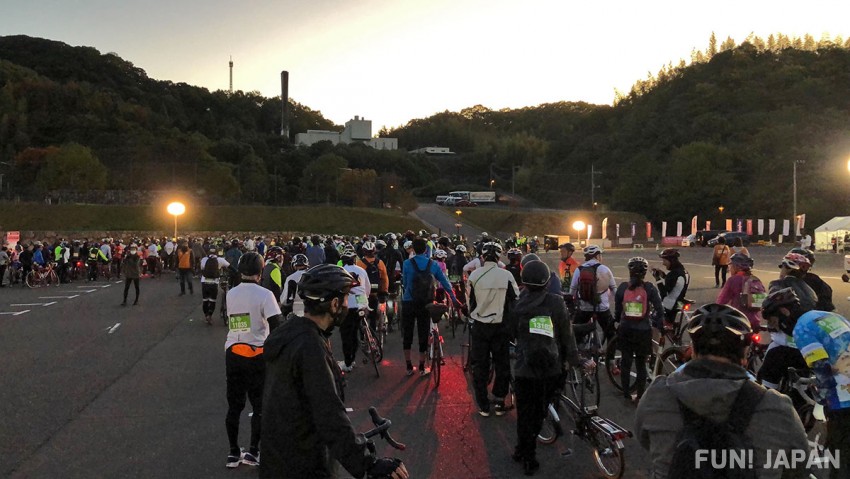 Thousands of participants are divided into several groups and each will depart from their starting position, so please check your bib number carefully. If you get it wrong, it could be a big trouble.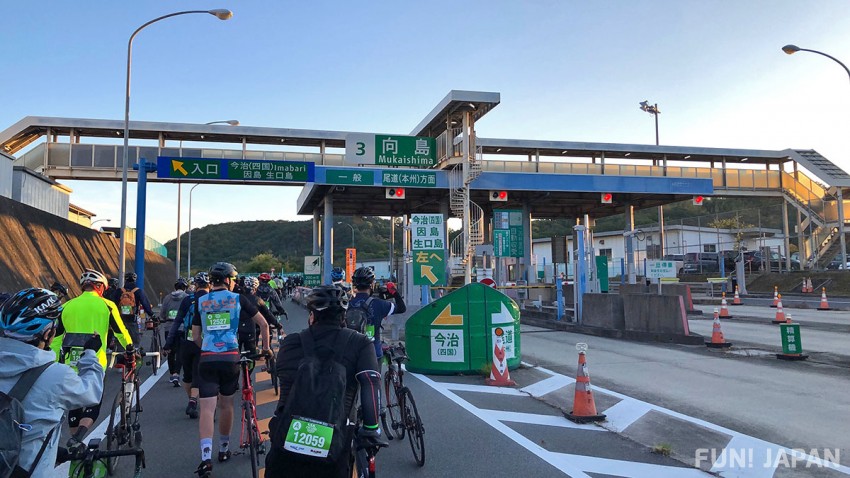 Seto Inland Sea in autumn could see a large temperature difference between morning and evening. There are chances that you will ride your bicycle throught islands where the cold sea breeze blows during the event. Let's be prepared against the cold!
Time for departure! LET'S GO!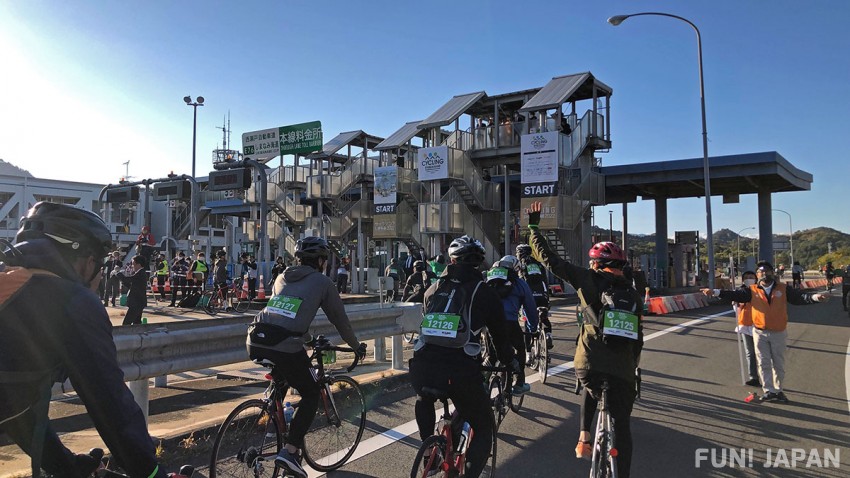 After you enter the Shimanami Kaido, you will see a spectacular view of the islands of the Seto Inland Sea and magnificent bridges. There is no need to worry about running on the wrong route as you will be guided and cheered by the race staff.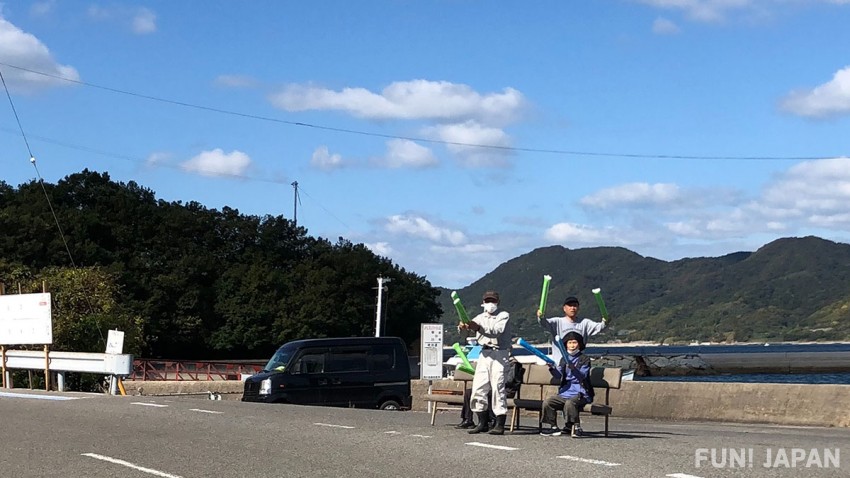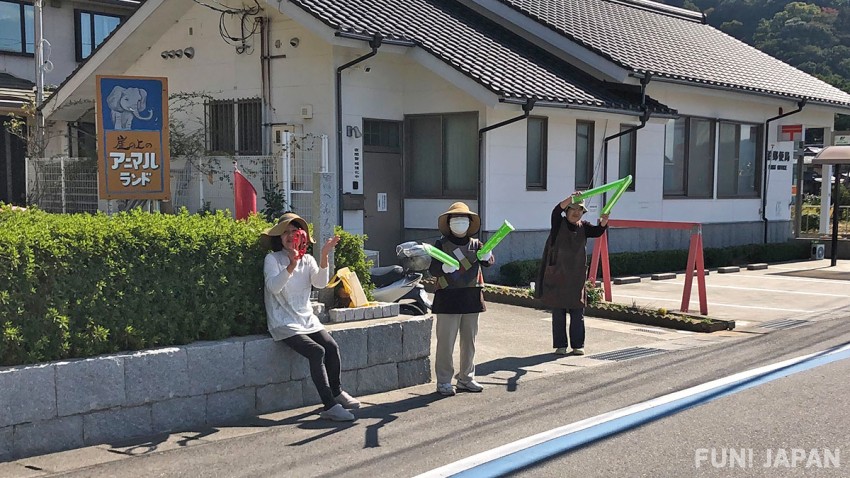 Along the route, you will be welcomed by adorable local grandpas and grandmas, all cheering you on with official stick balloons and handkerchiefs.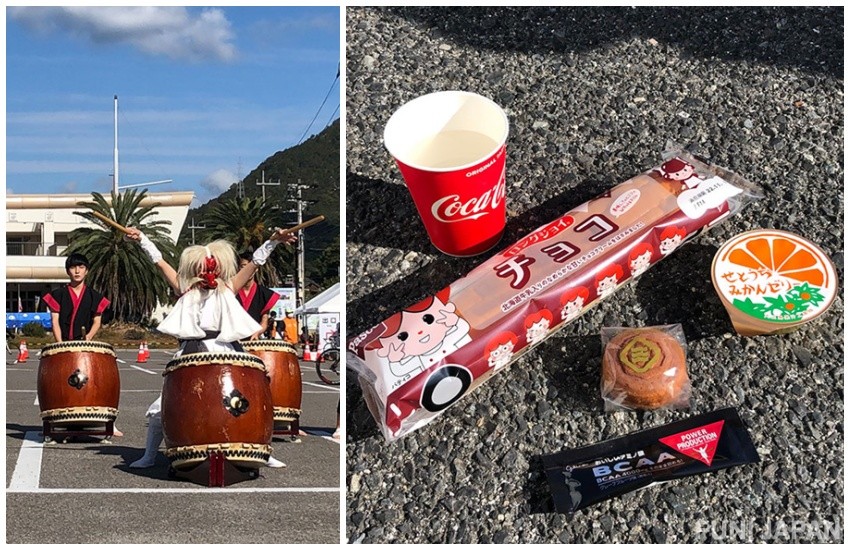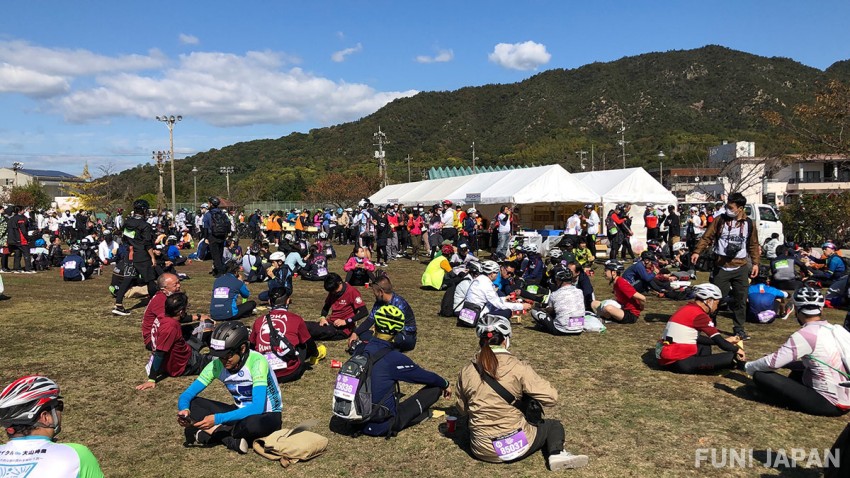 Each course has several aid stations. The supplementary food provided at each station veries, but mainly local cuisines. Course A, which we participated in, had three aid stations. In addition to food, there were taiko drum shows and free massages to soothe the tired bodies and minds of participants.

Goal!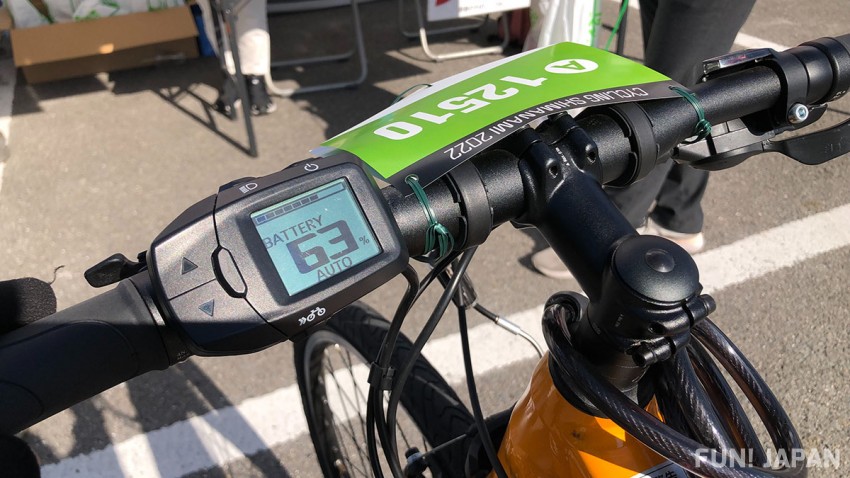 Course A started around 7:00 in the morning and we arrived at the finish line at 12:30. It was two hours earlier than expected (we had to make a sprint to return the rental bicycle and board the shuttle bus in time.) What awaited us at the finish line was not the cheering spectators though! Instead, it was a large number of staff who silently guided us (laughs).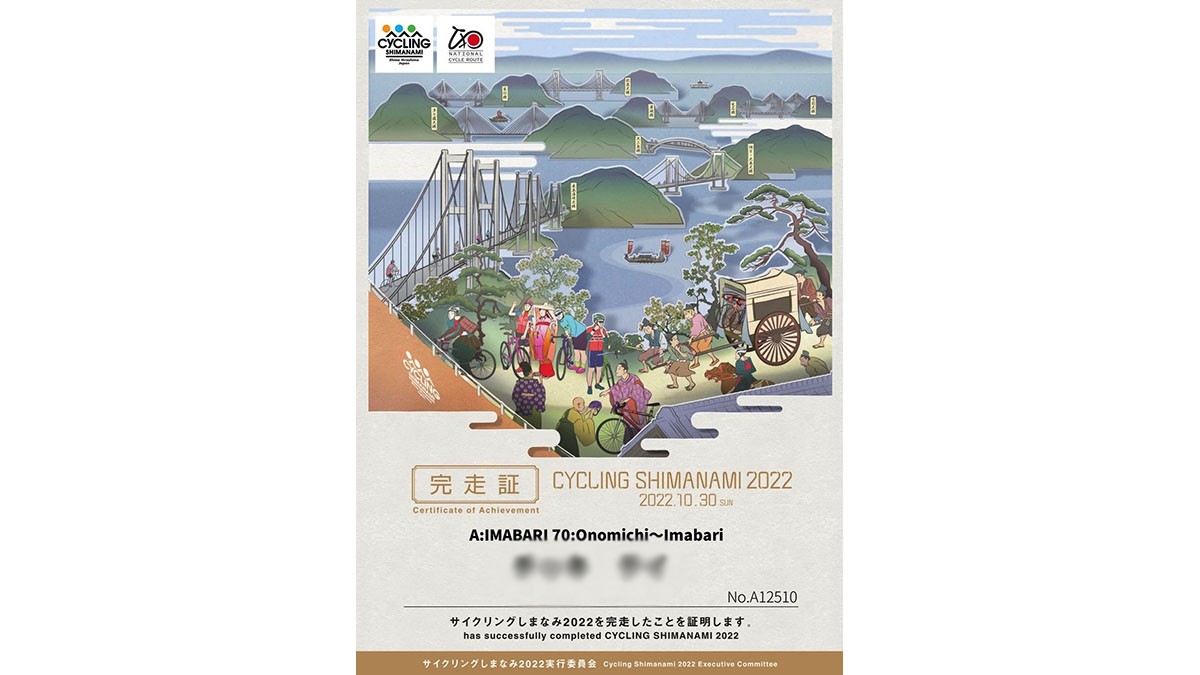 Tips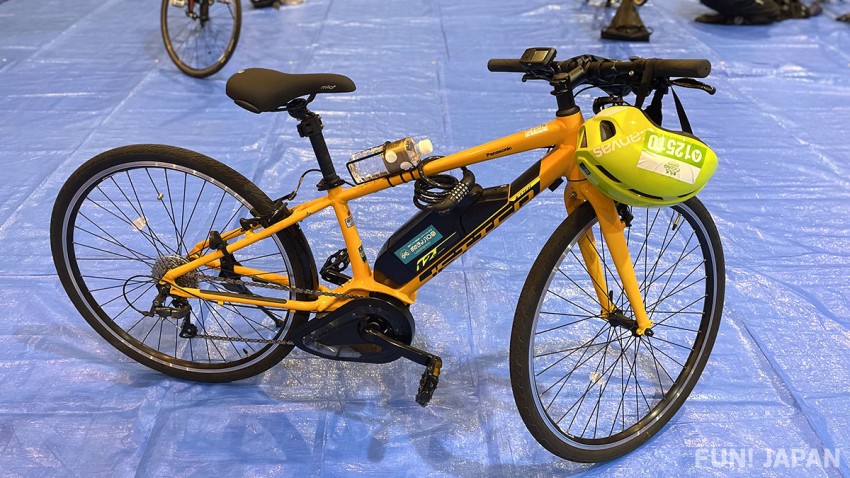 If you are participating in "Cycling Shimanami", you can bring your own bicycle as long as it is allowed for the event. Alternatively, you can also rent a bike or "E-Bike" at the local rental shops. However, for participants like us, who have only ridden a maximum of 35km in a day, there were many uneasy factors in the 70-km long A course (it's like someone who has only run a half marathon and then suddenly participates in a 42km full marathon). Worse that, we had little knowledge about the route. After much consideration, we decided to rent "E-Bike" with gears.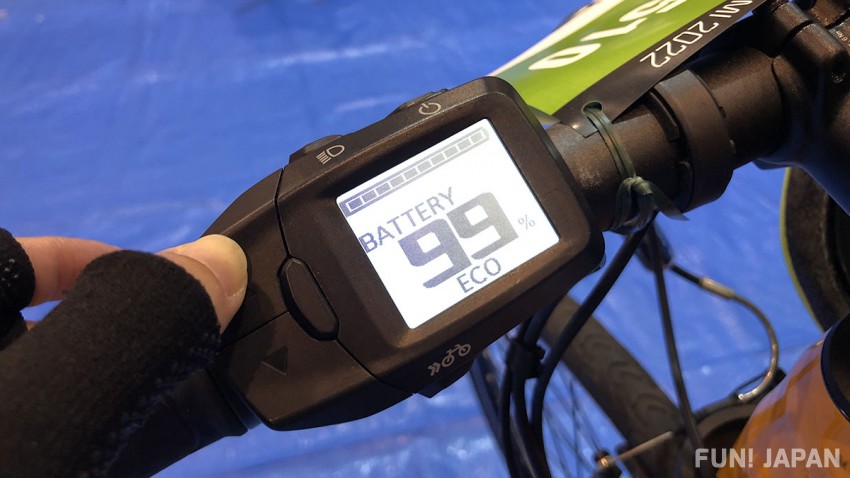 According to event staff, the E-Bike with a 3-speed gear has a battery usage time of about 40km in high mode, and can run up to about 80km in low mode. If you want to comfortably complete the 70 km, the electric assist function of the "E-Bike" and the switching of gears will help a lot.

Fortunately, A course was mostly flat except for bridges and some slopes. Considering our physical strength in the second half, we hardly used the electric assist function in the first half. So when we reached the finish line, we still had 63% battery left. The moment we saw it, we were so proud to ourselves, saying, "Ain't we amazing?" Therefore, we would recommend "E-Bike" for those who are worried about physical strength!
Event summary
[Survey] Traveling to Japan
Recommend