Kansai's Three Major Towers - Enjoy the superb views and gourmet food!
The best parts of sightseeing are of course, superb views and gourmet food! In the Kansai region, there are three spots that you can experience both: TSUTENKAKU in Osaka, Kyoto Tower in Kyoto, and Kobe Port Tower in Kobe. This article will introduce the attractions of these three towers located in Kansai's tourist city centers, where you can fully enjoy the surrounding sightseeing and gourmet food!
*Facility information in the article is as of September 2022
TSUTENKAKU - the symbol of Osaka! The new attraction "TOWER SLIDER" is also a hot topic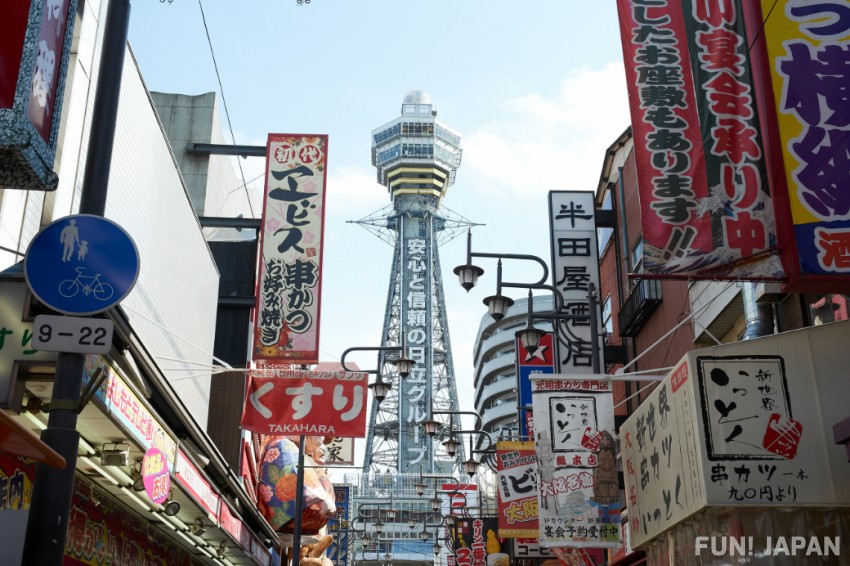 TSUTENKAKU (通天閣) is a well-known symbol of Osaka's sightseeing built in the center of Shinsekai, a downtown area with a history of over 100 years in Osaka, the city of gourmets.


Each of the 4th to 6th floors has a different observatory. At night, the 4th floor's Light Observation Platform (84m) is lit up like a disco with flashy lights and disco balls, and the 5th floor is a gorgeous Golden Observattion Platform (87.5m) decorated to match Hideyoshi Toyotomi's "Golden Tea Room". You can enjoy unique observation experiences such as the Special Outdoors Observation Platform "Tembo Paradise" located 94.5m above the ground, and the thrilling extended-out observation platform "TIP THE TSUTENKAKU" with a see-through floor at the tip.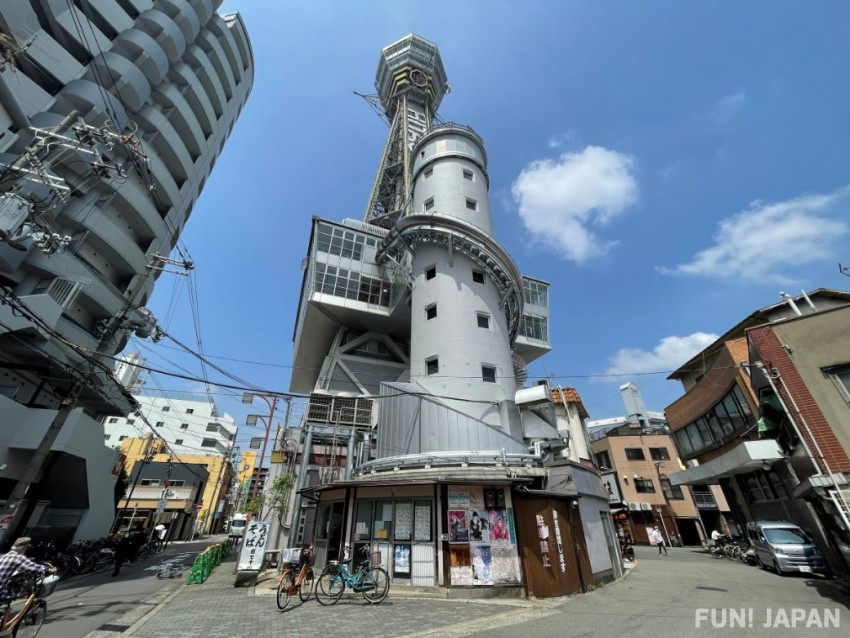 Furthermore, in May 2022, "TOWER SLIDER" was opened as a new experience-based attraction, and has become a talk-of-the-town.

TOWER SLIDER is a huge spiral slide with a total length of 60m and an inclination of about 30 degrees, where you can slide down from 22 meters above the ground to the first basement floor (4.5 meters below the ground) in about 10 seconds while going around the outer circumference of the elevator tower!
The slope part is made of durable stainless steel tube, and the ceiling is made of clear material, so you can look up at TSUTENKAKU while sliding down! Come try it as a highlight of your next trip to Osaka!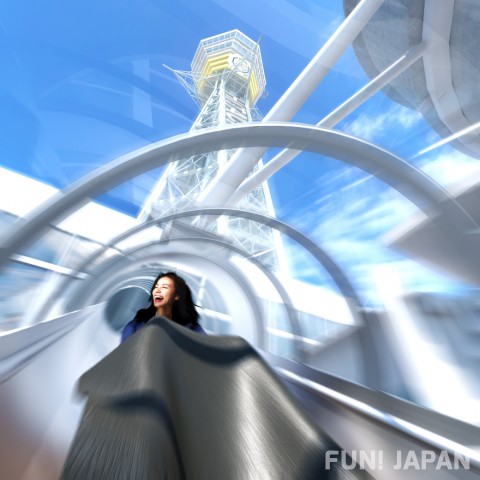 Spot Information

Spot name: TSUTENKAKU TOWER
Address: 1-18-6 Ebisu-higashi, Naniwa-ku, Osaka
Opening hours:
[General observation platforms] 10:00-20:00 (Last entry 19:30)
[Special outdoors observation plaform] 10:00-19:50 (Last entry 19:30)
[TOWER SLIDER] 10:00-19:30
General observation platforms fee:
[Adults (high school students and above)] 900 yen
[Children (5 years old to junior high school students)] 400 yen
Additional fee for the special outdoors observation platform:
[Adults (high school students and above)] 300 yen
[Children (ages 5 to junior high school students)] 200 yen
*Additional fees are required for the special outdoors observation platform Tembo Paradise/TIP THE TSUTENKAKU in addition to the general observation platforms fee.
*The special outdoors observation platform Tembo Paradise and TIP THE TSUTENKAKU are only available as a set admission fee.
TOWER SLIDER fee:
[Adults (high school students to 65 years old)] 1,000 yen
[Children (elementary school students to junior high school students)] 500 yen
Official website: https://www.tsutenkaku.co.jp/index.html
Kyoto Tower - A 360° panoramic view of the ancient capital Kyoto accompanied by gourmet food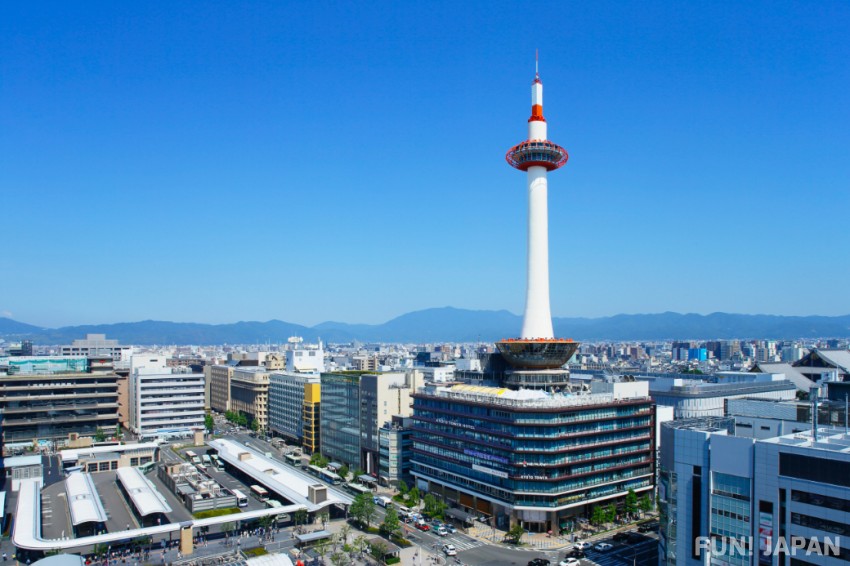 Kyoto Tower, which is just a 2-minute walk from JR Kyoto Station, is an observation spot 100 meters above the ground. The tower is built on the roof of a building that houses hotels and restaurants. A superb view of the three mountain ranges surrounding Kyoto can be admired from here.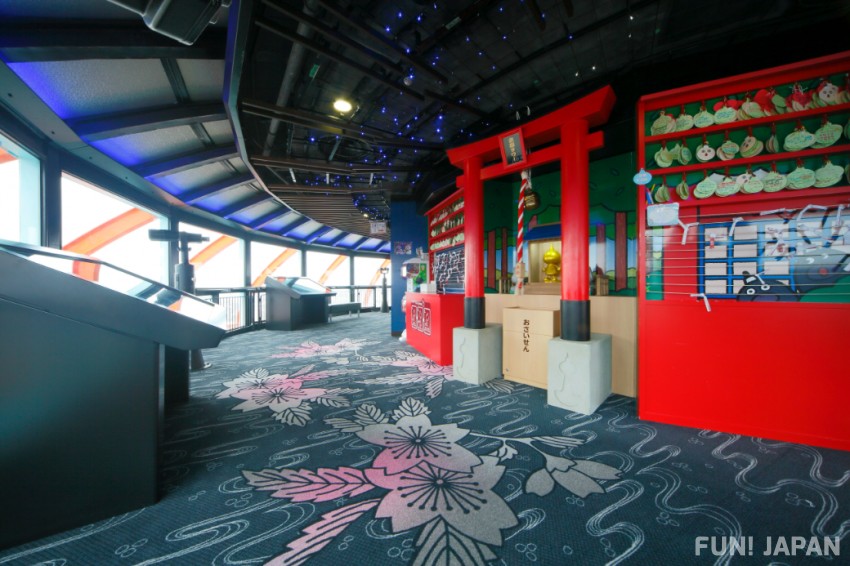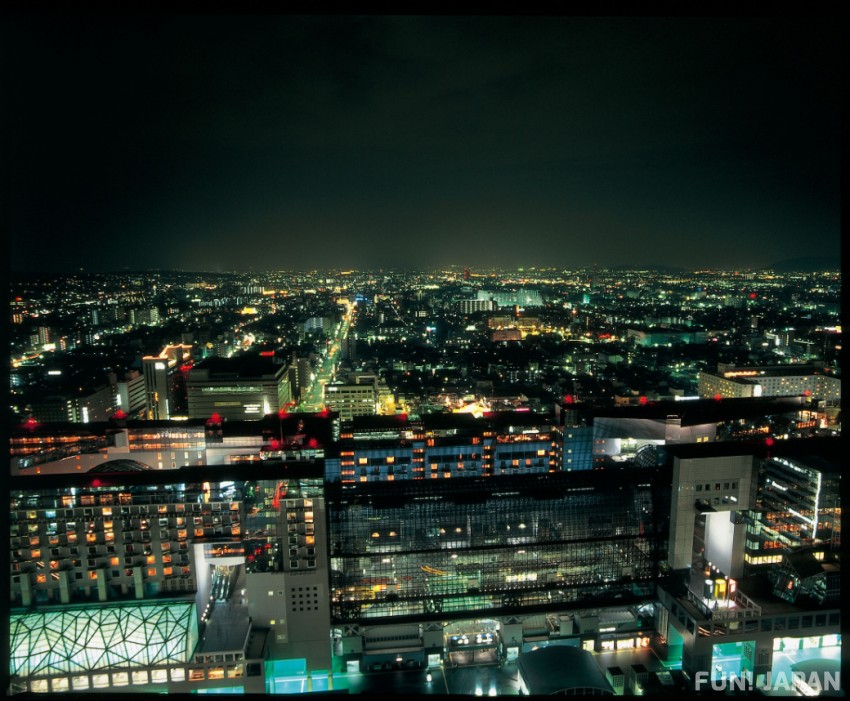 Telescopes can be used free of charge in the observation deck. Through the telescope, you can see the famous grid-like townscape, Kiyomizu-dera Temple, Toji Temple, Chionin Temple, Sanjusangendo Temple Main Hall, and other national treasures and spots that represent Kyoto. Furthermore, if the weather is good, you can even see as far as Osaka! Viewing standard tourist attractions from 100 meters above the ground might help you discover new charms.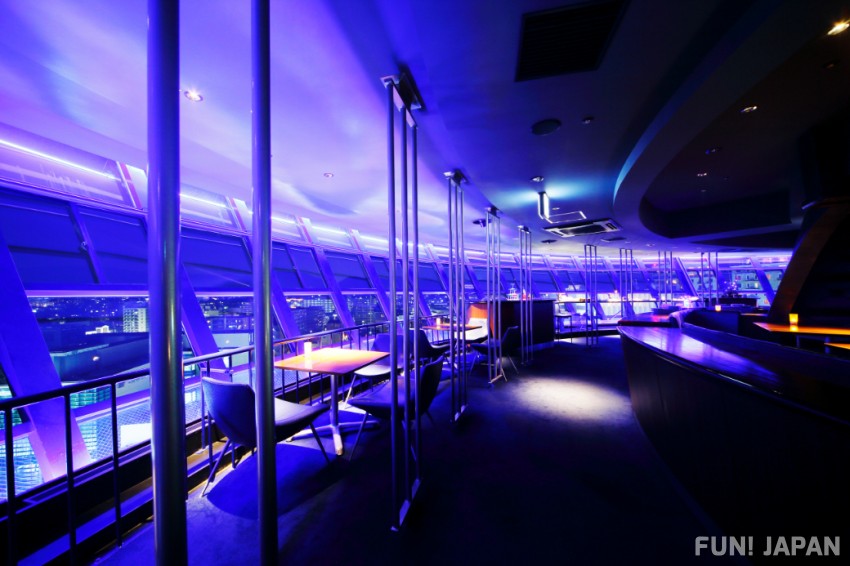 One of the attractions is that there are plenty of spots where you can enjoy food and alcohol. At the "Sky Lounge KUU" on the 3rd floor of the observation deck, you can have alcoholic beverage, soft drinks, sweets and light meals while enjoying the night view. Its interior design is like a bar where grown-ups can enjoy to their hearts with a luxurious interior and chic lighting. There are many types of seats to choose from, including 2 types of counter seats, couple seats, box seats, and table seats, making it perfect for tourists to stop by before or after sightseeing to enjoy a drink, or even use it for celebrations and parties with your loved ones. The choice is yours!
If you want to enjoy eating and shopping for souvenirs while sightseeing at Kyoto Tower, we also recommend "KYOTO TOWER SANDO". From the 1st basement floor to the 2nd floor, there are popular local shops specializing in kimonos, Kyoto sweets, and many more. After enjoying the superb view, be sure to get a souvenir you can't find anywhere else but here!
Spot Information
Spot name: Kyoto Tower
Address: 721-1 Higashishiokoji-cho, Karasuma-dori Shichijo-sagaru, Shimogyo-ku, Kyoto
Business hours: 10:30-21:00 (Last entry 20:30)
*Business hours are subject to change without notice.
General fee:
[Adults] 800 yen
[High school students] 650 yen
[Elementary and junior high school students] 550 yen
[Children (3 years old and above)] 150 yen
Official website: https://www.kyoto-tower.jp/en/
Kobe Port Tower (currently closed) - A symbol of Kobe that will celebrate its 60th anniversary in 2023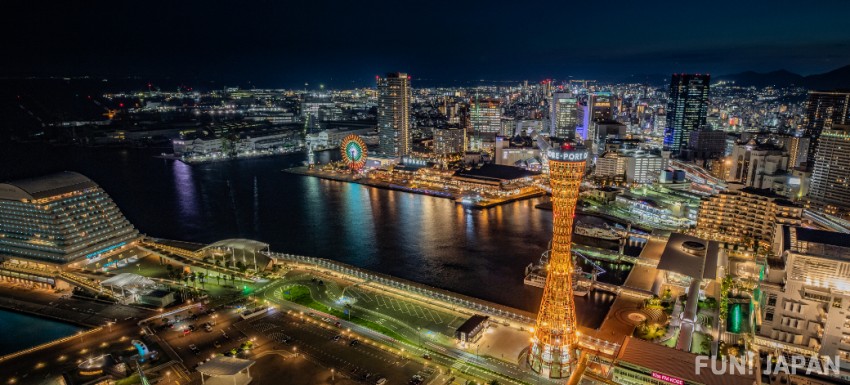 *Photo is from before renovation work. The exterior is currently under construction.
The landmark of Kobe Port, Kobe Port Tower. It is also called "Tetto no Bijin" (鉄塔の美女 - Steel Tower Beauty) because of its beautiful symmetrical appearance that reminisces an elongated version of a tsuzumi drum (鼓), a traditional Japanese instrument. The observation deck in such world's first unique pipe structure has five floors. From the top floor, you can see a panoramic view of Kobe Port, the city, and the Rokko mountain ranges! During daytime, you can enjoy the blue sea and sky, and at night, you can enjoy the illuminated Kobe Port and the night view of the city.
Currently, it is closed for renovation work in preparation for its reopening in 2023, which is the 60th anniversary since its opening. Though it is not possible to enter the building including the observation floors, and the exterior is also covered with construction sheets, there are still attractions that can be enjoyed even during construction, such as a red line drawn on the construction sheet that reminds you of its silhouette, and projection mappings are also performed at night. Be sure to look forward to its reopening in 2023, the milestone of the 60th anniversary!
Spot Information
[Survey] Traveling to Japan
Recommend