Chiba's Best Hot Springs: From Mountain to Sea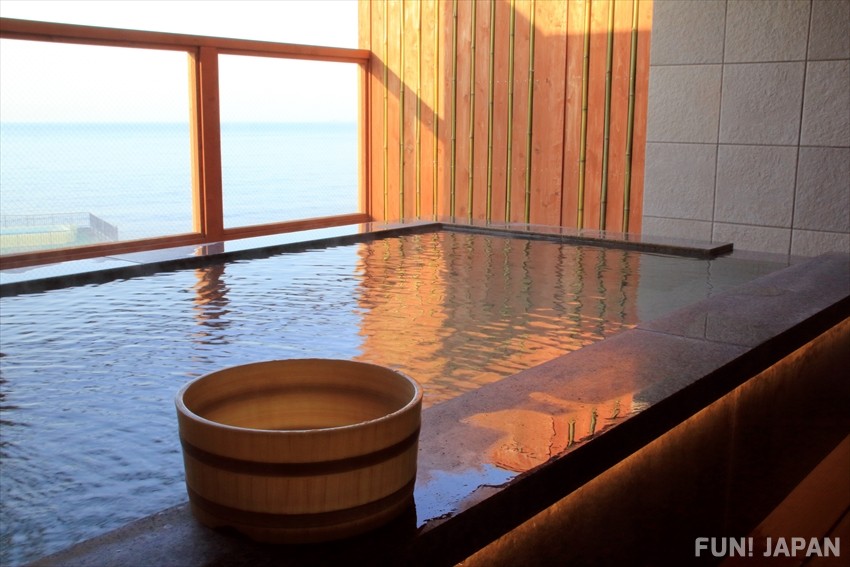 Chiba is a plentiful prefecture with hiking routes, beaches and natural hot springs to soak in after exploring. Whether you've worked up a sweat on a mountain trail or are aching from a long-haul flight, soaking in an onsen is a great way to relax and enjoy nature.

Shichirigawa Onsen: A Mountain Inn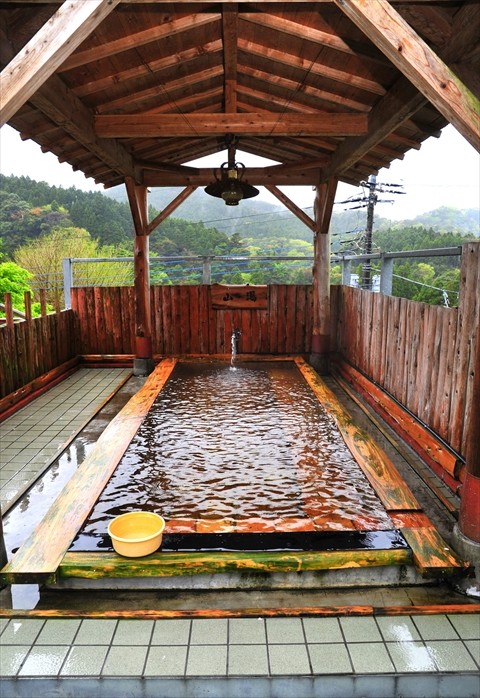 A simple hot spring hotel with incredible mountain surroundings, Shichirigawa is an amazing place to escape into nature. Close to campsites and hiking trails, the ryokan has indoor and outdoor baths with cherry trees and autumn leaves for the seasonal feel. There is also a traditional hearth for bathers to enjoy a home-cooked meal on after soaking, as well as comfortable Japanese-style rooms to stay in. Day-guests are also welcome with plans for bath-access only (1,150 yen) or including lunch.

Spot Information
Name: Shichirigawa Onsen (いろりの宿 七里川温泉)
Address: 921-1 Kiwadahata, Kimitsu, Chiba
Location: The onsen is in the heart of the Boso Peninsula, towards the Yoro Valley.
Access: The hotel is a 20-minute taxi journey from Kururi Station on the JR Kururi Line, with reservations required in advance. This is a 150-minute journey from Tokyo, riding the JR Keio Line to Soga, the JR Uchibo Line to Kisarazu and the JR Kururi Line to Kururi, costing 1,690 yen.
Hours: 08:00 - 22:00 for day guests.
Ryugujo Spa Hotel Mikazuki: Fuji Views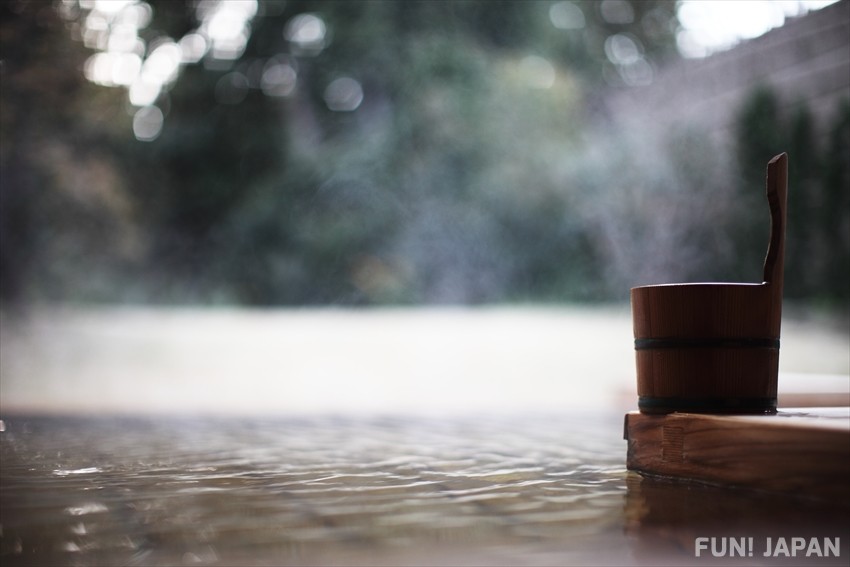 Stunning views of Tokyo Bay complete with the glorious Mt. Fuji await bathers at Ryugujo Spa in Kisarazu. The resort is family-friendly and is a resort spa, with a number of different themed baths to enjoy, including a legend-inspired tanuki (raccoon) bath, golden lucky baths, outdoor observatory baths with incredible views, royal jelly baths and more. Day guests are welcome, with bathing prices starting at 1,700 yen for adults on weekdays and 2,250 on Saturdays and Holidays, with reductions for twilight bathing sessions (post 6pm) and children.

The water here is from the Kisarazu Mikazuki Hot Spring and is 800m below the surface. The water is chloride heavy, with salt and is good for neuralgia, chronic gastrointestinal disease, fatigue recovery, arthralgia and general health promotion.
Spot Information
Name: Ryugujo Spa Hotel Mikazauki
Address: 1 Kitahama, Kisarazu, Chiba
Location: The hotel is close to the Tokyo Bay Aqua-Line, in Kisarazu City, looking out over Tokyo Bay.
Access: The car is a few minutes from the Aqua-Line Expressway and is a short bus or shuttle bus journey from Iwane Station on the JR Uchibo Line, which is 30 minutes from Chiba or 80 minutes from Tokyo.
Hours: 10:00 - 23:00
Shirako Onsen Hama Murasaki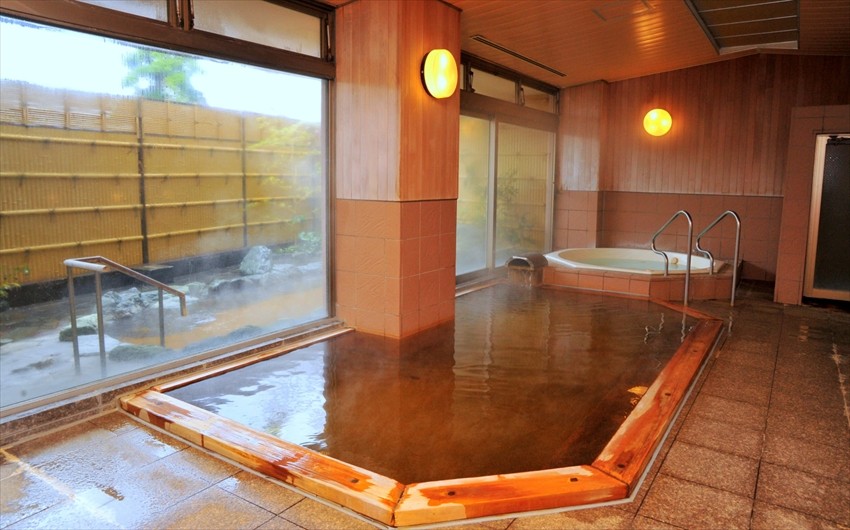 On the southern end of the 60km Kujukuri coastline, Shirako Onsen is the perfect place to relax surf-sore muscles after a day on the waves. Closest to Nakazato Beach and not far from Ichinomiya beaches, it offers glorious sea views and fresh seafood too. They have a traditional ryokan feel, with wooden indoor and rock-lined outdoor baths to choose from. Day guests are welcome between 3pm and 5pm while hotel guests can use the baths from 5am - 9.30am and 3pm to midnight.

The water here has sea minerals and iodine and is good for chronic skin problems, back pain, poor circulation and general fatigue. It is heated to a comfortable bathing temperature by the hotel and is perfect for a long soak.
Spot Information
Name: Hama Murasaki (潮の香の湯宿浜紫)
Address: 4370-14 Nakazato, Shirako, Chosei, Chiba
Location: The hotel is located on the Kujukuri coastline on the east side of Chiba,
Access: The hotel is a 20-minute drive from Honno Station on the JR Sotobo Line, which is a 30 minutes from Chiba or just 90 minutes from Tokyo using the Limited Express Shiosai Service to Chiba.
Hours: 15:00 - 17:00 for day guests and 05:00 - 09:30 and 15:00 - 24:00 for hotel guests.
Bettei Umi to Mori: A Hot Spring Hotel
Many hot spring resorts are also hotels, allowing guests the chance to enjoy as many trips to the onsen as possible. Bettei Umi no Mori is one of the most picturesque springs in Chiba. It was once an imperial villa and offers views of the earliest sunrise in the whole of Japan. Rooms have private open-air baths along with communal indoor and outdoor baths and swimming pools. Nearby sightseeing spots include the Byobugaura Cliffs, Inubosaki Lighthouse so an overnight stay is worthwhile. Day Visitors are also permitted to use the baths for a set fee, so those on a day trip can also enjoy the experience, along with lunches that are entirely locally sourced, including delicious seafood.
Spot Information
Name: Bettei Umi to Mori (ホテル 別邸海と森)
Address: 10292-1 Inubosaki, Choshi, Chiba
Location: Bettei is located on the easternmost part of Chiba, overlooking the Pacific Ocean.
Access: Bettei is a five-minute walk from Inubo Station on the Choshi Electric Railway, this is just under two hours from Tokyo on the Limited Express Shiosai service (4,000 yen one way).
Yura no Sato Onsen: Cooler Waters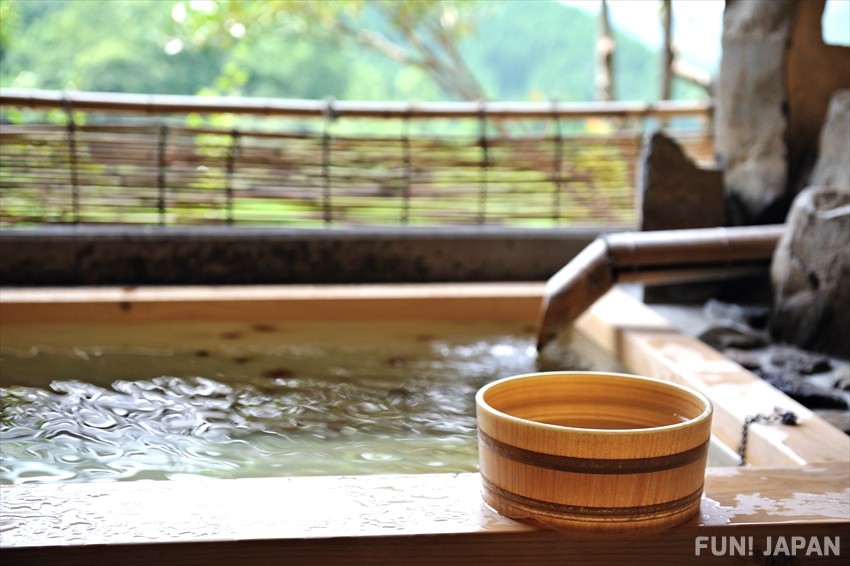 Shisui Onsen town's Yura no Sato baths is a great option as it has a variety of different baths to try including indoor and outdoor. There are bedrock baths, carbonated baths and rotenburo (large pot baths) - all with views of relaxing green fields and Japanese gardens. The facility has a modern wristband charging system so you can enjoy your time without having to carry cash.

The waters here help with high blood pressure, stiffness, and swelling. As the water temperature is around 37.5C, it is perfect for long soaks and those who don't enjoy higher temperatures. They also have a carbonated hot spring that alleviates muscle pain, silk baths for skin and open-air baths to relax outdoors.
Spot Information
Name: Yura no Sato Onsen (酒々井温泉 湯楽の里)
Address: 1-1-1 Iizumi, Shisui-machi, Inba, Chiba
Location: The onsen is in northern Chiba, a 15-minute drive from Narita Airport.
Access: The baths are a 1-minute drive from the Shisui Interchange and 15 minutes from Narita Airport. They are a short local bus journey from Shisui Station on the JR Narita Line.
Hours: 09:00 - 23:00
[Survey] Traveling to Japan
Recommend