A Delicious Harvest: Fruit Picking in Chiba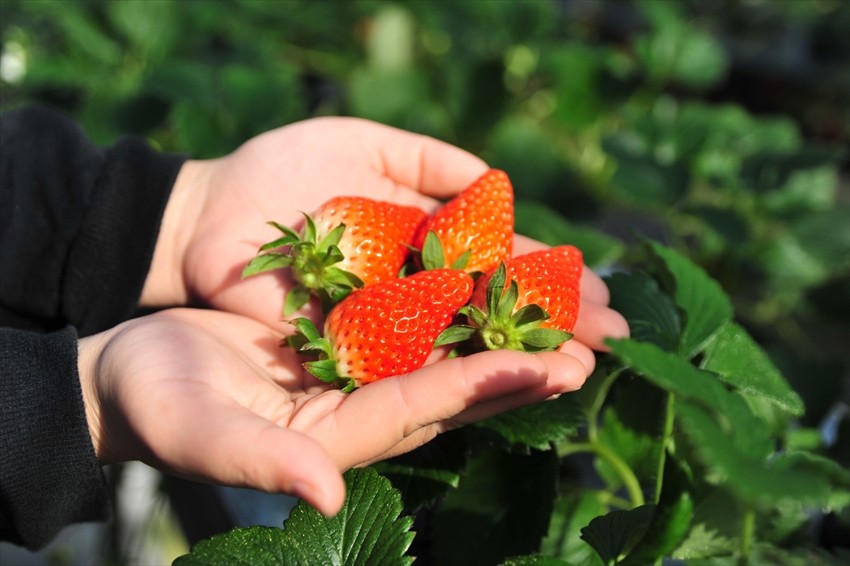 With a strong focus on seasonal produce and local ingredients, its no wonder fruit picking is a popular pastime in Japan. Whether it's an all-you-can-eat strawberry farm or a pick-your-own peanuts session, Chiba is a great destination and easily accessed from Tokyo. You can combine fruit picking with a day at the beach, a dip in a hot spring or a stroll through the Yoro Ravine - all sites are easily accessed from Tokyo on public transport via Chiba, or by car.

Flavours of the Season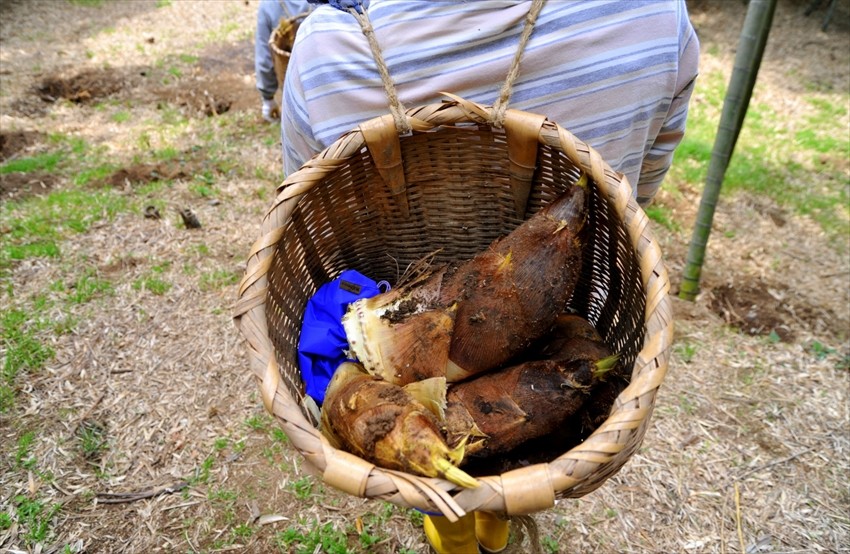 The term Shun-no-mono is important in Japan, meaning flavor of the season. Recognizing the importance of seasonal produce means enjoying the best flavors in their natural form and savoring them as their season arrives. While fruit-picking is a popular experience for visitors

What to Pick in Spring: Bamboo and Loquats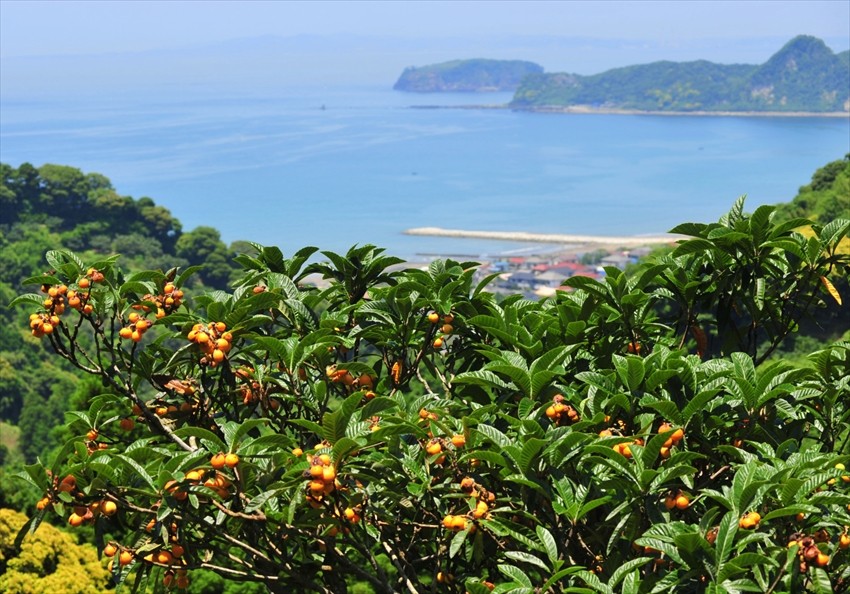 A quieter season for fruit harvesting, in Spring visitors can pick bamboo shoots or the more unusual loquat fruit. Takenoko, or bamboo shoots, are a popular addition to tempura or soups in early spring and are harvested across the country. Loquat are called biwa in Japanese and are an unusual fruit that have orange flesh and multiple large seeds.

What to Pick in Summer: Blueberries and Edamame
At their peak from July to August, Blueberries are a great fruit for health as well as flavour. Chiba City and Kisarazu are particularly popular for blueberry picking, with many all-you-can-eat sessions available in the summer months. The climate in Chiba is considered ideal for blueberry cultivation, with different varieties preferring cooler and warmer climates, extending the picking season for visitors.
Edamame are a great summer option for those with less of a sweet-tooth, and Chiba is known for their high-quality soy-beans. Harvested when still green, the beans are easy to pick and can be taken home to boil in salted water and eaten straight away.
What to Pick in Autumn: Pears, Peanuts and Sweet Potatoes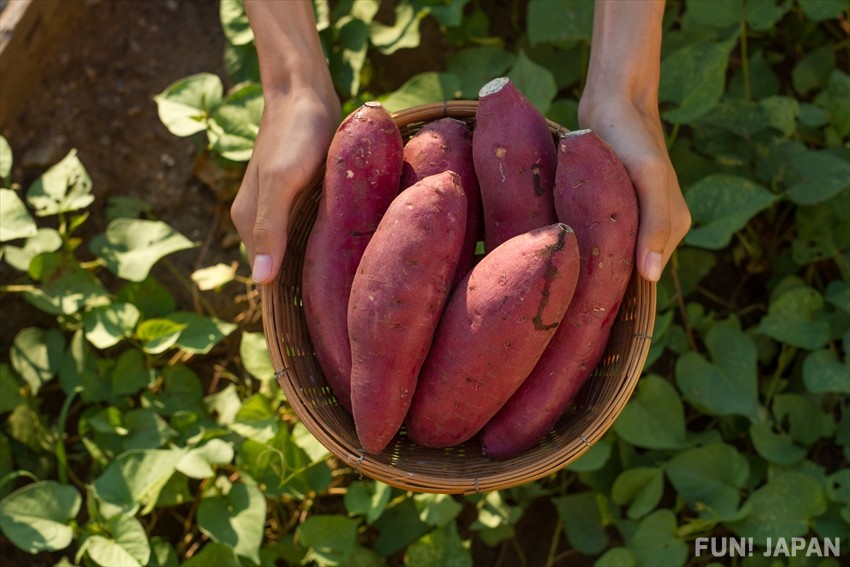 Pears are available to pick in Chiba from late August to mid-October. Chiba is one of the largest pear producers in the country and Route 464 is nicknamed Omachi Pear Street, with plenty of farms and shops selling pear products. The local varieties are known for being sweet and juicy, with a delicious scent that tempts fruit lovers from across the region.

Sweet potatoes are an autumn classic in Japan - often baked and eaten whole as a street-side snack on cold days. Digging up sweet potatoes is a fun experience, especially for children, and gives the visitors the joy of finding, preparing and enjoying their own snack from farm to plate.
Another popular option is Peanuts - a Chiba specialty. 80% of Japan's peanuts come from Chiba, with Chiba Handachi, Omasari and Q-nuts being some of the most popular varieties. Picking starts in September and is an unusual experience for visitors - peanuts may not grow in the way you expect! Pulling them from the ground fresh is a fun chance to gather your own souvenirs.
What to Pick in Winter: Strawberries and Mikan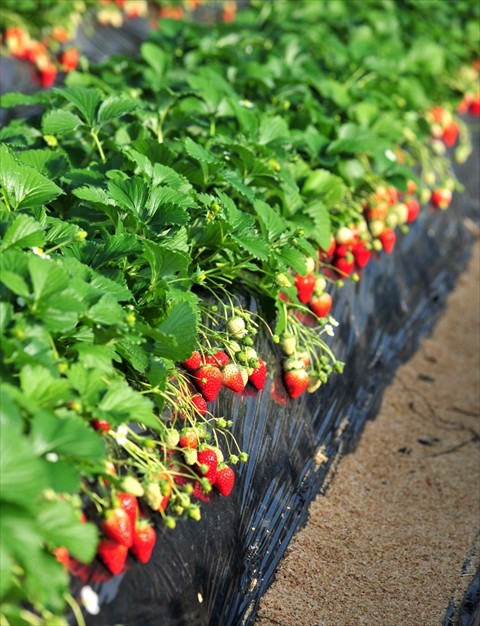 Considered summer fruits in many countries, in Japan, Strawberries are a winter specialty. Grown in greenhouses across the country, they are a treat associated with winter days out and Christmas cakes. In Chiba, National Route 126 is known as Strawberry Road and is lined with farm stands and greenhouses. There are also opportunities to go night-time strawberry picking. Another popular winter fruit is the mikan - a juicy orange/mandarin type fruit seen on trees across the country.

Where to go Fruit Picking in Chiba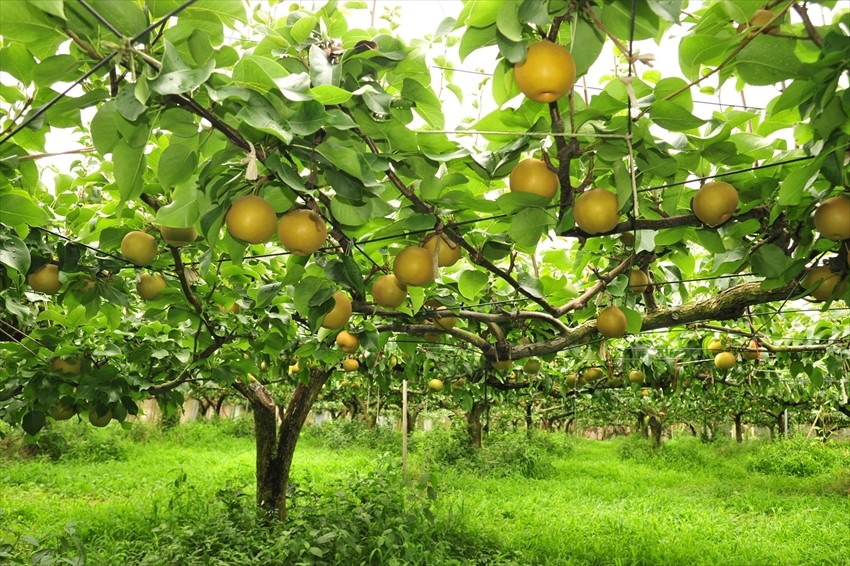 Chiba has a varied landscape, with the Boso Peninsula taking up a majority of the prefecture. The climate is perfect for Blueberries and the region is well known for strawberries, pears, sweet potatoes and even kiwi fruits. National Route 126 is nicknamed strawberry road with farm stands and greenhouses and the area is one of the largest strawberry picking destinations in the Kanto region. In addition, Tohnosho Town is famous for Aiberry - very large strawberries that grow to double the size of regular varieties.

Dragon Farm: Strawberries and Blueberries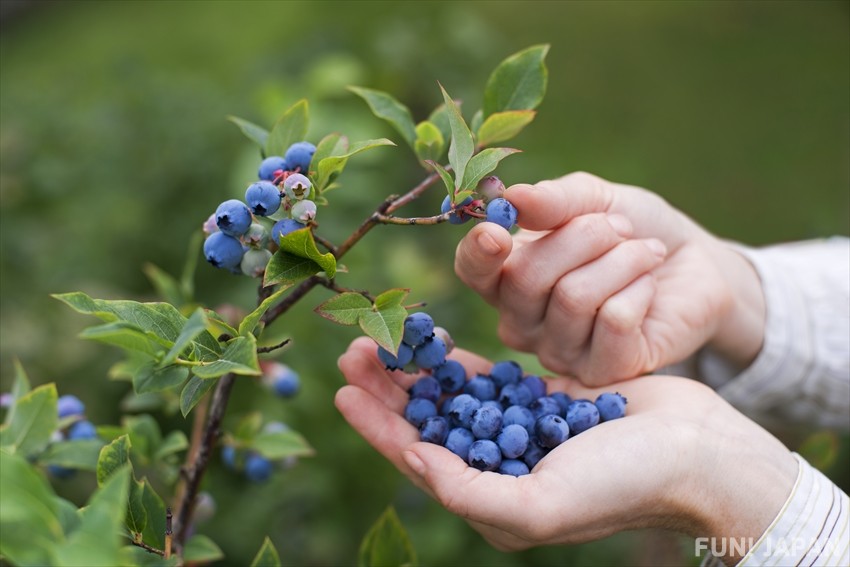 Dragon farm is known for strawberry and blueberry picking and is a short monorail ride from Chiba city. They host strawberry pickers from January until mid-May and offer an all-you-can-eat experience with 16 different strawberry varieties for 3,000 yen for adults and 1,500 yen for children. You can choose from a morning or afternoon session, each lasting half an hour. Blueberry picking is available from mid-June to the end of August and costs 1,500 yen per person for one hour of all you can eat, with takeaway punnets available for 300 yen for a few hundred yen.

Spot Information
Name: Dragon Farm Chiba (ドラゴンファーム)
Address: 1354 Oguracho, Wakaba, Chiba
Location: Dragon Farm is located just outside Chiba city, to the east.
Access: The farm is a 20-minute walk from Chishirodaikita Monorail Station, which is a 20-minute journey from Chiba on the Chiba Urban Monorail Line, costing 480 yen.
Mother Farm: Sweet Potatoes, Kiwis and More
Mother Farm is a day out for all the family with fruit and veg picking, farm animals, glamping and more. In Autumn, visitors can choose from Kiwis and Sweet potatoes, with Strawberries and blueberries in Winter.
Specialising in the Benizuma variety, Mother Farm offers sweet potato picking in the Boso Peninsula. Sweet potatoes can be picked from mid-September to late-October, costing 300 yen for one sweet potato, or 1,000 yen for four. Work gloves are provided and farm workers will show you how to find a delicious sweet potato. Kiwi picking costs 200 yen per person with fruit costing 100 yen per 100g.
Spot Information
Name: Mother Farm (マザー牧場)
Address: 940-3 Tagura, Futtsu, Chiba
Location: Mother Farm is located on the Boso Peninsula in Chiba, just outside Futtsu city.
Access: The farm is a 20-minutes bus journey from Sanukimachi Station on the JR Uchibo Line, which is a 70-minute journey from Chiba, changing at Kimitsu and costing 990 yen.
Narita Farmland: Sweet Potatoes and Strawberries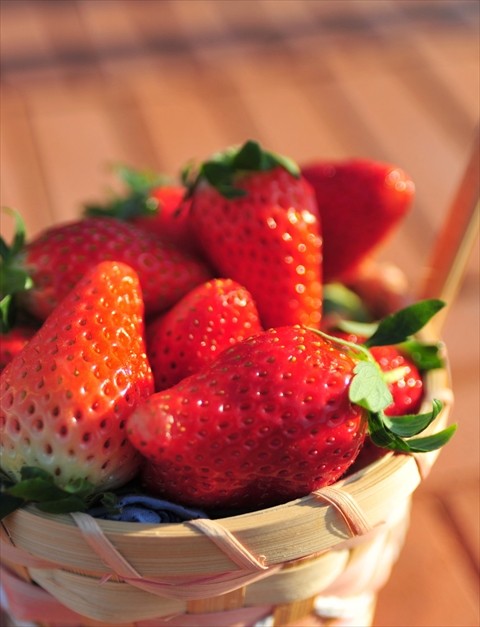 Focusing on the ability of fresh, local produce to enhance the mind, body and soul, Narita Farmland is a beautiful spot with fruit picking, potato digging and flower viewing. From January to April, strawberries are ripe for picking and the farm specialises in a variety with a high sugar content, making them extra sweet. from June to August Blueberries are in season. From October to November visitors can try their hand at sweet-potato digging - a firm autumnal favourite in Japan. Picking experience cost 1,800 yen (adults) for 30 minutes of all-you-can-eat strawberry or blueberry experience, and 1,500 for sweet potatoes, with discounts for children and package deals with a BBQ experience.

Spot Information
Name: Narita Farmland
Address: 1199-1 Tokoro, Narita, Chiba
Location: The farm is in northeastern Chiba, outside of Narita City and Narita Airport.
Access: Narita Farm is a 20-minute drive from Narita Airport, five minutes from the Taiei Interchange on National Route 51. It is also a 5-minute walk from the Akasakadai Bus Stop served by the Chibakotsu Service.
Arinomien Farm Camping: Peanuts, Edamame and More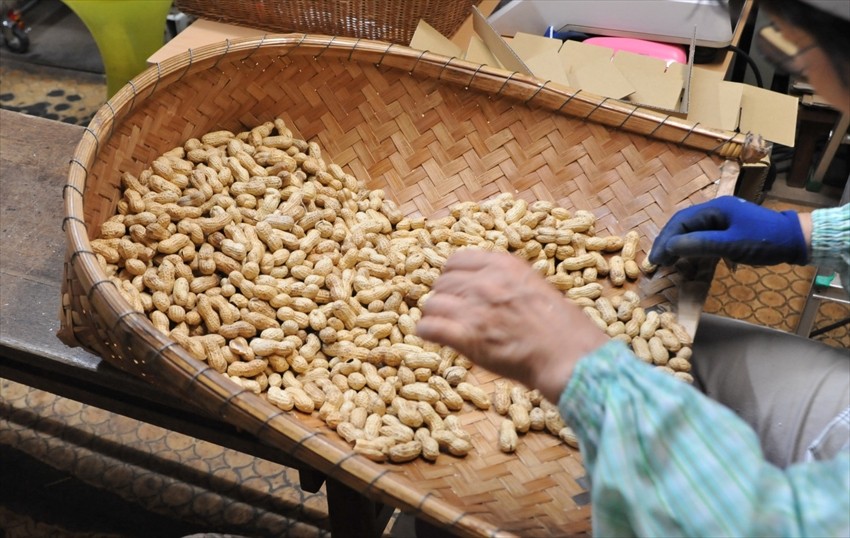 Perfect if you're looking to stay in the area, this camping site offers a range of fruit, vegetable and nut picking experiences on their farmland. Choose from edamame and potatoes (July - August), blueberries, corn and eggplant (June - August), peanuts and sweet potato (September - October), chestnuts (October) as well as other options. Prices vary depending on the produce, and all tools needed are provided.

Spot Information
Name: Arinomien Auto Camping Ground (有野実苑オートキャンプ場)
Address: 224 Itanaka, Sammu, Chiba
Location: The farm is just south of Narita City and east of Chiba City, relatively close to Narita Airport.
Access: The farm is a 15-minute drive from JR Yachimata Station and can also be reached by local bus. It is a 25-minute drive from Narita Airport - perfect if you're renting a van for camping on arrival. 
[Survey] Traveling to Japan
Recommend