Grilled Pumpkin & Sausage with Camembert Cheese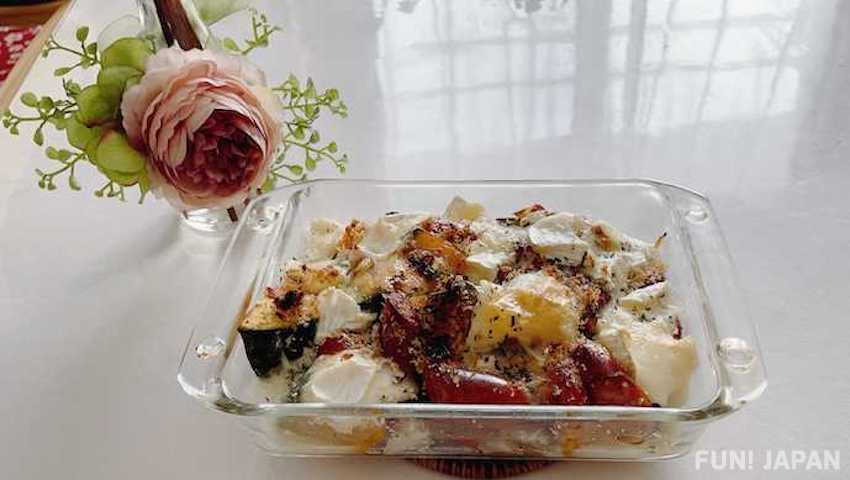 When Fall rolls around in Japan, you'll often see many seasonal items and flavored products such as pumpkin, pacific saury, mushrooms, and more. Plus, when the temperature is dropping, it's always nice to eat something warm and delicious. In this article, we're going to be looking at how to make a very seasonal yet simple dish, grilled pumpkin and sausage with camembert cheese. 

Ingredients (2 Servings)
Either 4 Large or 8 Small Sausages
200g of Pumpkin (No pulp or seeds)
¼ of an Onion
50g of Camembert Cheese
Pepper (To Taste)
1 Tablespoon of Olive Oil
To Finish:
1 Tablespoon of Panko Breadcrumbs
Light Drizzle of Olive Oil
Dried Oregano (To Taste)
Recipe
Slice the pumpkin into bite-size pieces. Place in a heat-resistant container, lightly cover with saran wrap, and heat for 3-minutes in a 600W microwave. Slice onions thinly.
Slice sausages in half at an angle.
Place olive oil into a frying pan and heat up, then fry sliced onions until soft at medium heat. Add the pumpkin and sausages, fry until brown before adding in the salt and pepper to taste.
Place the contents from ③ into a heat-resistant container then sprinkle over the camembert cheese. Sprinkle over the panko bread crumbs, a drizzle of olive oil, and the dried oregano.
Bake in a toaster oven until the cheese has completely melted. Dig in!
[Survey] Traveling to Japan