Tuna Carpaccio with Miso Powder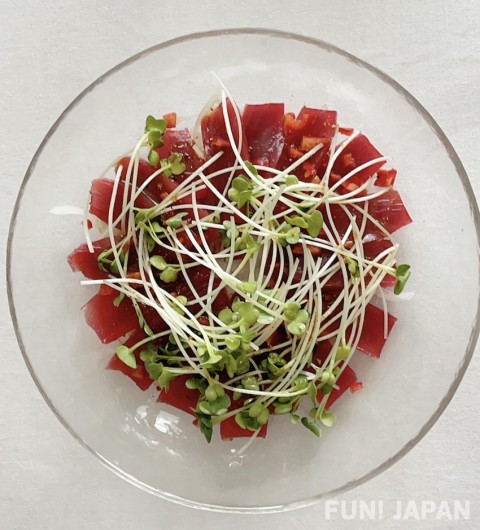 This is a simple recipe that goes extremely well with pasta. It takes fatty tuna and combines it with a refreshing sauce that goes perfect as a side dish or alongside a drink. Also, if you don't have some of the recommended salad ingredients in your home country, you're able to substitute them easily with a wide range of others. Take a look at the recipe below! 

Ingredients (2 Servings)
100g Tuna for Raw Consumption
1/4 of an Onion
½ a Red / Orange / Yellow Pepper (Or a mix)
25g Radish Sprouts
Ten Grain Miso Seasoning Powder Type
★Sauce:
1Tablespoon Otoko-no-Negiabura
1Tablespoon Kaminari-no-Kakushiaji Soy Sauce
1Teaspoon Lemon Juice
 Salt and Pepper to Taste
Recipe
Slice the tuna into thin pieces.
Slice the onion into thin pieces and soak in water for 10 minutes before then removing and drying well.
Slice peppers and ensure to cut roots off sprouts.
Place sauce ingredients into a bowl and mix well.
Spread the onion slices on a plate, then place the tuna over the top. Place the peppers and sprouts over the tuna, pour the sauce over the top, and finally sprinkle some of the miso seasoning to complete the dish.
Pick Up Some of the Ingredients From the Japan Select Shop!
● Ten Grain Miso Seasoning Powder Type

https://fun-japan-select.com/products/ten-grain-miso-seasoning-powder-type
● Kaminari-no-Kakushiaji Soy Sauce
https://fun-japan-select.com/products/kaminari-no-kakushiaji-soy-sauce
● Otoko-no-Negiabura
https://fun-japan-select.com/products/otoko-no-negiabura
[Survey] Traveling to Japan