The Top 5 Best Hotels to Stay at in Naha Okinawa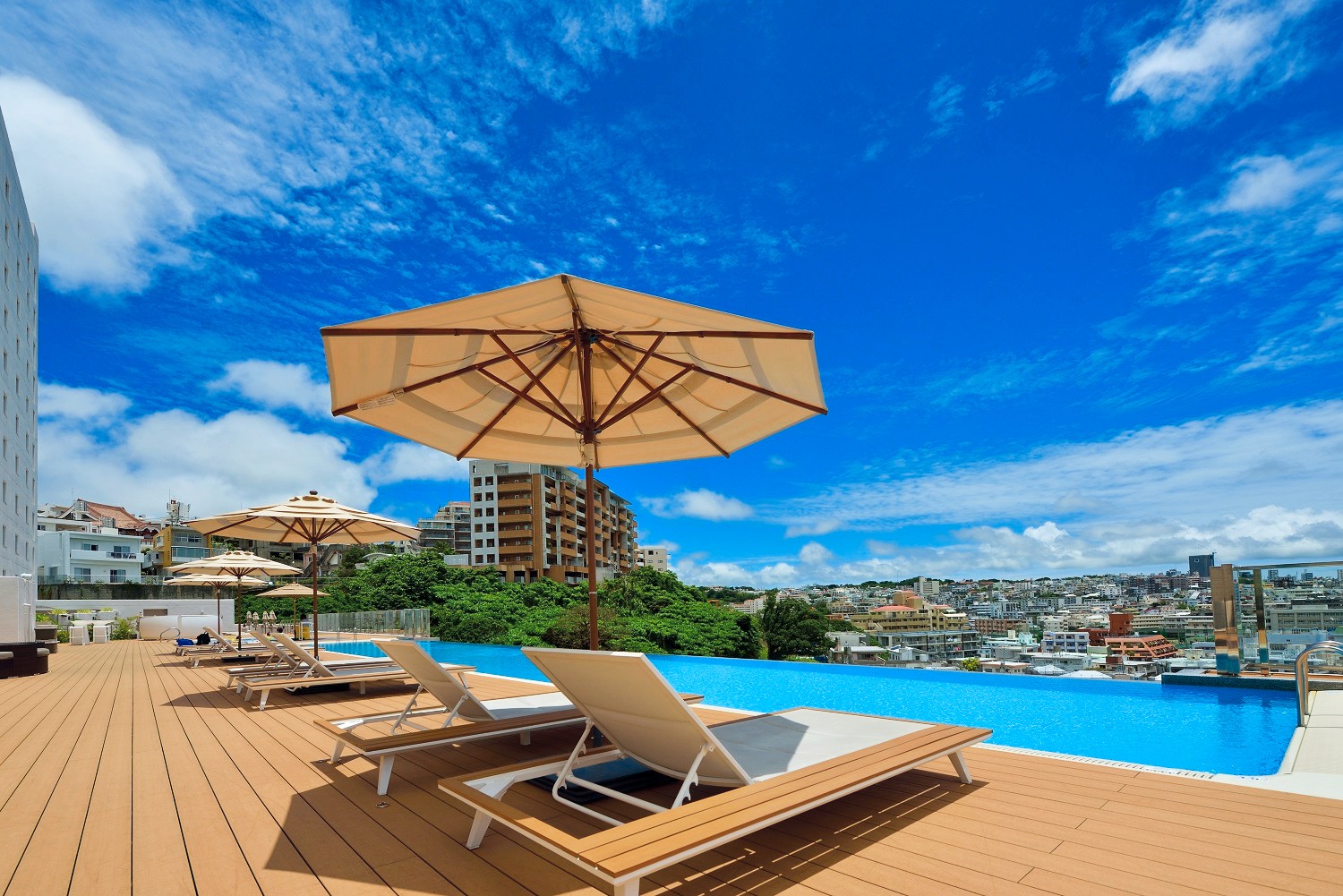 Okinawa, a popular tourist spot for tourists all over the world. Naha is known as the entrance to Okinawa's main island and has some of the highest satisfaction rates for hotels in the entire country. In this article, we're going to be introducing 5 of the best hotels to stay at in Naha, Okinawa!

1. HOTEL COLLECTIVE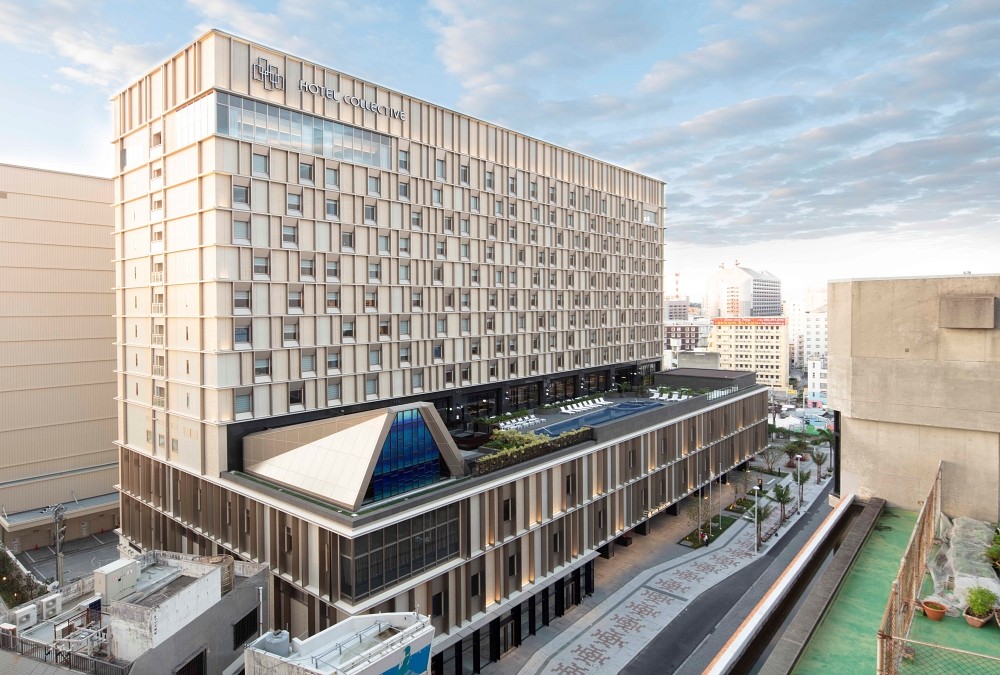 This is a very popular tourist spot and luxury hotel that opened in 2020 and is located on what is known as "international Street" or "Kokusai-dori" in Japanese. The appearance of the hotel has modern Japanese style with wide-open rooms that have over 30㎡ of space. Compared to other luxury hotels on the island it's reasonably priced and easily accessible. You're able to enjoy various types of foods here including Chinese, Japanese, Spanish, Tapas, Ryukyuan food, and more international dishes. The Chinese food you'll find within Okinawa is especially famous for being extremely delicious!


Information
Location Name:HOTEL COLLECTIVE
Address:2-chōme-5-7 Matsuo, Naha, Okinawa
Access:

A 7-minute walk from the Yui Rail Prefectural Office Station
Right next to the Matsuo Bus Stop using the Naha Airport Terminal Bus Service numbers 125 or 120.

15 minutes via taxi from Naha Airport International

TEL:098-860-8366
2. Novotel Okinawa Naha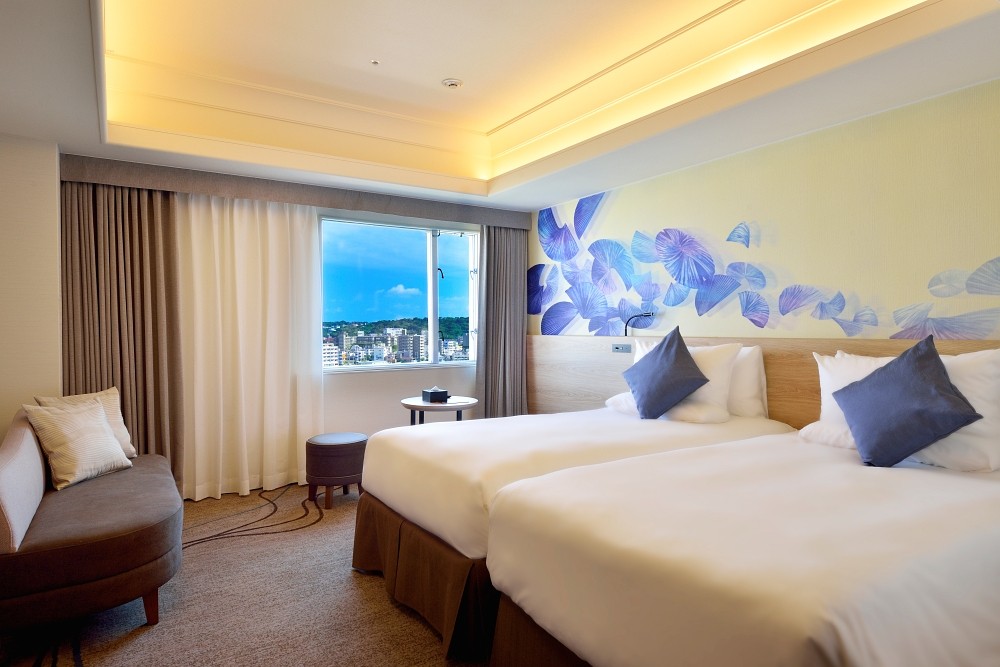 Shuri, a castle town located in the center of Okinawa Prefecture that prospered during the Ryukyu Dynastic period. This hotel has a concept of "EASY LIVING" and has you staying in a stylish room fitted with everything you'll ever need during your stay. You can enjoy the view of Naha thanks to the hotel being located on elevated ground, and get that "resort" feeling through using the infinity pool available to guests. There are even guest rooms that have direct access to the pool. There are multiple access points to international street directly from the hotel grounds making it extremely useful when you want to go for a walk around town.


Information
Location Name:Novotel Okinawa Naha
Address:40 Matsugawa, Naha, Okinawa
Access:40 minutes via bus from Naha International Airport / 5 minutes via car from Kokusai-dori
TEL: 098-887-1111
https://novotelokinawanaha.com/ja/
3. Mercure Okinawa Naha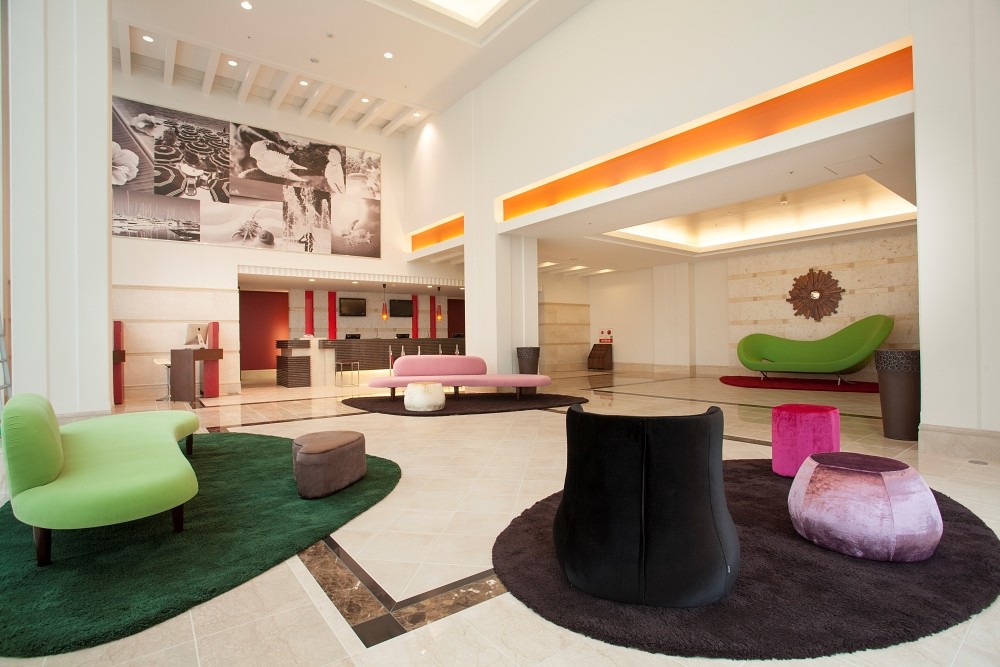 This is a brand new style of hotel run by the France Accor Group. The theme was thought up by a French designer who has combined both France's and Okinawa's styles to create a brand new theme that has formed a colorful and vibrant interior. Guest rooms contain chic and simple interior as well as Simmons beds. While they are simple, they are also functional containing everything you'll need during your stay. During breakfast, you can enjoy the in-house buffet as well as freshly baked croissant​s that have the same taste like those you would find in France. Another great point is that this hotel is quite close to the Naha International Airport via the Yui Rail just a 10-minute car journey away.


Information
Location Name:Mercure Okinawa Naha
Address:3-3-19 Tsubogawa, Naha, Okinawa 900-0025
Access:A 1-minute walk from Yui Rail Tsubogawa Station East Exit / 10 minutes via car from Naha International Airport
TEL: 098-855-7111
https://www.mercureokinawanaha.jp
4. HOTEL ANTEROOM NAHA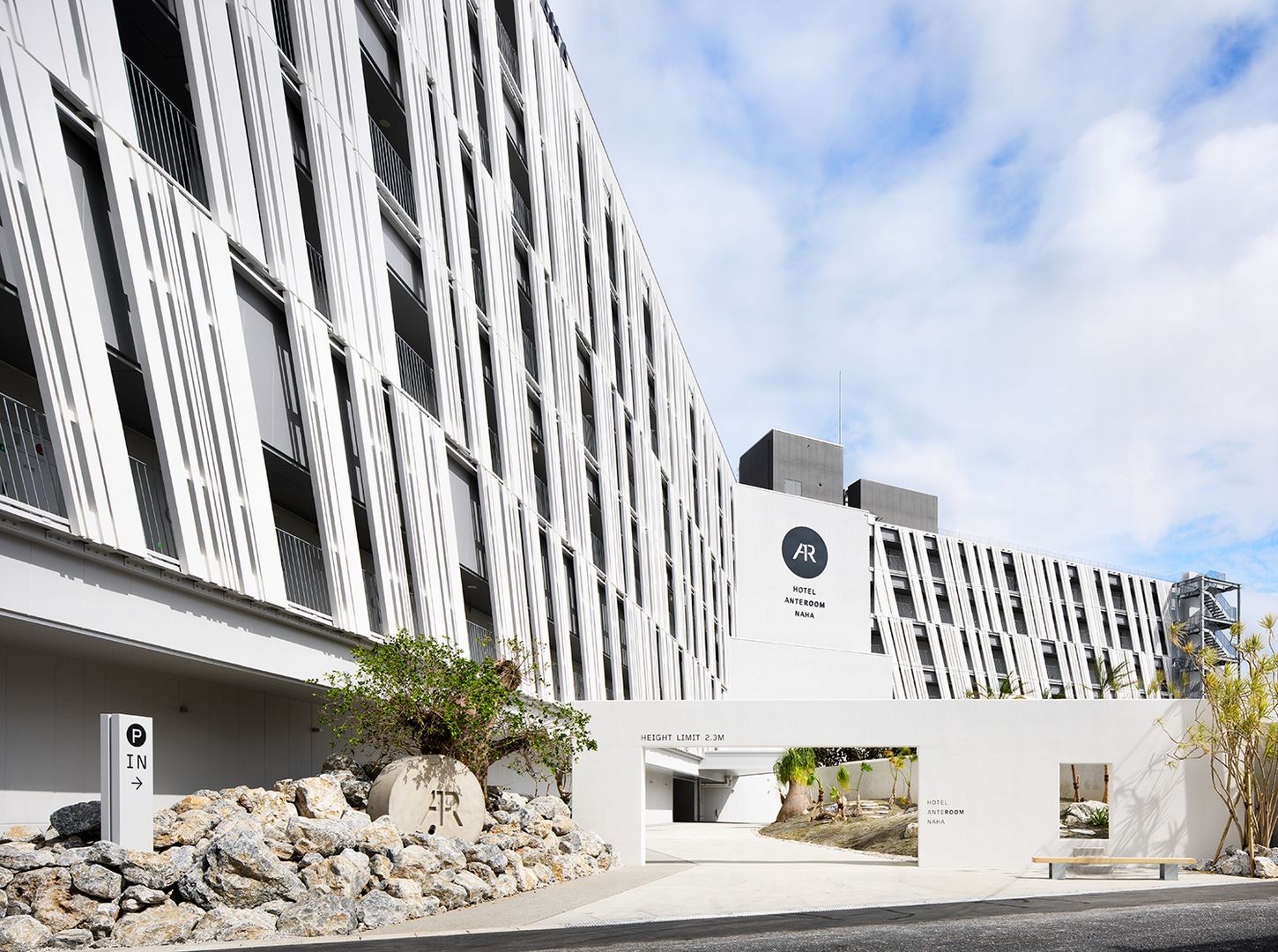 This entire hotel allows the guests to experience art & culture to their heart's content. The initial one was built in Kyoto, and now the 2nd has been built here in Okinawa. It offers an experience where you can feel Japan's, and Okinawa's, art & culture for yourself. "Anteroom" means "Waiting Room" and has been named as such to reflect the location being a place where people visiting the city can wait for a while and rest comfortably. They hope through allowing people to gather here, you'll be able to meet new friends and create new and fun scenes through those connections.

There are 11 types of rooms in total, all with harbor views. There are many concept rooms that have been created in collaboration with overseas artists as well. This is a place you don't want to take your eyes off, it not only lets you get in touch with Japan's art but with Okinawa's art as well.


Information
Location Name:HOTEL ANTEROOM NAHA
Address:3-27-11 Maejima, Naha, Okinawa JAPAN 900-0016
Access:A 12-minute walk from the Yui Rail "Miebashi Station" / 6-minute walk after debarking the bus at "Tomaritakahashi"
TEL:098-860-5151
https://okinawa-uds.co.jp/hotels/anteroom-naha/
5. HOTEL STRATA NAHA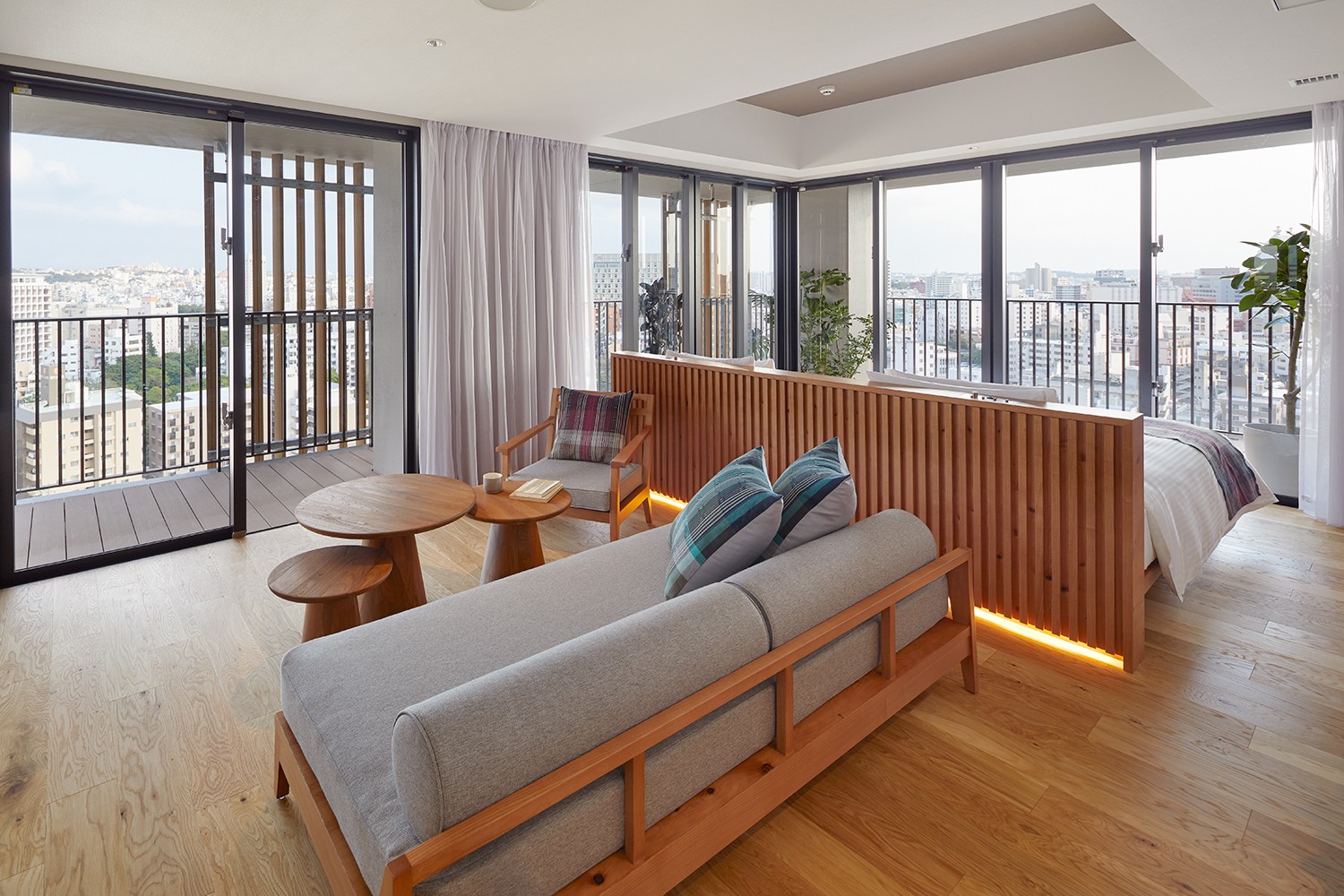 While this hotel is located in an urban area, it's filled with luscious greenery in its outdoor courtyard allowing guests to relax surrounded by nature. The materials used here are all traditional within Okinawa, meaning you can feel the history and culture from the designs that will surround you during your stay. The guest rooms are created with warm wood and soft colors, and the name of the hotel itself "STRATA" refers to a geological formation of the ground creating a space that is pleasant and relaxing to be in. Enjoy the in-house cafe and dining hall, clay oven restaurant, rooftop bar & lounge, and whatever else fits your current mood.


Information
Location Name:HOTEL STRATA NAHA
Address:1 Chome-19-8 Makishi, Naha, Okinawa
Access:30-second walk from Yui Rail Miebashi Station / 15-minute journey via car from Naha International Airport
TEL:098-860-7400
[Survey] Traveling to Japan
Recommend