Video Recipe: Matcha Crepe Cakes for Valentine's Day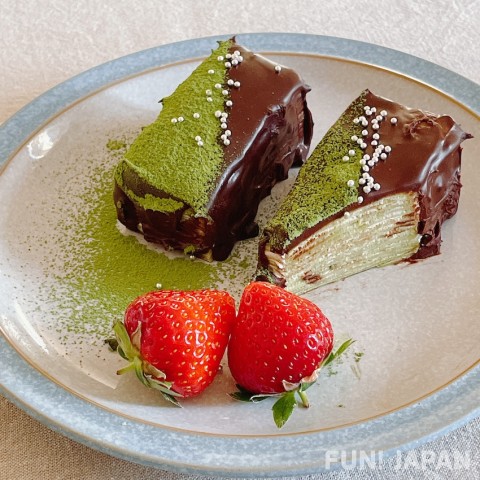 It would be a great pleasure to make this cake for your loved one on Valentine's Day. It's also really fun and easy to make it using the special tool we have listed below this article!

Ingredients:
3 eggs
1 1/2 cups of milk
1 3/4 tbsp of sugar
1 cup of flour
1 tbsp of matcha powder
2 tbsp of butter, melted
1 tsp baking powder
Whipped Cream
3/4 cup heavy cream
2 tbsp granulated sugar
1 tbsp rum (optional)
Method:
Combine ingredients for the crepe in a bowl and mix well.
Pour the batter through the strainer and let it rest in the refrigerator for 2 hours.
Whipped Cream: Combine heavy cream, sugar, and rum. Beat until stiff peaks form.
*Cooking with the frypan:
Pour a small amount of crepe batter onto a heated frying pan and cook on both sides. Repeat with the remaining batter.
*Cooking with the crepe maker:
Add the batter to the crepe maker and turn the maker over, if it looks dry, flip over the batter
Set crepes aside to cool.
Once they have cooled down, spread each crepe with whipped cream, stacking them on top of each other.
Wrap tightly in plastic wrap and freeze for 4 hours.
Cut off the four sides to make a rectangular cake
Then cut this into a rectangular shape.
Garnish
Pour chocolate over the crepe cake and let it dry.

Sprinkle with matcha powder and any other favorite cake decorations.
Useful tools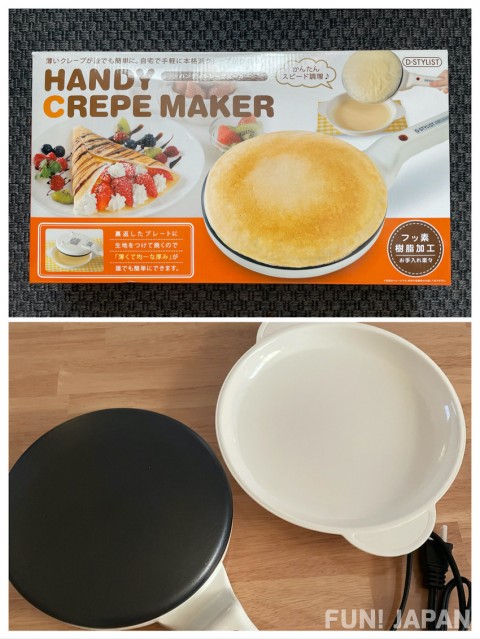 This Handy Crepe Maker is very convenient when making crepes, it makes it quick and hassle-free!

Information
Colour: White
Material: Material Phenol resin
Brand: LITHON
Dimensions: D 38 x W20 x H6 cm
Weight 750 gr
Rated power: AC 100V
Power cord:1m
Rated frequency: 50/60 Hz
Plate Size: Diameter: 20 cm
Thermal Fuse: 240°
※Click "Handy Crepe Maker" to buy the crepe maker that appeared in the video.
[Survey] Traveling to Japan