[Video Recipe] Sukiyaki is the Prefect Winter Dinner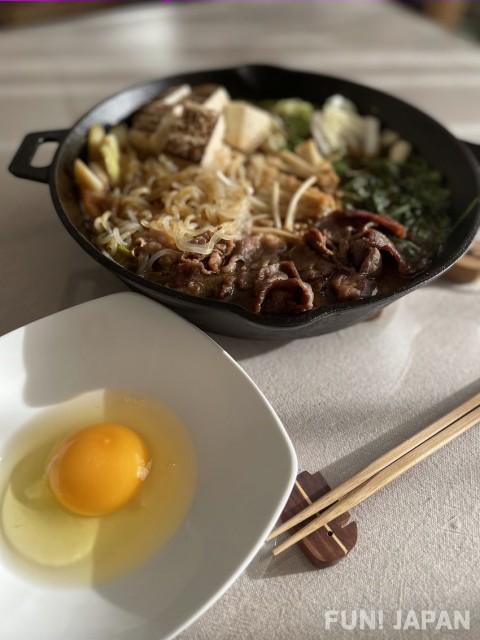 ♬ Ue o muite, arukou ~, namida ga koborenai you ni ~~~ ♪
My image of Sukiyaki has always been a song instead of food. Warm yourself up this winter by having Sukiyaki for your dinner, and singing the "Sukiyaki" song (Maybe in your head if singing it out loud is too embarrassing!). In this article, the editorial team of FUN! JAPAN will introduce how to make Sukiyaki in a video!
Ingredients (2 servings):
200g Beef loin (thinly sliced)
150g Chrysanthemum leaves
150g Napa cabbage (Chinese cabbage)
1x pack Enoki mushrooms
1x stalk of a spring onion (Can be substituted by a leek)
150g Grilled tofu
150g Konjac yam noodles (shirataki)
Sauce:
100ml Japanese cooking liquor (sake)
100ml Mirin
100ml Soy sauce
20g Brown sugar
10g Beef tallow (Can be substituted with vegetable oil)
2x Beaten eggs (Medium size)
Instructions:
Drain the konjac/shirataki from the water.
Cut off the roots of the Chrysanthemum leaves and cut them into 5 cm width.
Cut off the root of the spring onion and cut it diagonally into 1 cm width.
Cut the grilled tofu into bite-sized pieces. Cut the konjac/shirataki into 10 cm long pieces.
Heat the pan over medium heat, add beef tallow to melt, add #2 and when it becomes brown, then add beef loin.
 When the color of the beef loin changes, add the sauce and the konjac/shirataki, then lower the heat.
 When the sugar has melted, add #1 and #3, then simmer for about 15 minutes. When everything has cooked, remove the pan from the heat.
Serve with the beaten egg.
[Survey] Traveling to Japan