Must-Visit Ramen Shops in Namba and Dotonbori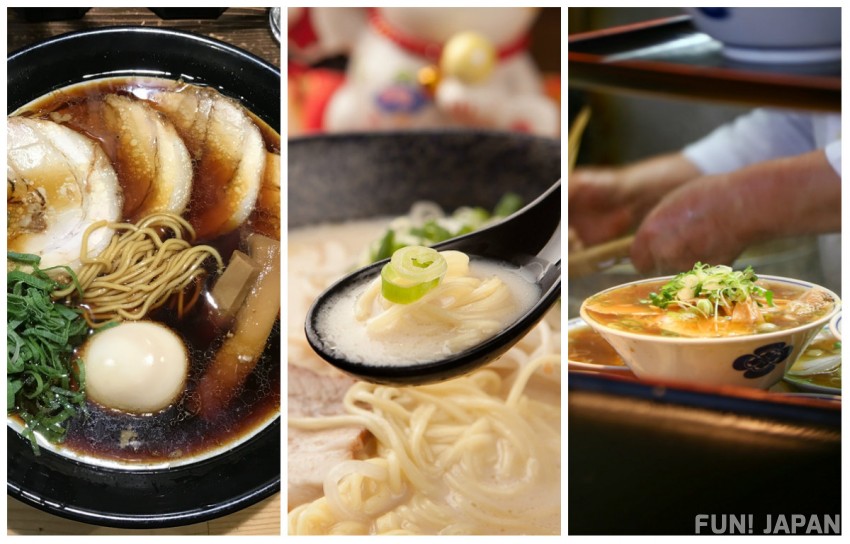 The original fast-food of Japan, a bowl of ramen is a true indulgence and Dotonbori has plenty of options to try. With four main flavors: shoyu (soy sauce), shio (salt), miso and tonkotsu (pork broth) you can try a few varieties before you find your favorite. Ramen isn't an Osaka specialty per se, but there is still an Osaka edition of this famous meal. Using a light chicken broth, Osaka-ramen isn't as rich as tonkotsu but has a meatier flavor that the traditional shio alternative. Often with a narrow strip counter seats and vending machines for tickets, ramen joints are simple affairs - and remember that slurping is a sign of appreciation, so don't hold back when you're enjoying your noodles!

Dotonbori Kamukura: Perfected by Soup Sommeliers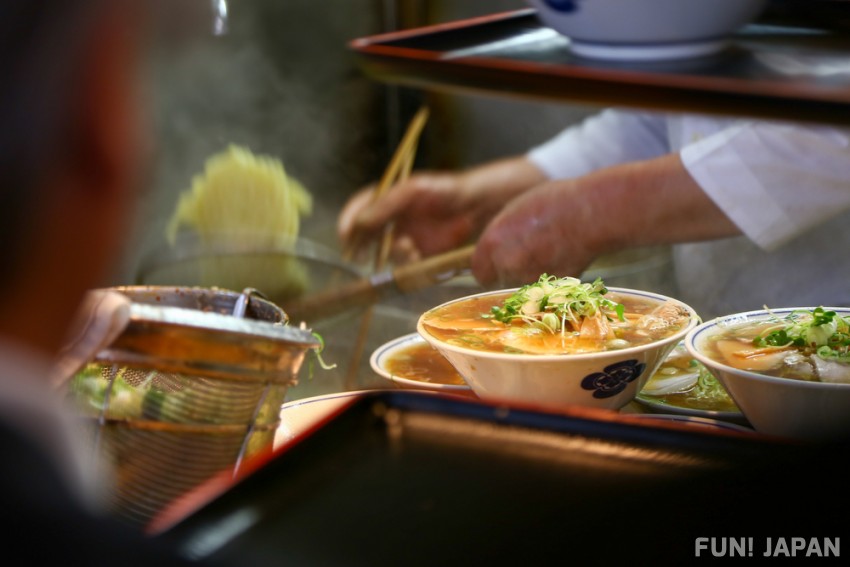 First opened on Dotonbori in 1986, Kamukura now has branches across the city as well as in Nara and Tokyo. Known for a lighter, vegetable-based broth (but not vegetarian), they have their own 'soup sommelier' who oversees the soup quality so you'll be sure to get the best bowl every time. Particularly popular is the 'Oishi Ramen' which was inspired by French cuisine and has a clear but flavourful broth with plenty of Japanese cabbage. Alternatives include veg-laden bowls, kimchi, egg and corn ramen and even soup vermicelli. While no one knows the closely guarded secret to this restaurant's broth, it's certainly delicious.
Spot Information
Name: Dotonbori Kamukura Dotonbori Branch (どうとんぼり神座 道頓堀店)
Address: 1-7-25 Dotonbori, Chuo-ku, Osaka, 542-0071
Location: Towards the Tazaemonbashi Brdige end fo Dotonbori, this restaurant is close to Kinryu's store down a small alley - it has a yellow sign that's easy to spot.
Opening Hours: Sun-Thurs: 11:00 - 22:00, Fri-Sat: 11:00-24:00
Regular Holidays: None
Hanamaruken Namba Hozenji: A Pork Lover's Heaven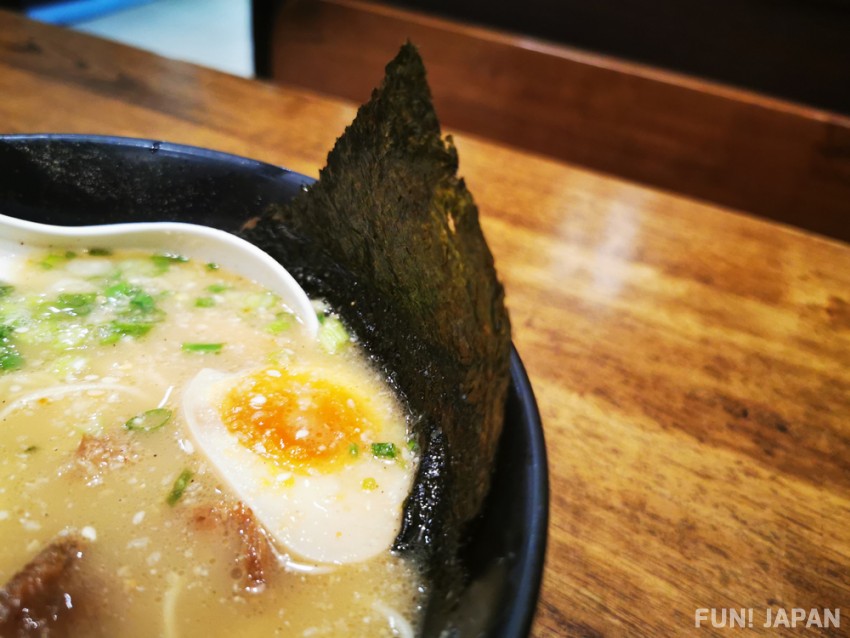 Surrounded by charming hand-painted wooden signs that line the restaurant, you can enjoy their special "Shiawase ramen" 24 hours a day. A tonkotsu-shoyu blend, their ramen is topped with melt-in-the-mouth chashu and comes with the option of a meltingly-soft stewed pork rib option too. The signature strip of seaweed finishes the presentation and is called as the 'marriage tie' - offering the ramen's nickname of happiness ramen, aka Shiawase ramen. You can add a free boiled egg, kimchi and even an extra portion of noodles if you're feeling hungry, so don't be shy!
Spot Information
Name: Hanamaruken Namba Hozenji (花丸軒 難波・法善寺店)
Address: 1-2-1 Nanba, Chuo-ku, Osaka
Location: This small ramen spot is just off Hozenji Yokocho, on the corner of Sennichimae Street.
Opening Hours: 24/7
Regular Holidays: None
Ichiran: Detailed Orders for Delicious Ramen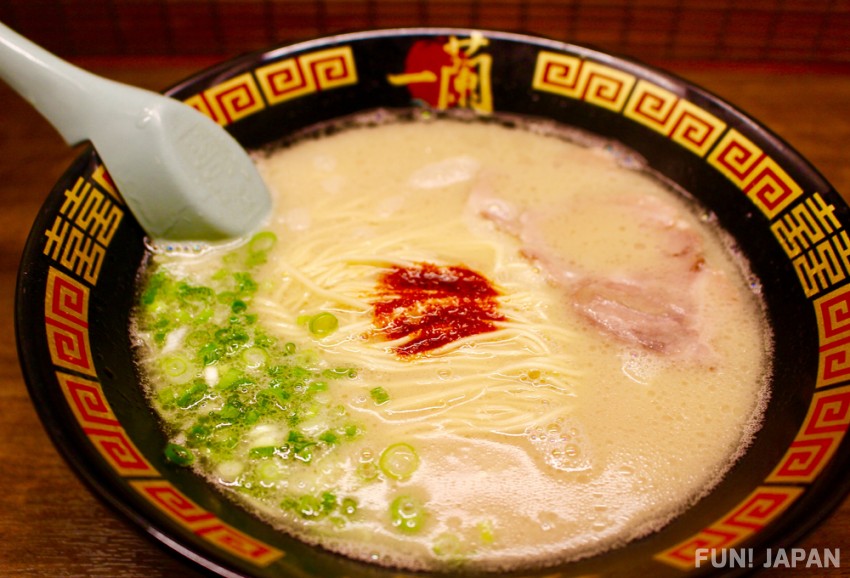 Ichiran is one of Japan's most famous nation-wide ramen chains, and while sometimes chains are best avoided, this is an exception. Popular for good reason, Ichiran is known for their tonkotsu broth and as they originated in Fukuoka (home of pork-based ramen) it's the real deal. The fun part of Ichiran's ramen is the ordering - which isn't something you hear often. While you order from a vending machine as per usual, you will also be required to fill out a form to personalize your ramen. From the firmness-level of your noodles to the amount of garlic, you'll be given total control and can craft your ideal meal. Their chain status means it's popular but efficient and has plenty of seats, so you have a better chance of being seated than small independents on a busy day.
Spot Information
Name: Ichiran Dotonbori -South Building- (一蘭 道頓堀店別館)
Address: 1-4-16 Doutonbori, Chuo-ku, Osaka
Location: Ichiran has a store right on the riverside beside Tazaemonbashi Bridge as well as one just off the main Dotonbori street almost directly ahead from the same bridge.
Opening Hours: 24/7
Regular Holidays: None
Kinryu Ramen: Dotonbori's Famous Dragon Ramen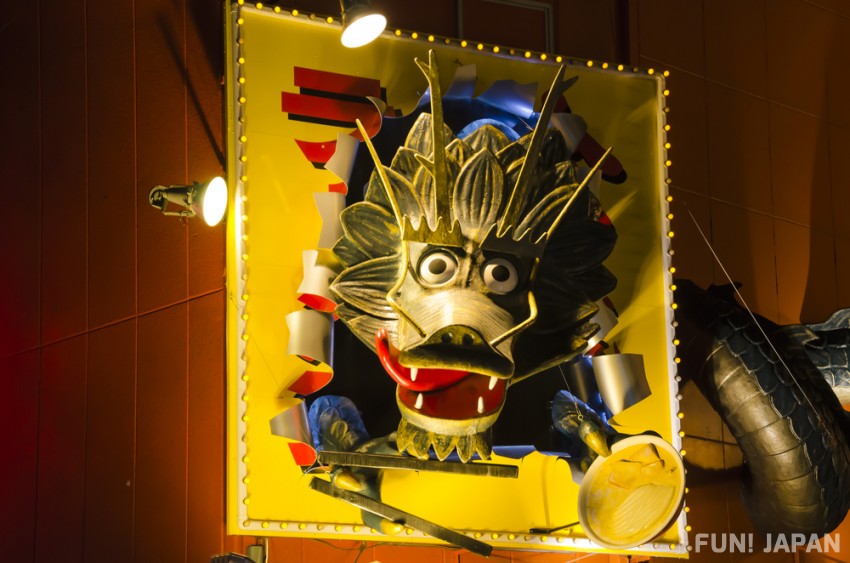 A late-night standing ramen joint that's never empty, Kinryu Ramen is known for the long green dragon that snakes across its red storefront. Given the reputation of Dotonbori as an area for drinking, it's no wonder the original Japanese 'fast food' is in high demand, being it day or night. Open 24/7, the store offers standing counter seats on the street corner as well as tables inside, ladling up countless steaming bowls of ramen for the hungry guests. You order your ramen using the ticket vending machines. There are only a few simple options so take your pick and enjoy the Kansai-style ramen, made with a light pork broth. There are bowls of free toppings on the counter, so you can spice up your noodles with garlic-laden Chinese chives and Korean Kimchi.
Spot Information
Name: Kinryu Ramen Honten (金龍ラーメン 本店)
Address: 1-1-17 Dotonbori, Chuo-ku, Osaka
Location: On the corner of Aiai Bridge, along Dotonbori
Opening Hours: 24/7
Regular Holiday: None
Kingemon Dotonbori: Prize Winning Shoyu Ramen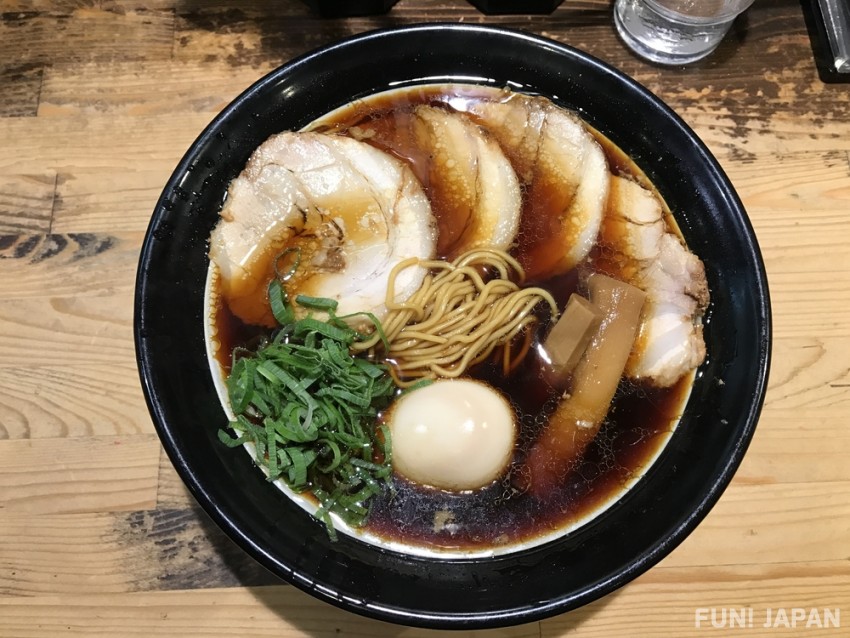 A must-visit if you 're a fan of shoyu-ramen, this spot uses soy sauce made uniquely for them by a specialist. This spot has won the Osaka Ramen Championship three years in a row - as decided by Tabelog (the Japanese version of Trip-Advisor) and was awarded top-seller at the Tokyo Ramen Show back in 2012, so there's plenty to be excited about. You can choose the thickness of your noodles, and then opt for one of the soup options including. Depending on how strong you like your broth, you can take it from the pale yellow of Gold Soy Sauce Ramen to the murky Osaka Black, while the unique Naniwa Black option is surprisingly clear and only served in their Dotonbori location!
Spot Information
Name: Kingemon Dotonbori (金久右衛門 道頓堀店)
Address: 1-4-17 Dotonbori, Chuo-ku, Osaka
Location: Kingemon is located just off Dotonbori across from Tazaemonbashi Bridge.
Opening Hours: Mon - Thurs: 11:00 - 08:00, Fri - Sun: 24/7
Regular Holidays: None
Bokkoshi Ramen: For something Unusual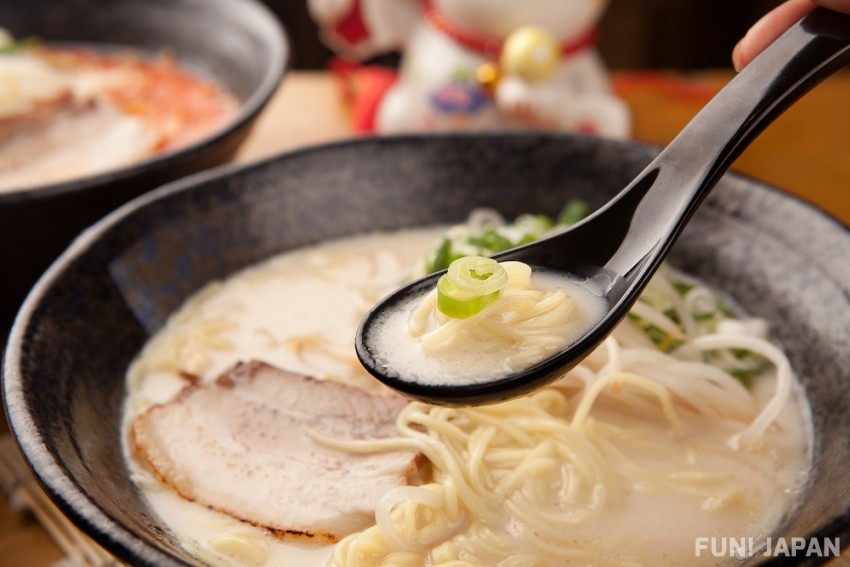 Using local chicken to create a flavorful and rich broth, Bokkoshi brings the unusual tori paitan (鶏白湯) style to the masses. While it looks incredibly rich and thick, the broth is actually rich with an umami flavor that comes from the long-cooked chicken flakes, with only a hint of the creaminess you would expect. A chicken-based version of tonkotsu, tori-paitan isn't a common option in Japan. Unusual to say the least, this is a great ramen spot to try if you're familiar with the more regular kinds and are looking for something a little different.
Spot Information
Name: Ramen Bokkoshi (ぼっこ志)
Address: 2-6-10 Nishishinsaibashi, Chuo-ku, Osaka
Location: Bokkoshi is across the river from Dotonbori
Opening Hours: 11:30 - 14:30, then 18:00 - 01:00
Regular Holidays: Wednesdays
※Due to coronavirus (COVID-19), some of the shops and restaurants may be temporarily closed or have different hours from the hours stated here.

[Survey] Traveling to Japan
Recommend