Where to Capture Awesome Shots of Dotonbori and Namba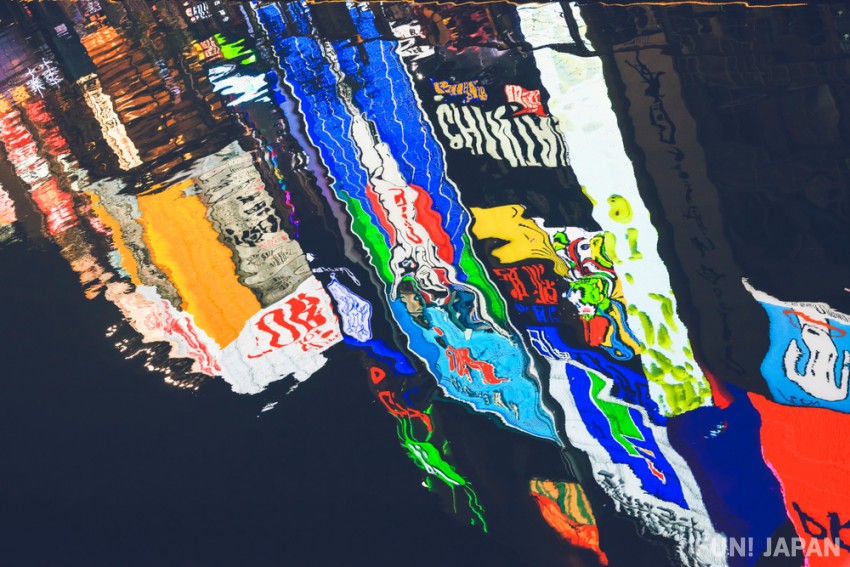 Osaka is one of the most eye-catching and awe-inspiring cities in Japan, and capturing the sights is a great way to remember your trip. In the Dotonbori and Namba areas there are many great places to take photos, especially in the evening. From mechanical sign boards to bright neon signs, there are great spots you will recognise from guidebooks but also some secret areas few people visit like Hozenji Temple.
Strike a Pose: Shinsaibashi with Glico Sign Board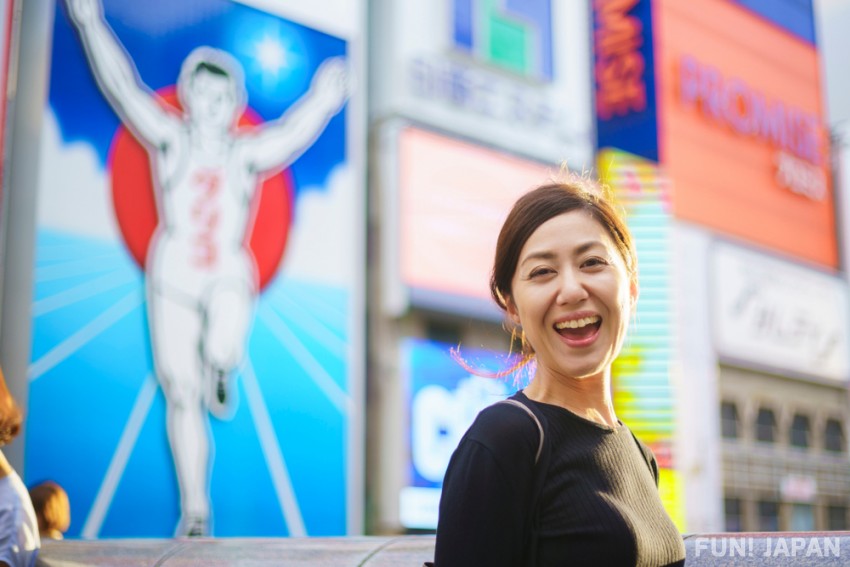 Possibly the most famous sight in Osaka, the Glico Man is a symbol of the Dotonbori district. Stretching his arms out as he runs, the landmark sign has been in place since 1935, often decorated to mark historical events and sporting celebrations. Now using LED technology instead of Neon, the sign is more adaptable and has many special variations. As Glico is a sweets company, you have no doubt eaten some of their products such as Pocky and Pretz already. The company's original caramel candies were said to be good for boosting energy and so the running man was designed as the perfect symbol. Be sure to strike a pose when you take a snap in front of him!
Spot Information
Name: Dotonbori Glico Sign
Address: 1-10-2 Dotonbori, Chuo-ku, Osaka
Location: The Glico Running Man is located right beside Ebisubashi Bridge and can be photographed easily from there.
Opening Hours: Illuminated at night
Regular Holiday: None
When to see: This sign is best photographed at night, as it is not illuminated during the day. Generally, the illumination ends at around midnight.
Mouthwatering Mascots: Dotonbori's Food Signs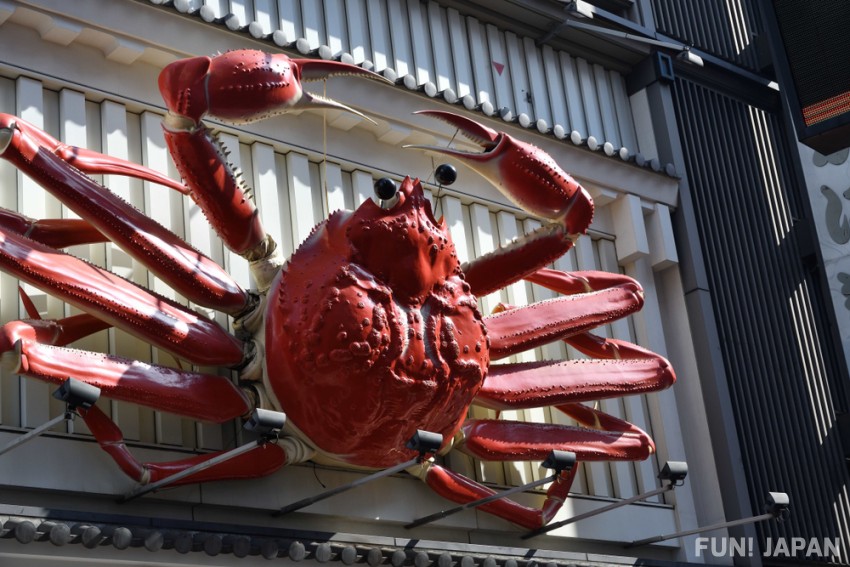 The food signs of Dotonbori are an incredible sight and are famous world-wide. Mechanical, massive and showcasing unusual foods as well as faces, they are a symbol of the gourmet side of the city. Given the high number of restaurants it's not surprising they have gone to such efforts to attract potential customer's attention. Be sure to spot the mechanical crab at Kani Douraku as well as the traditional papier-mache blowfish of popular chain Zuboraya. You'll no doubt see the giant hand clutching a piece of sushi above Genroku Sushi, but be sure to keep an eye out for the angry face of Kushikatsu Daruma. Warning diners from double dipping their deep-fried sticks, this grimacing face is great to recreate for a selfie. More foodie favourites include the gyoza above Osaka Ohsho and the bright red squid at the Konamon Museum where you can learn about Osaka's soul food: takoyaki. Finish off with the smiling family and large cow at Showa Taishu Horumon and the ever-happy Karl Ojisan at the famous Meiji Karl snake shop and you'll have the complete Dotonbori set!
Spot Information
Name: Dotonbori Street
Address: 1-9 Dotonbori, Chu-ku, Osaka (Approximate)
Location: The stores are all located on the main Dotonbori stretch between Daikokubashi Bridge and Nipponbashi Bridge.
Opening Hours: N/A
Regular Holiday: N/A
When to see: As these signs are traditional and don't involve neon, they can be photographed during the day or evening, however there is some additional lighting at night.
The Renovated Ebisu Tower Ferris Wheel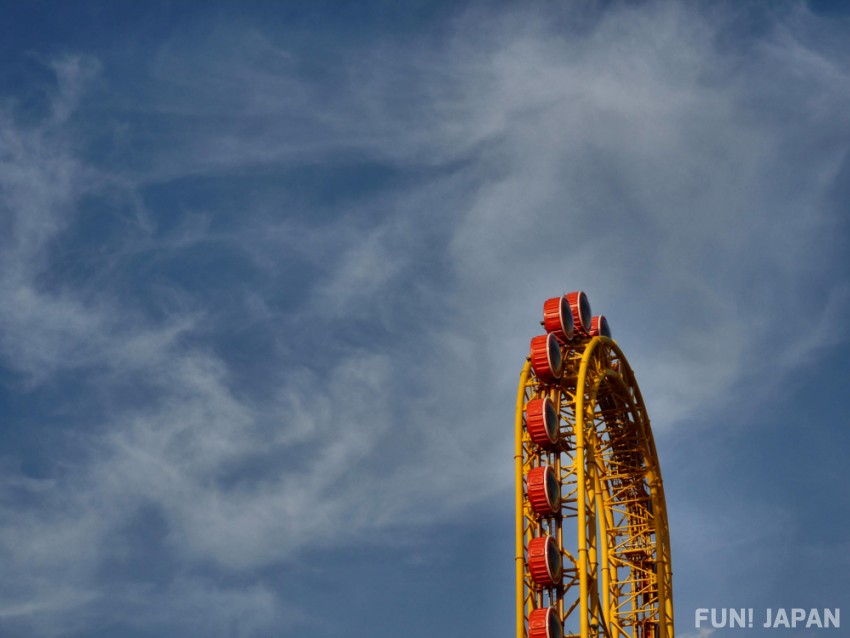 After a nine-year break, the famous yellow ferris wheel is back in use, a highlight of the Dotonbori riverway walk. Famous world-wide, the discount store Don Quijote (known as Donki's) added this special design to their store in 2005, but it ended in mechanical failure only three years later. Now back up and running, it has become a popular photo spot thanks to the giant penguin held in the arms of Ebisen, the god of business prosperity. The oblong wheel is nearly 80m high and has 32 capsules. These also make a great spot to take photos of the river and its neon signs.
Spot Information
Name: Ebisu Tower Ferris Wheel
Address: 7-13 Souemoncho, Chu-ku, Osaka
Location:The wheel is located on the river-side of the Don Quijote store on Dotonbori. If you walk from Ebisubashi bridge it is easy to spot.
Opening Hours: 11:00 – 23:00
Regular Holiday: None
When to see: The ferris Wheel looks great both at night and in the day, but has additional lights in the evening. It operates from 11:00 to 23:00 depending on the weather.
Clowning Around with Kuidaore Taro
A love/hate symbol of the city, the drumming clown puppet known as Kuidaore Taro. Meaning 'eating yourself into bankruptcy', kuidaore is Osaka's famous trait, and this character was originally the mascot of a family restaurant in the area called 'Cui-daore'. While the restaurant eventually closed, the puppet returned to the street after a brief stint of appearing at events and is now in the lobby of the Nakaza Cuidaore Building. Although clowns are unpopular with some, this character has many fans and is a friendly if mischievous mascot. You can take a photo beside the original and practice your best drumming pose.
Spot Information
Name: Nakaza Cuidaore Building
Address: 1 -7-21 Dotonbori, Chuo-ku Osaka
Location: The Nakaza Cuidaore Building is located close to the center of Dontonbori 's main street, beside the Family Mart.
Opening Hours: 24/7
Regular Holiday: None
When to see: Any time!
The Stunning Tombori River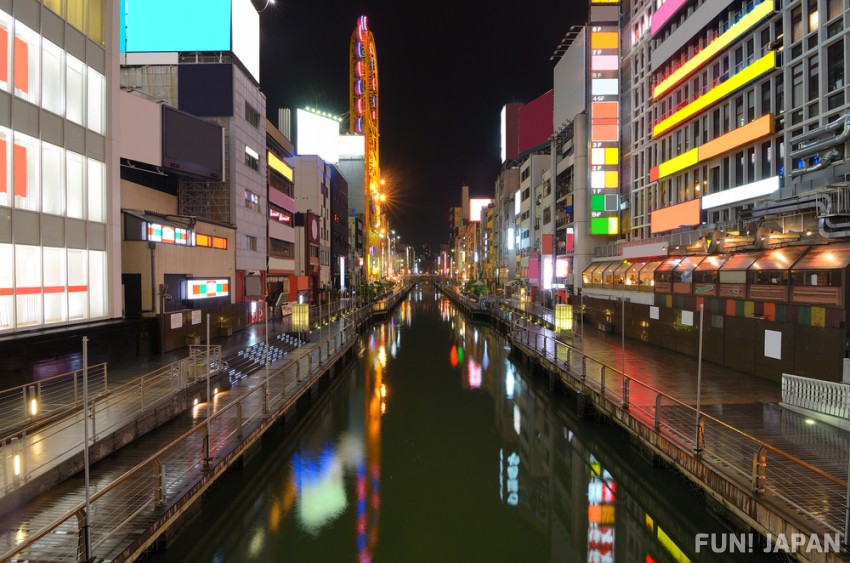 The tombori river is one of the most famous spots in osaka thanks to the incredible display of neon signs. Advertising everything from Asahi Beer to new fashion stores, the signs create an incredible backdrop to the river. If possible, try to catch the moment when a sightseeing boat travels along the water - they are often beautifully decorated with lights and lanterns and add to the scene immensely.
Spot Information
Name: Tombori River Walk (とんぼりリバーウォーク)
Address: 6 Dotonbori, Chu-ku, Osaka (Approximate)
Location: Ebisubashi Bridge is one of the best spots to capture this snapshot, but you can also walk along the riverway to find different angles. Alternatively, you can take a Tombori river cruise to get unique shots from the water!
Opening Hours: N/A
When to see: The river looks most impressive at night due to the neon signs, but it can look impressive during the day as well.
Retro Style: Dotonbori Street Sign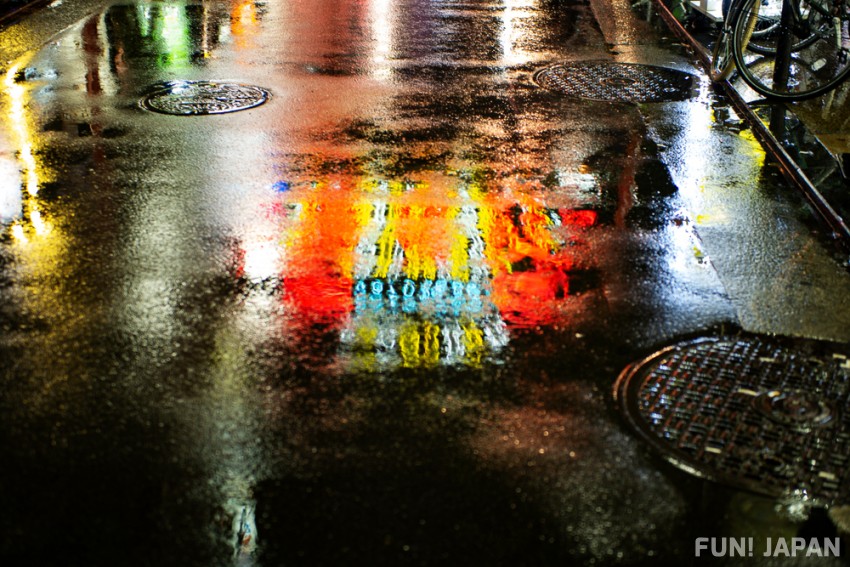 A classic and distinctly Showa-style symbol of the area, the bright red and blue Dotonbori signs are a must-shoot in Osaka. Featuring the classic neon associated with Osaka, the sign conveys the energetic and exciting atmosphere of the area, which has been Osaka's entertainment district for centuries. The old-fashioned style is unique and adds to the eye-catching nature of the sign.
Spot Information
Name: Dotonbori (道頓堀)
Address: 1-9 Dotonbori, Chuo-ku, Osaka (Approximate)
Location: The signs are located at either end of the street, close to Daikokubashi Bridge and Nippombashi Bridge.
Opening Hours: N/A
When to see: As with all neon-signs, it is best to visit this spot at night, although daytime photos can also be interesting as they show an alternative side to the city.
The Hidden Streets of Hozenji Yokocho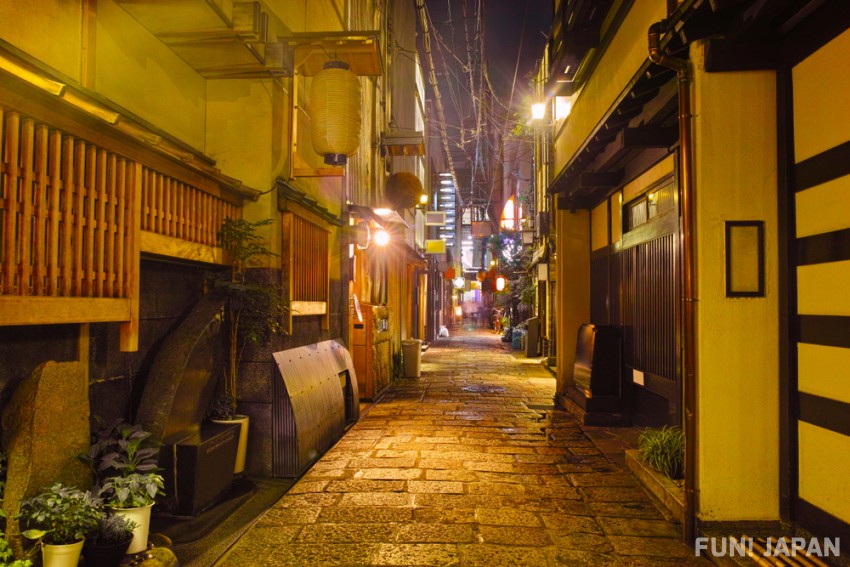 Only a few steps from the crowded streets of Dotonbori, Hozenji Yokocho (meaning alley) is a peaceful escape into old-time Osaka. Lined with small restaurants and bars, it is string with lanterns advertising each business and has a traditional style which contrasts strongly to the neon lights nearby.
Spot Information
Name: Hozenji Yokocho (法善寺横丁)
Address: 1 Sennichimae, Chu-ku, Osaka
Location: The Yokocho is located to the south of Dotonbori, it is easy to find if you reach Tazaemon Bridge and walk away from the river.
Opening Hours: Vary according to each business.
When to see: It is best to visit this spot in the evening and you can always pop into a bar for a drink along the way. Places tend to close at around 11pm but some bars stay open longer.
Unique Statues at Hozenji Temple
Towards the end of Hozenji Yokocho is a small and well-kept temple with an unusual inhabitant. Thanks to the nearby lanterns and unusual entrance gate, the temple has a mysterious atmosphere, especially if visited at night. The temple was founded almost 400 years ago and while the entire area was destroyed in the bombing of World War II, one single statue survived. Now a symbol of the area, the statue of Fudo-Myo represents discipline and a strong character. Unusually, however, he is covered in moss as water is poured on him by visitors hoping for good fortune. The unusual appearance makes for some unique photographs quite different to those people would expect of the Dotonbori district.
Spot Information
Name: Hozenji Temple (法善寺)
Address: 1-2-16 Nanba, Chuo-ku, Osaka
Location: The Temple is located to the south of Dotonbori and is easiest to reach if you head away from the river when you reach Dotonbori Family Mart Convenience Store.
Opening Hours: Open 24/7
Regular Holiday: None
When to see: Hozenji Temple looks beautiful on a clear day and atmospheric on a rainy day. In the evening it is a little more difficult to capture the delicate moss but it is a very atmospheric sight. 
※Due to coronavirus (COVID-19), some of the facilities may be temporarily closed or have different hours from the hours stated here.

[Survey] Traveling to Japan
Recommend