'Eat While You Stroll' at the Tantalising Kuromon Market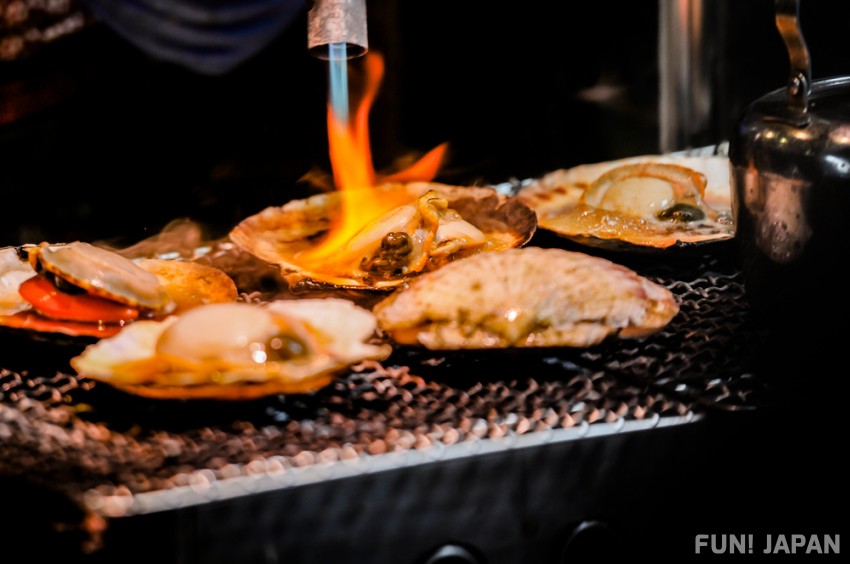 A thriving market with seafood, street-food and delicious snacks, Kuromon Ichiba market is a captivating mix of old and new. From freshly-flipped takoyaki to ice-cream-topped melon, you can enjoy the special Osaka 'tabe aruki' culture, meaning 'eat while you stroll'.

What to Know about Kuromon Market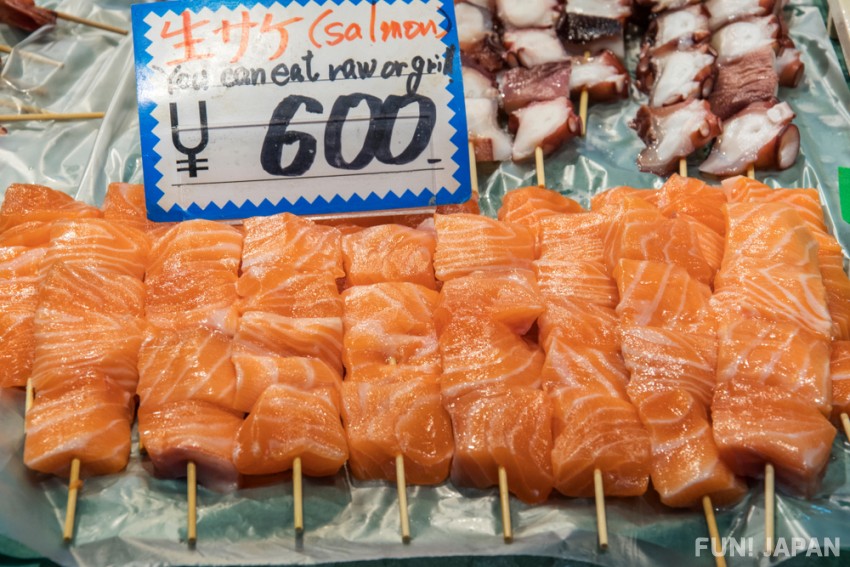 Located in the center of Osaka Minami (south) district, the market was originally called Emmeiji market, named after a nearby temple that was lost in the fire of 1912. In the Meiji era, however, it gained the nickname of 'Kuromon Ichiba market', meaning 'black gate market' after a symbolic gate at the temple.
Today there are around 150 shops along the almost 600m-long covered market selling fresh and preserved produce and goods. There is a lively and exciting atmosphere as stall holders offer tasters to visitors and encourage them to admire their produce. The area is made up of small stalls, cafes and restaurants, with small alleys leading away from the main street.
Exploring the Highlights of of Kurumon Market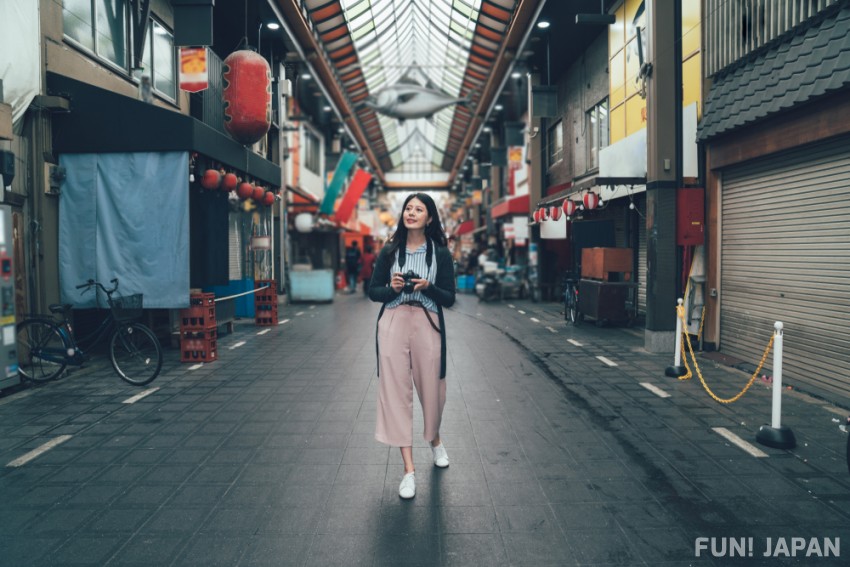 While it is mainly a fish market, Kuromon Ichiba market has many different stalls selling delicious Japanese foods.The seasonal specialties are particularly famous, with fugu (poisonous puffer fish) served in winter and hamo (conger pike) in summer. There are many fresh and frozen fish and seafood stalls ideal for those staying in accommodation with a kitchen, as they can try cooking Japanese recipes at home. There are also many foods that can be eaten straight away, such dumplings, takoyaki and fruit. The market is popular with older local people who still visit to do their shopping everyday, as well as younger people and families looking to enjoy the street-food and take photos. Souvenirs are also available here, making it popular with visitors from across Japan as well as overseas - you can buy green tea, accessories and kitchenware.
Seafood and Seaweed: Top Shops in Kuromon Market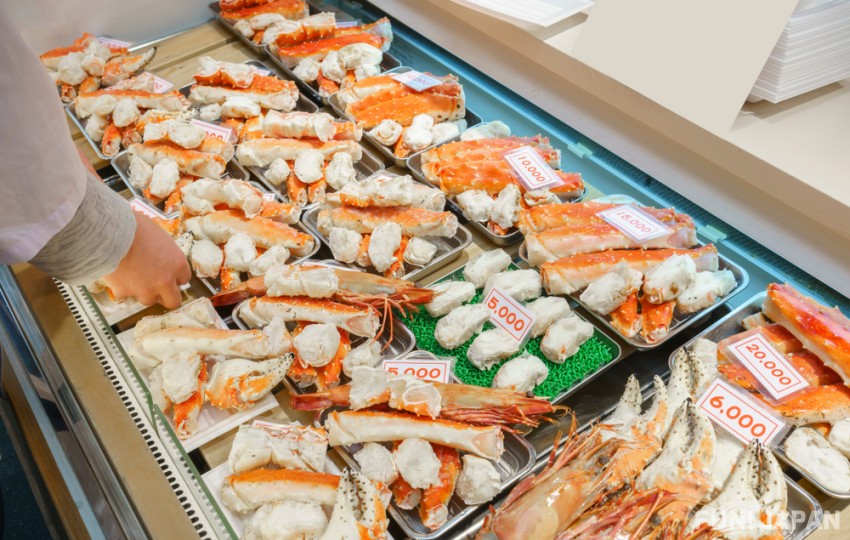 Kawakou store
Each stall at Kuromon Ichiba market will no doubt draw your attention, but even the quieter shops have exciting products. The simple Kawakou store was established in 1941 and sells high-quality konbu - Japanese edible seaweed. Seeking out the best seaweed from across Japan, they pay careful attention to the seasoning and use only high quality ingredients. Their items are packaged very stylishly and make excellent gifts or souvenirs.
Iseya Honten
Nearby, Iseya Honten sells brightly coloured pickled vegetables, called otsukemono in Japanese. This small business opened in 1897 and is a firm favourite with locals, with many families buying for generations. You can try the different flavours such as miso-daikon (radish in miso) or delicate narazuke pickles which are made of fresh fruit and vegetables.
Maguro Entoki
For seafood, one of the most popular stores is Maguro Entoki who specialise in high quality tuna. Receiving their fish fresh every morning, the staff delicately prepare sushi for bento boxes so you can pick one up to enjoy later on or present as a gift. The menu changes every day to accommodate the season and the catch of the day, but be sure to try the speciality of otoro nigiri (fatty tuna nigiri) - it has limited servings and sells out fast!
Naniwaya
For a sweet gift, Naniwaya offers a unique soba mochi using red bean paste wrapped in buckwheat flour dough. The company has been perfecting their sweets for over 80 years and their steamed buns - known as manju - are very popular as a snack or souvenir.
What to eat: The Best Foods and Restaurants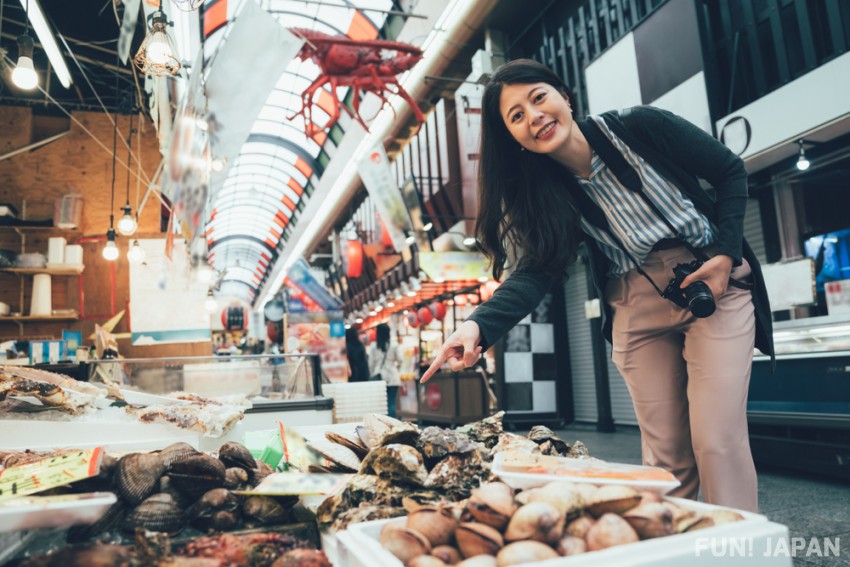 Kaizen Don: Maguro ya Korugin
The market is filled with delicious aromas and tempting foods, and luckily there are plenty of restaurants and strolling snacks which will cure your hunger. Maguro ya Korugin is a popular spot for enjoying kaizen donburi (seafood rice bowl) glistening slices of fresh fish and vivid seafood are placed atop fluffy rice for hungry customers. We suggest you arrive for an early lunch as they often sell out before closing at 3pm.
Takoyaki: Wanaka
If you are yet to try Osaka's staple of takoyaki (battered squid balls) then luckily the market is home to one of the most popular stores in the city - Wanaka. Watch as the staff flip the takoyaki perfectly and enjoy the different toppings. Even those who have tried takoyaki before can experience the different flavours such as black pepper and mentai-mayo (pollock roe mayo). This branch also offers exclusive fresh scallops and Okonomiyaki.
Horumon: Yamadasanchi
An unusual option for visitors is to try the local delicacy of horumon. Made from grilled offal, it is common in Osaka and is believed to have many good qualities for the body and mind. At Yamadasanchi, there are always exciting assortments of items to choose from, with many visitors trying it for the first time and being converted.
Japanese Cafe: Cafe Sun Bird
For a relaxing break, Cafe Sun Bird is the perfect spot for a coffee and even a taste of their delicious pudding. They have a tempting selection of pastries and cakes as well as the traditional caramel pudding which is popular in Japanese coffee shops.
Cooling Items: Kurumon Ichiba Maru and Hougetsudou
For a cooling option, head to Kurumon Ichiba Maru for some fresh melon served with creamy soft serve ice cream. There is a small seating area and the melons look beautiful in photos. If you would like something a little smaller, the anime-like mochi of Hougetsudou are perfect for eating while you walk. Using rice sourced from Saga prefecture they carefully make smooth and delicious dango, kagami-mochi as well as seasonal goods.
How to Get to Kurumon Market
Kuromon Ichiba Market is a short 5-minute walk due south from Nippombashi Station.
From Osaka Airport (Itami) you can catch the Limousine bus service to Namba bus terminal and catch the Sennichimae metro line to Nippombashi Station. From there it is a 5-minute walk from exit 10.
From Kansai International Airport (KIX) you can take the Express airport line to Namba station and then catch the Sennichimae metro line to Nippombashi Station. From there it is a 5-minute walk from exit 10. 
[Survey] Traveling to Japan
Recommend