Things to do and Where to Visit in Okinawa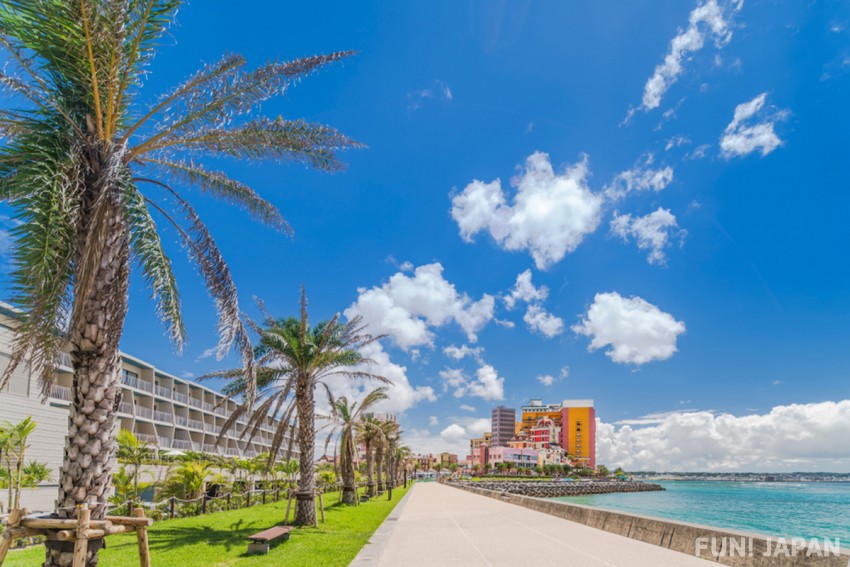 Okinawa is one of the famous tourist destination of Japan, located on the southwestern edge of the Japanese islands. There are a lot of sightseeing spots and activities that you can enjoy in Okinawa, We will introduce the famous nature attractions, historical and cultural sites in Okinawa, as well as the facilities and experience that you can try there.
The Five Sightseeing Areas in Okinawa
There are three main areas: the Okinawa main island, the islands around the Okinawa main island and the remote islands. The main island of Okinawa is divided even further into the Nanbu (southern), Chubu (central) and Hokubu (northern) areas. 

The Southern Area of Okinawa Main Island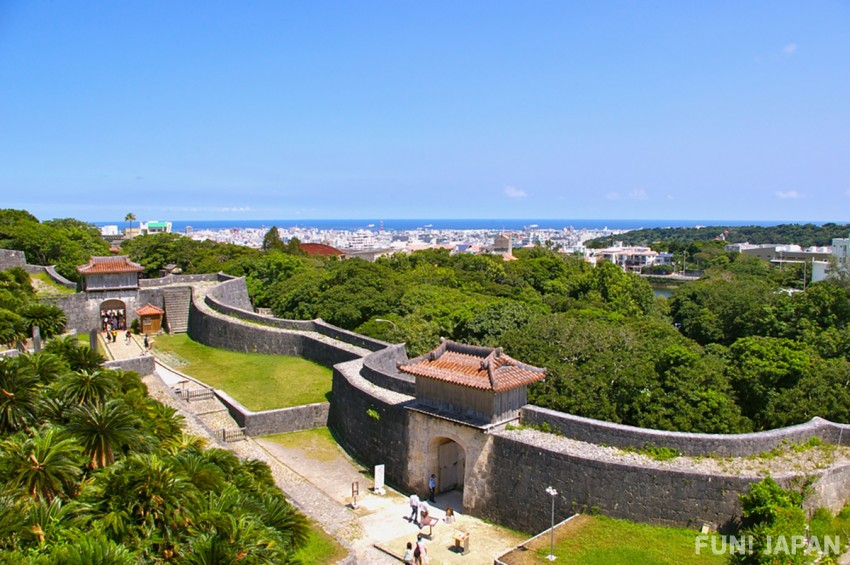 The southern (Nanbu) area refers to the southern part of Okinawa main island. This area is where Naha Airport is situated, so it is the gateway to the main island of Okinawa.
Naha was once the capital of the Ryukyu kingdom, and Ryukyu culture can still be seen in Shuri, Naha. There are lots of sightseeing spots, including historic buildings like Shuri Castle, as well as facilities relating to the war like the memorial monument of World War II and Peace Memorial Park.
Additionally, there are areas suitable for shopping such as outlet malls and Kokusai-dori,
Famous Sightseeing Spots:
The Central Area of Okinawa Main Island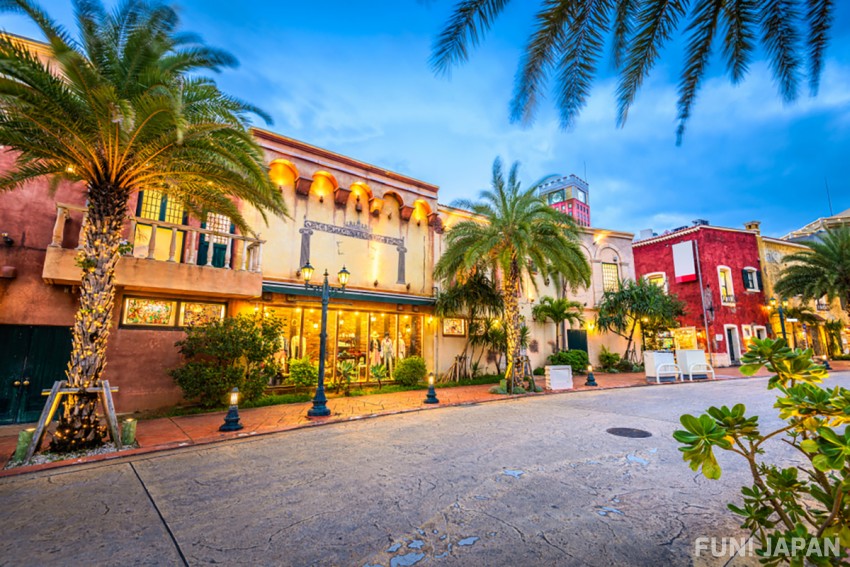 The central (Chubu) area refers to the centre of the main island of Okinawa. There is a wide variety of places to see like Yomitan, which flourished for its pottery, Chatan, where American and Okinawan cultures are mixed, and Urazoe, where fashionable cafes and miscellaneous goods stores are increasing.
In addition, there are sightseeing spots like castles, botanical gardens, and natural scenic spots that are perfect for viewing. This area is recommended if you need to buy souvenirs while sightseeing.
Famous Sightseeing Spots:
The Northern Area of Okinawa Main Island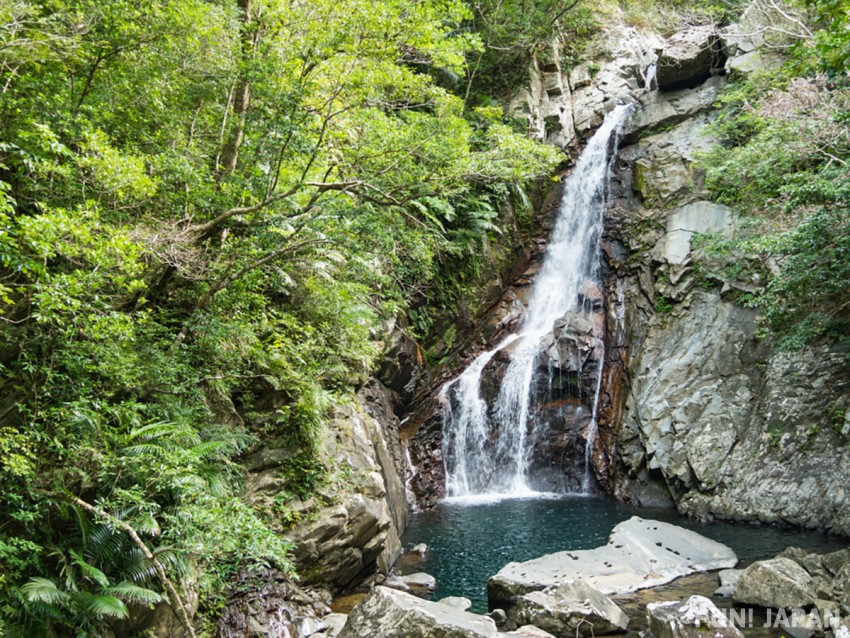 The northern (Hokubu) area is located on the northern side of the main island of Okinawa, and is the area where most of the nature still remains on the main island.
There are many picturesque sightseeing spots, such as the northernmost part of Kunigami Village, where rich forests sprawl out, the Motobu Peninsula, where the Okinawa Churaumi Aquarium is situated, and Kouri Island which is surrounded by crystal-clear water.
There are plenty of activities that can be enjoyed in the forest or the sea, such as trekking and snorkelling.
Famous Sightseeing Spots:
Remote Islands around Main Island of Okinawa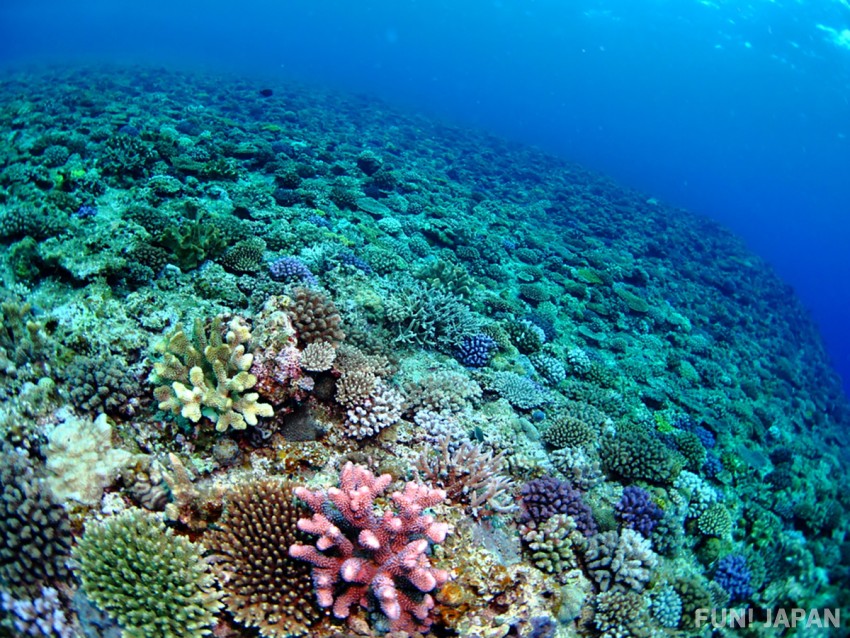 The islands are scattered around the main island of Okinawa. There are lots of islands with attractive scenic spots. Here, we will introduce the main islands.
| | |
| --- | --- |
| Island name | Features |
| Iheya Island (伊平屋) | An island with unusual terrain like unique limestone rocks and dunes that were blown up from the sea |
| Noho Island (野甫島) | A diving spot where Okinawa's largest table coral lives |
| Izena Island (伊是名島) | An island where the Ryukyu King's historic spots remain |
| Minna Island (水納島) | A nature abundant island near to and easily accessible from the main island |
| Tonaki Island (渡名喜島) | An island with a traditional Okinawa landscape |
| Kitadaito Island (北大東島) | A precious island where you have to be lifted on by crane to land, because ships cannot go alongside it |
| Minamidaito Island (南大東島) | Many creatures peculiar to the island and fantastic limestone caves are the highlights |
The surrounding islands can be accessed by ferry or airplane from the main island of Okinawa. The time it takes is as short as 15 minutes to 1 hour and 15 minutes for one way.
The Remote Island Area of Okinawa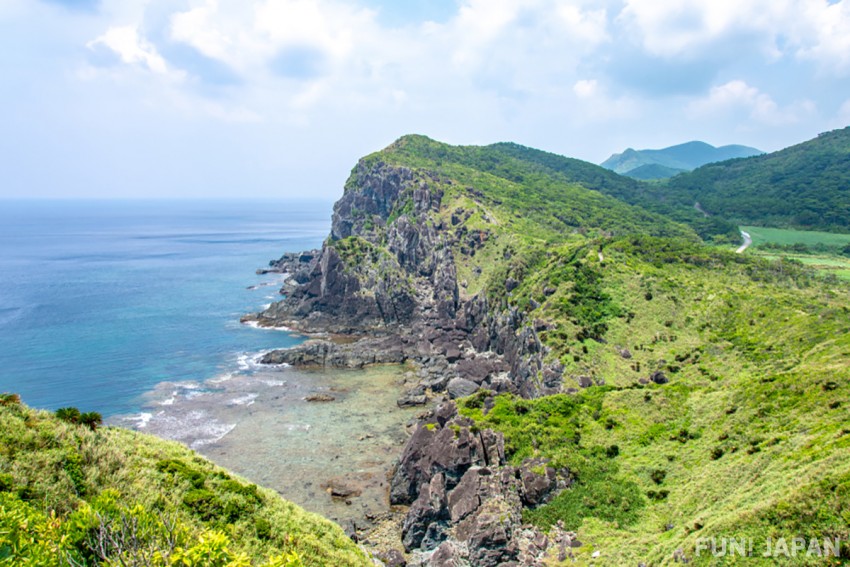 These islands are linked to the southwestern area of Okinawa main island. Most islands are surrounded by coral reefs and have wonderful beaches.
| | |
| --- | --- |
| Island name | Features |
| Kume Island (久米島) | An island with a beautiful white sand beach in central Okinawa. The castle ruins of the Ryukyu Kingdom remain |
| Kerama Islands (慶良間諸島) | Islands in the central part of Okinawa Prefecture that are rich with nature and where marine leisure is flourishing. |
| Miyako Islands (宮古諸島) | They have some of the most beautiful beaches in the prefecture and coral reefs in central Okinawa |
| Yaeyama Islands (八重山諸島) | Located at the southwestern tip of Okinawa, nature such as the jungle and the original landscape of Okinawa can be seen |
 The Kerama Islands, the Miyako Islands, and the Yaeyama Islands are collective terms for the areas dotted with islands of varying sizes. So, the sightseeing spots are subdivided even further. 
Attractive Sightseeing Spots in Okinawa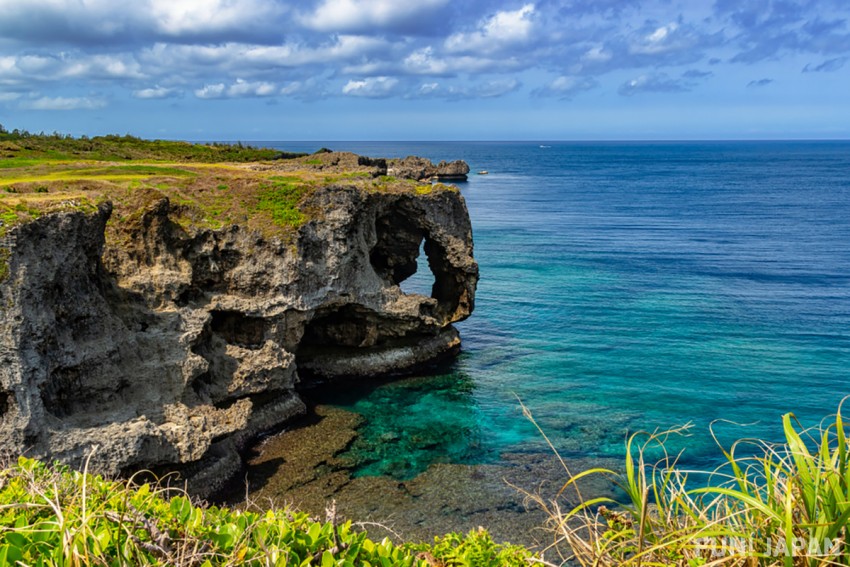 Okinawa has lots of attractive sightseeing spots. For example, beautiful scenic spots, unique terrain, and independently developed culture that are not found in Honshu (mainland of Japan). Here, we will introduce such spots.

The Picturesque White Sand Beaches of Okinawa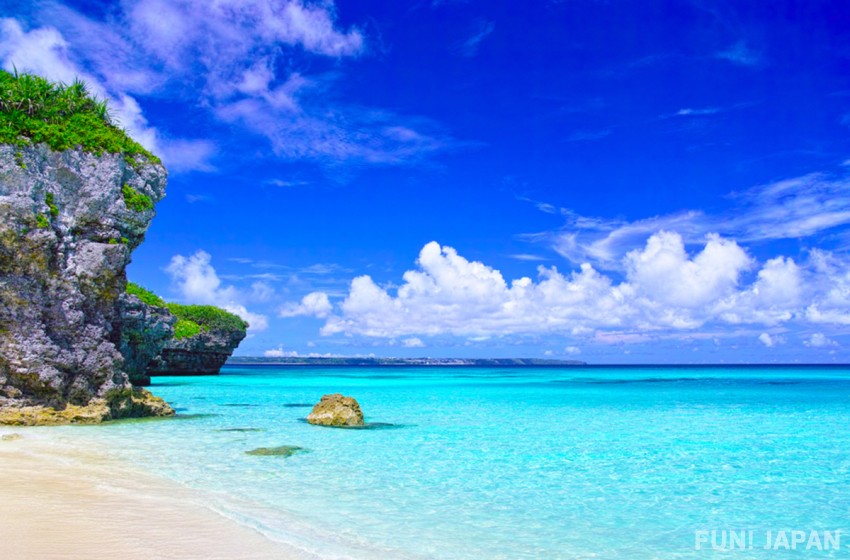 What should definitely be visited in Okinawa are the white sand beaches. The prefecture is abundant with white sand beaches, but particularly in the northern area of the main island of Okinawa where resorts are gathered and on remote islands.
Beautiful sights sprawl out, such as beaches with white sand that spread about 7 km and beaches facing the crystal-clear sea.
| | |
| --- | --- |
| Sightseeing Spots | Features |
| Emerald Beach (エメラルドビーチ) | A beach in an emerald coloured lagoon in Ocean Expo Park in the northern area of the main island |
| Sesoko Beach (瀬底ビーチ) | A beach located on Sesoko Island that is extremely transparent and ideal for snorkelling |
| Kourijima Beach (古宇利ビーチ) | A view spot on Kouri Island where the shape of Kouri Bridge stands out in contrast to the white sand and the sea |
| Toyosaki Chura SUN Beach (豊崎美らSUNビーチ) | The largest artificial beach in Okinawa prefecture |
| Azama Sun Beach (あざまサンビーチ) | Many types of marine sports available |
| Araha Beach (アラハビーチ) | Beach with a beautiful sunset |
| Yonaha Maehama Beach (与那覇前浜ビーチ) | A beach on Miyakojima that is said to have the best white sand of about 7 km in the Orient |
| Kondoi Beach (コンドイビーチ) | A shallow beach suitable for taking a dip in the ocean situated on Taketomi Island |
| Furuzamami Beach (古座間味ビーチ) | A beach located on Zamami Island which earned a 2-star in the Michelin Green Guide Japon |
| Hateno Beach (ハテの浜)  | An island on Kume Island with white sand only. To go across to the island a ferry reservation is required. |
If we look at each area, the southern area is famous for Toyosaki Chura SUN Beach and Azama Sun Beach. The central area has more beautiful beaches than the southern area, like Araha Beac" and Sunset Beach, which are famous spots for sunsets.
In the northern area, we recommend beaches like Sesokojima and Kourijima, which are small islands that are connected to the main island, and Emerald Beach which is situated on the premises of a tourist attraction.
Enjoy activities on these beaches, not just appreciating the view and swimming. The activities you can experience are:
Type of activities
Features

Okinawa Scuba Diving

・ Activities where you go deep underwater with an air tank
・ Meet sea turtles and horse mackerel

Okinawa Snorkelling 

・ Observe under the sea with the pipe which sticks out of the sea surface
・ Enjoy looking at small fish and coral reefs

Okinawa Surfing

・ Ride on the waves using a large board
・ Can only be experienced 4 hours before and after high tide

All activities can be experienced by making a reservation at tours and shops near the beach. Experience the amazing view of the sea that can only be seen in Okinawa!

Nature Attractions and Places of Interest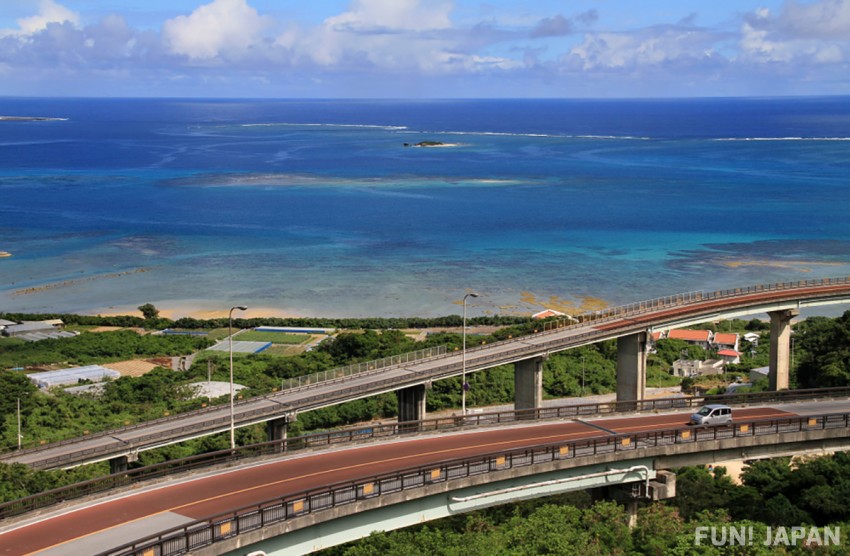 Okinawa is a prefecture abundant with subtropical nature. There are lots of spots that take advantage of nature, this includes scenic spots. Places with fantastic views and scenic spots are listed below.
| | |
| --- | --- |
| Sightseeing Spots | Features |
| Niraikanai Bridge (ニライカナイ橋) | The collective name for the Nirai Bridge and the Kanai Bridge. The contrast between the curved bridge and the sea is beautiful |
| Gangara Valley (ガンガラーの谷)  | The mysterious sight of a stalactite cave that has collapsed. Participation in a guided tour is necessary to see the valley (reservation required) |
| Cape Zanpa (残波岬) | The magnificent scenery of around 2 km of precipice is the highlight |
| Bios Hill (ビオスの丘) | A hill with subtropical flowers and animals |
| Okinawa Blue Cave (青の洞窟) | Cave of Cape Maeda located in Onna village in the central area of Okinawa main island. A fantastic spot where blue light shines deep into the cave |
| Hiji Waterfall (比地大滝) | See rare flowers and animals |
| Cape Hedo (辺戸岬) | Cliffs where the dynamic landscape is the highlight |
| Cape Manzamo (万座毛) | Rough limestone cliffs located in Onna village |
| Daisekirinzan (大石林山) | See strange rocks and megaliths and feel the power of nature |
Among the spots in the southern area, Niraikanai Bridge and Gangara Valley are must-see spots. In the central area, besides Cape Zanpa and Bios Hill, the blue cave is a popular spot for tourists.

In the northern area, there are lots of scenic spots, and there are plenty of places with spectacular views, like Hiji Waterfall, Cape Hedo, and Daisekirinzan. 
Aquariums, Theme Parks and Gardens in Okinawa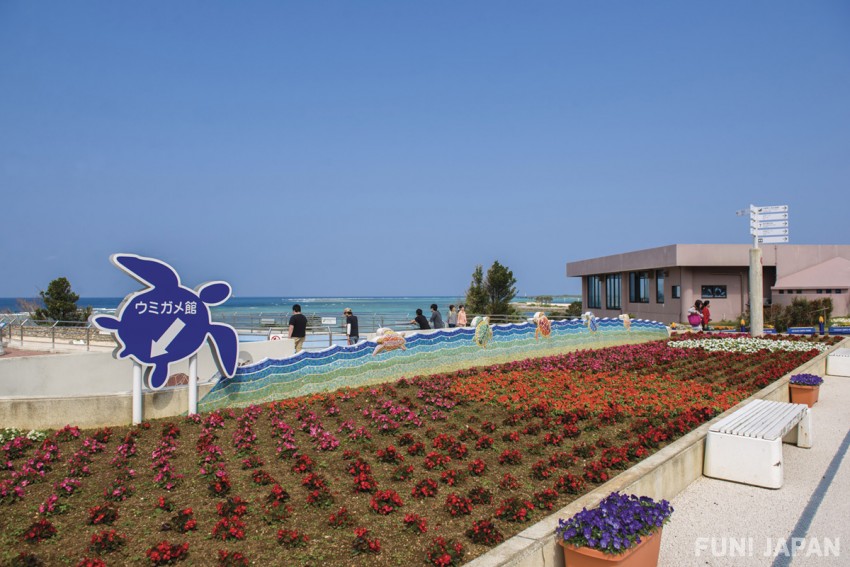 Okinawa has lots of facilities that are related to nature, the ocean, and the history and war of the Ryukyu Kingdom. Here, we have compiled some typical spots.
| | |
| --- | --- |
| Sightseeing Spots | Festures |
| Okinawa Peace Memorial Park (平和祈念公園) | A place for requiem with facilities relating to war located in Itoman City, the largest battleground during the Battle of Okinawa |
| Okinawa Prefectural Museum and Art Museum (沖縄県立博物館・美術館) | See the nature, history and culture of Okinawa all at once |
| Okinawa Zoo and Museum (沖縄こどもの国) | A zoo with 150 species of animal and an interactive museum complex where you can learn while having fun |
| Busena Marine Park (ブセナ海中公園) | A park with an underwater observation tower and glass boat |
| Nago Pineapple Park (ナゴパイナップルパーク) | A pineapple theme park in Nago City |
| Churaumi Aquarium Okinawa (美ら海水族館) | Aquarium where whale sharks and manta rays can be seen up close |
| Ocean Expo Park (海洋博公園) | A vast park with a planetarium and Churaumi Aquarium |
If you divide each spot into regions, these is the Peace Memorial Park, Okinawa Prefectural Museum and Art Museum in the southern region, and the Okinawa Zoo in the central region.
There are lots of spots in the northern region, such as Busena Marine Park and Nago Pineapple Park etc.
Okinawa's World Heritage Sites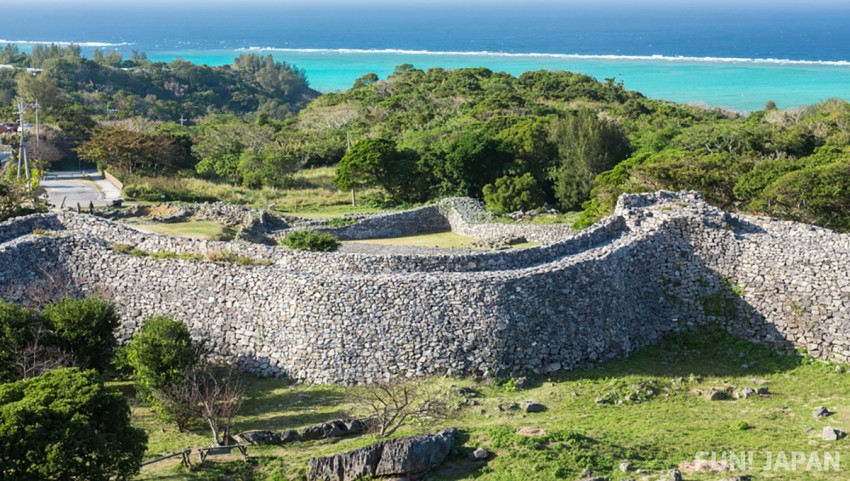 Okinawa has a World Heritage Site registered as "Gusuku and Related Heritage Group of the Ryukyu Kingdom". It is a compilation of a series of archeological sites around the Shuri Castle ruins, etc. of the Ryukyu Kingdom era, and by seeing these it is easy to understand that Okinawa was a country that developed independently.
Sightseeing Spot
Features

Shuri Castle, Okinawa (首里城)

A royal castle situated in Naha city during the Ryukyu Kingdom era. A political centre of the kingdom
(Partially closed due to fire occurred in October 2019. Information as of February 2020)

Nakagusuku Castle (中城城跡)

A precious castle situated in Kitanakagusuku Village that shows the Ryukyu castle building culture

Zakimi Castle Ruins (座喜味城跡)

Castle ruins located in Yomitan Village. The skillfully arranged stone structure is said to be the best in Okinawa

Katsuren Castle Ruins (勝連城跡)

Elegant castle ruins situated in Uruma City

Nakijin Castle Ruins (今帰仁城跡)

Castle ruins located in Nakijin Village before the Ryukyu Kingdom was founded. Highlights of the 1.5 km long wall.

Sefa-utaki (斎場御嶽)

The most famous sacred place in the Ryukyu Kingdom located in Nanjo City. A gigantic rocky mountain is the subject of worship

Sonohyan-utaki (園比屋武御嶽石門)

A place situated in Shuri Castle where the King prayed for safety before heading out

Tamaudun (玉陵) 

A huge stone tomb situated near the Shuri Castle where the successive Kings of Ryukyu were buried

Shikinaen (識名園)

A separate residence of the Ryukyu royal family, where they met foreign envoys, located in Naha City. The features of the garden are impressive

If you would like to see all of the world heritage sites of Okinawa, it is best to go around each area. First, in the southern area, there are five sites such as Shuri Castle, Sefa-utaki, Sonohyan-utaki, Tamaudun and Shikinaen.

Next, in the central region, historic sites such as the ruins of Nakagusuku Castle, Zakimi Castle, and Katsuren Castle still remain.
Finally, the northern region. The northern area only has one, the Nakijin Castle ruins.
All archeological sites are worth seeing, but one that is particularly recommended is the Zakimi Castle ruins. The castle walls and gates still remain, and the elaborate stonework is a must-see. The curves of the ruins of Katsuren Castle and Nakijin Castle are also fantastic. Additionally, you are sure to be surprised at the scale of Tamaudun.
Okinawa Traditional Culture and Craft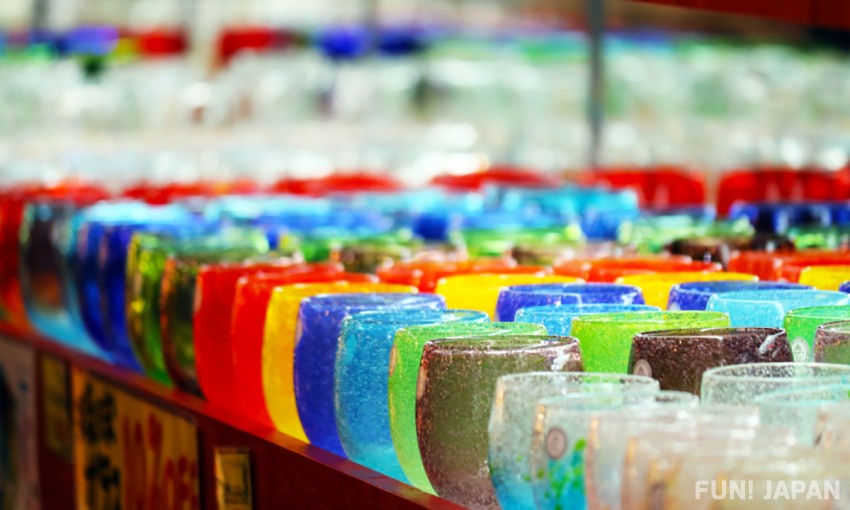 Okinawa has uniquely developed traditional culture and craft, such as pottery, dyed goods, glass crafts and more. There are facilities where it is possible to try making it yourself, and you can make your own original souvenirs.
| | |
| --- | --- |
| Sightseeing Spots | Features |
| Okinawa World (おきなわワールド)  | A complex facility in Nanjo City. It is famous for having the largest limestone cave in Japan. You can experience various areas of Okinawan culture here |
| Murasaki Mura Ryukyu Kingdom Theme Park (体験王国 むら咲むら) / Yachimun no Sato (やちむんの里) | A facility where you can experience various things located in Yomitan Village. Yachimun no Sato is a community workshop of Yomitan Yamayaki |
| RyukyuMura (琉球村) | A theme park located in Onna village where crafts such as indigo dyeing and watching Eisa can be experienced |
 There is one famous spot in each area. Visit the Okinawa World in the southern area, the Murasaki Mura Ryukyu Kingdom Theme Park in the central area, and RyukyuMura in the northern area.
What you can experience and enjoy at these facilities is as follows.
| | |
| --- | --- |
| Type of activities | Features |
| Okinawa Kimono or Ryukyu clothing experience | Take photos and walk around in Ryukyu royal costumes |
| Pottery (焼き物) | Make original pottery with clay |
| Dyed products or textiles culture | Experience indigo dyeing and weaving originated from various parts of Okinawa |
| Ryukyu glass making | Experience glass blowing at the Ryukyu glass workshop |
 Sanshin (三線), Ryumai (Ryukyu Dance) Play a Sanshin or make a Sanshin using cans. Also, you can change into folk costumes and dance Ryumai.
Recommended Shopping Spots in Okinawa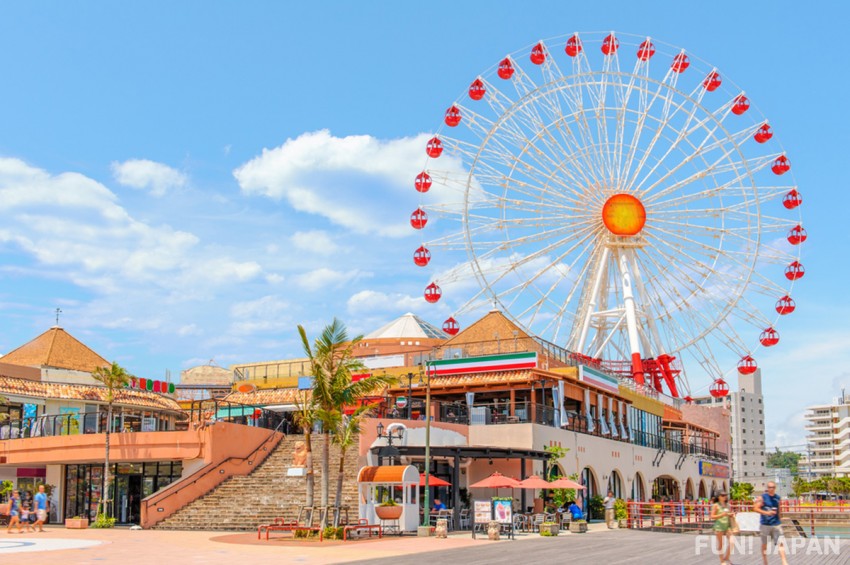 Okinawa is popular not only for enjoying the sights and experiences, but for shopping as well. Shopping spots are dotted throughout the prefecture.
There are lots of outlet malls and large shopping malls, and some malls even form resorts. There are so many shops around you that they are sure to catch your eye, so if you are shopping, take some time to go around at leisure.
| | |
| --- | --- |
| Spots Name | Features |
| Kokusai-dori (国際通り)  | A souvenir spot where lots of tourists stop by |
| Okinawa Outlet Mall ASHIBINAA | An outlet mall located in Tomigusuku City. There are also famous brand stores here that were the first branch opened in Japan |
| AEON MALL Okinawa Rycom | A general shopping mall situated in Kitanakagusuku-son. Fashion, general store, restaurant, etc. are inside |
| Mihama Town Resort Okinawa American Village (美浜タウンリゾートアメリカンビレッジ) | Complex resort facilities such as import markets, ferris wheel, hotels and supermarkets located in Chatan |
| T Galleria Okinawa by DFS | A duty-free shop in Naha that stocks everything from top brands to souvenirs from Okinawa |
Among these, AEON MALL Okinawa Rycom has plenty of services for foreigners. Guides are displayed inside and outside the building are available in five languages including English, Chinese (simplified and traditional), and Korean.

Festivals and Events in Okinawa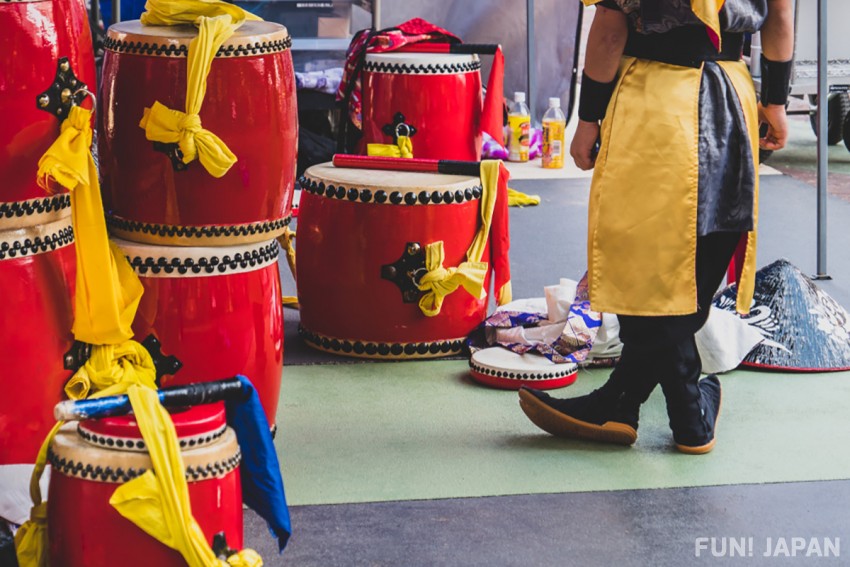 Local events are one of the highlights of Okinawa. Festivals that are rooted in the local religion and large-scale events are held in various locations. Here, we will give the details of the main events.
| | | |
| --- | --- | --- |
| Famous Festivals | Period Held  | Features |
| Nago Mayor's Cup contention whole island Harley tournament | Every August | An exhilarating event where people compete for speed on a traditional fishing boat |
| Okinawa Zento Eisa Matsuri | Every August - September | An event where people from all over Okinawa dance "Eisa" |
| Great Tug-of-War Festival | Every July - September | Festival praying for abundant harvests and big catches in various areas of Okinawa |
| Ishigaki Island Festival (Ishigakijima Matsuri) | The first weekend of November of every year | The largest festival on Ishigaki Island where around 2,200 citizens participate in the parade |
| Mabuni Fire and Bell Festival  | Every New Year's Eve | A festival held at the Okinawa Peace Memorial Hall in Itoman city to bring in the new year with a resolve for peace. |
Among them, the Okinawa Zento Eisa Matsuri is particularly noteworthy. "Eisa" is a traditional performing art of Okinawa, where people dance while holding a taiko drum or dance hands free. During the festival, many different types of Eisa are performed. The spectacle that people dance and shout is amazing.
Nightlife in Okinawa - How to Spend the Night?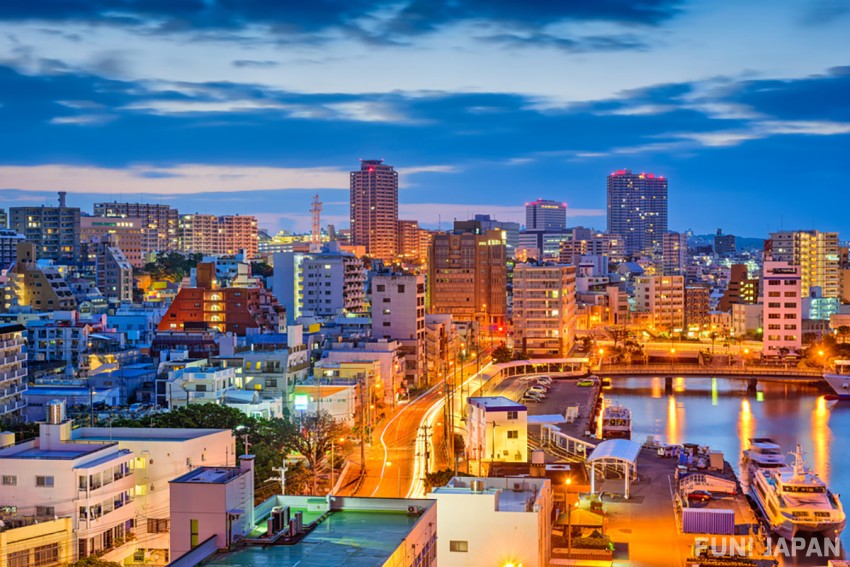 There are many ways to spend the night in Okinawa. It is interesting to watch the live performances of Shimauta (Okinawa island song), or other performances of traditional Okinawa culture, entertainment at restaurants and shows.
In addition, if you would like to drink all night, head to the clubs and bars. There are lots of clubs in Naha and Chatan. In contrast, bars are gathered by Okinawa city monorail Kencho-mae station (Prefectural Office station), which is close to the shopping district in Naha, Kokusai-dori and Matsuyama. There is a bar where you can see penguins, "Dining & Bar with penguins Okinawa", where you can spend an invaluable time.
Is Okinawa Safe at Night
Crime in Okinawa has declined over the last decade. Although, it should be noted that while the total crime is decreasing, the number of violent crimes and sex offenders are increasing. However, as the Okinawa Prefectural Police have set up a specially strengthened area for the exclusion of gangsters, it could be said that the security of the city is improving.
[Survey] Traveling to Japan
Recommend