What Should you Eat at Furukawa Fish Market in Aomori, Japan?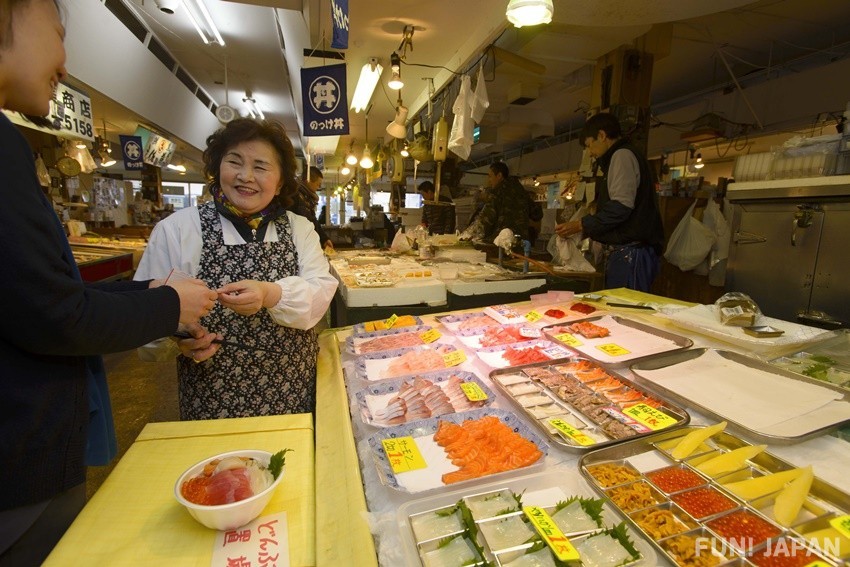 Furukawa Fish Market is a market that has become popular as a kitchen for Aomori citizens. Fresh seafood from Mutsu Bay is available at the Furukawa Market stores. We also recommend the local gourmet dishes made with local seafood and ingredients. The shops are opended from around 5:00, so you can enjoy shopping and breakfast along with a morning walk.
Furukawa Fish Market Aomori in Aomori Prefecture, Japan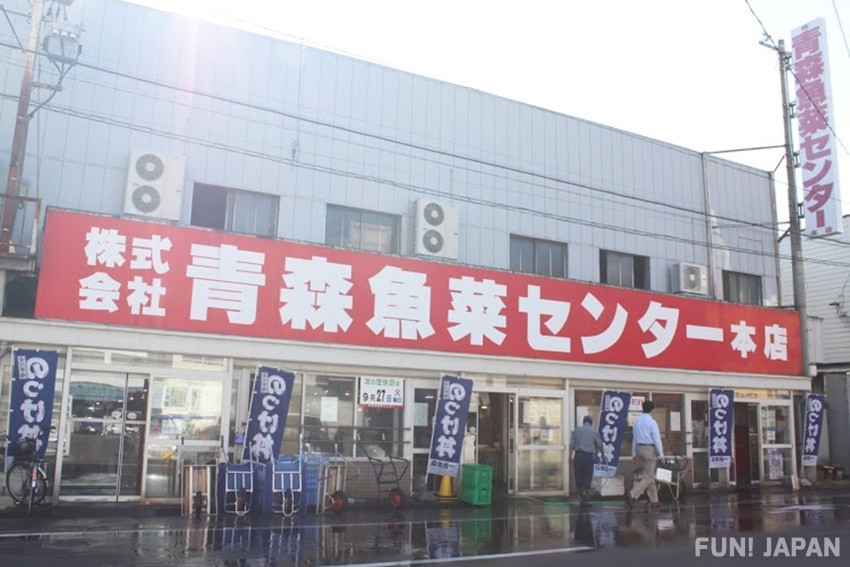 The Aomori Gyosai Center (Furukawa Fish Market) in Aomori Prefecture is a 5-minute walk from Aomori Station. Opened since the 1960s, there are about 30 fresh and delicatessen shops in the market. The gourmet Nokke-don, which started with the opening of Shin-Aomori Station on the Tohoku Shinkansen in 2010, is popular.
Furukawa Market Specialty 

Nokkedon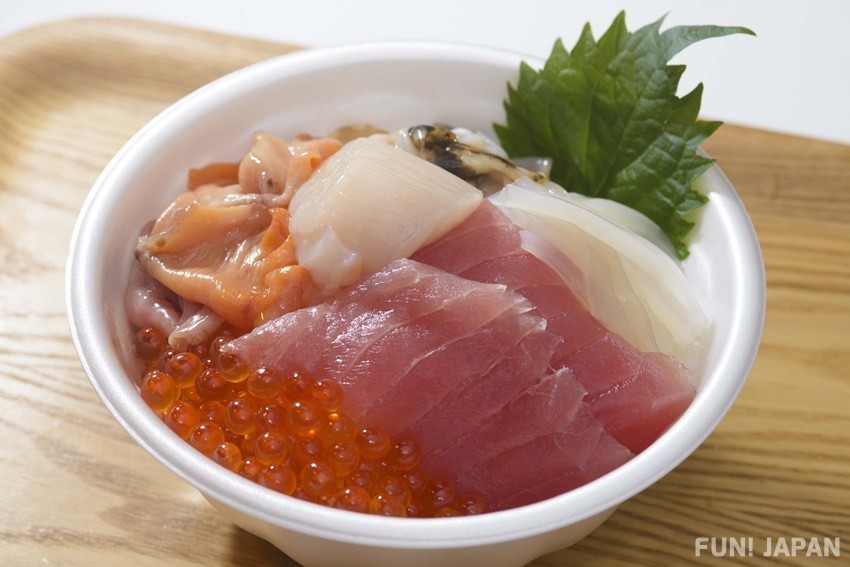 Fukukawa Fish Market's famous gourmet Nokkedon is an original donburi (rice bowl dish) made with your favorite seafood. Purchase a meal ticket (5 for 650 yen, 10 for 1,300 yen) and receive rice in a bowl. Go around the shops with the bows and choose ingredients such as sashimi and side dishes and complete your original donburi.
Seasonal Ingredients you can Taste at the Furukawa Fish Market
From spring to summer, there are anglerfish, trout, scallops and oysters. From summer to autumn, flounder, sea urchin, skipjack etc. From autumn to winter, saury, sardines, salmon, and tuna. From winter to spring, tuna, cod, yellowtail, crab, puffer, octopus, etc.

Guide to Furukawa Market's Nokkedon
The finished Nokkedon can be leisurely eaten at a resting place in the market. If you don't have enough ingredients, you can purchase additional meal tickets. They also sell miso soup, pickles and beer. Nokkedon is sold from 7:00 to 16:00. You can't take Nokkedon home with you.

Guide to Furukawa Market Aomori Fish & Vegetable Center
The Aomori Gyosai Center (Furukawa Fish Market ) is open from 5:00 to 18:00. It is closed on Tuesdays, as well as January 1st and 2nd.

How to Get to Furukawa Fish Market
To access Furukawa Market from Tokyo, take the Tohoku Shinkansen from Tokyo Station (about 3 hours and 20 minutes) and get off at Shin-Aomori Station. Transfer to JR from Shin-Aomori Station (about 5 minutes). Get off at Aomori Station and walk about 5 minutes.

Spot Information
Spot name: Aomori Gyosai Center (Furukawa Fish Market)



Street Address: 1-11-16, Furukawa, Aomori-shi, Aomori 030-0862
Access: Tokyo Station → [Shinkansen] about 3 hours and 20 minutes → Shin-Aomori Station → [JR] about 5 minutes → Aomori Station… about 5 minutes on foot
Wi-Fi: Unavailable
Language: Japanese only
Ticket: Free
Credit cards: No Credit cards accepted
[Survey] Traveling to Japan
Recommend