Introduction to the Land of Snow, Aomori in Japan. Must-visit Locations You Can't Miss!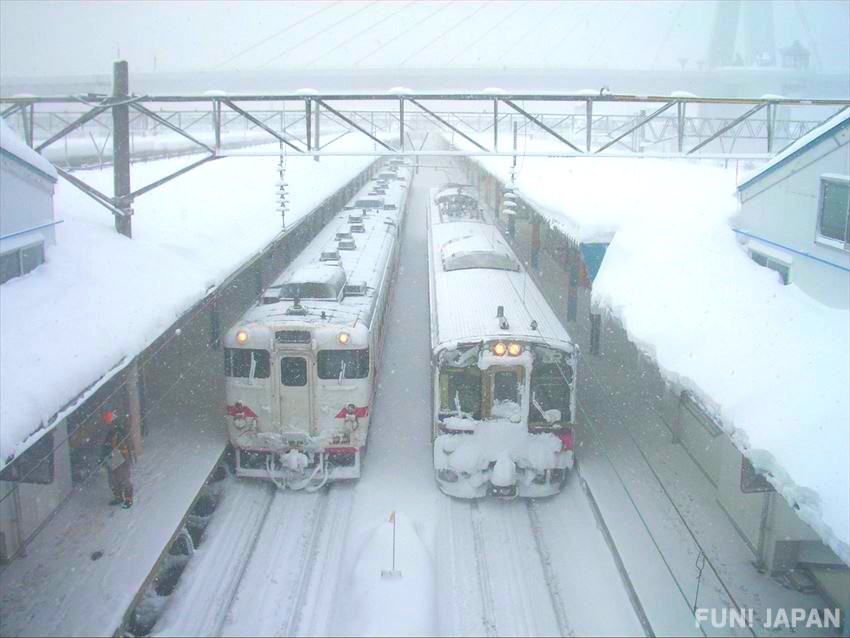 Delicious apples, tons of snow, beautiful cherry blossoms; those are a few of the things that come to mind when we think of Aomori Prefecture. Located in the North of Japan, just below Hokkaido, Aomori is a magical winter wonderland as well as one of the best places in Japan to catch the changing of the leaves in autumn and cherry blossoms in the spring.

Must-visit Attractions of Aomori 
There are famous historical, cultural, and natural spots in Aomori each with their own unique attractiveness. Here are just some of the not-to-be-missed attractions when most tourist travelling in Aomori.

Hirosaki Castle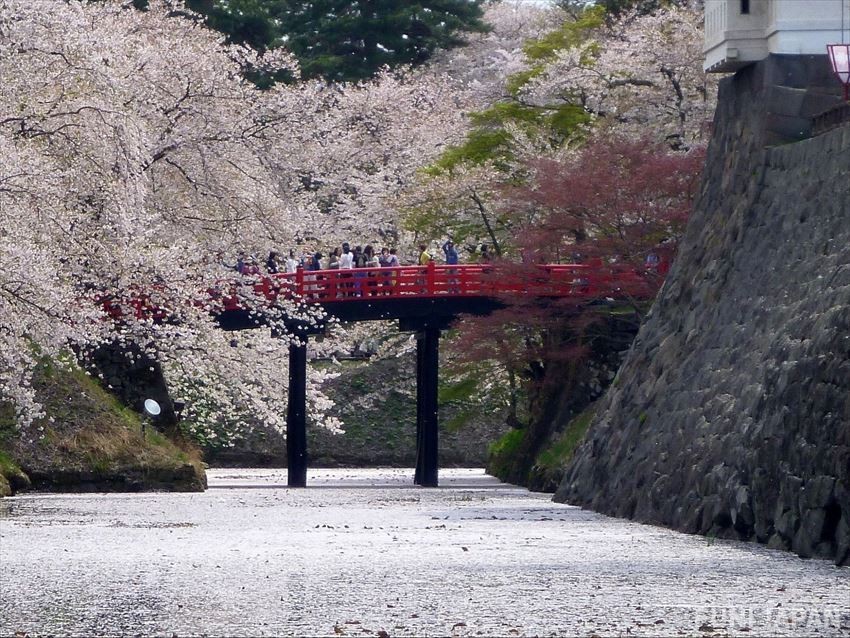 This is one of the best place for cherry blossom viewing in Aomori. There are thousands of trees all around the castle that provide a stunning view of the delicate blooms. This castle belonged to the Tsugaru clan and was built in 1611. Apart from its stunning cherry blossoms, the castle offers a beautiful view of Aomori city as well as an informative museum throughout its floors. 
The snow scenery in winter is also attractive! Make sure to not miss the fantasy atmosphere of illumination at night during the Hirosaki Castle Yuki-Doro Festival (Snow Lantern Festival) that is only held for 5 days in February.

Spot Information
Spot name: Hirosaki Castle
Address: 1 Shimoshirogane-cho, Hirosaki-shi, Aomori 036-8356
Opening hours: 9:00 - 17:00 (will be extended during Hirosaki Cherry Blossom Festival )
Access: JR Hirosaki Station → [Dotemachi Loop Bus] 15 mins → Shiyakusho-mae bus stop (In front of City Hall)
Tsugaru-han Neputa Village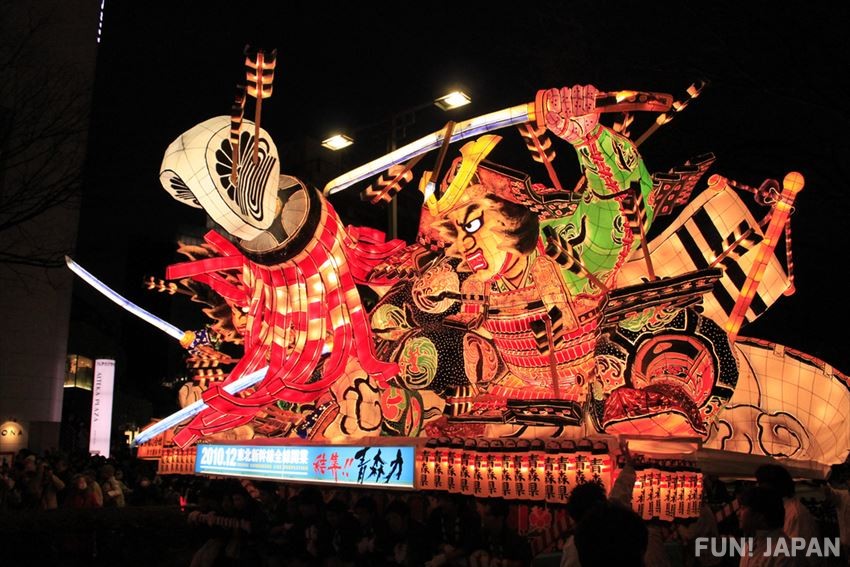 Inside the museum, you can know more about the popular Neputa Festival held in Aomori, by the demonstrations of huge Neputa floats, classic floats and Tsugaru kites as well as the live performances of Tsugaru Shamisen. There are also workshop and souvenir shops where you can try to make the local crafts or purchase them pre-made.

Spot Information
Spot name: Tsugaru-han Neputa Village
Address: Kamenoko-Cho 61, Hirosaki-shi, Aomori 036-8332
Access: JR Hirosaki Station → [Dotemachi Loop Bus] 15 mins → Tsugaru-han Neputa Village bus stop
Oirasekeiryu and Lake Towada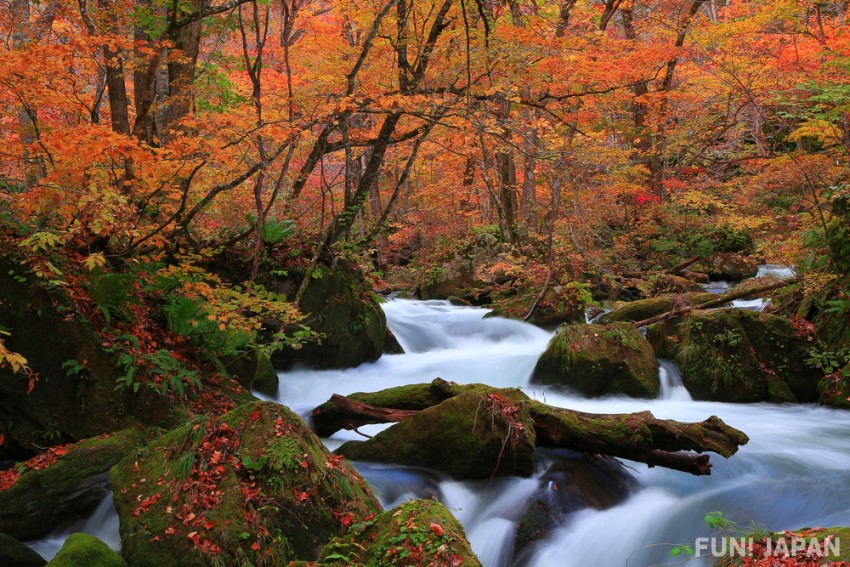 The natural scenery of river valleys in Oirasekeiryu is different among four distinct seasons. The most recommended time to visit is autumn with the extraordinary landscapes covered in the fall leaves. After hiking on the route of Oirasekeiryu, head over to the nearby Lake Towada and enjoy the onsen with the view of Lake Towada, one of the best ways to relax at the end of a productive day.

Spot Information
Spot name: Oirasekeiryu
Address: 183 Tochikubo, Okuse, Towada-shi, Aomori 034-0301
Access: JR Aomori Station/JR Shin-Aomori Station → [JR Bus Mizuumi-Go] 120 min → Yakeyama Bus Stop
Spot name: Lake Towada
Address: 486 Yasumiya, Towada-kohan, Okuse, Towada-shi, Aomori 018-5501
Access: JR Aomori Station → [JR BusMizuumi-Go] 180 min → [Towada Lake Station Bus Stop (Bus service stop during winter)
Hakkoda Mountains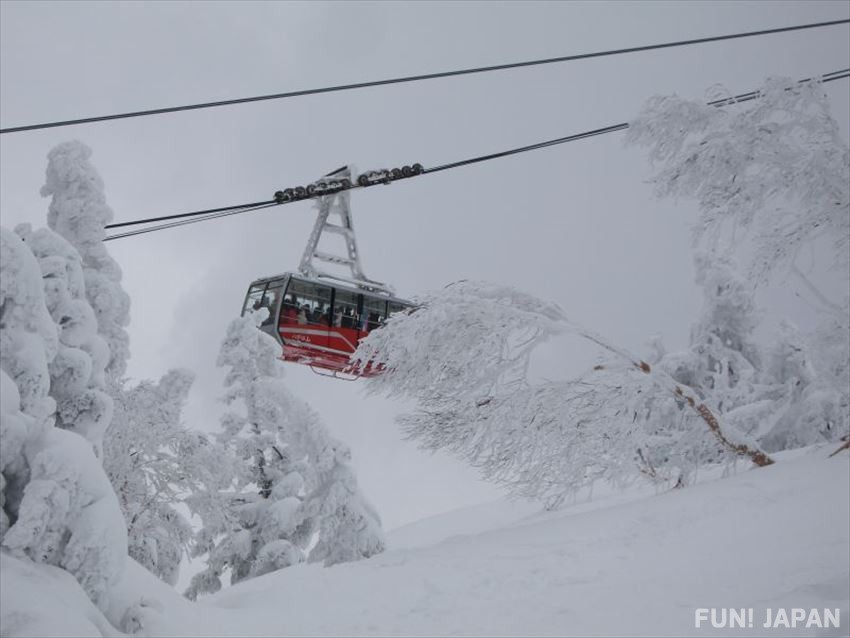 These superb mountains are the jewels of Aomori. Hakkoda Mountains is a mountain range with a set of eight dormant volcanoes. This area is perfect for skiing in the winter, and hiking the rest of the year. These mountains are also famous for their trees known as "snow monsters", because of how they look when covered in snow. You can also enjoy skiing or snowboarding in the Hakkoda Ski Resort. After a long hike or a day of skiing, you can relax at one of the volcanic onsen on the range.
Spot Information
Spot name: Hakkoda Mountains (Hakkoda Ropeway)
Address: 1-12, Kansuizawa, Arakawa, Aomori-shi, Aomori, Japan 030-0188
Ticket price: Adult: 1,250 yen for one-way, 2,000 yen for round-trip; Child: 450 yen for one-way, 700 yen for round-trip
Access: Aomori Station → [JR Bus] 60 min → Hakkoda Ropeway Mae Station
Shopping in Aomori
Try shopping around the main train station for the most shops and restaurants such as JR Aomori station and JR Shin-Aomori station. The shopping center inside the JR Aomori station building, LOVINA, is quite large and boasts several department stores within. Try the side streets and arcades for a cozier shopping experience. Another shopping mall in the JR Shin-Aomori station which is named Aomori Shunmikan allows travelers to enjoy and purchase the local dishes and specialties of Aomori.
Best Time To Visit
Aomori is wonderful to visit any time of the year. All four seasons have so much to offer, it really depends on your personal preference. If you would like to see the cherry blossoms, try going there during March or April. For winter activities such as skiing and snowboarding under the high snowfall in Aomori, December through February is the best time.

How to Get to Aomori
You can fly to Aomori Airport from anywhere within Japan. Flight time from Tokyo's Haneda Airport is around 80 minutes on a direct route. If you prefer train rides, you can hop on the Shinkansen and zip through several other Prefectures. Travel time from Tokyo is around 4 hours. It is suggested to buy the JR East Tohoku Area Pass to travel in a more economical way.
[Survey] Traveling to Japan
Recommend