How to Enjoy Ryukyu Mura in Okinawa?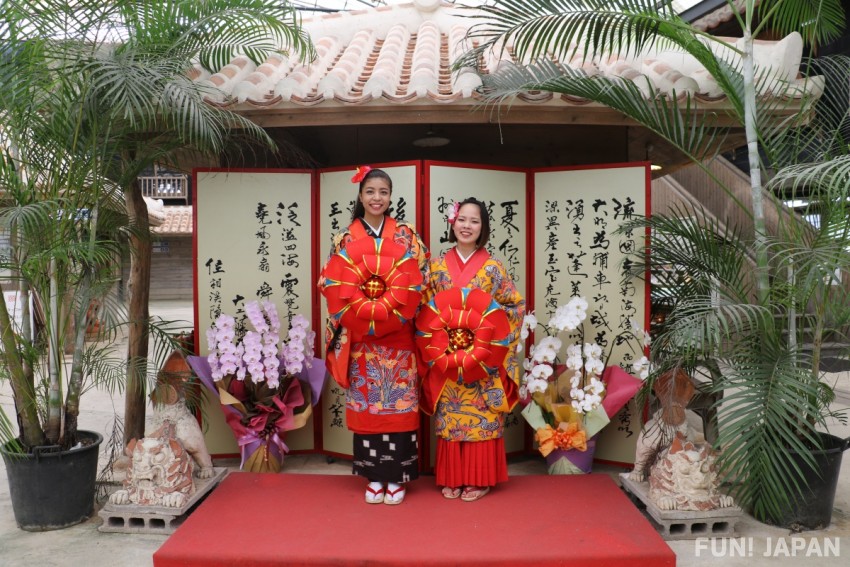 Ryukyu Mura is about an hour drive from Naha in Okinawa. Ryukyu is the old name of Okinawa, and "Ryukyu Mura" is a theme park that is a recreation of a traditional Okinawa village. These days, tourists from other countries are also increasing. In addition to Okinawa cultural experiences like pottery and textiles, you can also enjoy Okinawa performing arts culture like Butoh and Eisa. In this article, we introduce how to enjoy Ryukyu Mura!

Super Enriched Experiences! Photo shoot in Rented Costumes is Recommended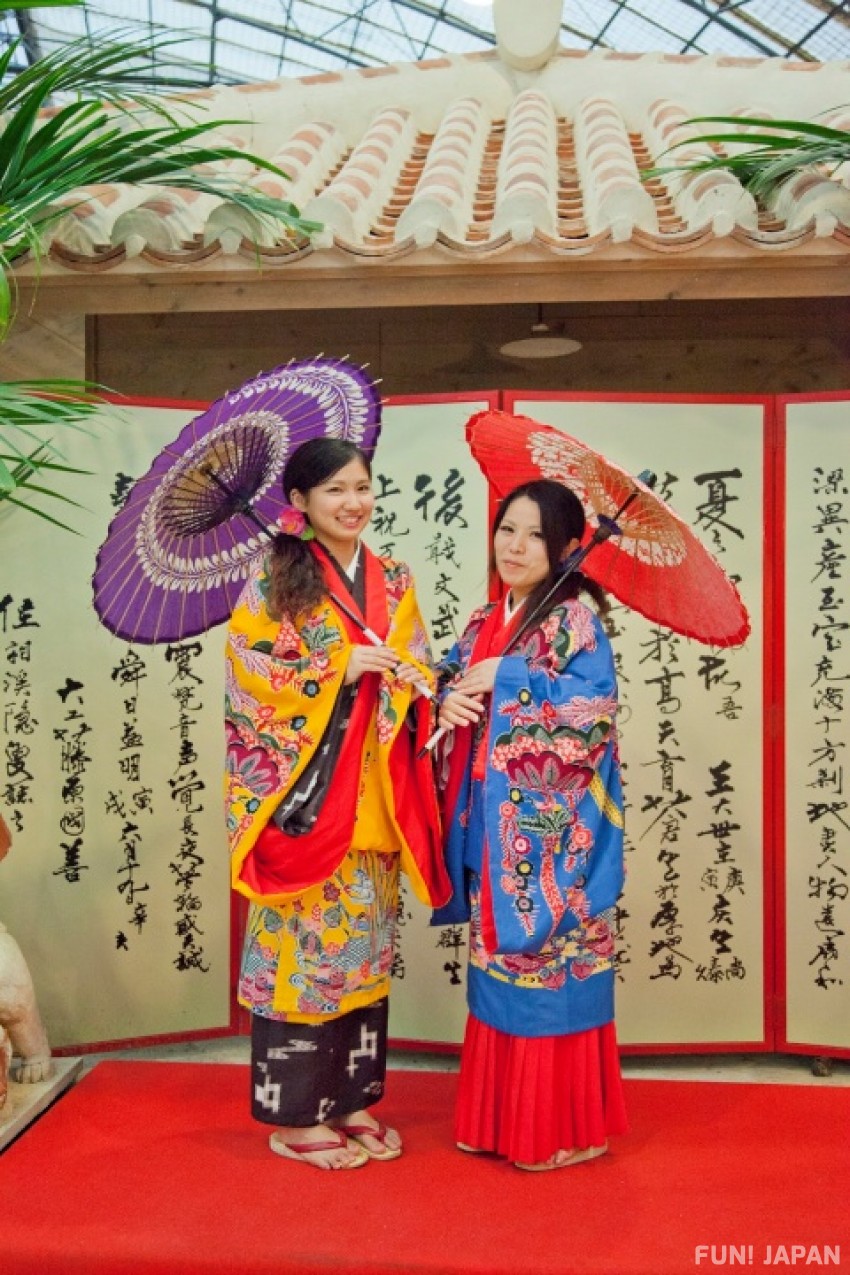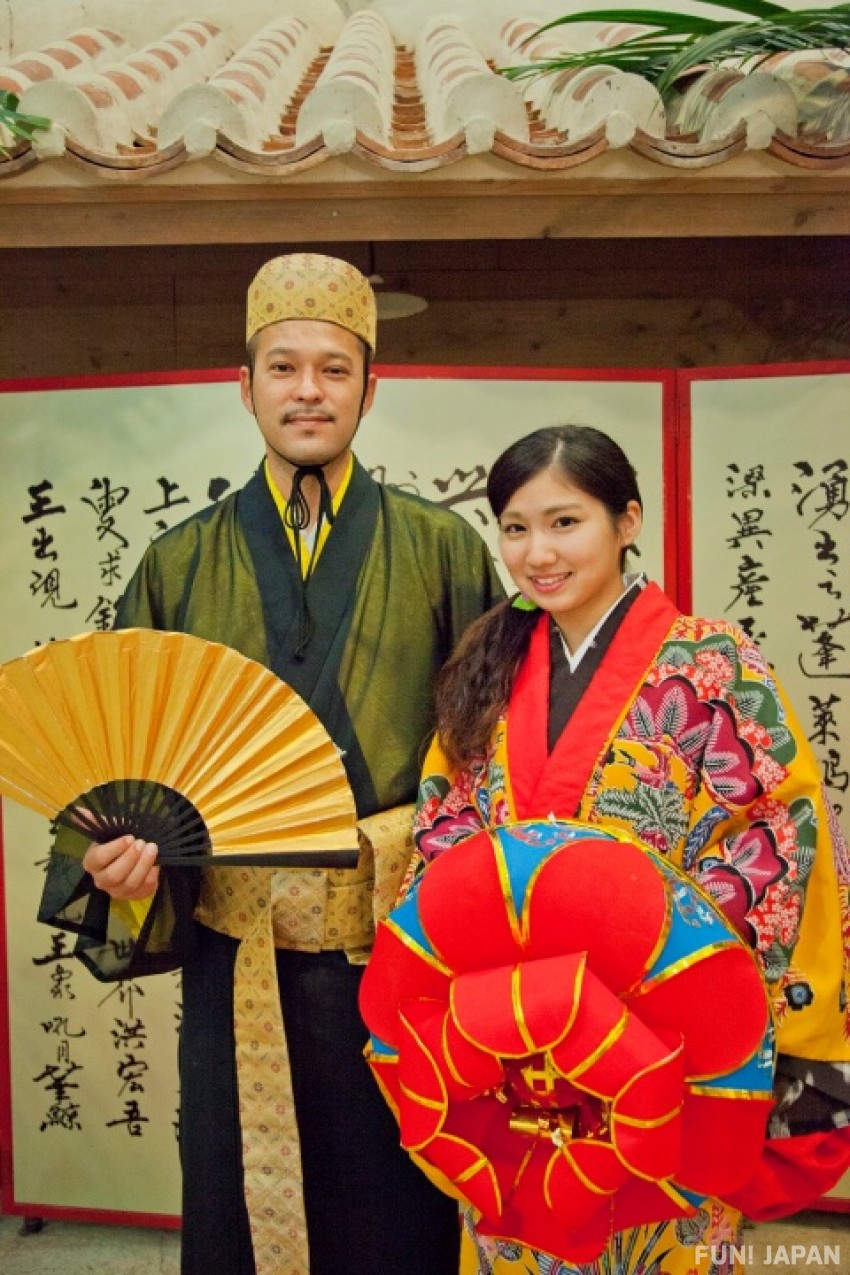 In Ryukyu Mura, there are around 25 experiences where you can learn about Okinawa culture such as weaving and making Sata Andagi (Okinawan cuisine). Among these experiences, the genuine "Ryukyu Rental Costume" is the most recommended. It is possible take a commemorative photo while wearing a gorgeous kimono that only high class people could wear during the Ryukyu Dynasty. 20 minutes to change into the costume, a one hour stroll and a photoshoot cost 4,000 yen as a set. You can choose your favorite costume and you can also have your hair styled.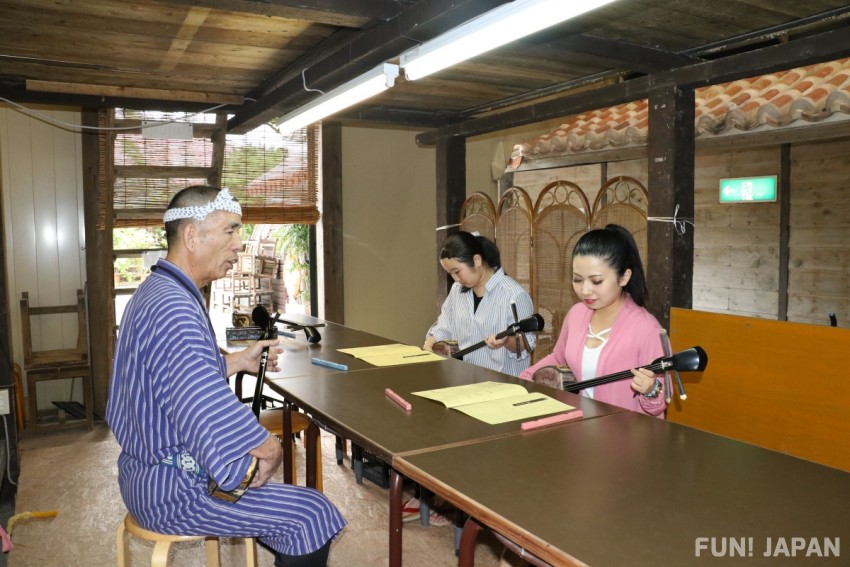 At the "Sanshin Classl", you can touch an actual shamisen and be taught a simple song. There is no doubt that your soul will be healed by the authentic tone of the shamisen! (Required time: 30 minutes; final entry: 16:00; fee: 1000 yen, advance reservation required on the official website)
There are other diverse experiences, such as the Okinawa's representative dessert "Sata Andagi making experience" costs 1,500 yen (*) and "Tropical Ryukyu sweet parfait making experience" costs 2,000 yen (※)".
※These experiences are not held every day, so advance reservations are required on the official website
A Most Impressive Parade that Involves the Audience and Festivals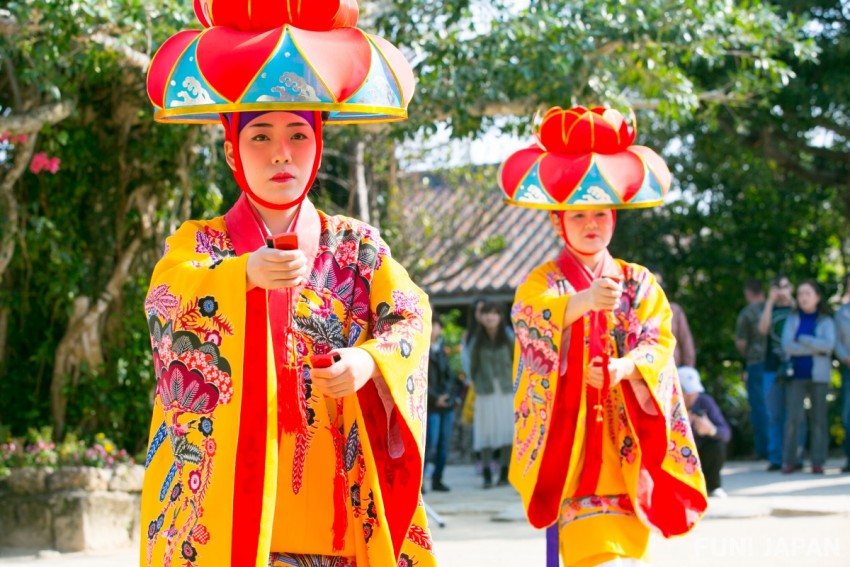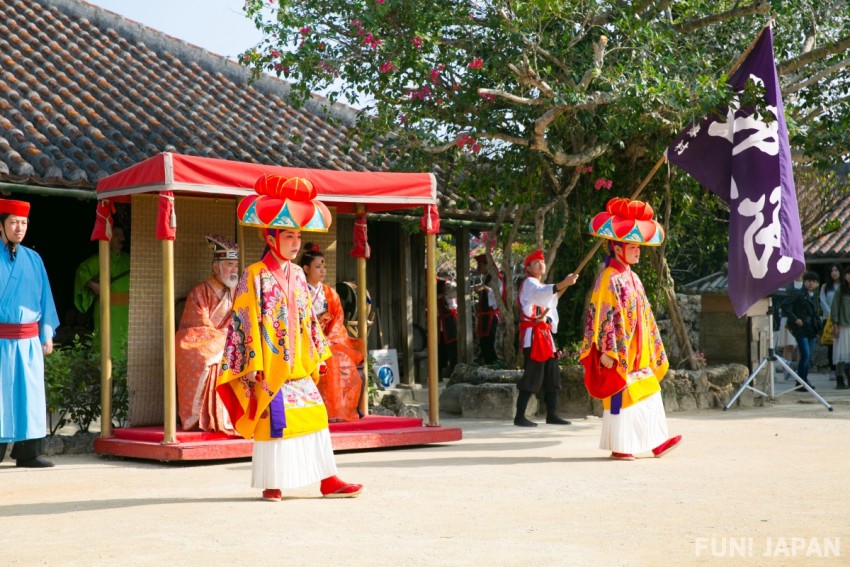 The second highlight of Ryukyu Mura is traditional performing arts that are held every day. Among these performing arts, the special feature is "Michijune". At the end of this parade where you can see Ryukyu dance, Ryukyu ancient martial arts, folk songs and "Eisa" at the same time, they get the audience to sing and dance with them and everyone gets everyone super excited! This event is held twice a day, from 10:00 - 16:00.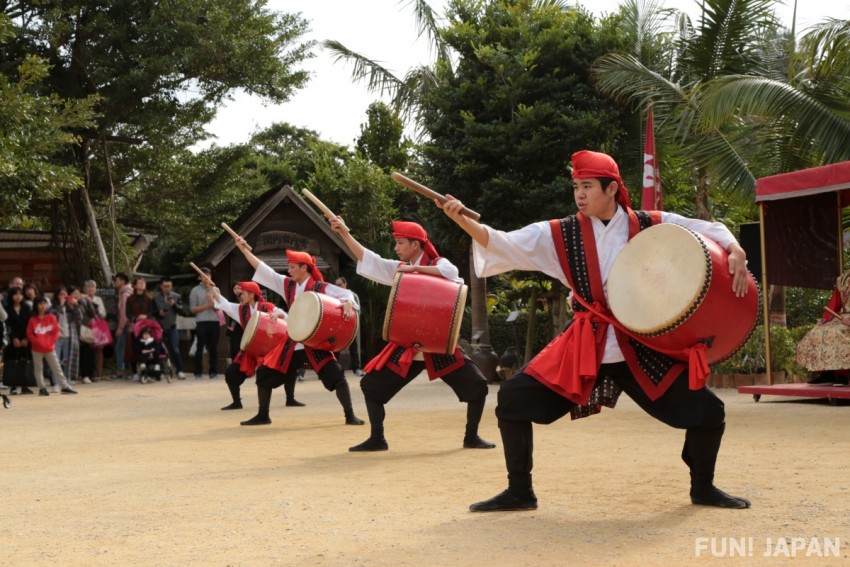 We also recommend "Eisa" which is is one of Okinawa's traditional performing arts and an Okinawan traditional event that is held during the Bon Festival of the lunar calendar where people dance to the sound of the Shamisen and Taiko drum orchestra. The sound of the Taiko drum vibrating in your chest is impressive. It is held three times a day from 9: 20 ~, 12: 00 ~, and 14:00~. Enjoy the intense traditional performing arts that can only be experienced in Okinawa!

Enjoy historical traditional old houses, souvenirs and gourmet food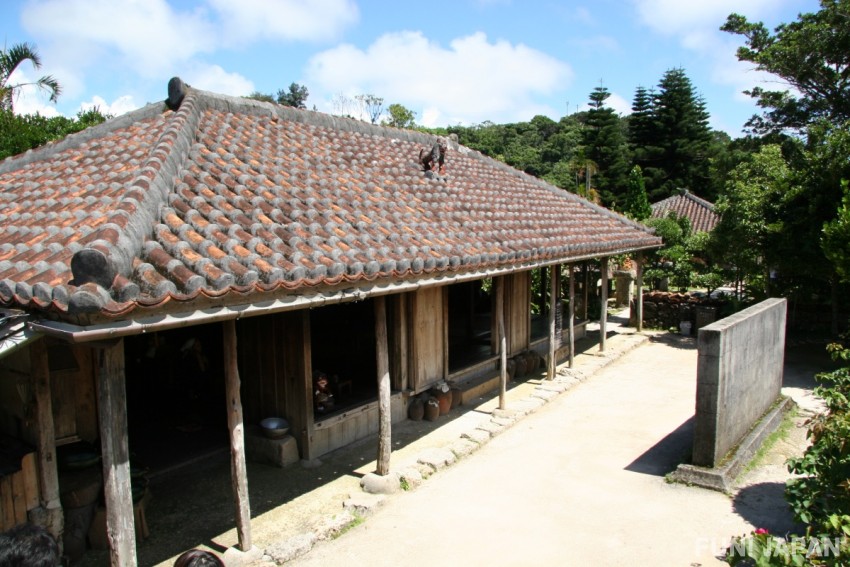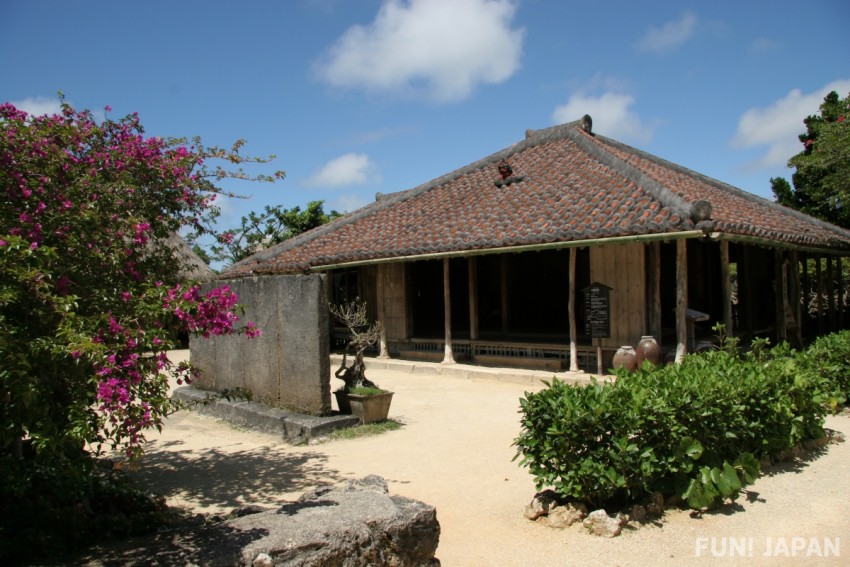 Precious old private houses have been relocated to the park and the old landscape of Okinawa has been recreated. Out of the 10 houses, 8 of them are designated as registered national tangible cultural properties. Some of these houses have a history of more than 100 years.

In addition, in the entrance area "Okinawa Station Champuru" , food such as Ryūkyū cuisine, Okinawa soba and Sōki soba can be enjoyed at the restaurant "Kijimuana Shokudo" and they have souvenirs such as Okinawa soba, sea grapes, and Awamori (Okinawan alcoholic beverage) lined up. The building is a dome shaped facility, so you can enjoy it even on rainy days!

Access to Ryukyu Mura
By Car
Naha Airport → about 30 km north by National Highway 58

By Bus
Naha → [Okinawa Bus / Ryukyu Bus bound for Nago], about 1 hour → Ryukyu Mura-mae bus stop ... Ryukyu Mura is right by the bus stop on foot
Spot Information
Spot name: Ryukyu Mura
Address: 1130, Yamada, Onna-son, Kunigami-gun, Okinawa 904-0416
Opening hour: 9:00 to 18:00 (last entry 17:30). After October 2019: from 9:00 - 17:30 (last entry 17:00)
Holiday: Open year round
Wi-Fi: Free connection is only possible in areas where you can have experiences in the dome.
Language: Japanese, English, Traditional Chinese, Simplified Chinese and Korean pamphlets available.
Ticket Purchase: 1,200 yen (1300 yen after October 1st 2019)

Credit cards: Accepted
[Survey] Traveling to Japan
Recommend