Powerful Stone Wall in Nakagusuku Castle, Okinawa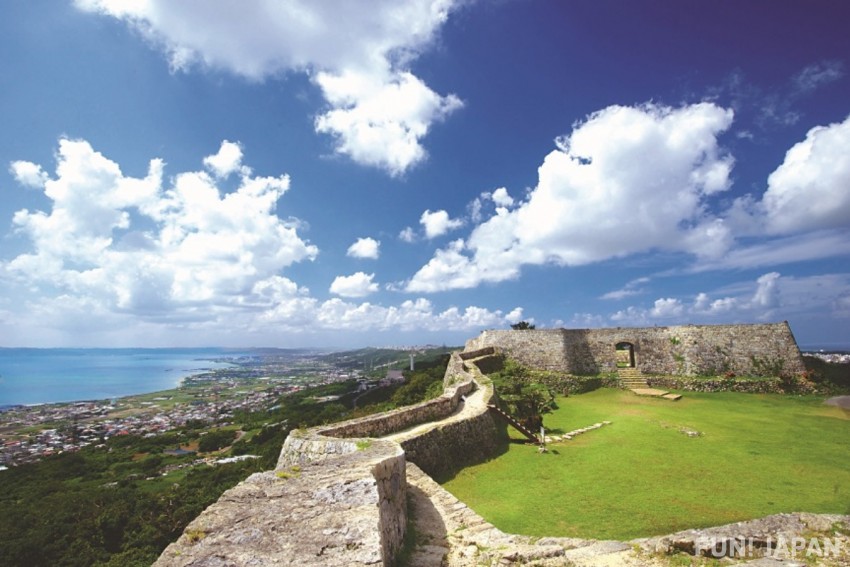 Nakagusuku Castle Ruins in the central part of the main island of Okinawa is a castle in the Ryukyu era on a limestone hill with an altitude of 150-170m, extending almost straight from the northeast to the southwest. The south side is a cliff, and the northwest side is a steep slope, making it easy to protect and difficult to attack. The highlight is that there is a castle wall that draws a curve using the natural topography.

In 2000, it was registered as a World Heritage site as one of the "Gusuku Sites and Related Properties of the Kingdom of Ryukyu". In Okinawa, there are five castles that are registered as world heritage sites, including Shuri Castle, however, besides Shuri Castle, they are all only ruins of stone walls like Nakagusuku Castle Ruins.
The Great 
To See the Great View of Nakagusuku Castle Ruins 
on a Sunny Day!
Since it is located on a hill at an altitude of about 160 meters with nothing to block it, the view is amazing. It overlooks the East China Sea on the west and the Pacific Ocean (Nakagusuku Bay) on the east, and on a clear day you can see the surrounding islands. In particular, the view from the castle wall of "Kuruwa" is recommended!
The Stunning Stone Architecture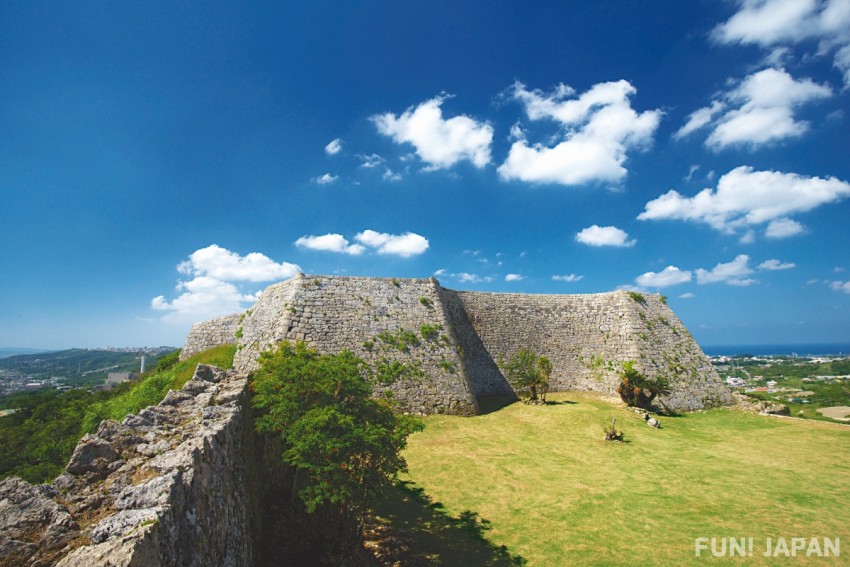 The second point is its unique stone architecture. There are three types of stone that differ depending on the era. The south district is a natural field of natural stones "Nozurazumi", and the first and second districts are made of square-shaped stones "Nunozumi", and the third and north district is "Aikatazumi", which is processed into polygons and loaded with stones. Ryukyu Limestone, which is used for the walls, is a stone unique to Okinawa formed by coral reefs.
The Rugged Main Gate Wall 

of Nakagusuku Castle Ruins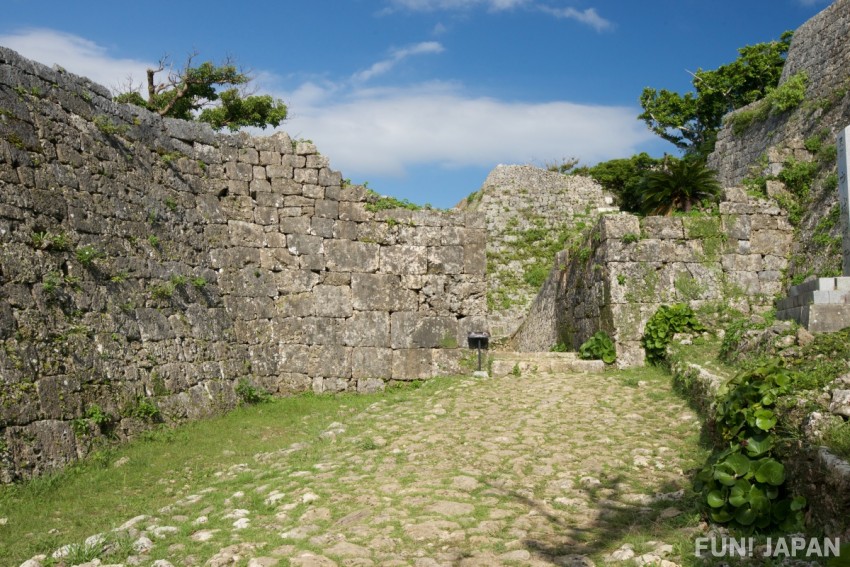 The Main Gate with its stone walls protruding on both sides so as to sandwich the gate. Although it is a gate, it has stone walls on both sides, and is not an arch.

Sightseeing Points of Nakagusuku Castle
Because the site is large, you can get on a one-way pick-up electric cart and move from the entrance to the front. Shoes that are easy to walk on, such as sneakers, are recommended because of the hills and steps.
Access to Nakagusuku Castle
There are two ways to go to Nakagusuku Castle Ruins: by car or bus. When going by car, it takes 35-40 minutes from Naha Airport. If you go by bus, take the bus from Naha Bus Terminal at Yui Rail Asahibashi Station and get off at Nakagusuku Elementary School bus stop. From there, there is about a 2 km uphill walk, so be sure to come with easy-to-walk shoes, or use a taxi from the bus stop.
Spot Information
Spot name: Nakagusuku castle



Street Address: 503 Ojo, Kitanakagusuku, Nakagami-gun, Okinawa 901-2402
Access: Naha Airport → [Passenger Car] 35-40 minutes → Ruins of Nakagusuku Castle, or Naha Airport → [Yui Rail] 10 minutes → Asahibashi Station ... 5 minutes on foot… Naha Bus Terminal → [Toyo Bus (No. 30)] approx. 70 Minutes → Nakagusuku Elementary School → [Taxi] about 5 minutes
Language: English, Simplified Chinese, and Korean pamphlets available
Ticket: 400 yen
Times: 8:30-17: 00 (until 18:00 from May to September)
Closed: No holidays
[Survey] Traveling to Japan
Recommend