Indulge in Mud Baths! 3 Recommended Hotels in Kirishima, Japan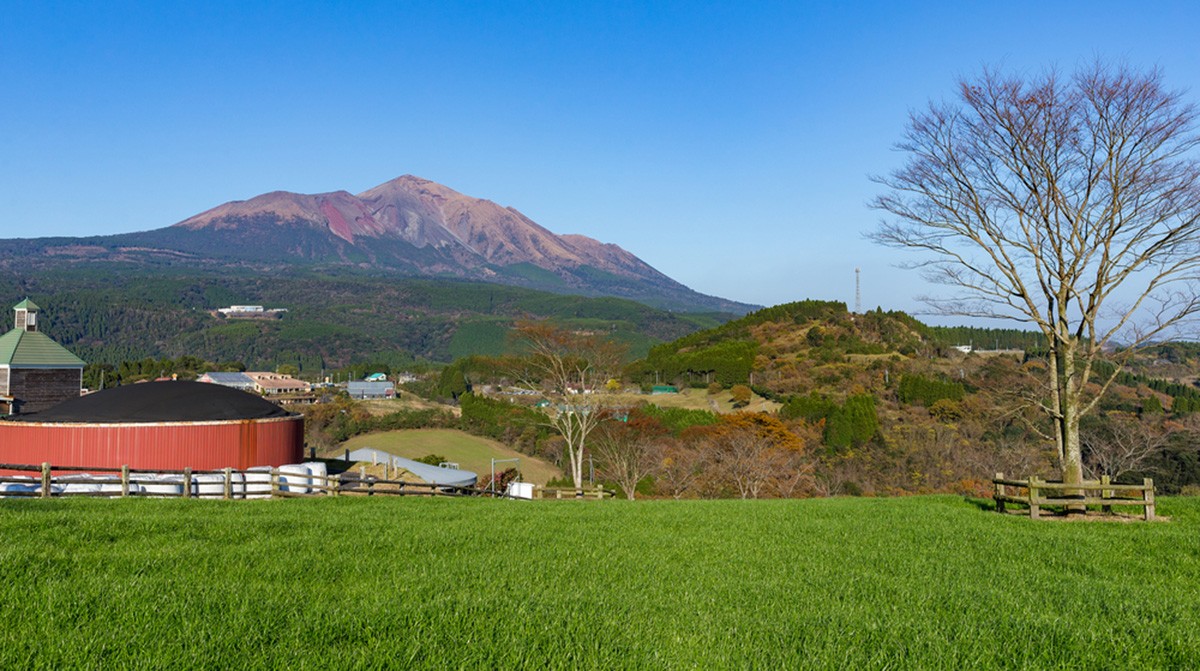 There are four hot spring villages in Kirishima, Kagoshima Prefecture and all of them have plenty of hotels and hot spring inns. This time, we would like to introduce three of our recommendations in Kirishima Jingu, Myoken Anraku, and Hinatayama. 

A Hot Spring Inn with Natural Mud Baths- Sakura Sakura Hot Springs, the Natural Mud Bath Kirishima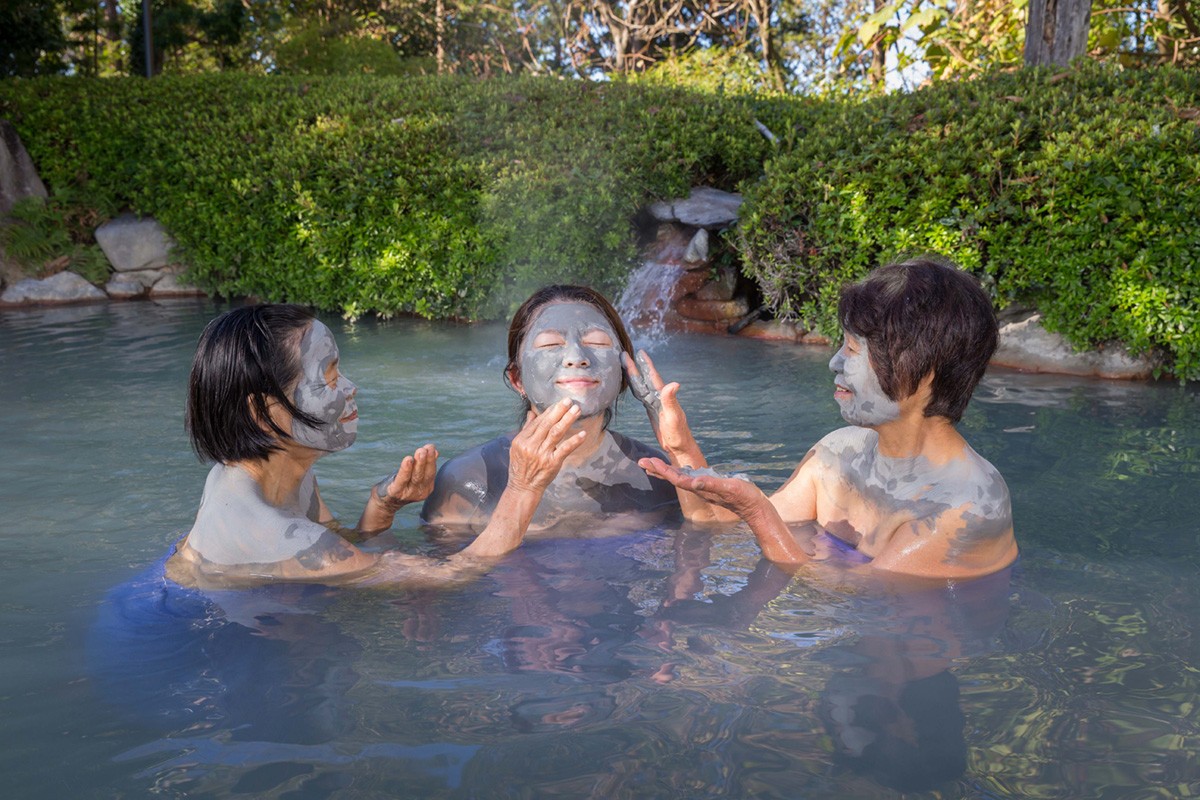 The Sakura Sakura Hot Springs inn is in a tranquil setting surrounded by the Kirishima Mountains. It proudly presents the rare mud bath that is famous for its skin-beautifying effect. To enjoy the mud bath, you first wash at the public bath, then you spread the natural mud pack all over your body and wait until it dries. The mud is very much rich in the same minerals dissolved in the hot-spring waters.
 Afterwards, you just need to wash the mud off with face cleansing foam. Besides the mud bath, the hotel also has two private outdoor baths for rent.

The five types of guest rooms include Japanese rooms and separate cottage accommodation- the Japanese house and Canadian-style log house are spacious and particularly attractive for guests.
For dining at the annex complex, course meals are served with local Kagoshima ingredients, and at breakfast time, guests can be energized by the East-meets-West buffet with Kagoshima specialties such as Keihan chicken rice and black pork pot dish.  

The hotel also has a bar with a range of Kagoshima shochu liquor, karaoke, and a gift shop to complete your enjoyment of the experience here!
Information
Name:Kirishima Natural Mud Bath- Sakura Sakura Hot Springs
Address:2324-7, Kirishima Taguchi, Kirishima-shi 899-4201
Access:Kirishima Jingu Station 🡪 [Kagoshima Kotsu Bus] approx. 15 mins 🡪 Yokodakeshita Bus Stop …around 3 mins walk
Wi-Fi:Available (limited to a number of guestrooms )
Language:English
Credit cards:VISA, MasterCard, JCB, AMERICAN EXPRESS, Diners Club International
The only panoramic observatory hotel in Kirishima- Kirishima Kanko Hotel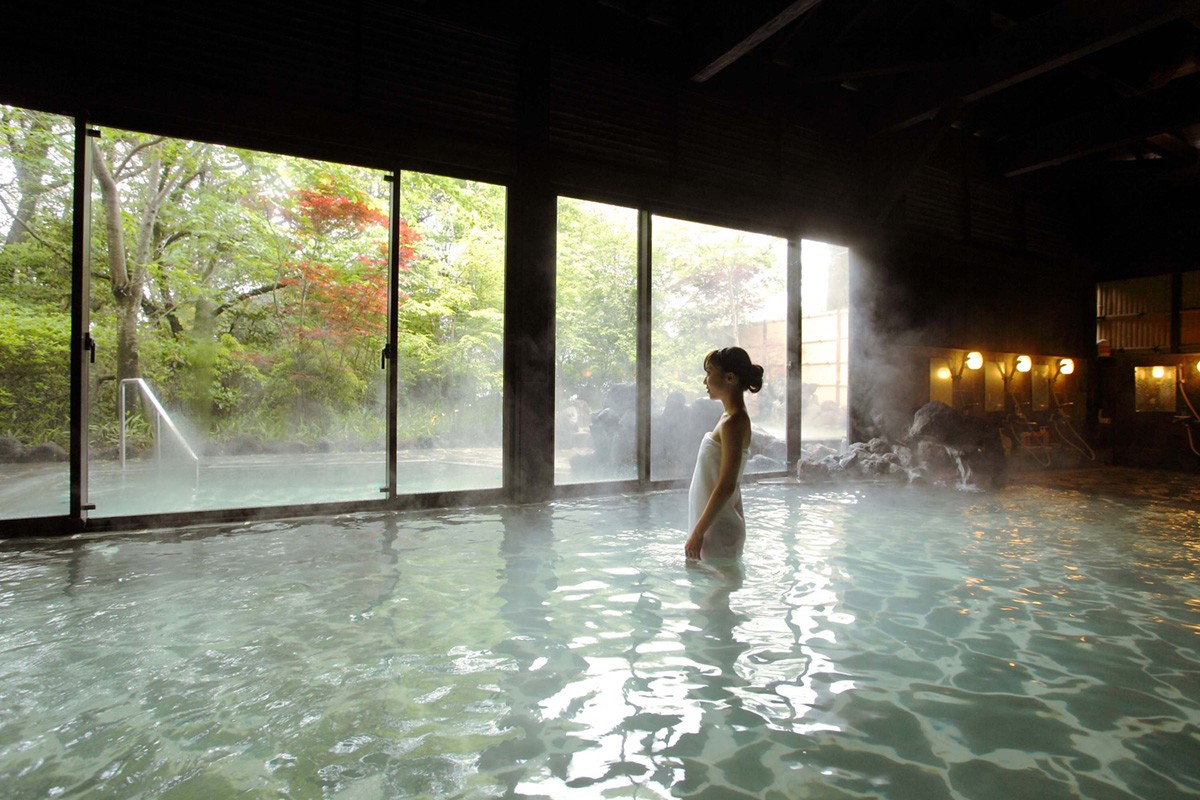 Kirishima Kanko Hotel can justifiably claim to have the best panoramic views in Kirishima. At the large observatory bath, take in the magnificent, panoramic views of the Kirishima Mountains and Sakurajima overlooking Kagoshima's Kinko Bay. There is also a wide range of relaxing facilities to enjoy, including an outdoor bath with a Jacuzzi, a steam bath, private family baths for rent, and a hot-spring foot bath.
Also, many of the guest rooms have the added luxury of superb views- the natural scenery of the Kirishima mountain range and the hot-spring village from the north complex, and the panoramic sea views of Kinko Bay from the south complex. Rooms with these magnificent views are all available at reasonable prices. (Please note that some rooms and outdoor hot springs are closed until December 2019 for earthquake-resistance reinforcement) 
There is much more to discover besides the hot springs and the rooms. For instance, in the restaurants, you will be amazed by course meals prepared with local ingredients and fresh seafood from the Kinko Bay and the breakfast buffet with more than 35 kinds of  Japanese and Western dishes. Also, you can enjoy karaoke, an izakaya bar, and the gift shop. To enhance your relaxation, try out the soothing services available at an extra charge such as massages, and the yukata rental service with a great variety of attractive choices.   
Information
Name:Kirishima Kanko Hotel
Address:3885 Takachiho, Makizono-cho, Kirishima-shi, Kagoshima-ken 899-6603
Access:Kirishima Jingu station 🡪 [Kagoshima Kotsu Bus] approx. 30 mins 🡪 Maruo bus stop… around 5 mins walk
Wi-Fi:Available (in and around the lobby on the first floor of the central complex)
Language:English
Credit cards:VISA, MasterCard, JCB, AMERICAN EXPRESS, Diners Club International
A secretive Japanese inn with 2 kinds of hot spring- Kirishima Yunotani Sanso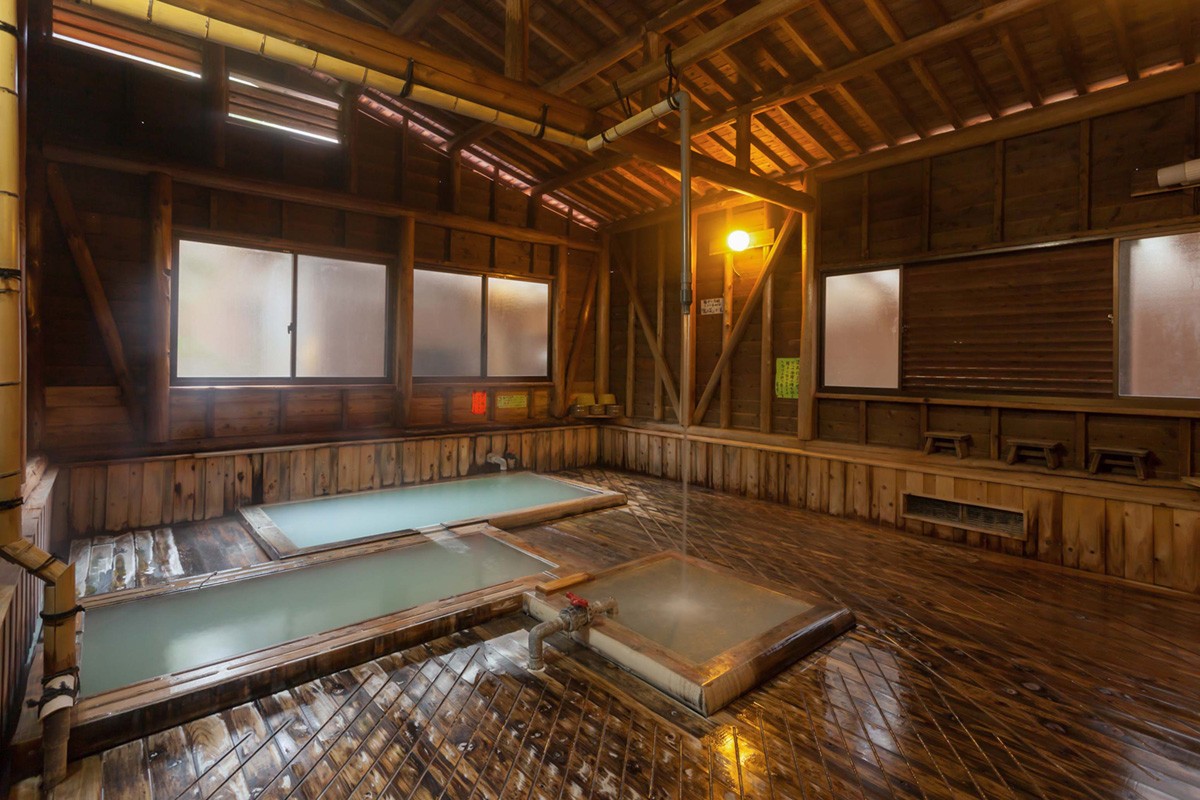 Kirishima Yunotani Sanso is inside the Kirishima National Park's forest. It is a top-ranked secretive inn in Kyushu. In the bathhouse which has the fragrance of cypress wood, there are actually three baths- a cloudy hot sulphur spring bath, a warm carbon dioxide spring bath, and the one in the middle which combines both. All these are quality natural baths effective for curing bodily aches and pain and relieving stress, so just have your spirit soothed here! The outdoor bath is for mixed bathing but can be reserved for private use upon request. 

The rooms are Japanese style and simple and subtle with forest views. The restaurant serves Japanese-style set meals at breakfast and dinner time made with fresh local ingredients.
Note, there are no shops in the hotel, nor any convenience stores or supermarkets nearby. Everything is simple- indulge in the traditional Japanese atmosphere with a quality hot spring and be embraced by nature. That is just fantastic.
Information
Name: Kirishima Yunotani, Mountain Sanso
Address:4970 Takachiho, Makizono-cho, Kirishima-shi, Kagoshima (zip code 899-6603)
Access:霧Kirishima Jingu station → [Kagoshima Kotsu Bus] approx. 26 mins →Yunotani Onsen Iriguchi (entrance) bus stop… around 10 mins walk
Check-in 3:00 p.m., check out 10: a.m.: Please phone the hotel if you expect to arrive later than 5:00 p.m and note that dinner may not be served later than 6:00 p.m.
Wi-Fi:Available
Language:Only Japanese
Credit cards:No credit cards accepted
[Survey] Traveling to Japan
Recommend