Enjoy winter in Kanazawa, Japan.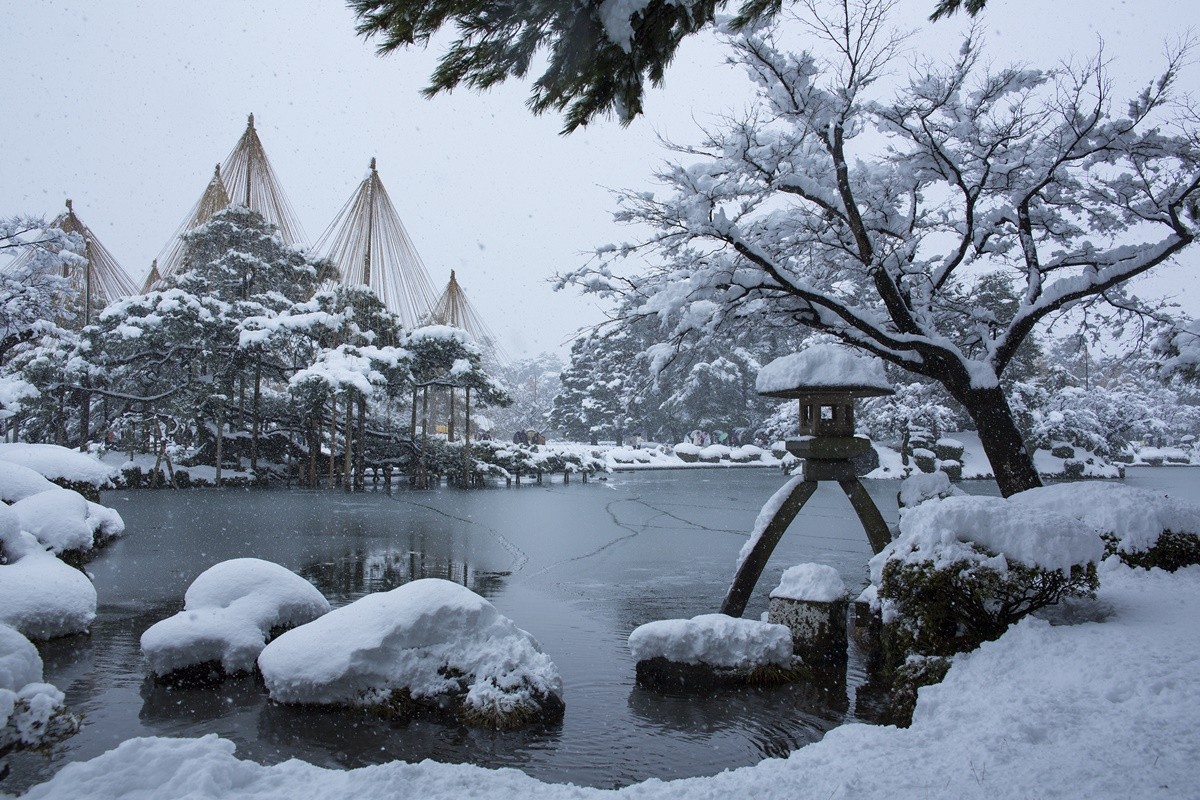 "Kanazawa" in Ishikawa is full of attractions in winter such as sightseeing spots with lovely snow scenery and seasonal gourmet seafood. Furthermore, in Kanazawa, which is a popular tourist destination as an ancient city, is packed with historic buildings. There are many old Japanese style spots that harmonize with the snow scenery.
Winter in Kanazawa, Japan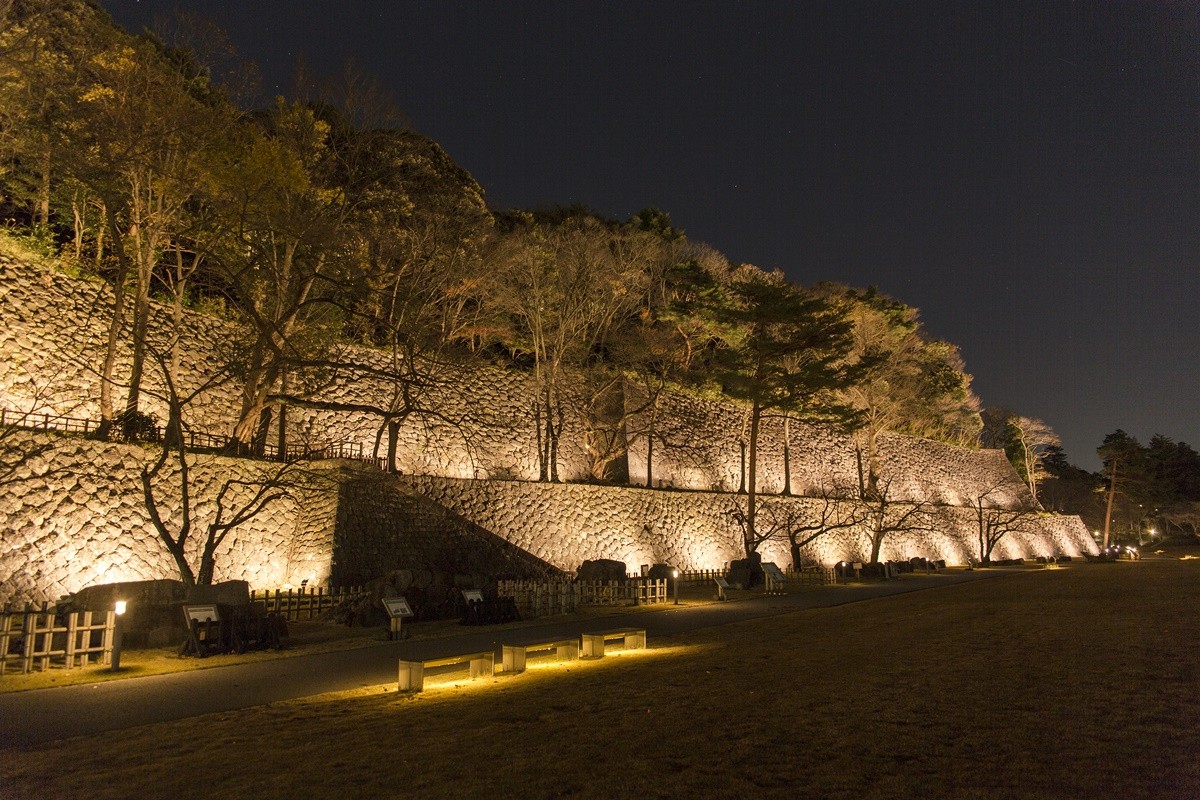 Winter in Kanazawa, Ishikawa, is a season with lots of snowfall and beautiful snow scenery. We recommend the snow scenery in emotional sightseeing spots such as Kenrokuen Garden, Kanazawa Castle Park and Higashi Chayamachi. Moreover, Kanazawa is famous for its delicious seafood. You can enjoy seasonal seafood such as salmon and yellowtail. By all means we want you to taste the winter gourmet.

Things to see in winter Kanazawa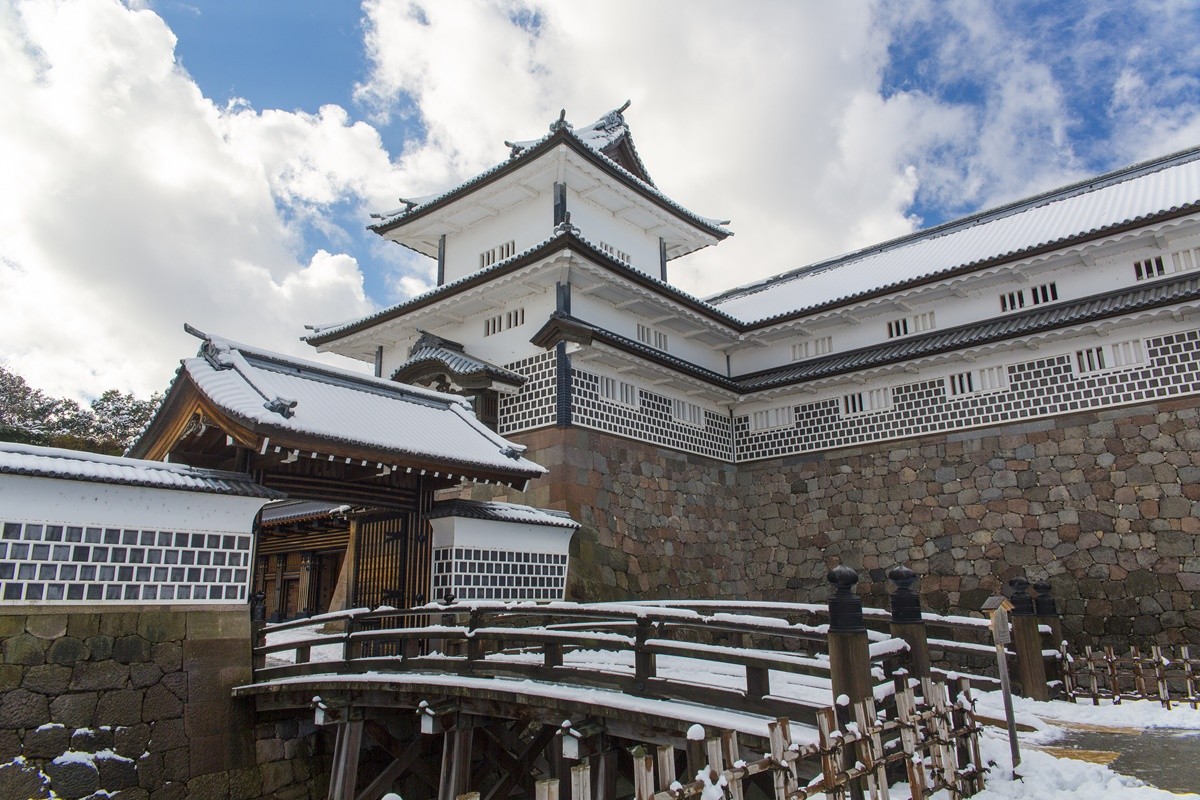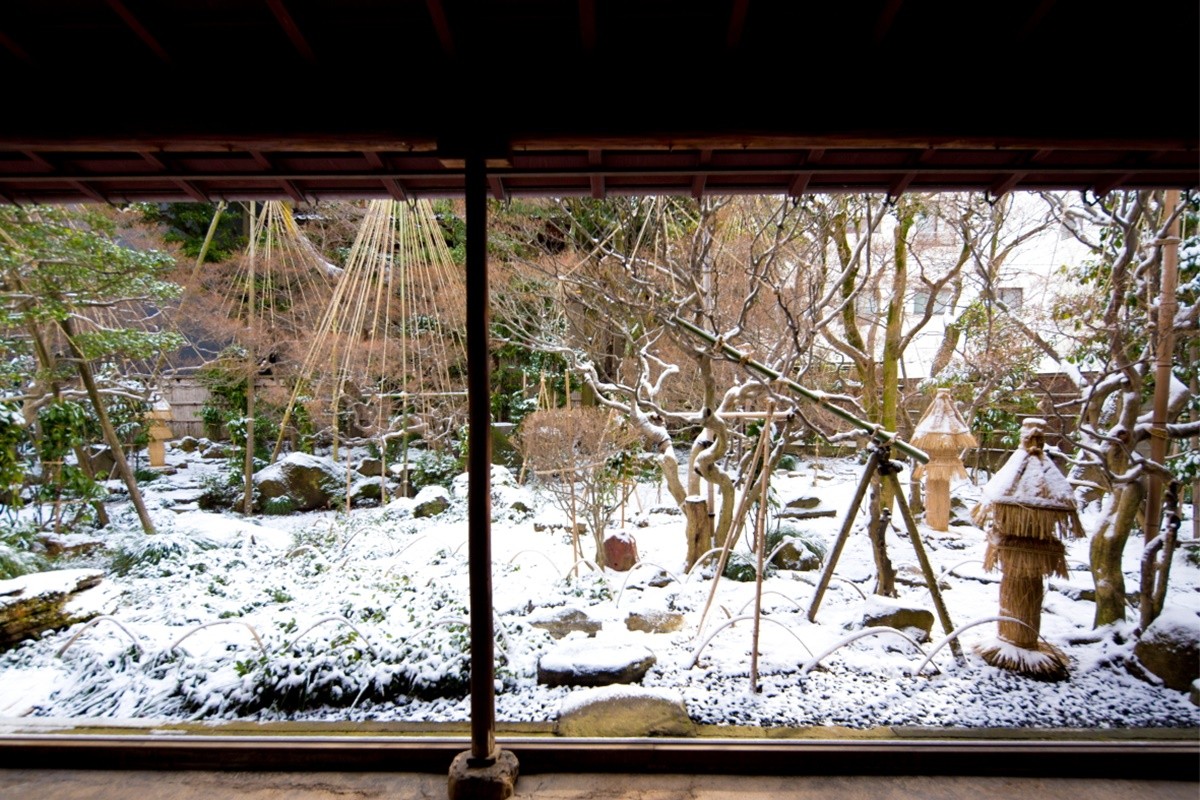 Kanazawa has a large amount of snowfall in winter and you can enjoy the collaboration of snow scenery and sightseeing attractions. You can also see the unique scenery of winter in Kanazawa. 

Winter in Kenrokuen Garden
In the garden called "Kenrokuen" in Kanazawa city, "Yukitsuri" is put in place every year from November 1st to the middle of December. Yukitsuri is performed to protect the plants in the garden, such as pine trees, from snow damage. A pillar is erected on the trunk of the tree, a rope is stretched radially around the tree and becomes a conical shape when completed. The Yukitsuri work starts each year from "Karasaki Matsu". Having the pride of being the first of these trees in the garden, this pine tree is built with five core pillars and approximately 800 ropes on the branches. Why don't you come and admire the winter features of Hokuriku?

Illuminations in winter in Kanazawa
In Kanazawa city, illuminations that colour Kanazawa in winter are lit for a limited period. Beautiful illuminations can be seen on the main street and shopping areas. We recommended the night illuminations at Kanazawa Castle Park and Kenrokuen.

Must-do lists in Kanazawa in winter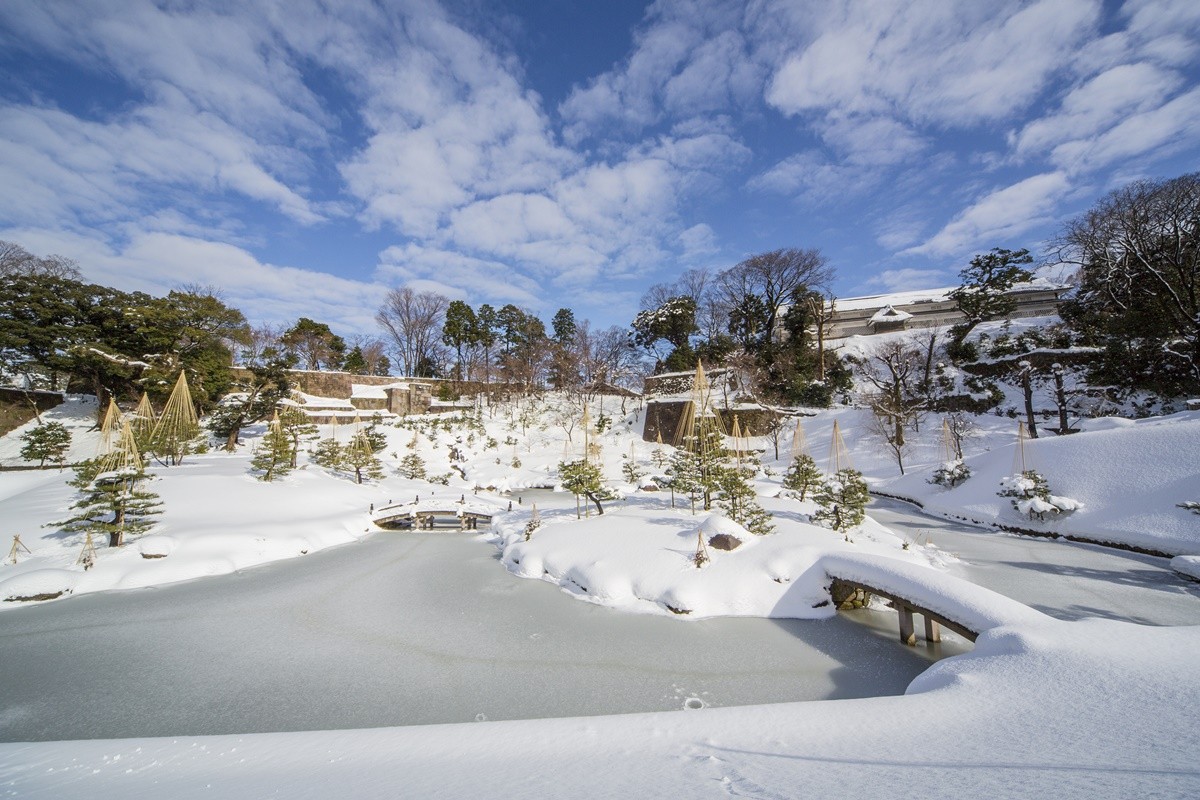 The cold wind and snow of Kanazawa's winter make it freezing cold out. However, there are lots of sightseeing spots that you can enjoy in the cold season. If you wear suitable clothes and make preparations to enjoy sightseeing comfortably in the severely cold weather, you don't need to worry. 

Winter Weather In Kanazawa 
In Kanazawa, there are very few sunny days in December and the sky is often cloudy. It is the month of the year when daylight time is the shortest, and days of bad weather continue. In January, the build-up of snowfall is heavy and snowfalls often, so it is necessary to take measures against the snow.  

Clothes for Winter in Kanazawa
In Kanazawa, the weather changes often and there are many days when cold winds blow in December. Even if it is sunny, you should take a warm jacket and umbrella. The highest temperature in January is the lowest temperature in a year. Freezing cold days continue and road freezing and ice-burn phenomena are frequently seen. It is better to wear not only a coat but also a scarf, earmuffs and take a body warmer, etc. when you go out.
Access to Kanazawa in Winter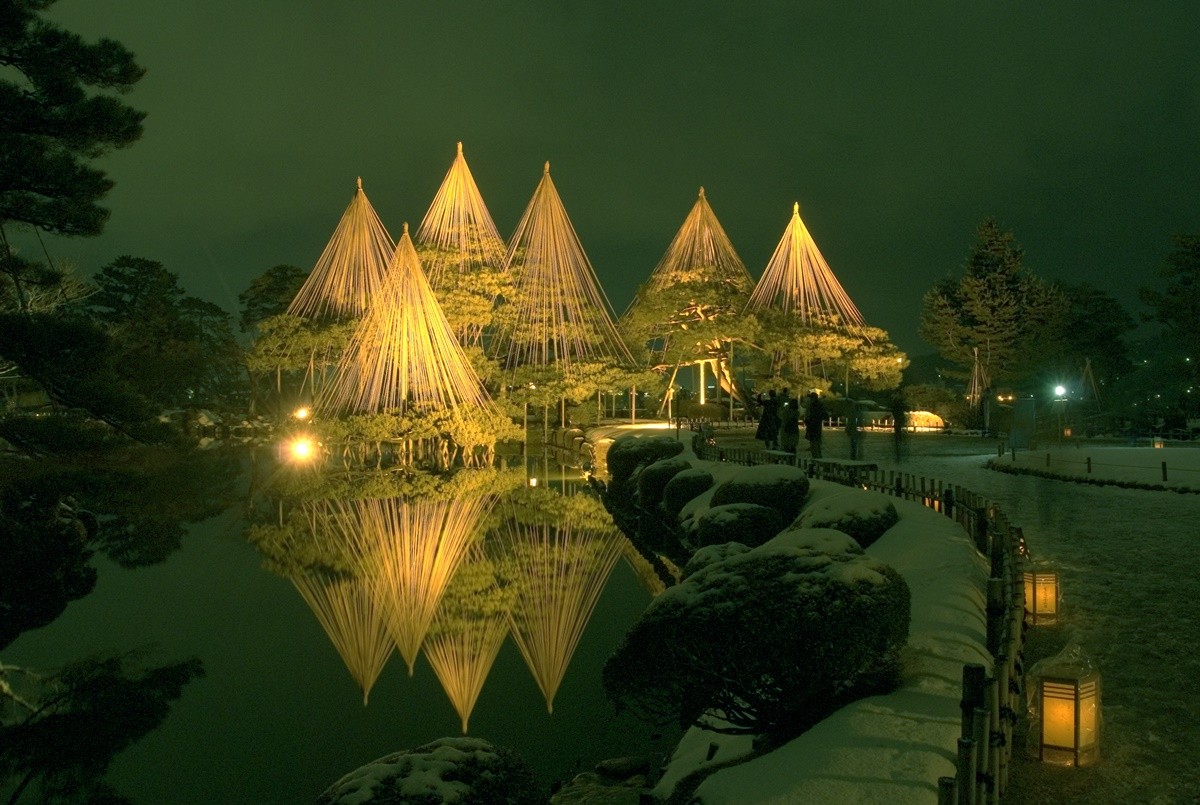 To access Kanazawa from Tokyo, take the Hokuriku bullet train from Tokyo station to Kanazawa station. 

Spot Information
Spot name: Kenrokuen
Street Address: 1-1 Marunouchi, Kanazawa City, Ishikawa Prefecture
Access: Take a bus from Kanazawa Station and get off at Kenrokuen station.

Wi-Fi: Available
Language:English
Ticket: Ticket locket

Credit cards:JCB、VISA、MasterCard, American Express, Diners Club, Union Pay 
[Survey] Traveling to Japan
Recommend