Enjoying Seafood at Omicho Market, Kanazawa, Japan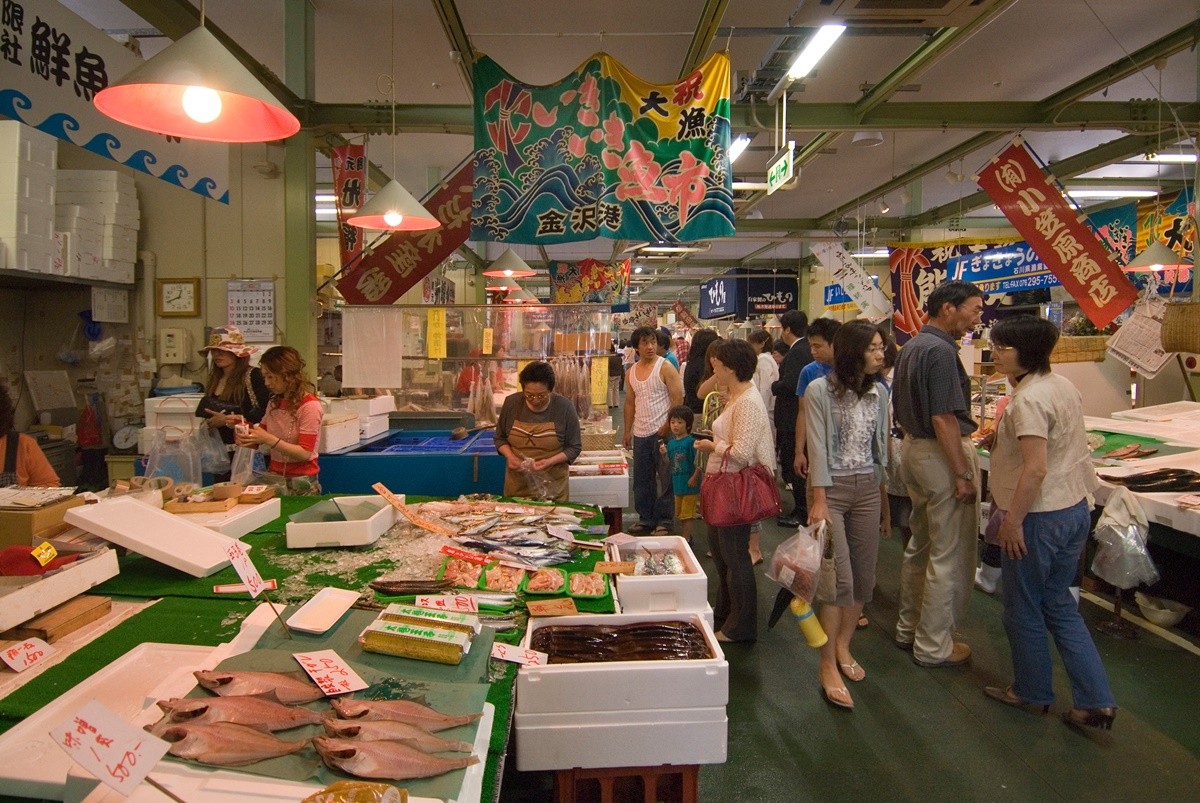 "Omicho Ichiba" is a market with a huge number of specialties of fish and vegetables. It is located in Kanazawa city, Ishikawa prefecture, and is widely popular as a visiting hotspot to both local residents and tourists. Why don't we pay a visit and get amazed at the fresh seafood, desserts and many other mouth-watering local cuisines of Kanazawa?
Omicho Market, Kanazawa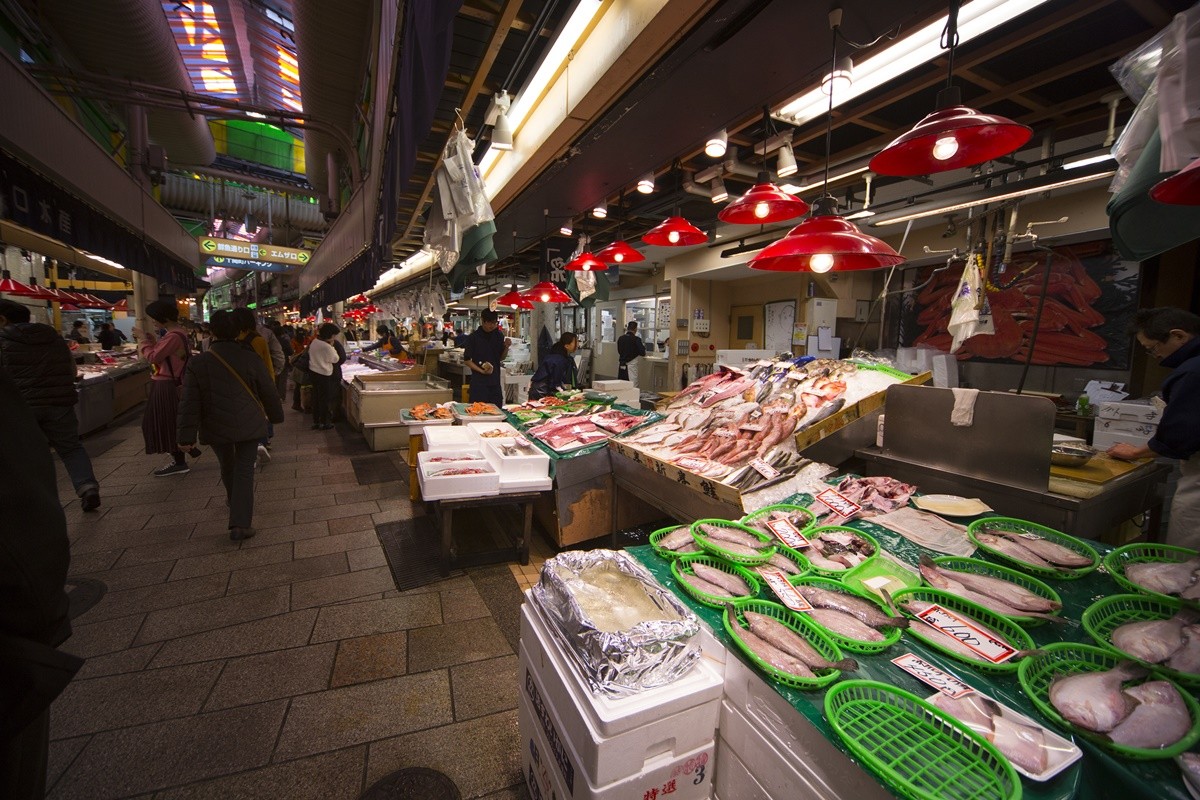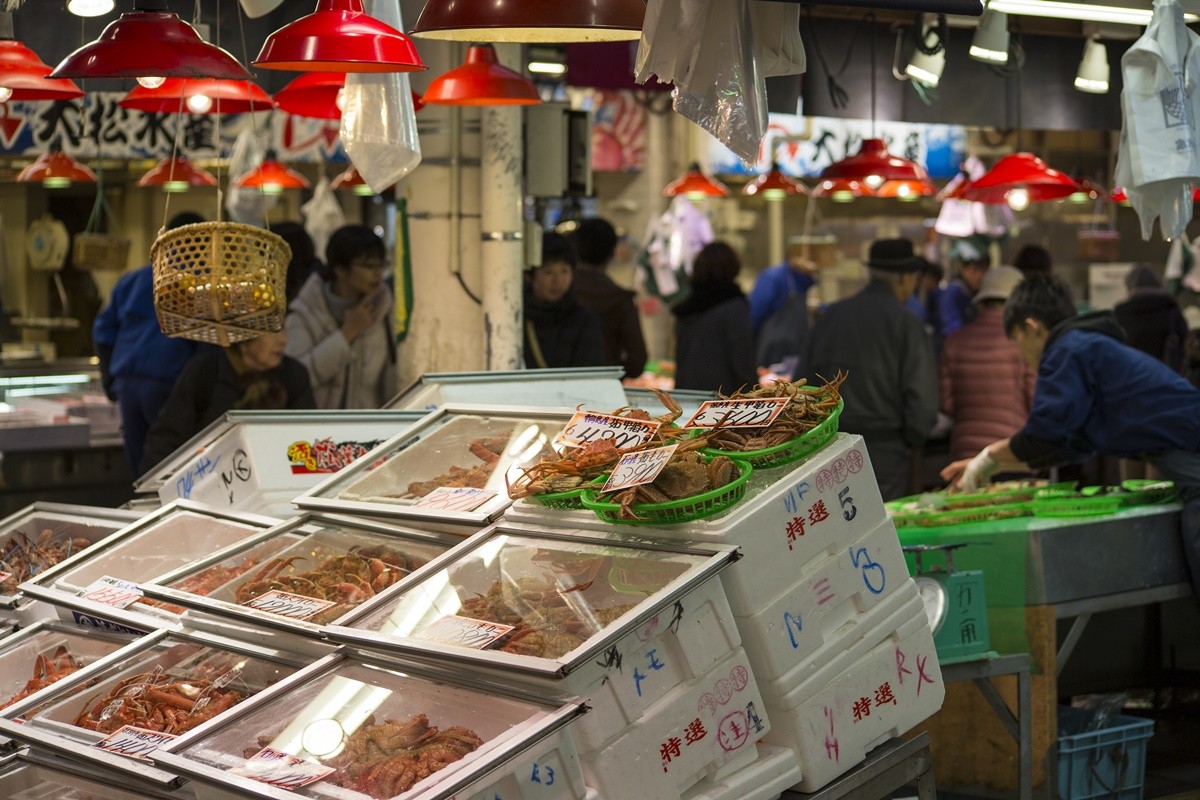 Omicho market is belovedly known as "the kitchen for citizens" which supports tremendously the food culture of Kanazawa. There are as many as 180 food specialties and restaurants with a great variety of fresh locally grown vegetables, fruits, and seafood. All stores are always packed with local visitors as well as tourists lining up for the taste.
What to See at Omicho Market?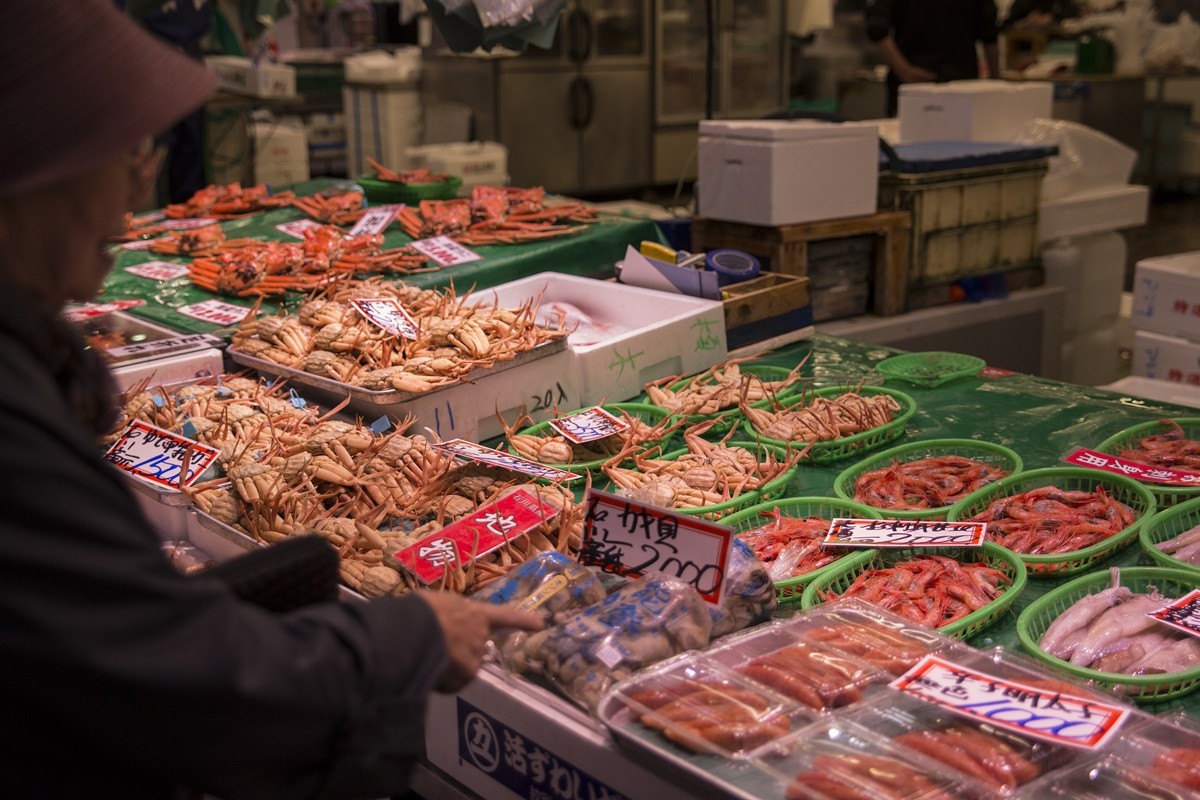 Undoubtedly, the highlight of Omicho market is its abundance of speciality stores: fish stores, green grocery stores, butcher shops, restaurants, and so on. You may feel the bustling and lively atmosphere at the market; it's truly a place where life flourishes. The business hours vary among individual stores, some open early as early as 8 in the morning while some open late until 8 in the evening. They also close on different days, be mindful that many of them are regularly closed on Wednesdays.

Fish Stores at Omicho Market
There are 26 fresh fish stores in Omicho market, offering a great variety of fresh fish everyday. You may see a lot of energetic shoppers going around buying fish. They might be both locals or visitors from other regions.
Wholesale Tea Stores at Omicho Market
The tea stores in Omicho Market sell different kinds of teas, such as green tea and or the Kanazawa's pride - "Kanazawa Bou Hoji Tea". You can buy tea in bulk at these stores. They even have matcha soft ice cream in the menu, too

Best food and Restaurants at Omicho Market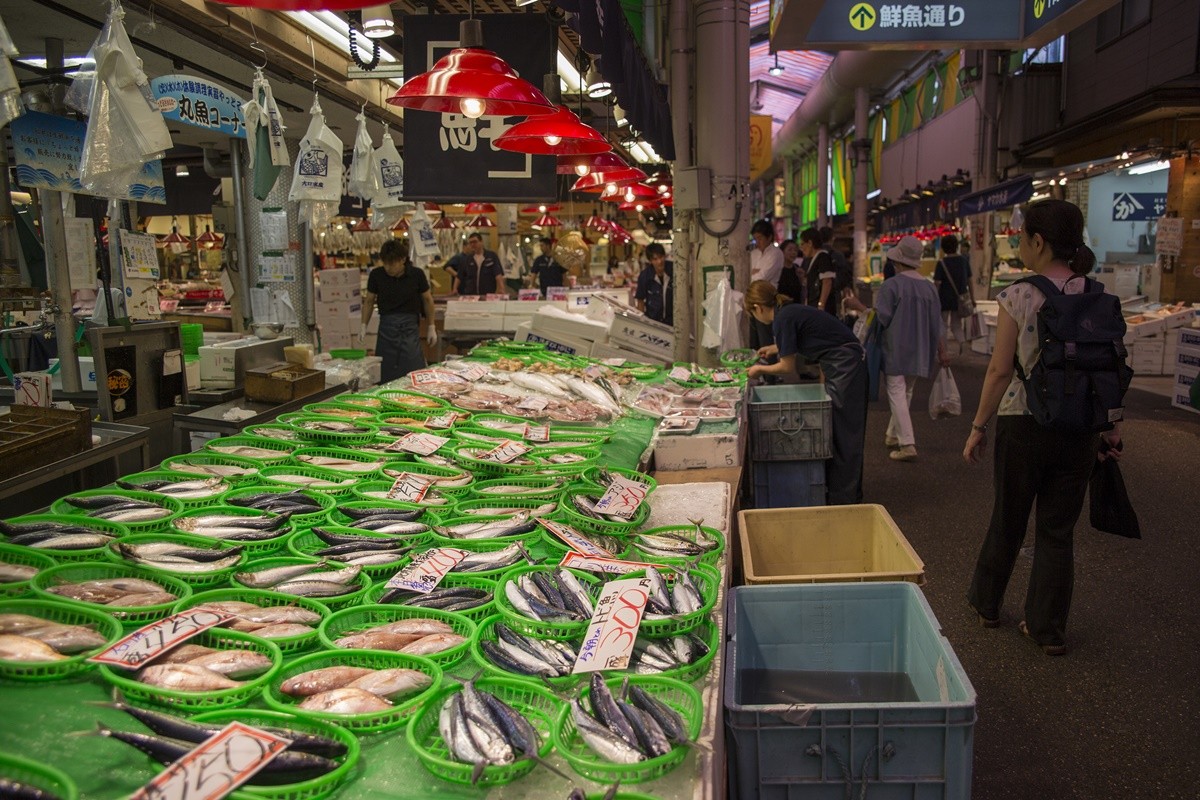 At Omicho market, our top pick for food is definitely fresh seafood. The seafood rice bowl (Kaisen-don) is extremely popular for its topped-up great fish directly from the Japan Sea. Don't miss the chance to savor the best appetizing taste of Kanazawa.
Best Sushi Restaurants at Omicho Market
There are quite a number of sushi restaurants in Omicho market, serving both amazingly good seafood rice bowls as well as nigiri sushi. You can have a taste of these wonderful sushi in a light a casual manner at the sushi-go-around bars. All in all, it's a paradise where you can enjoy great seafood at reasonable prices!
How to get to Omicho Market from Kanazawa Station?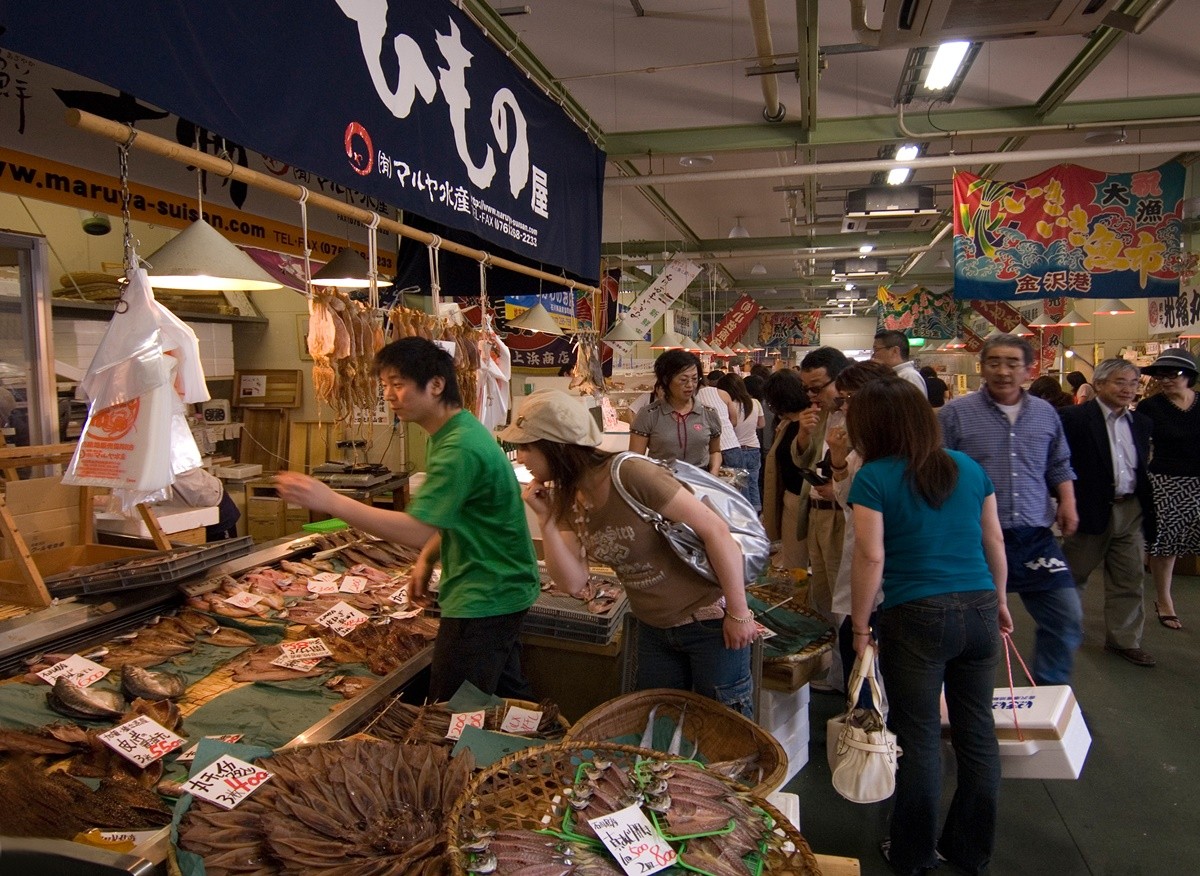 From Tokyo to Kanazawa, head to Tokyo Station and hop on the Hokuriku Shinkansen, then get off at Kanazawa Station. It takes around 15 minutes on foot from Kanazawa Station to Omicho Market. If you want to take the bus, go to the East Exit of Kanazawa Station and get on the Hokuriku Tetsudou Bus at bus stop number 6~9 or you can also take the Machi Bus. Get off at Musashi Gatsuji・Omicho Market.
Spot Information
Spot name: Omicho Ichiba Market
Street Adress: 50, Omi-cho, Kanazawa-shi, Ishikawa, Japan
Access: Approx. 15-min walk from Kanazawa station. Or, take buses such as "Jokamachi Kanazawa Shuyu Bus" or "Hokuriku Railway Bus", get off at "Musashi Gatsuji, Omicho Market", the market will be right there at the stop. 
Wi-Fi: Available
Language: Languages supported are different by each store
Ticket: Not necessary
Credit cards: Some stores may not accept credit cards
[Survey] Traveling to Japan
Recommend