Aeon Mall Narita: Shopping Spot near Narita Airport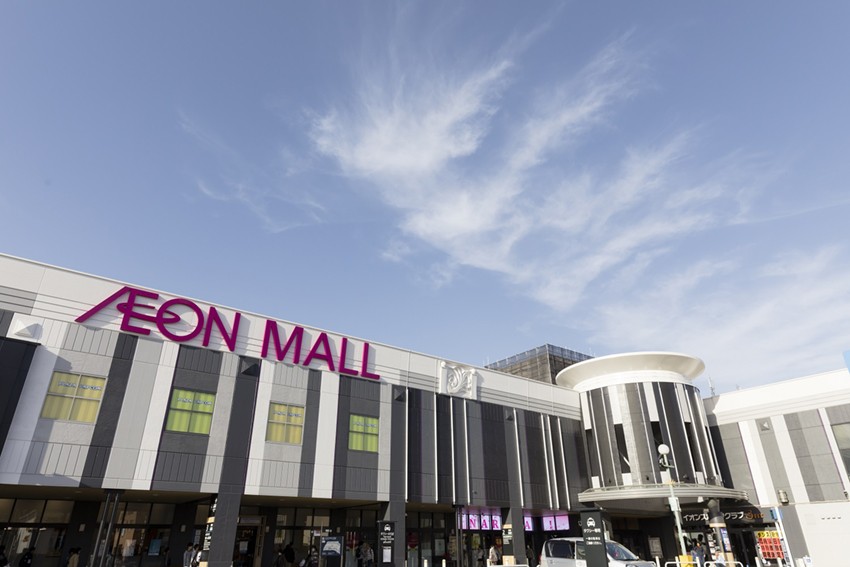 Aeon Mall Narita is a large shopping mall located in Narita City, Chiba Prefecture. Located near Narita Airport, it is a popular shopping spot to visit before returning home.

Aeon Mall Narita Offers Services for Foreign Tourists in Japan!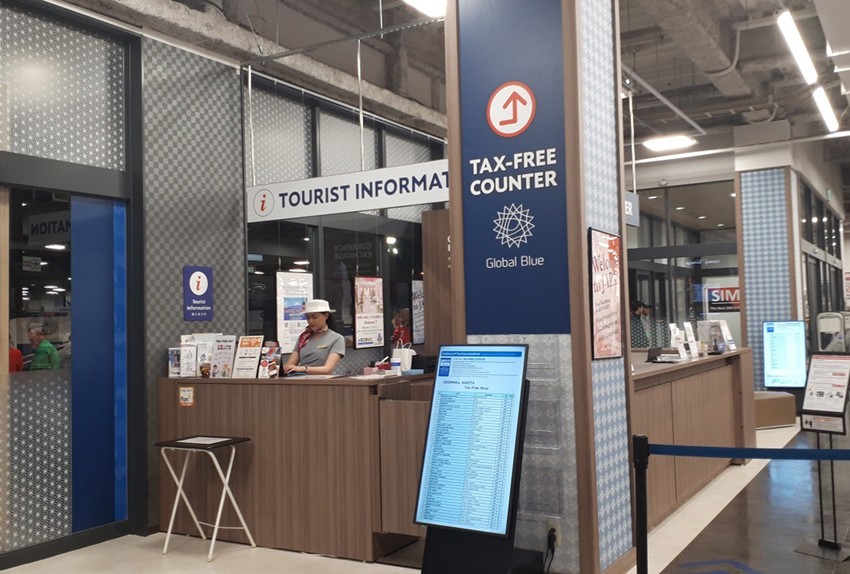 Aeon Mall Narita has an environment in which foreigners visiting Japan can be at ease. For example, on the first floor there is a duty-free counter "Tourist Information" where you can fill tax-exemption forms, and also a currency exchange machine. In addition, there is also a free charging spot and a SIM card vending machine, making it convenient for cellphone users.
Guide Signs within the Building with Multilingual Support

The guide signs within the building are multilingual. Languages include English, Chinese, Korean and Thai.

Their design and size make it easy to read and understand so that all shoppers can recognize them easily regardless of their age, gender, nationality, or handicapped.
Shop with Ease using Readable Translator
To provide information and tourist information, a visual interpretation service, "Mieru Tsuyaku" (readable translator) is put in place. It is a service where by using a tablet or smartphone, with a single touch, you can connect with an interpreter operator, and, while shopping, you can get support while communicating with a store clerk. It supports 10 languages, including English, Chinese, Korean and Thai, creating an environment in which foreigners can shop with ease.

Recommended Shops of Aeon Mall Narita

Aeon Mall Narita offers shopping and dining at affordable prices. There are various types of stores, such as daily necessities, food, household goods, medicines and clothes. In addition, there are entertainment facilities such as cinemas, and places to eat and drink such as restaurants and cafes, and there are things to enjoy other than shopping too. The following section is an introduction to a few recommended shops.
Stores where you can get Great Quality at a Low Price
There are many stores where you can buy quality products at low prices. For example, at DAISO, you can buy all your daily necessities and useful goods for 100 yen, and at Aeon Narita Store (supermarket), you can buy high quality cosmetics and medicines. Products from these stores are also popular as souvenirs, so be sure to check them out.
Shops where you can buy Japan Exclusive Products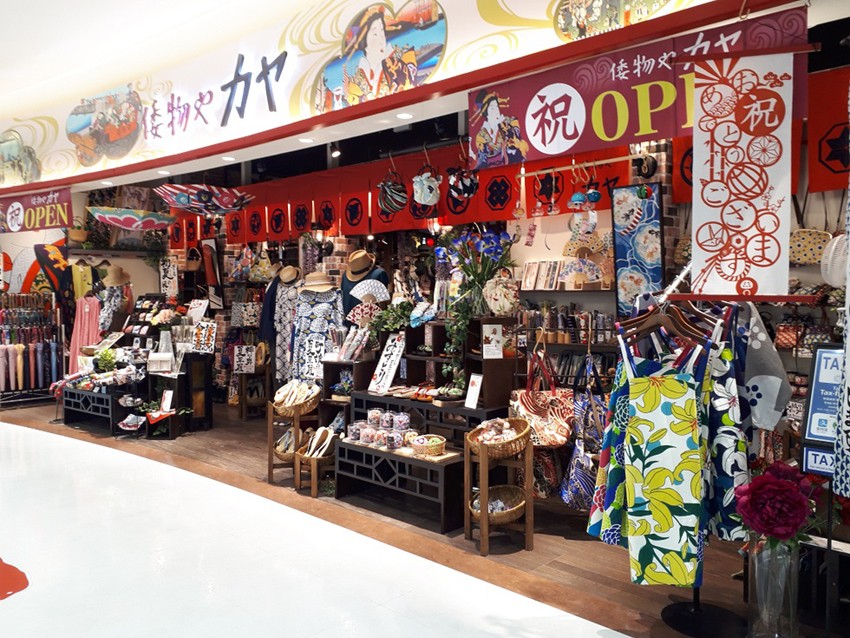 Shops that have products and foods which embodies Japan culture and creativity are recommended. "Wamonoya Kaya" is a general store selling fashionable Japanese goods and accessories. In addition, at consumer electronics store "Nojima", popular high-performance products such as cameras, game consoles, and small beauty appliances are available.
Also, don't forget about food stuffs. The food zone on the first floor is full of things such as imported foods and chocolate specialty stores. Among them, the Japanese-style confectionery shop "Kofukudo" is especially recommended, where you can buy sweets such as Japanese Dango and Manju, and the tea specialty store "Mikuniya Zengoro", which specializes in Japanese tea.
Restaurants of Aeon Mall Narita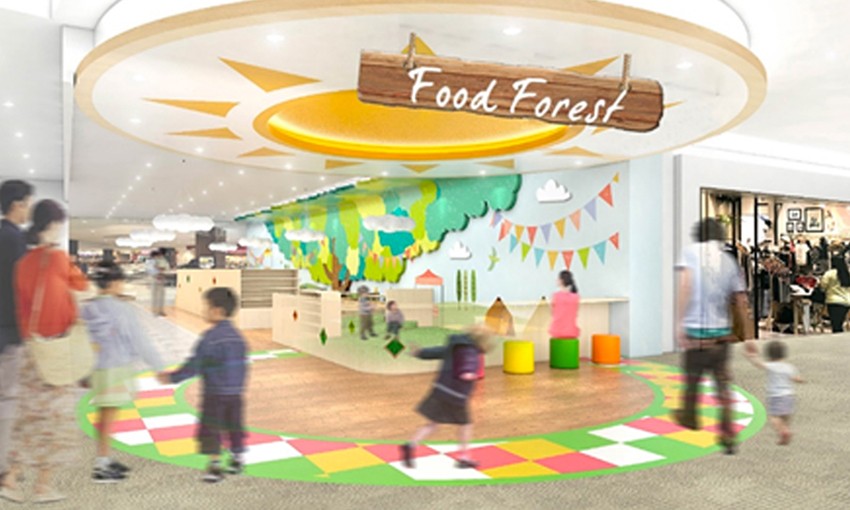 Aeon Mall Narita has restaurant areas on the first and second floors. On the first floor, there are 11 Japanese, Chinese, Italian and other genres of restaurants gathered in the restaurant area. In addition, the food court on the second floor, "Food Forest", is centered on Japanese dishes such as soba, seafood don, and ramen, and also restaurants certified halal.

Access from Narita Airport to Aeon Mall Narita
The shuttle bus is the most convenient transportation method from Narita Airport to Aeon Mall Narita. It takes about 20 minutes from Terminal 1 or Terminal 2. There is also a free bus connecting Aeon Mall Narita with hotels near the airport such as Hilton Narita and ANA Crowne Plaza Hotel Narita.

Spot information

Spot name: Aeon Mall Narita
Street address: 24 Uingutsuchiya, Narita, Chiba, 286-0029
Access: About 20 minutes via shuttle bus from Narita Airport
Wi-Fi: Available
Language: English, Chinese, Thai
Credit cards: VISA, MasterCard, JCB, AMERICAN EXPRESS, Diners Club International, UnionPay (depends on the shop)
[Survey] Traveling to Japan
Recommend