NO, WAY! You can walk to Domestic Flight Departure Area from Narita International Airport's Arriving Lobby? YES, WAY♪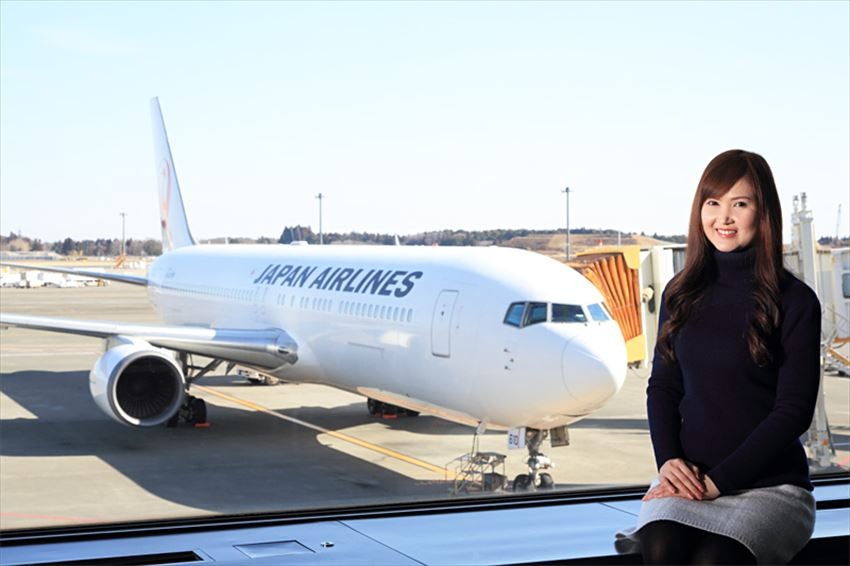 Hi, guys! This is Amanda, again.
How was our article "Far from the Tokyo City Center? Complicated? Not Really! Narita International Airport is the New Choice for Your Next Japan Travel"? We hope you like it.
This time, we'd like to introduce a huge discovery of Narita International Airport to you. We are so….. excited to let you know about it. Let's check it together!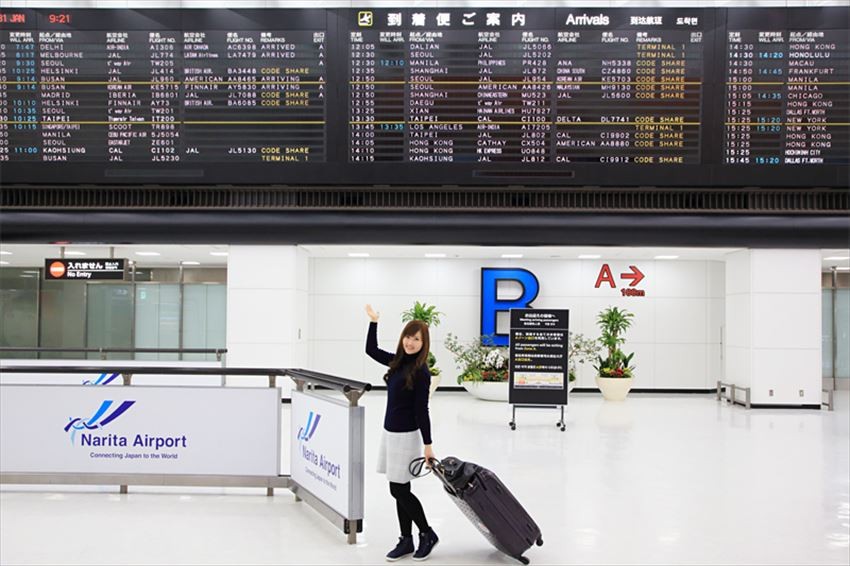 A Huge Happy Discovery for Foreign Travelers 
That is… Narita International Airport has domestic flights by LCC!!! And you can WALK to the domestic flight terminal from Narita International Airport with your suitcase, with no concern, and with no time. I bet most of you thought that domestic flights in Japan are only available in Haneda airport, but in fact, Narita International Airport has 19 routes to enjoy all over Japan. You might want to extend your trip using LCC!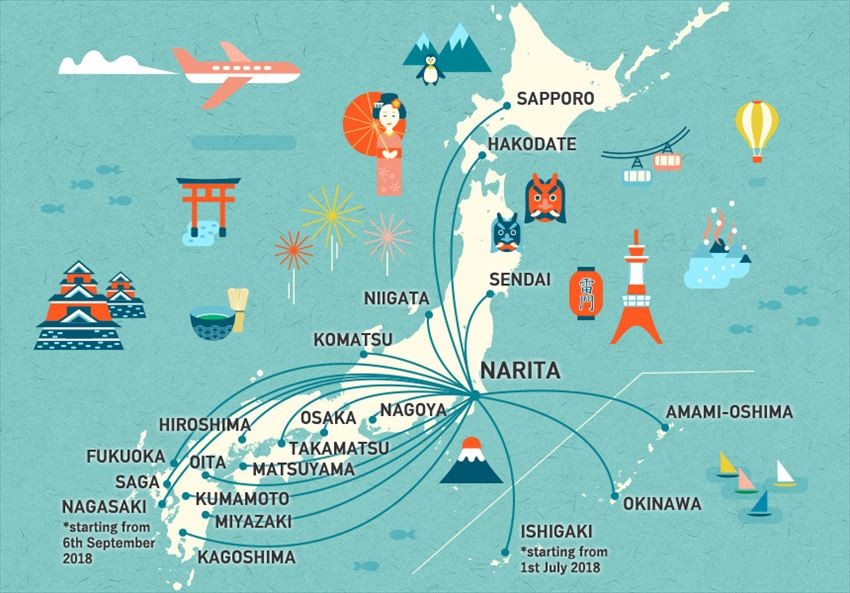 Take LCC to Get all over Japan
Narita International Airport provides 19 destinations to fly, such as Hakodate and Sapporo in Hokkaido, Nagoya, Osaka, Fukuoka and so on. Furthermore, Ishigaki, a tropical island in Okinawa prefecture, will be added to the list starting from 1 July, which makes the total number of destination to 20.
For those who wants a deeper experience in Japan, you might want to fly to the major cities and use that city as your hub during the trip. Example, you can fly to Komatsu and use Kanazawa as your hub around Hokuriku area, or you can fly to Sapporo and spend your trip traveling around Hokkaido. In both cases mentioned above, I would choose domestic flights by LCC from Narita International Airport as it is the best option. It is the fastest way of traveling to those places if you are already at the airport. It is easier, as the domestic flight you are going to board is only within walking distant. And it is cheaper, because it is LCC!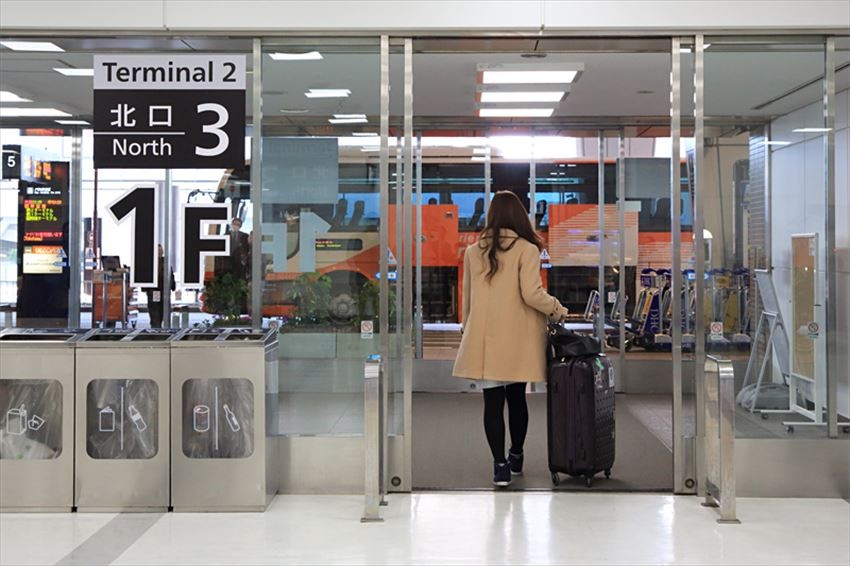 minute walk to transit
We FUN! JAPAN Team visited Narita International Airport terminal 2 and discovered how easy it is for foreign travelers to transit without worrying about anything but with FUN!
Let us explain you how easy to transit. After arriving Narita International Airport terminal 2 from Malaysia just turn right and go to terminal 3, which takes only 10 minutes on foot. You can take those flights departing from Narita International Airport terminal 3 on the day you just arrive in Japan from Malaysia. Isn't it amazing?
For the lazy people, there are buses to go to terminal 3 which takes only 5 minutes.
Yes, the key word here is "Terminal 3". Just remember that LCC departs from the "Narita International Airport Terminal 3", just like the LCC departs from "KLIA2" at Malaysia.
Anyway, it is much easier to transit at Narita International Airport than you thought, right?
Also, there is a bonus in Narita International Airport terminal 3. They have a big nice food court providing you sushi, Japanese noodle, Western food and so on. Some duty-free shops near there make you continue shopping Japanese original snacks, clothes, character items and so on. The check in counter and food court is just 30 seconds apart.
It is such a discovery, right?
So, what do you think? Haneda airport is not the only one to get domestic flights in Japan but Narita International Airport Terminal 3 has the greatest network of domestic LCC flight in Japan, and it is time saving for foreign travelers.
If you have any questions such as " I would like to get to this and that area from Narita Airport, but how?" the FUN! JAPAN Team will check it out and report soon!


Narita Intentional Airport is FUN! and CONVENIENT!
Here are our articles related to Narita Intentional Airport. Check and bookmark for your next trip to Japan!
How to Travel between Narita Airport and Tokyo for Only 1,000 Yen!
How to Get on the Keisei Electric Rail Train from Narita Airport. Explained with Lots of Pictures!
How to get on a JR EAST (East Japan Railway Company) train from Narita Airport. Explained with Lots of Pictures!
12 Items You Should Get at AKIHABARA before Departing from Narita International Airport!
Narita International Airport is the New Choice for Your Next Japan Travel
Recommend