Enjoy Beautiful Snow and Authentic Japanese Culture? Experience Hokkaido in Winter!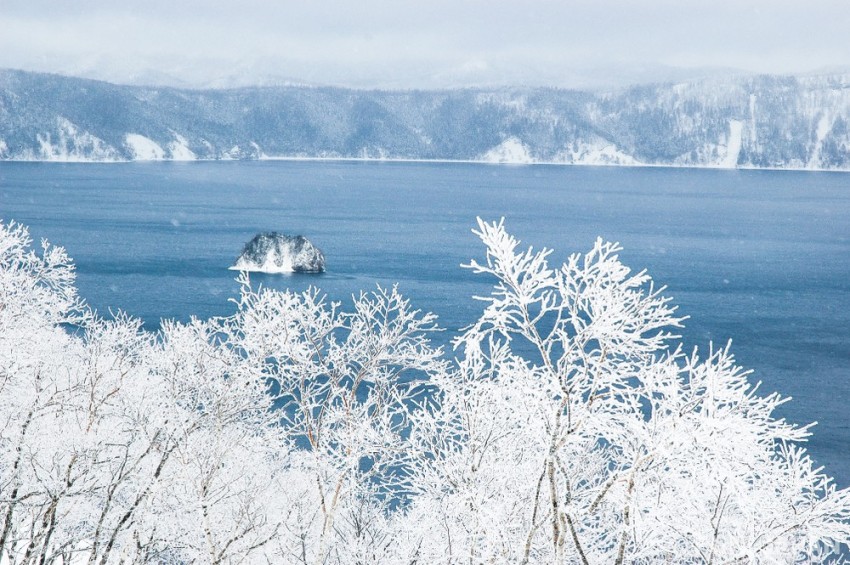 Hokkaido, the ever-popular holiday destination of Japan, offers a great variety of things to do in winter. From skiing and snowboarding to attending snow festivals and illumination events, there is something for everyone. The winter scene in Hokkaido is truly magnificent and will leave you breathless.
How is the climate in Hokkaido during winter?
The Climate

With mountains, lakes and waterfalls in abundance, Hokkaido is the place to be to experience an authentic Japanese winter. With heavy snowfalls and stunning light shows, you'll be presented with a magical scenery that's bound to be etched in your memory.
The Temperature is Sub Zero
While there's plenty of sightseeing spots with memorable views to visit, do keep in mind that it can get very cold. As the coolest prefecture, the average temperatures lie around -4°C and can get as low as -6°C.
Clothes to Wear during Winter in Hokkaido
Please make sure to bring clothes that will keep you comfortably warm and wear many layers to protect yourself from the cold.
Fun Things to Do in Hokkaido in Winter
Partake in some amazing winter sports!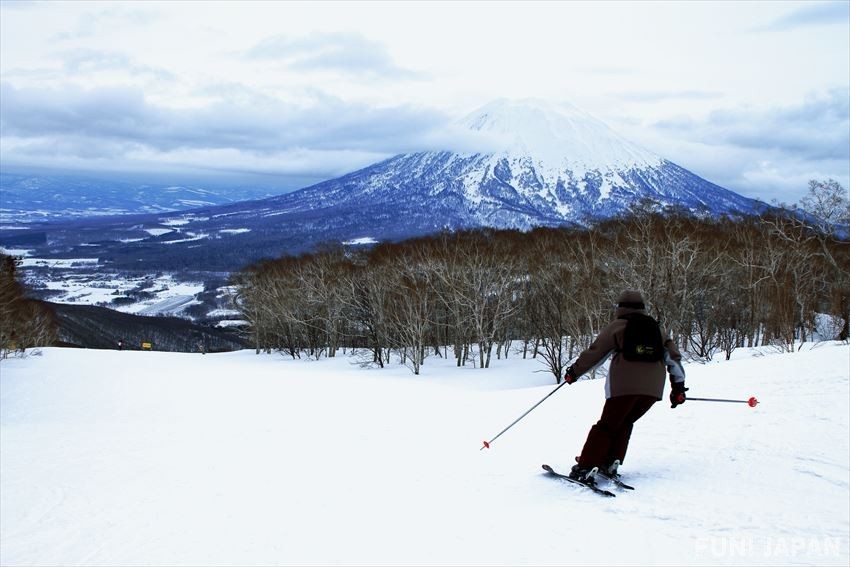 Hokkaido is perfect for winter sports, especially skiing and snowboarding, due to its top-quality snow. There are loads of ski resorts and depending on what you're interested in, you can choose one that meets your requirements. Visit a resort in Niseko and enjoy the warm and relaxing hot springs, wind down with a delicious beer at a Sapporo resort or seek thrill at an amusement park resort in Rusutsu!
Don't forget to visit the Stunning Hoshi no Yume!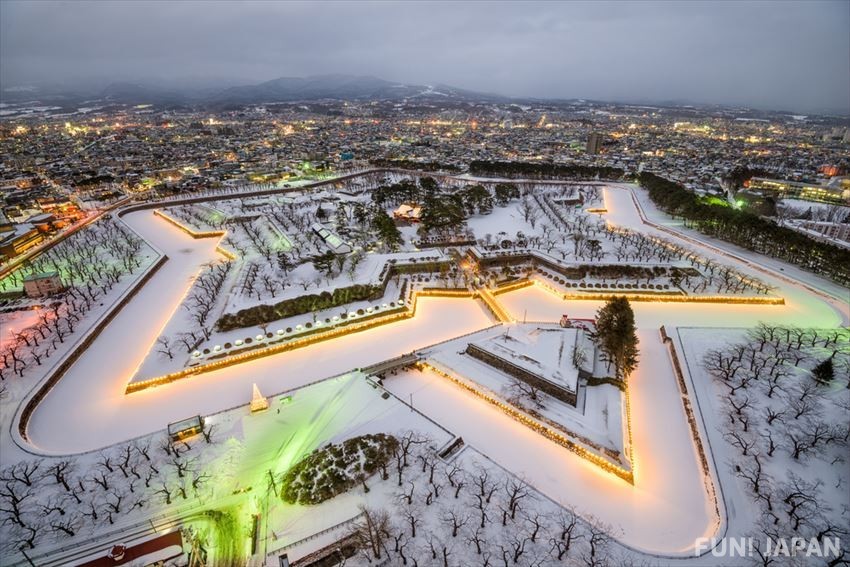 Designated as a historical sight, the Goryokaku Fortress is the main, star-shaped fortress of the short-lived Republic of Ezo. This makes it a must for history fans to visit. 
What makes it even more stunning is that the outline of the fortress' moat is adorned with thousands of light bulbs; this paired with the snow offers a surreal sight, which can be enjoyed from the tower nearby.
Spot information
Spot name: Goryokaku Hoshi no Yume

Street address: 44 Goryokaku-cho, Hakodate, Hokkaido 040-0001

Access: About 8 minutes' walk from Goryokaku Park Entrance Bus Stop
Enjoy the Winter Festivals in Hokkaido
Here are some great winter festivals you should not miss:
Sapporo Snow Festival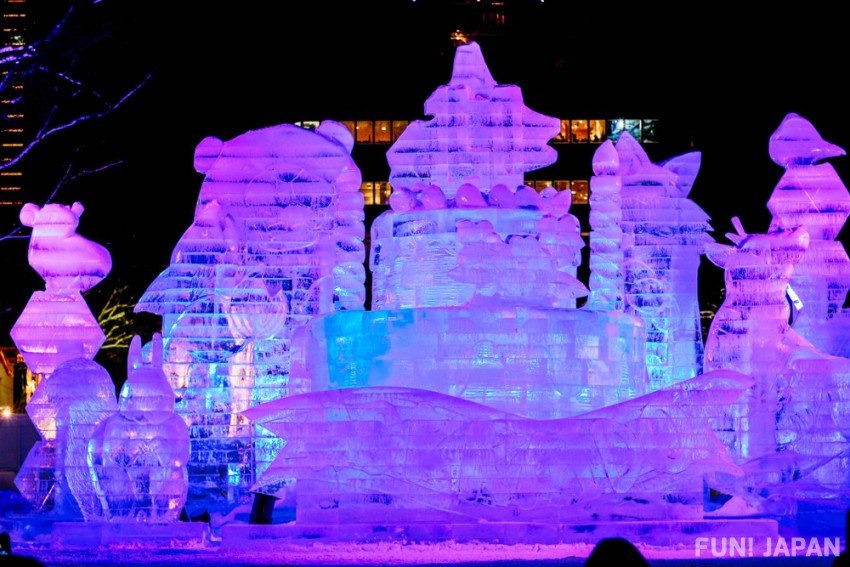 Sapporo Snow Festival is a huge winter event with millions of visitors, both Japanese and foreign alike. Odori Koen is lined with various snow sculptures that are illuminated from sunset till 10pm.
The International Snow Sculpture Contest is held here, with participants from all over the country, making it exciting for spectators, as they're able to watch these works of art being built.
Spot information
Spot name: Sapporo Snow Festival

Street address: 4 Odorinishi, Chuo-ku, Sapporo, Hokkaido 060-0042

Access: About 1 minute walk from Odori Station, and 4 minutes' walk from Tokeidaimae Bus Stop
Sounkyo Hyoubaku Festival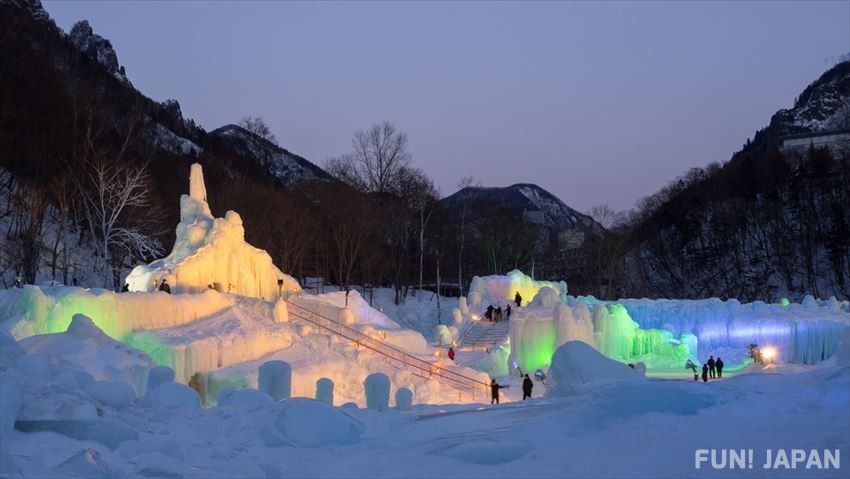 This ice waterfall festival exhibits diverse ice carvings that are illuminated with colourful lights at night. To add to the excitement, theirs is also an exciting fireworks display. The Ishikari River flows in the center of the venue, giving it an ethereal feel. Moreover, there's an observatory from which you'll have a splendid view of the surroundings.
Spot information
Spot name: Sounkyo Hyoubaku Festival

Street address: Sounkyo, Kamikawa-cho, Kamikawa-gun, Hokkaido 078-1701

Access: About 35 minute drive from Kamikawa Station
Revel in the Beauty of Blue Pond in Hokkaido during Winter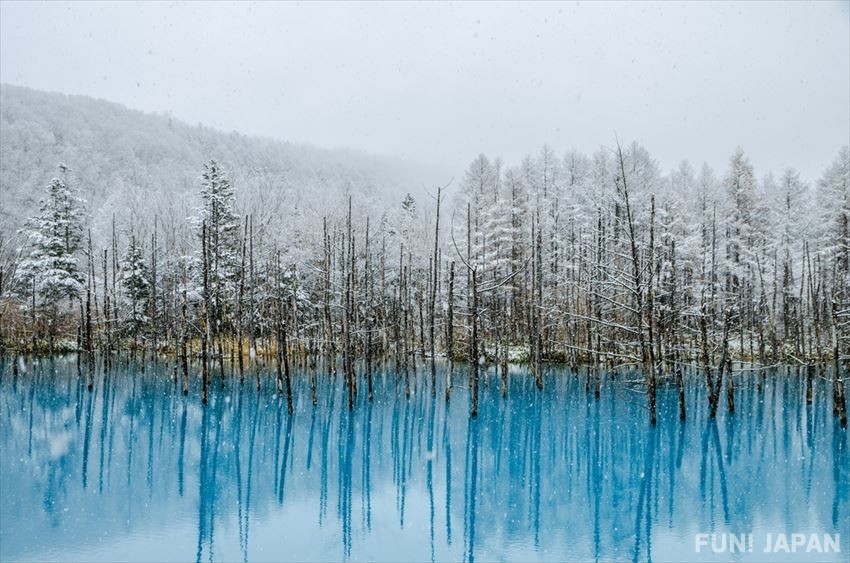 The brilliant man-made pond is one of the most beautiful in the world. Offering different scenery each season, it will absolutely delight nature-lovers. Its bluish clear water presents a sense of tranquility. What's more, in winter, not only is the pond frozen over and covered in white snow, but the surrounding trees are also illuminated with beautiful lights.
Spot information
Spot name: Shirogane Blue Pond

Street address: Shirogane, Biei-cho, Kamikawa-gun, Hokkaido 071-0235

Access: About 5 minutes' walk from Shirogane-Aoi Ike Entrance Bus Stop

[Survey] Traveling to Japan
Recommend