4 Recommended accommodation when visiting the Gorge of Shosenkyo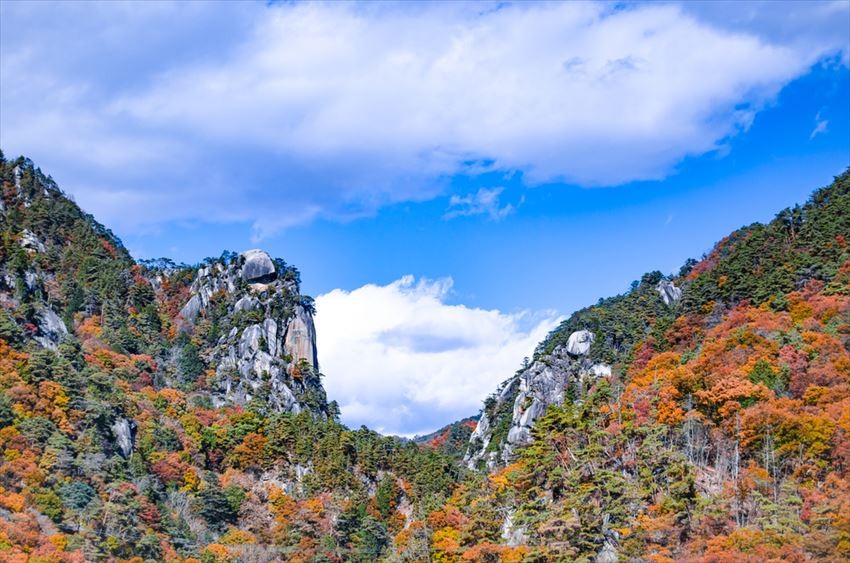 When visiting Shosenkyo Gorge, it is easy to remain in hotels around Kofu Station or Yumura Onsenkyo hotels. The reason is that you need to take a bus from Kofu Station to Shosenkyo Gorge that stops at Yumura Onsenkyo. In this article, we present four suggested hotels.

Hotels near Kofu Station
First, we would like to introduce a hotel near Kofu Station and another hotel near Kokubo station, which is close to Kofu Station.
A 130-year-old hotel near Kofu Station: HOTEL DANROKAN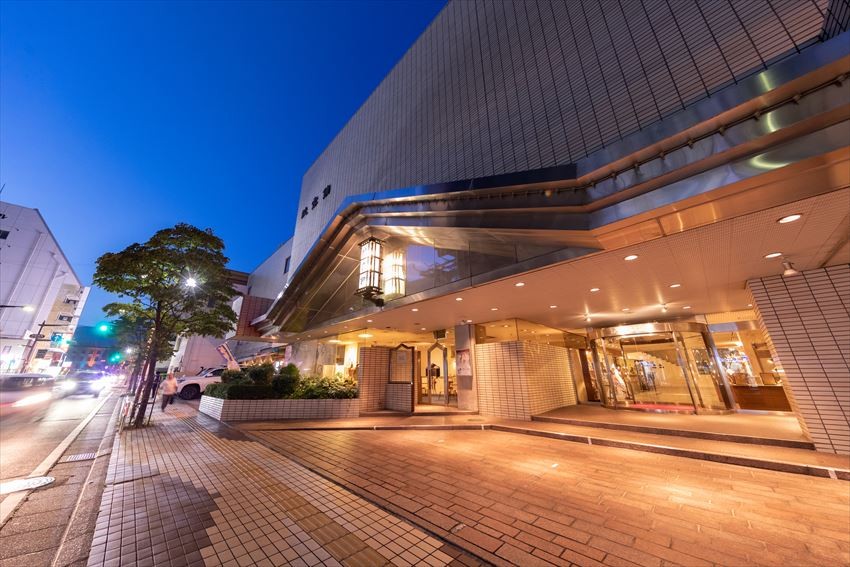 DANROKAN is a long-established hotel with a history of over 130 years. It is about 8 minutes on foot from Kofu Station. You can see from its name that it was originally opened as a ryokan. It has Japanese-style rooms in addition to Western-style rooms. BOth are spacious and built with wood to maintain warmth. It is possible to select menus for lunch and breakfast in addition to hot springs of big public baths and open-air baths in Japanese-style rooms. In both Japanese and Western cooking styles, you can taste the food components of Yamanashi.

Spot information
Spot name: HOTEL DANROKAN

Street address: 1-19-16 Marunouchi, Kofu, Yamanashi 〒400-0031
Access: About 8-minute walk from Kofu Station
Hotel 1-2-3 Kofu-Shingen Onsen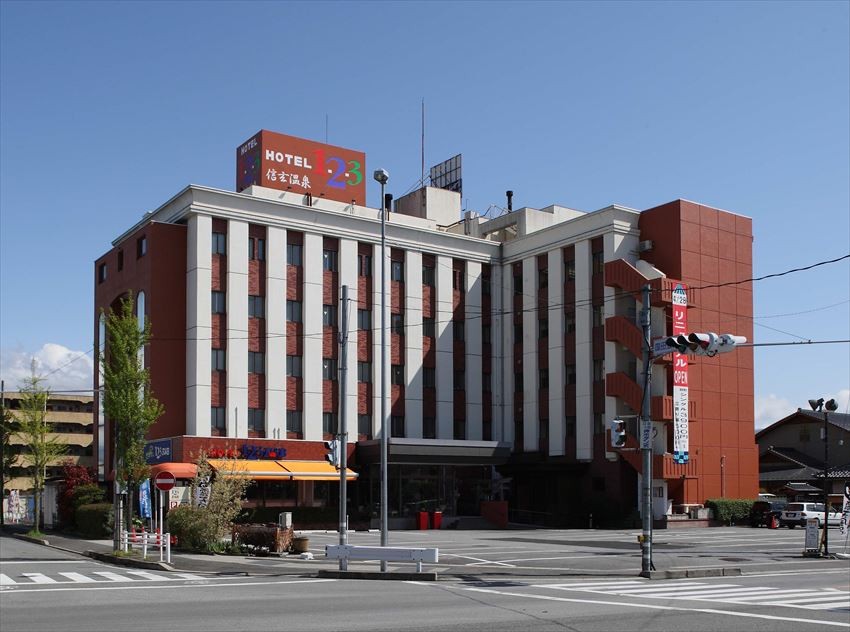 Hotel 1-2-3 Kofu-Shingen Onsen is an economy hotel with its own natural hot spring bath. Although its rooms are simple and compact, they are comfortable as there are beds with a width of 120cm or more. In addition, there is a restaurant in the hall called Kaiji which serves set meals(Japanese Teishoku), udon and soba noodles using food ingredients from Yamanashi at dinner time. During breakfast time, it is a buffet serving bread, curry, side dishes and so on.

Spot information
Spot name: Hotel 1-2-3 Kofu-Shingen Onsen

Street address: 8-1-1 Kokubo, Kofu, Yamanashi 〒400-0043

Access: About 15-minute walk from Kokubo Station
Hot spring hotels near Shosenkyo Gorge
There is a hot spring district called "Yumura Onsenkyo" with more than a dozen hotels between Kofu Station and Shosenkyo Gorge. Although it is not a tourism-friendly location, it is still a hot spring district with over 1,200 years of history. We suggest staying at this hotel.

Large Japanese Garden : TOKIWA HOTEL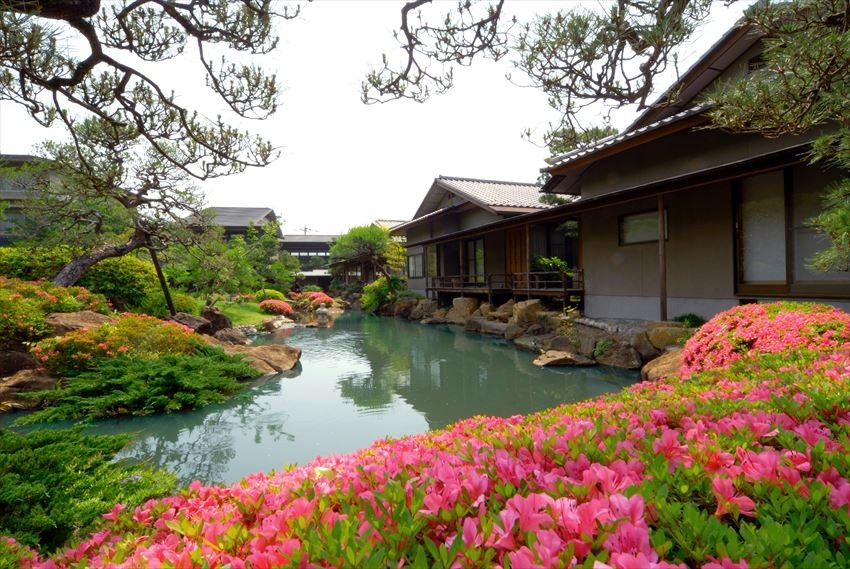 TOKIWA HOTEL is a hotel with a huge Japanese garden of about 1 hectare. It is free to take a walk in this tasteful garden with lots of pine trees. In addition, the rooms of the East and West Building, which are arranged to surround the garden, offer superb views of Mt. Fuji and the Southern Alps. There are sheer Japanese-style rooms as well as classic Western-style rooms with attached open-air baths. Rooms with attached outdoor room are particularly common as individuals can enjoy the garden and hot spring on their own.

Spot information
Spot name: TOKIWA HOTEL

Street address: 2-5-21 Yumura, Kofu, Yamanashi 〒400-0073

Access: 1 minute walk from "Yumura Onsen" bus stop
Private hot spring: Yanagiya


Yanagiya is a home-style hot spring ryokan with private outdoor baths. Reservation is necessary for private baths and they can only be used on weekends and the days before public holidays. Also, all the rooms built around the Japanese garden are of Japanese style. Private open-air baths are attached to some of the rooms. People can admire the garden and Mt. Yumurayama from each room. In addition, banquet dishes prepared by plenty of Yamanashi's seasonal food ingredients can also be served in the room on request.

Spot information
Spot name: Yanagiya

Street address: 3-16-2 Yumura, Kofu, Yamanashi 〒400-0073

Access: About 5-minute walk from "Yumura Onsen" bus stop
[Survey] Traveling to Japan
Recommend