3 Recommended Fukuyama Hotel in Hiroshima, Japan
Fukuyama is the second largest city after Hiroshima City. Searching for Fukuyama hotel seems like a good idea as the town is a major station that connects to western Japan, it serves the Sanyo Main Line, the Fukuen Line and the high-speed Sanyo Sinkansen Line. Fukuyama Hotels are located in the most convenient locations which are both near to the station for transit and tourist attractions.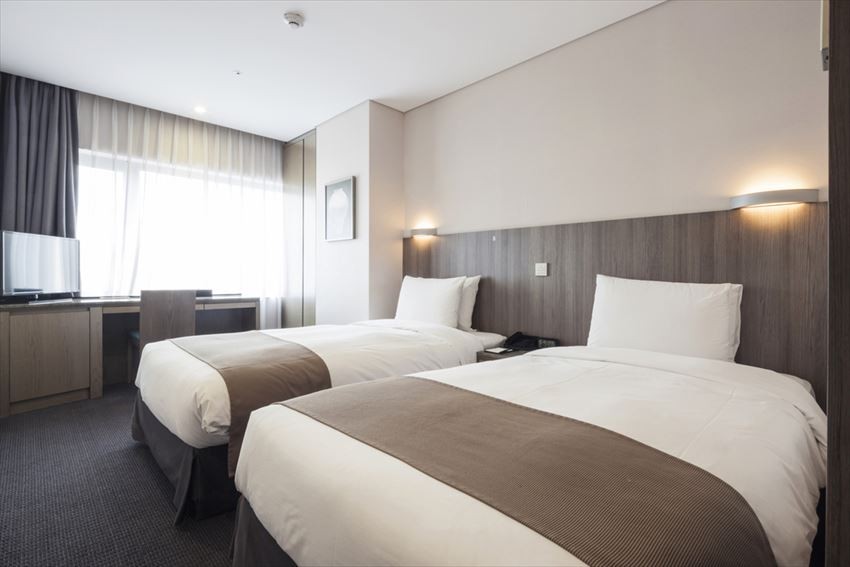 List of Hotels in Fukuyama
Route-Inn Grantia Fukuyama Spa Resort
After a long day of travel or train ride you should pamper yourself in this resort which features 10 spa tubs and a sauna. The cozy rooms at the hotel are equip with private bathtub too if you prefer to bath alone, flat screen TVs, and traditional tea maker set. Guests are provided with comfortable sleepwear and slippers. To add to the pampering the hotel offers a variety of massage services from full body massage to head only massage and a room filled with massage chairs, WiFi is available in each room. Buffet breakfast are available daily from 6.30am to 9am. The hotel has free shuttle service from Fukuyama Station which takes 5 minutes.
Hotel Information
Name: Route-Inn Grantia Fukuyama Spa Resort

Address: 5-27-11 Okinogamicho, Fukuyama, 720-0825 Hiroshima, Japan

Access: 5 minutes car ride from Fukuyama Station via Free hotel shuttle service

Candeo Hotels Fukuyama
Open-air bath with beautiful roof view over the city and spa on the roof? Count me in! This hotel features roof top bath and spa known as Sky Spa, located in an ideal place which guests could explore the city and historical attractions. The rooms are all equip with luxurious Simmons bed for the guests' comfortable rest, and the iconic Fukuyama hotel fast WiFi which is able to support up to 100mbps and it is important for the businessmen. The hotel promises a delicious breakfast with over 60 different dishes every day, which starts from 6.45am to 9am daily, the dishes varies from local Japanese cuisine to classic American breakfast.
Hotel Information
Name: Candeo Hotels Fukuyama

Address: 2-8-20, Mifune-cho, Fukuyama, Hiroshima, 720-0042 Japan

Access: 15 minutes' walk from Fukuyama Station

Fukuyama Oriental Hotel
The hotel which guarantee the lowest room rates while giving you best bang for your bucks. It is one of the nearest hotels to Fukuyama Station which is exactly 2 minutes' walk towards your right. It is also the only bath house located near to the station, the bath house is even spacious compared to other hotels in the same price range. The bath house is separated between male and female, it has the normal large bath and also various small hot tubs known as Tsubo-yu. The Tsubo-yu available are the Homeishu (local medicinal liquor), this tub is filled with Homeishu which is the local liquor, and it contains ingredients to make your skin better, support your metabolism and warm up your body from the inside, White Bath also known as bubble bath, the white of the water is caused by the ultrafine bubbles flowing in the tub water, as you bath in it the popping of the bubbles on your skin is said to promote blood circulation and help to clean clogged skin pores, and Germanium bath, available only in the make bath area, Germanium is able to improve the oxygen transport to cells and promote blood circulation. The hotel offers standard hotel necessity with impressive bath house.
Hotel Information
Name: Fukuyama Oriental Hotel

Address: 1-1-6 Shiromi-cho, Fukuyama city, Hiroshima prefecture, Japan

Access: 2 minutes' walk from Fukuyama Station

Are Hotels in Fukuyama have fast Wi-Fi?
Hotels mentioned above have fast Wi-Fi just like what you can find at hotels at other big cities in Japan.
Is there any hotels that you recommend?  
[Survey] Traveling to Japan
Recommend