Welcome to Hokkaido's Hell Valley in Jigokudani Located in Noboribetsu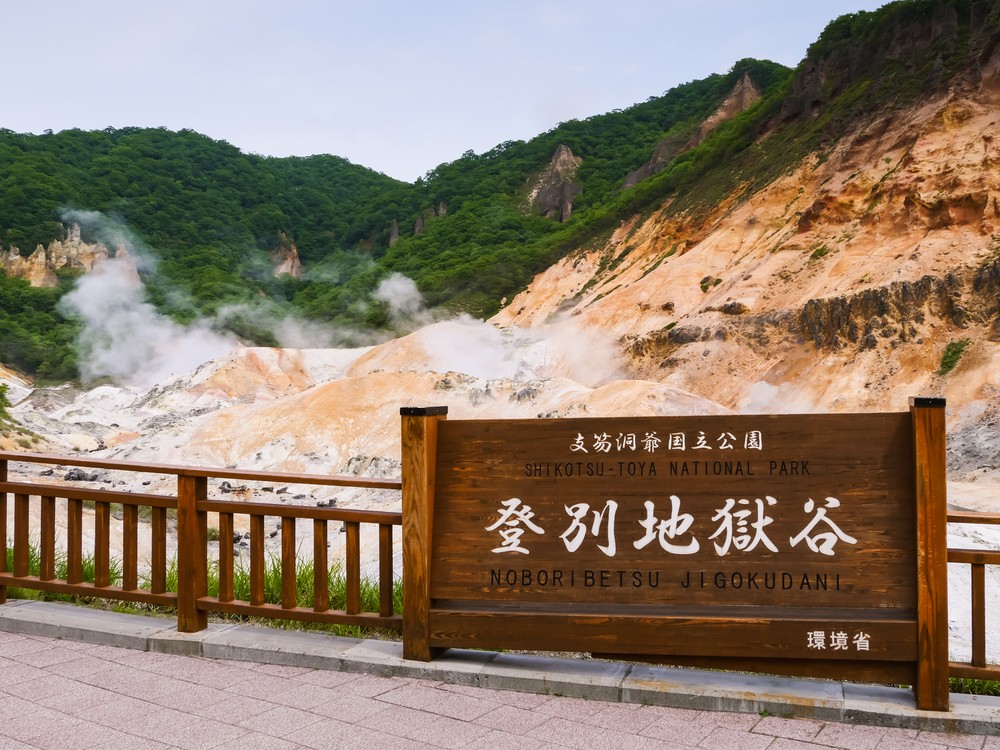 Jigokudani is a steamy volcanic crater located in a valley near the famous Noboribetsu area of Hokkaido. Jigokudani means "Hell Valley" in Japanese and is used for many places throughout Japan and in this article, we'll be discussing the one in Hokkaido Prefecture.
Jigokudani Onsen History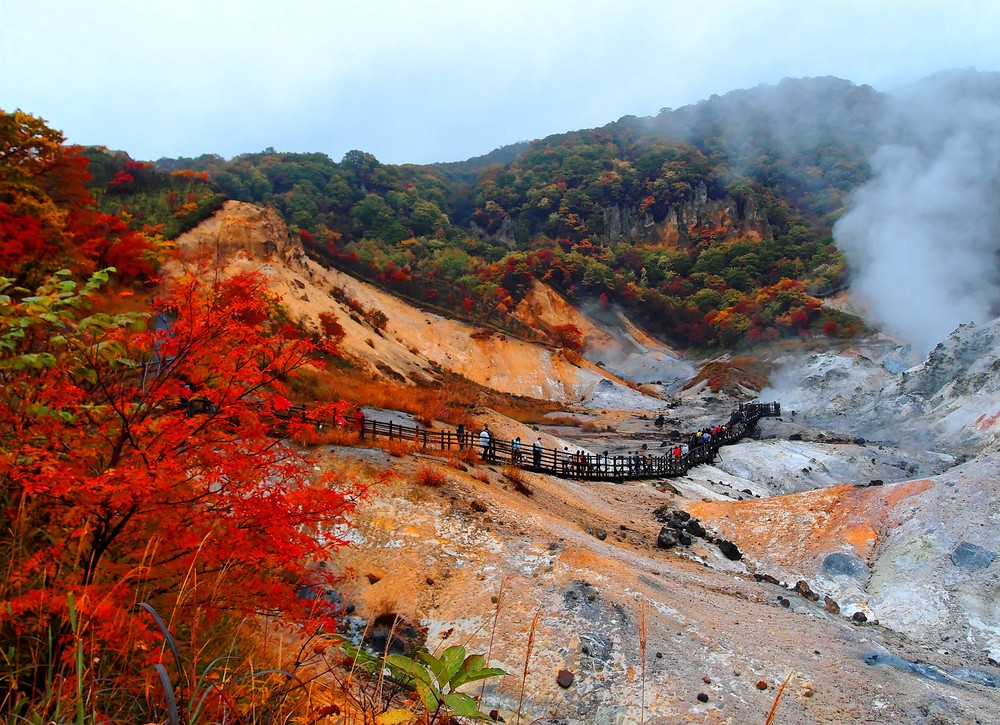 The main reason that Jigokudani became well-known in the area was partially due to the Russian-Sino war back in 1904. The reason behind this is because the land was set aside as a health resort for injured soldiers to help them in their recovery.
A little later on in 1961, a village was officially founded there and named Noboribetsu, though Jigokudani, the hell valley, in the area still retains its name. Why Hell Valley? Well it's because Jigokudani here lies in a crater of a volcano and spews up hot steam that rises high up into the area giving off an otherworldly feeling!
These days, there is a trail that you can follow that leads you through the valley. It's particularly stunning during the early morning and in the evening when the sun starts to set. At the entrance, you can even see a statue of an Oni, which is a Japanese Demon.
The water coming out from Jigokudani itself is extremely hot and visitors are cautioned from coming into contact into it or else risk severe burns! Instead, the water from here feeds the Noboribetsu onsen area close-by. So, visit Noboribetsu if you want to soak in a Jigokudani onsen.
Don't Get Confused with Jigokudani Monkey Park
Although the main attraction of Jigokudani is the Jigokudani Monkey Park, where there is a large population of wild Japanese Macaques, you will have to head on over to Nagano Prefecture! The reason for this is because the name Jigokudani is used in several places in Japan, including the Jigokudani located near Noboribetsu!
If you want to learn more about the Japanese Snow Monkeys though, the more common name for them are Macaques. The reason that are called Japanese Snow Monkeys is largely due in part to the environment they like to live in. But even if you aren't in Nagano, there are still places in Hokkaido to see them!
Where in Hokkaido Can I See Jigokudani Snow Monkeys?
Although you can't necessarily call them Jigokudani Snow Monkeys, you can still find some Japanese Snow Monkeys if you pay a visit over to Hakodate! Just head on over to the Hakodate Yunokawa Onsen to get a chance to see some of the local wild snow monkeys soak themselves in the hot baths.
This is also a great onsen to visit because it is one of the three most famous hot spring resorts in Hokkaido! It is known for its great healing power ever since the ninth head of the Matsumae clan cleansed himself there, reviving his failing health back in 1653.
Being that is somewhat like a resort town, there is no real centralized location for the Yunokawa hot springs. Instead, you can visit one of the many hotels in the area in order to try out the spring waters yourself! Prices start at around 400 yen upwards to about 1,200 yen depending on the hotel of your choice, but we're sure you will have a great time!
Spot information
Spot name: Yunokawa Onsen
Street address: Yunokawacho, Hakodate, Hokkaido 042-0932
Access: A 7-minute walk from Yunokawaonsen Station on the Hakodate Shiden No.2 and No.5 Tram
Trivia Time: Do You Know Jigokudani Yaen-Koen?
If you are still thinking about those cute snow monkeys and the Jigokudani Snow Monkey Park in Nagano prefecture, well then you should definitely remember the term Jigokudani Yaen-Koen! The reason for this, is because that is the official Japanese name for the Jigokudani Snow Monkey park in Nagano prefecture!
Don't Freeze in Jigokudani Weather
Jigokudani weather is pretty nice throughout the spring and summer, but around the time that fall comes, the area can get very cold! Starting about late October, the weather dips down into very low to almost freezing temperatures and it gets even colder when you get into winter.
It's suggested that if you visit during the winter time, you should bring appropriate shoes so that you don't accidentally slip on some ice and make sure to bring a warm jacket, gloves, and a warm hat to keep you from freezing!
Spot information
Spot name: Noboribetsu Jigokudani

Street address: Noboribetsu Onsen-cho, Noboribetsu, Hokkaido 059-0551

Access: Take a 16-minute bus ride from Noboribetsu station on Muroran Main Line, get off at Noboribetsu Onsen bus stop. Then take a 10-minute walk through the trail.

[Survey] Traveling to Japan
Recommend