Visiting the Festive Sapporo Odori Park in Hokkaido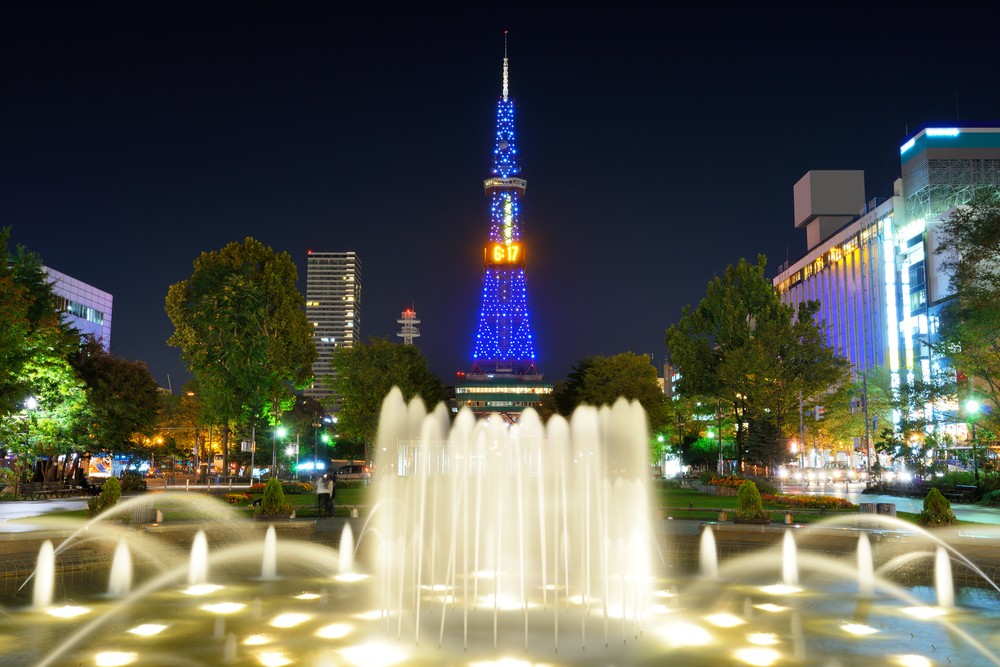 Sapporo Odori Park is located in the middle of Sapporo and covers a huge stretch of the city! Known for the famous Snow Festival, Sapporo Odori Park covers 13 blocks of the city with many festivals throughout the year and an amazing view from the Sapporo TV Tower! In this article, we'll go over some information about the park, as well as some great hotel recommendations for your visit!

About Odori Park, Sapporo's Festive Highlight!
The word Odori in Japanese can be loosely translated into Large Street, and Odori Park is definitely large! Odori Park stretches about 1.5 kilometers and covers close to 80,000 meters squared and 13 city blocks!
Odori Park originally started out as a planned area that would separate the business and residential sides of Sapporo city, but was later repurposed as a fire break in case of fires in 1871. Though it was original given the name of Shiribeshi Dori, the name was changed to Odori in June of 1881.
Around 1876, a flower garden was added to the park and after the war ended, many landscape and garden companies showed interest in developing the blocks that consisted of Odori Park.
These days, each block has their own unique feature and monuments that can be found while strolling from one end of the park to the other. The most popular area is around the Nishi 1-chome block, as it contains the Sapporo TV Tower and has an amazing view of the entire park!
The Amazing Snow Festival
If there is one event that you must experience while visiting Hokkaido and especially Sapporo, then it has to be the amazing Snow Festival! It is held at the start of February every year and brings in millions of people every year to see beautiful ice sculptures of popular media as well as landmarks from around the world!
There are ice sculpting contests that are held here, and the entire town celebrates as local food is brought in for all to enjoy. You can also see many skiers and snowboarders fly through the air, as a ramp is temporarily built near the Nishi 2-chome block of Odori Park. It's a magical experience that will make your trip really stand out!
How to get to Odori Park
Since Odori Park is located in the middle of the city, it is easy to get to via the subway station if you use the Namboku line. From Sapporo Station, you will take the subway heading to Makomanai and get off at Odori Station. This will drop you off in the underground shopping area that spans a good distance of Odori Park, allowing you to avoid the bitter cold outside during winter!
Spot information
Spot name: Sapporo Odori Park
Street address: Odorinishi 7-chome, Chuo-ku, Sapporo, Hokkaido 060-0042
Access: Just outside Odori Station via many exits
Stay at Sapporo Hotels near Odori Park
The best time to visit Odori Park is usually around the summer time or in the winter time when the popular Snow Festival is taking place. As these seasons can sometimes get really hot or numbingly cold, it is usually best to stay at a hotel that is near the park! So, let us introduce a few hotel options that you can use to plan your trip!
Hotel MYSTAYS Sapporo Station
Located right next to Sapporo Station, the Hotel MYSTAYS offers the best place to call home base during your stay in Sapporo. It is close to the main station and only a straight 15-minute walk to Odori Park, allowing you to sight-see while touring the city.
Rooms start at around 8,000 yen upwards to 16,000 yen depending on the time of year and the room you choose from their selection of Singles, Doubles, or Twin rooms. Being close to the station it is usually heavily booked, so many sure to reserve in advance!
Spot information
• Spot name: HOTEL MYSTAYS Sapporo Station
• Street address: 15 Nishi 4 Chome, 8-Jo, Kita-ku, Sapporo-shi, Hokkaido 060-0808
• Access: A 2-minute walk from Sapporo Station North Exit
The Sapporo Prince Hotel
When traveling, why not make life a little more luxurious? At the Prince Hotel Hokkaido in Sapporo you can enjoy amazing views of the city from this hotel in elegance. There is even an open-air hot spring bath that is available to all guests at the hotel!
Rooms here range in price from 6,000 yen upwards to 50,000 yen depending on your choice of Twin Room up to their deluxe Royal Suite Room. So, live a little and treat yourself to a wonderful hotel experience that is only minutes away from Odori Park!
Spot information
• Spot name: Sapporo Prince Hotel
• Street address: Nishi 11, Minami 2-jo, Chuo-ku, Sapporo, Hokkaido 060-8615
• Access: A 3-minute walk from Nishi-Juitchome Station Exit 2 on the Tozai Line
The Hotel Resol Trinity Sapporo
If you are looking for something a little closer to the action without having to worry about traveling far, especially during the winter when the temperatures can get really cold, then the Hotel Resol Trinity Sapporo is for you!
This hotel is located right next to Odori Park and offers a variety of rooms at prices that range from 8,000 yen upwards to 60,000 yen depending on the time of year and the room you choose.
Spot information
Spot name: Hotel Resol Trinity Sapporo
Street address: 5 Chome 3 Odorinishi, Chuo-ku, Sapporo, Hokkaido 060-0042
Access: A 2-minute walk from Odori Station exit 3
[Survey] Traveling to Japan
Recommend