Lake Kussharo, the deepest lake in Akan Mashu National Park, Hokkaido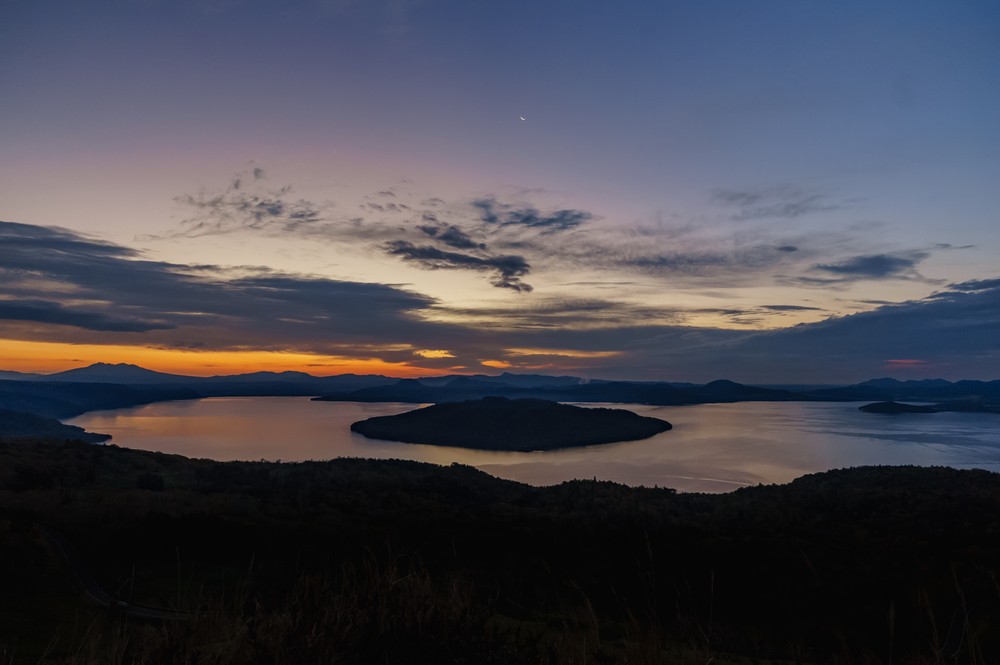 When it's hot, Hokkaido remains a favourite place for tourists to chill in Summer. Take the plane to Hokkaido and visit Lake Kussharo, the sixth largest lake in Japan. It is also one of the lakes in Akan Mashu National Park(阿寒摩周国立公園) in Kushiro. 
The Beauty Of The Lake Kussharo
The lake is located in a volcanic spot. If dig a hot spring in the sand beside the lake, you can enjoy a dip while you enjoy the beauty of Lake Kussharo.
The beauty of the lake can be seen from many places such as the Bihoro pass lookout. This beauty is captured and shown in the animated movie, "Kimi no na wa" (What is your name), which was in the Malaysia theatres in December 2016.
There are also a few other spots to view the lake: Mokotoyama Lookout Parking Park, Tubetsu Pass Observation Deck, campsites and even from a few hot springs nearby.
Camping: Wakotohantokohan Camping Ground(和琴湖畔キャンプ場)
Located on the south shores of Lake Kussharo, camping at the Wakotohantokohan Camping Ground costs 400 yen, and limited to people who are renting a bungalow. As such, there might be less people in this location compared to Wakoto Campsite. However, it is smaller than Wakoto Campsite.
If you prefer a large campsite, put up your tent at Wakoto Campsite instead. It costs 1,000yen for an adult to camp at Wakoto Campsite, and you can make reservations anytime at the campsite administration center. But you can't see the lake from the Wakoto Campsite, unlike the Wakotohantokohan Camping Grounds which is right next to the lake.
Where To See Whooper Swans On Lake Kussharo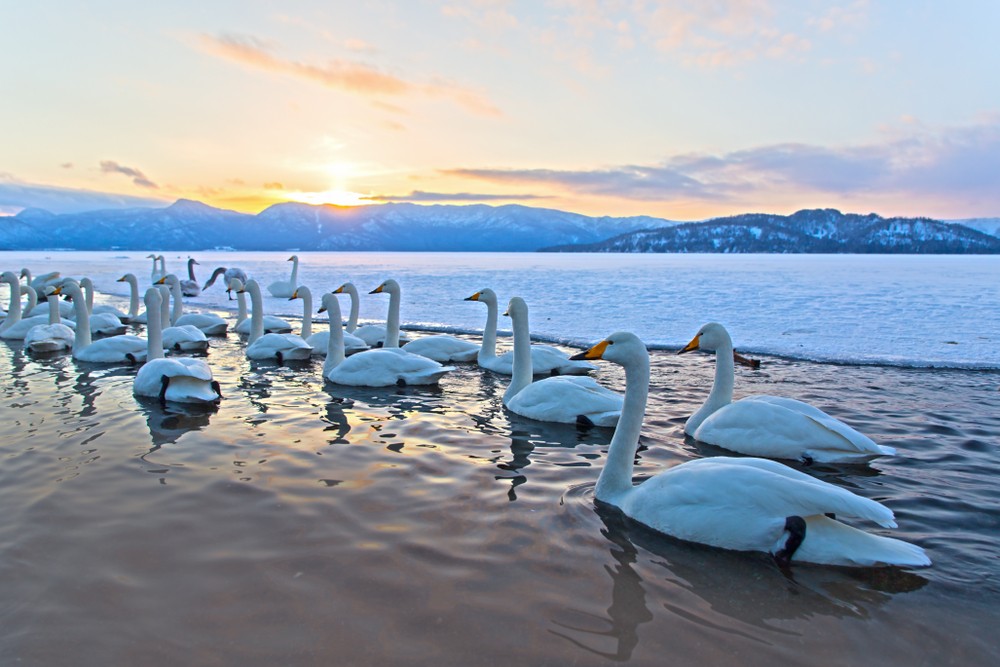 Lake Kussharo is also a favourite place for birdwatchers to camp because of the birds. Whooper Swans often visit the Kotan Onsen and Sunayu hot springs in the winter. It is near the Teshikaga Town Kussharo Kotan Ainu Folklore Museum (480 yen per entry for adults).
As there is a free warm foot bath area next to the lake near Sunayu, it is also a popular place to soak your feet and watch the birds frolic on the lake shores.
Spot information
Spot name: Sunayu Footbath

Address: Sunayu, Biruwa, Teshikaga, Hokkaido.

Access: See below.
Lake Kussharo Access
Spot information
Spot name: Akan Mashu National Park

Street address: 1 Chome-1-1 Akancho Akankoonsen, Kushiro, Hokkaido 085-0467

Access: From Haneda Airport, fly to Kushiro Airport or Memanbetsu Airport. More details below.

From Kushiro Airport, take the Akan bus from the airport till you reach the Kushiro Station (around 45 minutes). Then, take the train to Kawayu Onsen Station. The lake is 2km away.

Car Rental
By car, you can reach the Akan Mashu National Park around 1-2 hours from Kushiro or Abashiri. It is a highly recommended way to travel in Hokkaido since there are only public transport to towns and popular locations.
Train
You can also reach Lake Kussharo by taking the train on the JR Senmo Line. There are 5 to 7 trains in a day. It takes less than two hours to reach Kawayu Onsen Station from Kushiro Station or Abashiri.
Bus Service
If you're travelling around February or July to October, the bus service for tourists can be found around Lake Mashu and Lake Kussharo. They are infrequent, only around 2- 4 times a day.
The White Pirika Akan bus is active everyday from 26 April to 11 November 2018 (Summer Season). The fare is 4,600yen per person. It picks you up from Kushiro Station and the trip ends at the Kushiro Prince Hotel, so it's a good choice for people staying at the hotel.
To reach the park from Memanbetsu Airport, take the bus to Abashiri then switch to the JR Senmo Line train. You can also visit the Shiretoko National Park nearby.
[Survey] Traveling to Japan
Recommend