"Gion Festival": A Month Long Kyoto Summer Gorgeous Festival!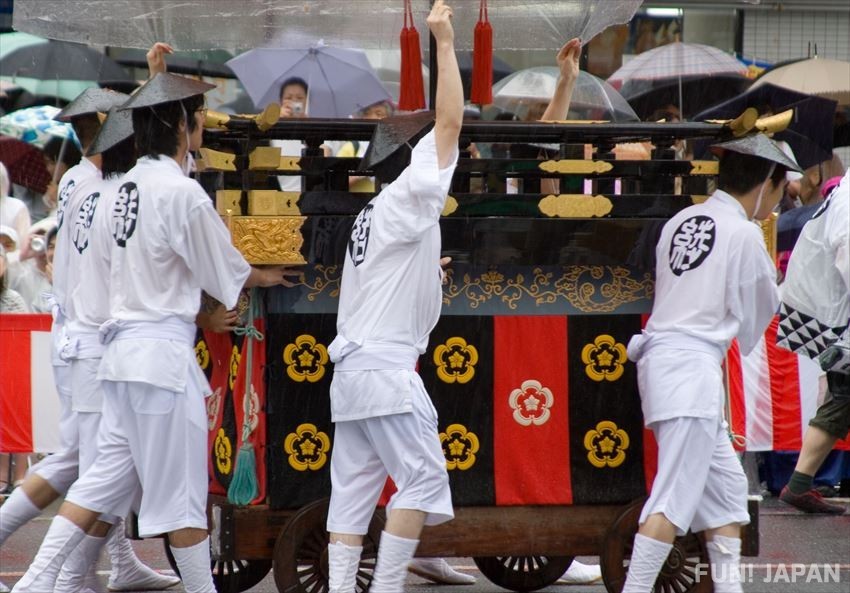 The annual Gion festival which is held in Kyoto is not only the most famous and biggest festival among "Kyoto 3 Big Festival" (Kyoto Festival, Gion Festival, Jidai festival), but also one of the Japan 3 Biggest Festivals (Kyoto Gion Festival, Osaka Tenjin Festival, Tokyo Kanda Festival). Not only you can see the wonderful "Yamaboko Junko", but also have the super large night market "Yoiyama". It is a must-see festival for summer trip in Kyoto!
Outline and History of Gion Festival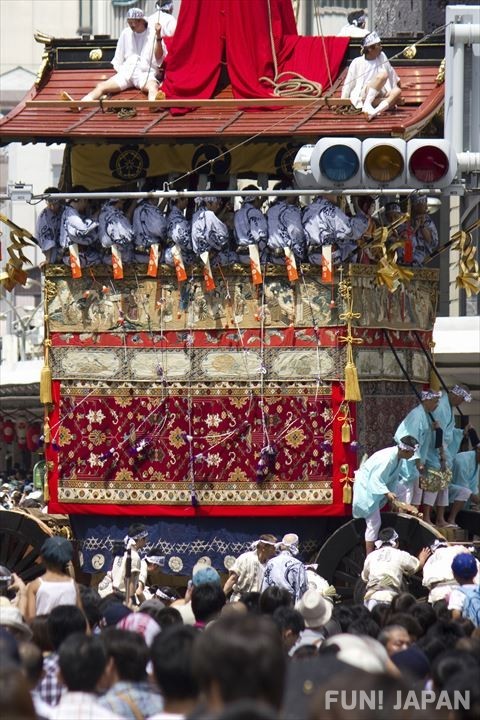 Originally Gion Festival is a festival of Yasaka Shrine. It started in Heian Era (year 869) which is more than 1,000 years ago. It is said that plague epidemics had spread all over Japan in that year, and there were many deaths. In order to subdue this epidemic, a ceremony to appease evil gods and the spirits of the dead was held.
Highlights of the Gion Festival: The "Moving Art Museum" of Yamaboko Junko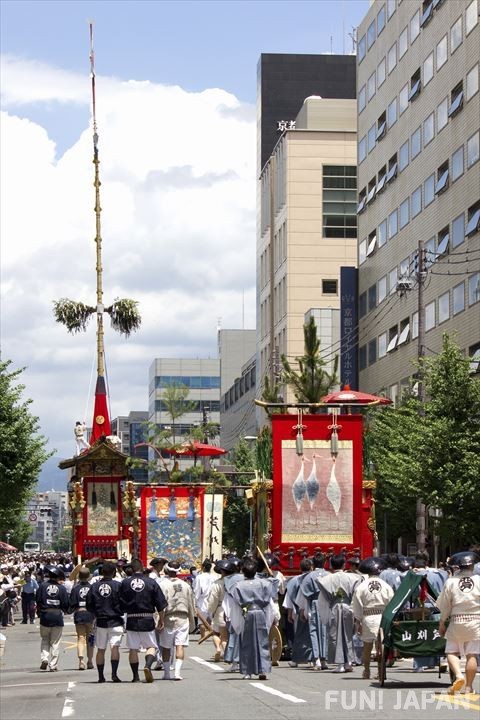 The Gion Festival will be held for a month. The highlight among them is "Yamaboko Junko" (the car on which God rides) which is held on 17th July (pre-festival) and 24th July (post-festival). Each Yamaboko represents 33 sections of Kyoto.
Yamaboko Junko (Grand Procession of Wooden Floats)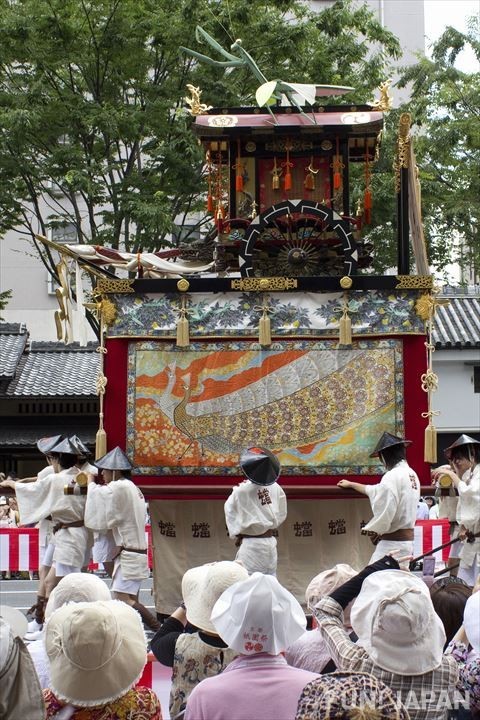 The greatest highlight of Gion Festival is Yamaboko Junko. Yamaboko is a floating plank that is hauled during shrine festival. The height of yamaboko is about 25m, with the largest one weighs around 12tonnes!
The route which the big yamaboko needs to pass through is well designed. When the yamaboko passes, the traffic light on the road is folded. Of course there is no such function in regular traffic lights; it is a special design to adapt to Gion festival.
There are 23 groups at the pre-festival, 10 groups at the latter festival, a total of 33 group of yamaboko masterpiece continue to follow the main street one after another. Each of Yamaboko is decorated with luxuries, with its own theme based on myths and classics.
Yamaboko Junko Course
Shijo Karasuma (9:00 AM) → Kawaramachi Shijo (9:35) → Kawaramachi Oike (10:20) → Shinmachi Oike (11:20)
Enjoying dinner at Gion Festival at Yoiyama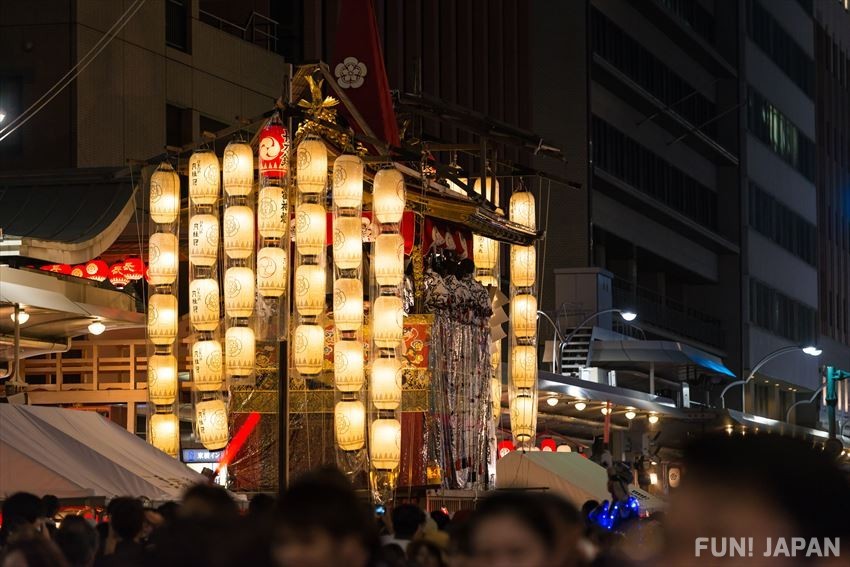 The most exciting part is the 3 days (14/7 – 16/7) called "Yoiyama", the pre-festival where yamaboko travels. On the 15th and 16th of Yoiyama, the main street of Shijyou St. and Karasumaru St. became pedestrian heaven, many stalls line up the road just like other lively night markets! The mood of the festival arises as the yamaboko are lit up.
Zezekan Pocchiri "Shimidare Pork Bun"
Zezekan Pocchiri is Kyoto's famous Chinese restaurant. Every year, "shimidare pork bun" which is a famous product at Gion Festival, is sold at Yoiyama. The meat is solid filled with gravy, and the flavor is just nice. After the pork bun is baked, abundant of sauce is poured on it again.
Boulangerie MASH Kyoto's "Chimaki"
Boulangerie MASH Kyoto is a baker who is popular for Kyoto pastry like Japanese sweets using Kyoto-like material. During Gion festival, Chimaki, white grilled bread pack with shirayama dumpling, azuki bean and wrapped in bamboo leaves, is lined up. It is a wonderful product that combines Japanese and western style.
Spot information
Name: Kyoto Gion Festival
Venue: Yasaka Shrine and its surroundings
Period: 1st – 31st July every year
Access:


Get off at Subway Karasuma Line "Shijo Station"

Hankyu "Kawaramachi Station" or "Karasuma Station"

Fee: Free ※ There is also paid viewing seats
[Survey] Traveling to Japan
Recommend