Go Walkabout at the Hakodate Morning Market in Hokkaido
On Japan's northern island, the southern-most port town comes alive at 5:00 am in the morning for the Hakodate Morning Market every day. Boosting some of the best fresh foods in Hokkaido, Hakodate Morning Market is one spot not to be missed when traveling around the region. In this article, we'll be discussing the market and how to make the most of your Hakodate stay.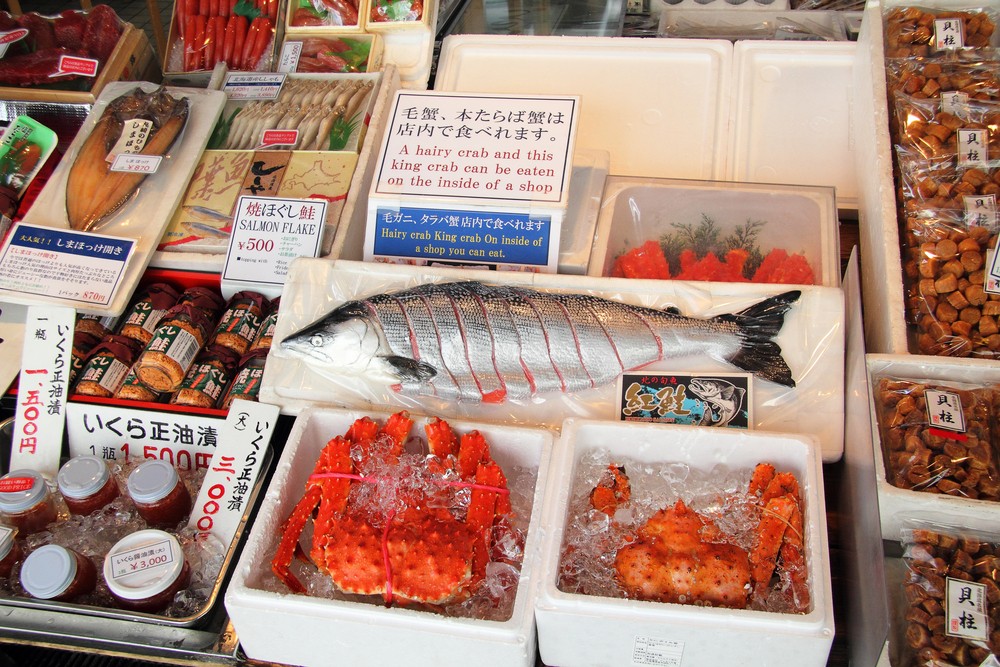 Experiencing the Morning Market Hakodate is Famous For
It's said that the Morning Market Hakodate offers up every morning is nicer, fresher and more accessible for tourists than Tokyo's Tsukiji Fish Market. The market is known for its friendly attitude and fresh fish, of which some comes straight from the sea that morning.
While the Tsukiji Market is in a warehouse, the Hakodate Morning Market takes over 4 cities blocks, with 250 different shops involved, all offering up platters of fish and souvenirs.
Hakodate Morning Market Opening Hours
The Hakodate Morning Market opening hours are from 5:00 am every day of the year, except for winter. In the wintertime, due to the colder climate in Hokkaido, the market opens one hour later at 6:00 am in the morning.
True to "Morning Market" name, the market closes at midday (12:00 pm), so if you want to be in the action and try true Hokkaido delicacies, then you have to get up early to be there.
Hakodate Morning Market Location
Luckily, the Hakodate Morning Market location is an easy one to get to. Whether you're taking the JR line and walking from Hakodate Station, or you're taking the Hakodate Shiden tram and walking from Hakodate Ekimae Station, it's only the next street over.
If you're coming from the main island of Japan via the Hokkaido Shinkansen, then you'll have to transfer at Shin-Hakodate-Hokuto Station and travel via the Hakodate main line to Hakodate station and downtown Hakodate.
Spot information
Spot name: Hakodate Morning Market
Street address: 9-19 Wakamatsu-cho, Hakodate-shi, Hokkaido 040-0063
Access: A 3-minute walk from Hakodate-Ekimae Station
Cheap Hakodate Morning Market Restaurants to Chow Down On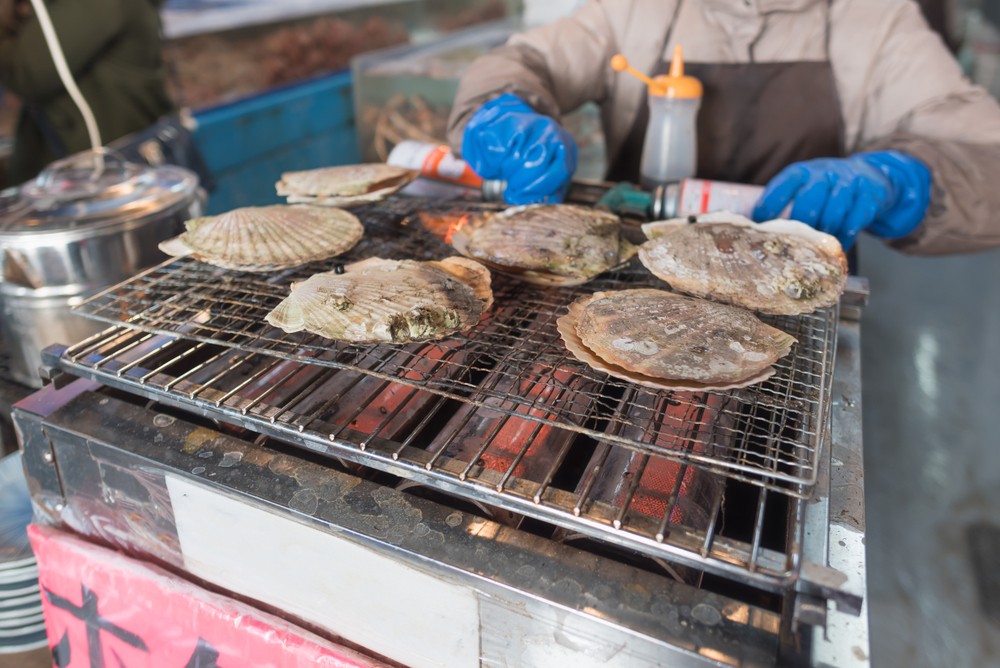 If you're a bit strapped for cash after your travels around Japan, you'll be happy to know that there are some cheap Hakodate Morning Market restaurants serving up fresh food.
Going down Donburi – a rice bowl – Alley, you'll be able to find a range of restaurants that won't make your wallet cry. Most donburi in Japan come with a range of toppings for the rice, but at the Morning Markets, you'll mostly find fish toppings.
These can include salmon, tuna, crab or, if you want to be a little fancy, fish eggs. These bowls can be priced anywhere from 500 yen to 2,000 yen. Alternatively, if you want to be your own fisherman, head down to the Squid Fishing stall on the lowest floor.
You'll find a container full of the freshest squid swimming about. Once caught, the staff will cut your squid up for you and serve it to you still wriggling about. The whole experience is less than 1,000 yen for one medium sized squid, so that's pretty exciting!
Hakodate Morning Market Hotels to Stay In
When you have to get up at 5:00 am, it's easier to stay at one of the Hakodate Morning Market Hotel's than traveling in from somewhere else. Luckily for all visitors, there are plenty of hotels and ryokan to choose from in the area, but without needing to travel far by foot, it's usually close to stay near the market itself!
The Hotel New Ohte

For budget travelers, the Hotel New Ohte is the most cost-effective Western style hotel in the area. The hotel is located only across the street from the Morning Markets. This also means the hotel is only a stone throws away from all the major rail lines and tram lines, giving you great access to the rest of the Hakodate region.
Spot information
Spot name: Hotel New Ohte
Street address: 8-8 Wakamatsu-cho, Hakodate-shi, Hokkaido 040-0063
Access: A 3-minute walk from Hakodate-Ekimae Station
The Henmi Ryokan

With tatami floors, futons and breakfast included in the price, the Henmi Ryokan is where you want to stay in Hakodate. Located just across the tram line from the Morning Market, you'll be able to wake up and walk to the Morning Markets just as it opens at 5:00 am.
Spot information
Spot name: Hakodate Morning Market
Street address: 4-6 Wakamatsu-cho, Hakodate-shi, Hokkaido 040-0063
Access: A 5-minute walk from Hakodate-Ekimae Station
[Survey] Traveling to Japan
Recommend