Winter in Amanoshashidate, Kyoto
The Amanohashidate (天橋立) in Miyazu city, Kyoto Prefecture is one of Japan's Three Scenic Views and is a sandbank which separates the Miyazu Bay (宮津湾) and the Asokai (阿蘇海) from north to the south. There are about 8000 pine trees growing on a sandy beach which is about 20 to 170 meters in width and 3.6 km in length. There are various ways to enjoy this area, like trying to walk, cycle or paddle across it. This time, we are going to introduce to you another way of enjoying the beautiful winter in Amanohashidate.

Snow in Amanohashidate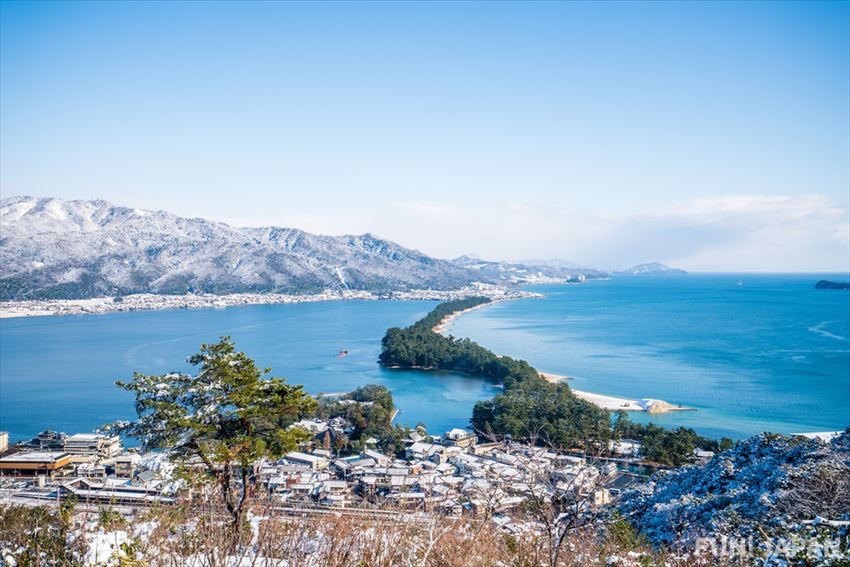 As the temperature drops in Amanohashidate, the snow piles up in the morning. This scenery, especially where the snow piles up on the leaves of the pine trees is so beautiful that you can not express it in words, it is a totally different atmosphere from the other seasons. Due to the snow melting as the sun rises, this scene is known as a phantom scenery. If the timing is good, you may get a glimpse of the Amanohashidate being covered in snow from the Amanohashidate View Land.

Chionji Temple, 5-Minute Walk from Amanohashidate
Every year as a New Year's prayer, the Toka Ebisu will be held on the 10th of January. Toka Ebisu is a traditional event that signifies the desire of business prosperity and academic success. The people come all the way just for the rake (熊手 Kumade) that rakes in luck and gold. Every year the Chionji temple gets very busy and lively with shops and crowds at this time.

Spot information
Spot name: Chionji Temple (知恩寺)

Street address: 466 Monju, Miyazu, Kyoto

Access: 5-minute walk from Kyoto Tango Subway's Amanohashidate station

Hatsumode in Kono Shrine

In Japan, there is a culture known as the "Hatsumode (初詣, はつもうで)" which means the first visit to a shrine in a new year. It is to give gratitude for the past one year and pray for the new year. Going to the Kono Shrine for your Hatsumode is quite a good choice.

There is an Onsen near the Amanohashidate which is perfect for warming up your body after all those traveling in the winter. There are also delicious seasonal seafood delights like crabs and yellowtails in Tango which is rich with seafood. How about enjoying the taste of the season in Amanohashidate?
Spot information
Spot name: Kono Shrine (元伊勢籠神社)

Street address: 430 Ogaki, Miyazu, Kyoto

Access: 25-minute walk from Kyoto Tango railway's Amanohashidate station

[Survey] Traveling to Japan
Recommend