Make sure to visit the steam-enveloped Beppu Onsen if you go to Kyushu in Japan!
Kyushu is located in the south of Japan and has several hot spring areas. Beppu City, which is located in  Oita Prefecture, produces the largest volume of hot spring water and has the largest number of hot springs in Japan! It has prospered as a hot spring area since long ago and is still visited by many tourists, not only foreigners but also Japanese tourists.

The Numerous Spring Areas in Beppu Onsen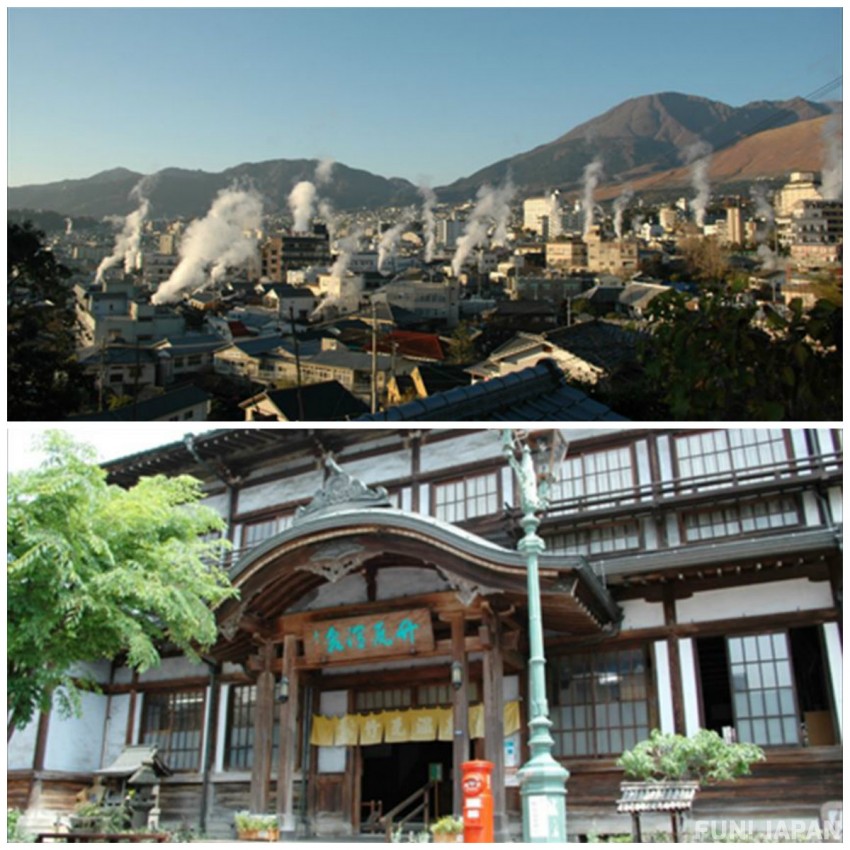 The steam from the hot springs is a symbol of the abundance of Beppu Hot Springs. Beppu Hatto refers to the eight hot spring areas consisting of Hamawaki, Beppu, Kamegawa, Kannawa, Kankaiji, Horita, Shibaseki, and Myoban, which are collectively referred to as "Beppu Hot Springs". In this article we are going to be introducing some of them!
Beppu Onsen Area in Beppu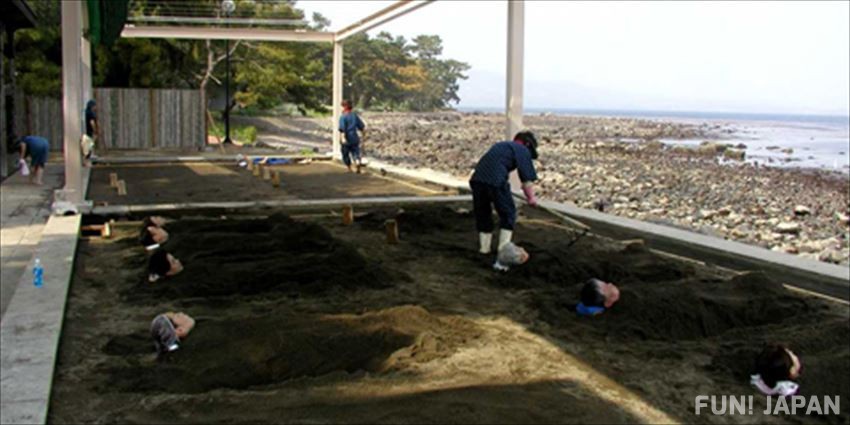 The Beppu Hot Spring area includes the quaint Takegawara Hot Spring, while the Beppu Beach Sand Bath which you can enter next to the sea is located in the Kamegawa Hot Spring area.
Kamegawa Onsen Area in Beppu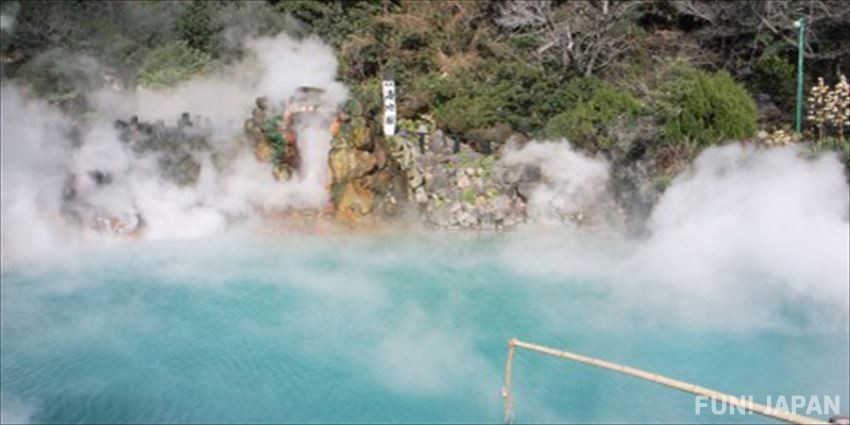 There is a total of eight different "hells" of hot spring, including the red Chinoike Jigoku (Blood Pond Hell), the Tatsumaki Jigoku (Spout Hell) that features a boiling hot geyser (both in the Kamegawa Hot Spring area), as well as the Oniishibozu Jigoku (Shaven Head Hell) that features hot mud bubbles.
Kannawa Onsen Area in Beppu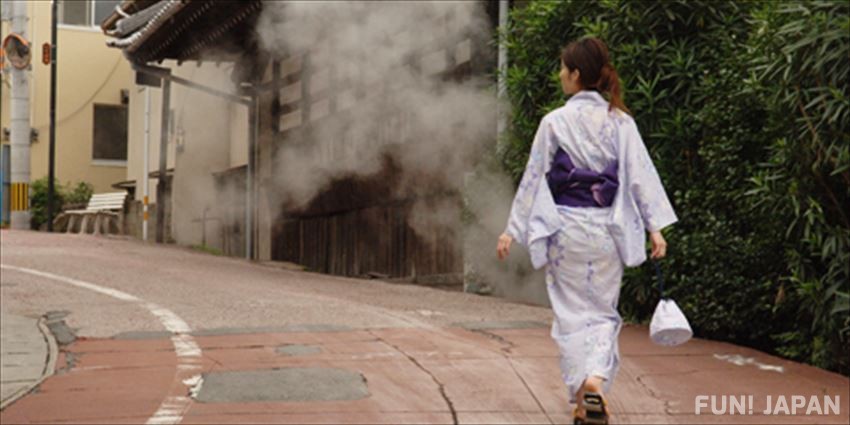 If you take a walk around the Kannawa Hot Spring area you can really get a feeling for the hot springs environment as the steam is particularly plentiful in this area. However, please be careful because the steam coming out of the holes in some areas is hot enough to burn you!
Another one of Beppu's main attractions is visiting the various "hells," and many of these hells are also concentrated in the Kannawa Hot Spring area. While the Umi Jigoku (Sea Hell) in the photo is deep blue like a lake, the temperature is 98 degrees Celsius! The way the hot water noisily boils up is very powerful.
Kankaiji Onsen Area in Beppu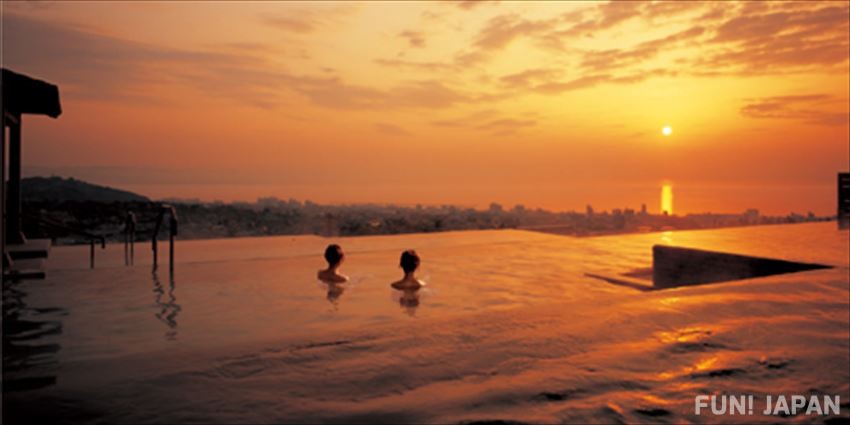 Kankaiji Hot Spring features the Suginoi Hotel that is popular for the Tanayu Bath that allows visitors to look out over the sea while enjoying the hot spring.
Myoban Onsen Area in Beppu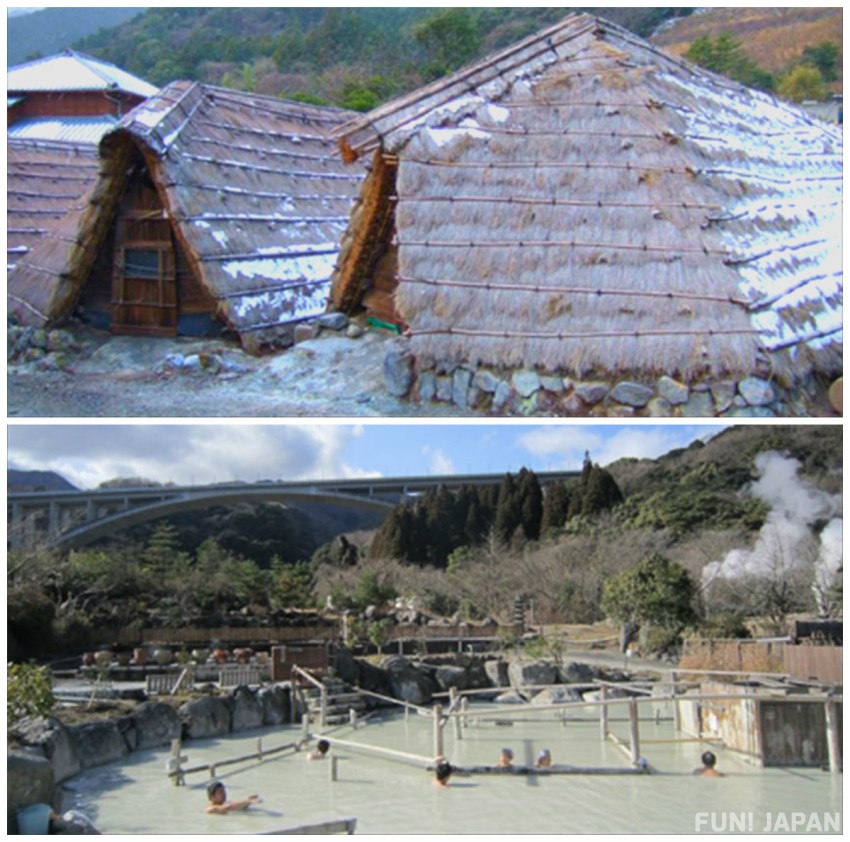 Last but not least, Myoban Hot Spring is another one of Beppu's notable hot springs. A nostalgic atmosphere is created by the thatched huts that hot spring components have become crystallized on. Moreover, the mud bath at Beppu Onsen Hoyo Land is very popular.
Specialty foods in Beppu Onsen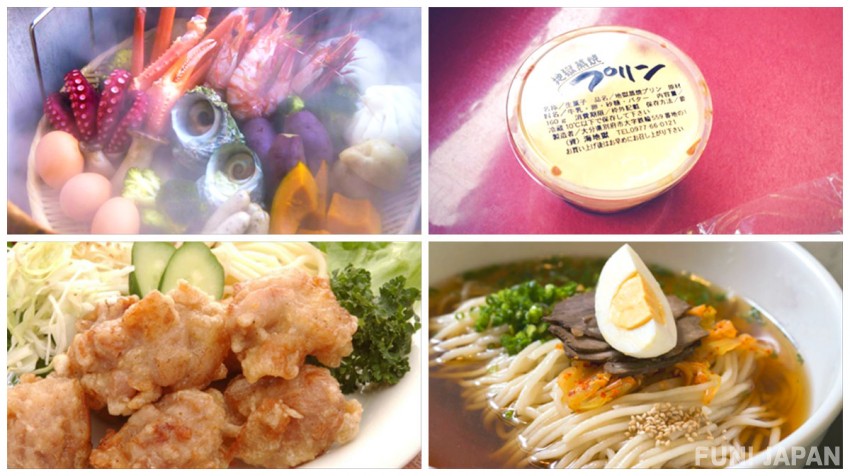 You can also try food prepared using the "Jigokumushi" method in which hot spring vents are used to steam food in the Kannawa Hot Spring area. Foods including vegetables, seafood, and eggs that are steamed this way are very delicious and highly recommended. 
Another that you should try are the specialty foods of Umi Jigoku, which are Jigokumushi pudding and eggs boiled in hot spring waters.

We also recommend that you take the opportunity to fully enjoy foods unique to Beppu, such as Beppu toriten (Beppu fried chicken) and Beppu reimen (Beppu cold noodles).

Beppu is somewhere you will definitely want to go if you visit Kyushu as it is packed with attractions and things to do.  

[Survey] Traveling to Japan
Recommend