Guide to Kagawa Prefecture in Shikoku Island, Japan
It may be the smallest in terms of area, but that doesn't limit Kagawa's numerous amusements from amusing anyone who visits this eastern prefecture of Shikoku. Historically speaking, it is the birthplace of Kukai, the founder of the Shingon school of Buddhism. Hence, it has long been a place of worship for many Buddhists around the country who travel to visit the 88 temples of Shikoku. Not only historical buildings, but there are many spots that are attracting attention in modern times, such as Naoshima Island or 'Art Island', and Chichibugahama Beach, which is called the Uyuni Salt Flats of Japan. So, here's our guide to a great trip to Kagawa.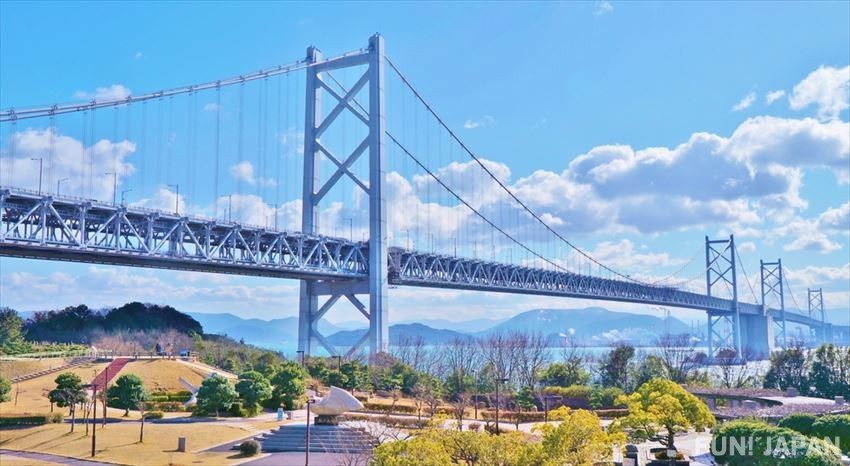 About Kagawa prefecture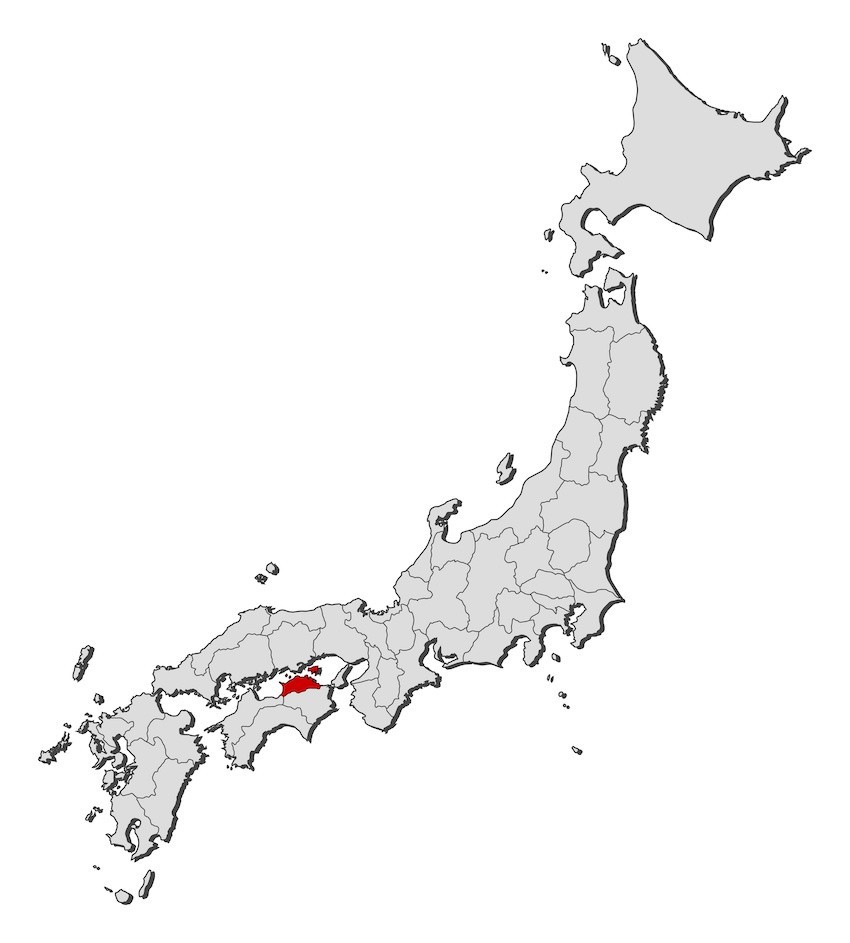 The Shikoku region of Japan hasn't been visited by many tourists yet. If you're going to make the rounds of Japan, take a look at the map above, and consider passing through Kagawa. Kagawa Prefecture, which we will introduce here, is located in the north-east area of the Shikoku region, which consists of 4 prefectures. Surrounded by the Seto Inland Sea, it faces Okayama Prefecture on Honshu, which is famous for Kurashiki City.
7 Big Tourist Attractions
1. Kotohira Shrine
Kotohira Shrine in Kagawa Prefecture is known as "Kompira-san" amongst Japanese people. The resident deity is Omononushi-no-kami, and the Emperor Sutoku is also enshrined there. In addition to being the gods of agriculture, birth, and medicine, they are also famous as the "Gods of the Sea".
There is a long, 785 step staircase leading to the main shrine building. Souvenir shops and cafes line the staircase, so you can take some rest during the climb. Of course, after you've climbed up, you must come back down, so don't push yourself too hard. Even if the stairs are difficult for you, don't give up. There are various ways to help you get up to the shrine, such as renting a cane, making use of the famous 'Akago' palanquins, or taking the special pilgrim mountain bus to the main gate part-way up.
Spot Information
Name: Kotohira Shrine
Address: 892-1 Kotohira-cho, Nakatado District, Kagawa Prefecture
Access: About 20 minutes on foot from Kotohira Station on the Dosan Main Line
2. Ritsurin Garden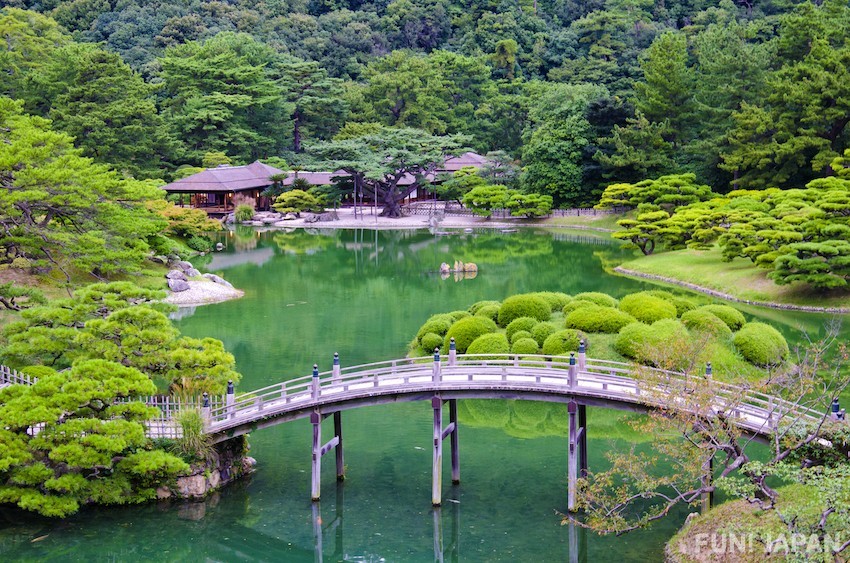 Ritsurin Garden is the biggest Cultural Property Garden in Japan and is an important cultural asset that has been maintained for nearly 400 years. Located in Takamatsu, the garden features six ponds and thirteen landscaped hills in front of the green vista of Mt. Shiun. There are various bridges, footpaths and small hills which offer a beautiful view of the garden and the surrounding scenery, most notably Mt. Shiun at the western border of the garden
Spot Information:
Name: Ritsurin Garden
Address: 1-20-16 Ritsurin-cho, Takamatsu city, Kagawa Prefecture 760-0073
Size: Total Area: About 75 hectares (185 acres)
Garden Area: About 16 hectares (40 acres)
Operation Hours: Open: Every day
Free Admission Days: January 1 (New Year's Day), March 16 (Opening Day Anniversary)

Admission fee:

Adult: ¥410 (Group of 20 or more: ¥320)
Child ¥170 (Group of 20 or more: ¥140)
Ticket book: ¥4,100 for 11 tickets
An annual pass for one person: ¥2,570
An annual pass for up to three people: ¥5,140

Hours:

December, January: 7am-5pm

February: 7am-5:30pm

March: 6:30am-6pm

April, May, September: 5:30am-6:30pm

June, July, August: 5:30am-7:00pm

October: 6:00am-5:30pm

November: 6:30am-5:00pm

Access:

From JR Takamatsu Station – 7 min. by car
From JR Ritsurin Station – 20 min. walk
From JR Ritsurin Koen Kitaguchi Station – 3 min. walk
From Kotoden Ritsurin Koen Station – 10 min. walk
From Kotoden Ritsurin Koen Mae Bus Stop – 1 min. walk
From Highway Express Ritsurin Koen Mae Bus Stop - right by garden entrance
From Takamatsu Airport – 30 min. by car
From Takamatsu Nishi Highway I/C – 20 min. by car
From Takamatsu Chuo Highway I/C – 15 min. by cars
3. Angel Road in Shodoshima: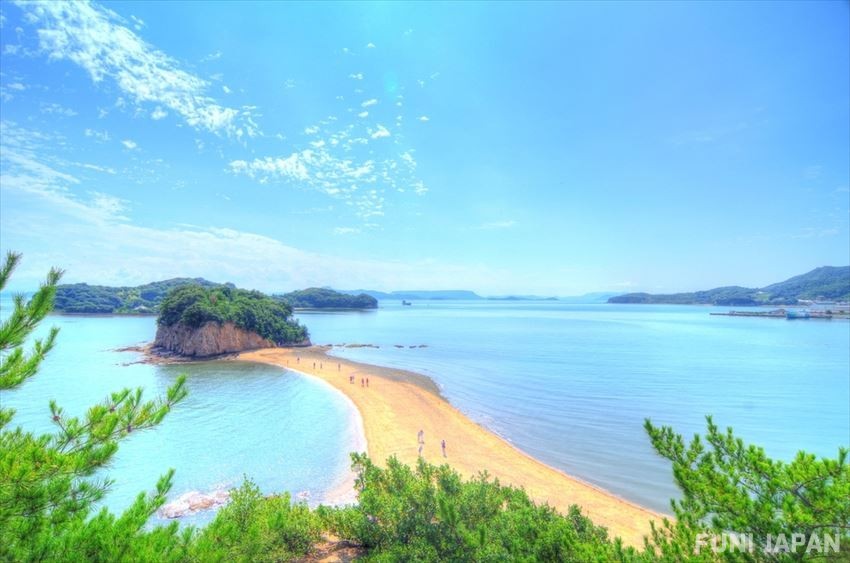 Here's a spot that would surely earn you a lot of likes on social media. Twice a day at low tide, a sand road appears from the sea that leads to four small islands in the Seto inland sea. The road only appears for 4 hours each time, and it is said that couples who walk through this road holding hands would last forever.
Spot Information:
Name: Angel Road
Address: 1896-1 Nishimurakou, Shodoshima-cho, Shozu-gun, Kagawa
4. Naoshima, the art island:
When the Japanese education company Benesse acquired this small island in the late 1980s, nobody saw what it was going to be like by 2017. Since then, the island has invited many worldly renowned artists including Tadao Ando, Claude Monet, Walter De Maria, James Turrell, and Yayoi Kusama. Naoshima, now known as the "Art Island" is a major tourist destination for art fanatics around the world, and you too should come and experience this unique island.
Spot Information:
Name: Naoshima
Address: Kagawa District, Kagawa
Access:
From Tokyo to Okayama by Shinkansen (3 hours 30 minutes), Okayama ->Uno Port -> Miyanoura Port (Naoshima) appx 15~20 minutes by boat
From Tokyo to Takamatsu by plane (3 hours 50 minutes)-> Takamatsu Port-> Miyanoura Port (Naoshima), apprx 60 minutes by boat
5. Zenigata Sunae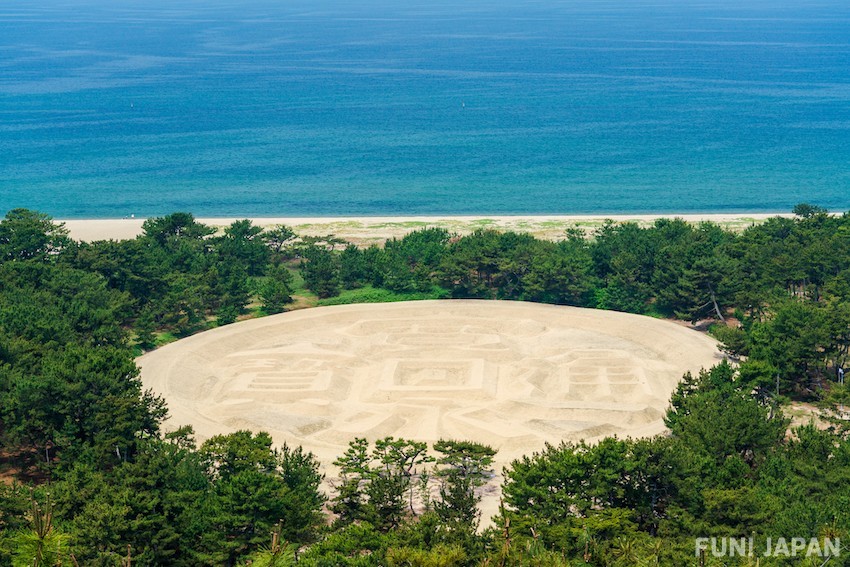 Located in Kanonji, it is a huge sand feature that imitates Kanei Tsuho in Kagawa. It is oval-shaped with a height of 122 meters, a width of 90 meters, and a circumference of 345 meters. It lights up at night. Usually every year the sand has a "seasonal make-up"/ a renovation in spring and autumn due to typhoons or sandslides.
Spot Information
Name: Zenigata Sunae
Address: 14 Ariakecho, Kanonji 768-0062, Kagawa Prefecture
Operation hour: 12:00 AM - 11:59 PM
6. Chichibugahama Beach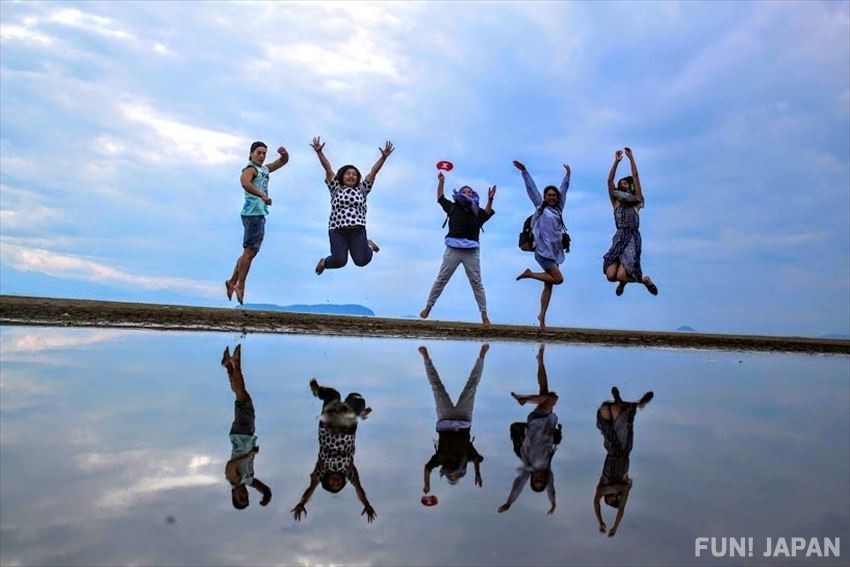 Chichibugahama Beach is called the Uyuni Salt Flats of Japan and is a popular place on social media. At low tide, the water retreats and leaves a thin layer of water that reflects like a mirror, depending on the weather.
Spot Information
Name: Chichibugahama Beach
Address: Nio-oto, Nio-cho, Mitoyo City, Kagawa Prefecture
Access: About 24 minutes by bus from Takuma Station
7. Megijima Island
Megijima Island is also called "Onigashima", because it is believed that an "Oni" demon lived in the cave there long ago. There are many attractions on the long and narrow island, only about 9km in circumference, such as permanent exhibitions of artwork from the Seto Inland Sea area and the maze-like wall that was built to protect the village from the strong winter winds. The large cave is about 400 meters long, and is said to have been dug by human hands in about 100B.C.
Spot Information
Name: Megijima Island
Address: Megi-cho, Takamatsu City, Kagawa Prefecture
Access: About 20 minutes by ferry from Takamatsu Port. ※ Busses only connect to the ferry on Saturdays, Sundays, and public holidays.
Must- Eat Food in Kagawa; Udon or Japanese Flour Noodle
In recent years, it has also gained a lot of popularity nationwide for its udon, or "sanuki udon" as they call it, which is simple yet deeply sophisticated in its art, and the cuisine has become one of the most popular fast food menus for busy businessmen. Evidently, many udon fans make a pilgrimage to Kagawa to experience the real sanuki udon. Udon is a food staple that Kagawa prides itself for. Their udon, sanuki udon, is characterized by its tough but slick texture, complimented by various tempura of which you could choose from.
When enjoying the sanuki udon, you'd like to try the "kamatama" or "kijoyu", both simple but amazingly delicious. Kamatama is a dish with hot udon and raw egg. You mix the egg yolk with the hot udon, resulting in a creamy carbonara-like noodle. Kijoyu gets even more simple with just soy sauce and lime complementing the udon. This way, you could really enjoy the udon with minimal seasoning.
Shopping and Duty Free:
1. Yume Town Takamatsu:
With the largest area and sales in Shikoku, Yume Town Takamatsu has carefully selected 160 specialty stores ranging from fashion, bookstores, amusement facilities, restaurants, and more. It is the center of everyone living and visiting Takamatsu city, where you could easily spend the whole day without a single bore.
2. Marugamemachi Green:
There are quite a lot of shopping malls in rural Japan, however, Marugamemachi Green which opened in 2012 is a revolutionary complex with eco-friendly and organic as their main concept, offering a wide range of healthy lifestyle brands and a relaxing atmosphere to all those visiting the site. From cosmetics, furniture, to a healthy organic food court, Marugamemachi Green has the latest trending products from all over the world.
3. Takamatsu Mitsukoshi:
One of the biggest department stores in Japan, Mitsukoshi has multiple stores all around the nation, including three of which are in the Chugoku & Shikoku area. Out of the three, Takamatsu Mitsukoshi has the longest history going all the way back to the early 20th century and still standing proudly as the most prestigious department store on the island of Shikoku. Naturally, it stores many of Japan's and the world's most renowned brands of a huge variety. It is perfect for purchasing gifts and souvenirs for those waiting back in your home country, or simply for yourself.
Recommended times to visit
Kagawa is one of those places where you could visit year round. However, considering the beautiful scenery and the ocean breeze you'll enjoy, we recommend you go visit somewhere during the spring to autumn. It does get a bit hot during the summer, but that only adds to the cozy breeze you'll feel from the Seto Inland Sea.
Getting to Kagawa:
By plane:
Kagawa's Takamatsu Airport has three domestic flights running from Narita, Haneda, and Okinawa. It also has international flights from and to Hong Kong, Seoul, Taipei, and Shanghai. Domestic flights are around ¥20,000, while international flights are at about ¥40,000.
By train:
The Shinkansen does not go through Kagawa, but there are plenty of tracks arranged to get to Takamatsu, Kagawa's capital. When traveling from Tokyo, the most obvious route is to get to Okayama Station from Tokyo using the Shinkansen, and then ride on the Marine Liner running from Okayama to Takamatsu for around ¥20,000. Another option you'd like to consider is to use Sunrise Seto which is a sleeper train running from Tokyo to Takamatsu overnight. A single bed is about ¥20,000, however, if you're on a budget, you could choose the seats which is about ¥15,000.
By bus:
The first is to use the Takamatsu Express running from Osaka to Takamatsu. It is only ¥4,000 so that's the one you'd like to use if you're in Osaka.
If you're going there from Tokyo, you'd like to use Dream Takamatsu which is a night bus costing about ¥6,000 - ¥11,000.
[Survey] Traveling to Japan
Recommend