A thorough dissection of the highlights of Nakano Broadway in Tokyo! -A paradise for Japanese anime and manga fans where you can find what you want-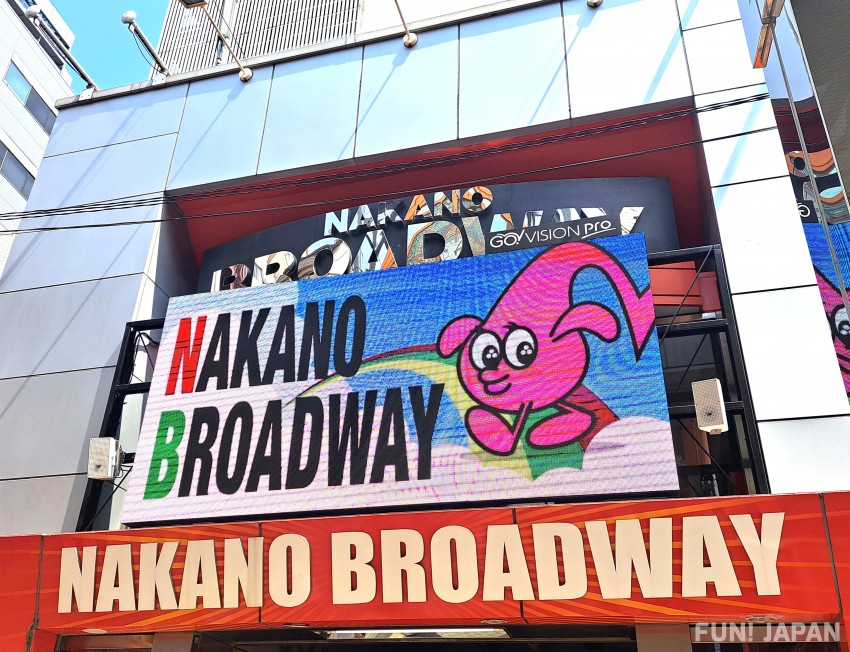 Nakano, which can be accessed in less than 5 minutes by JR Chuo Line Rapid from Shinjuku Station, is a famous area known as the "town of subculture" dotted with stores selling Japanese manga, anime, games, figures, and many more.

This time, we will thoroughly feature Nakano Broadway, a central presence in this area! From shops that are a must-see for fans of Japanese anime and entertainment, to brand goods, miscellaneous goods, clothing, and restaurants, we will introduce the highlights of this popular commercial facility that embodies the concept of "you can find anything here!"
A deep spot with good access from Shinjuku. What kind of commercial facility is Nakano Broadway?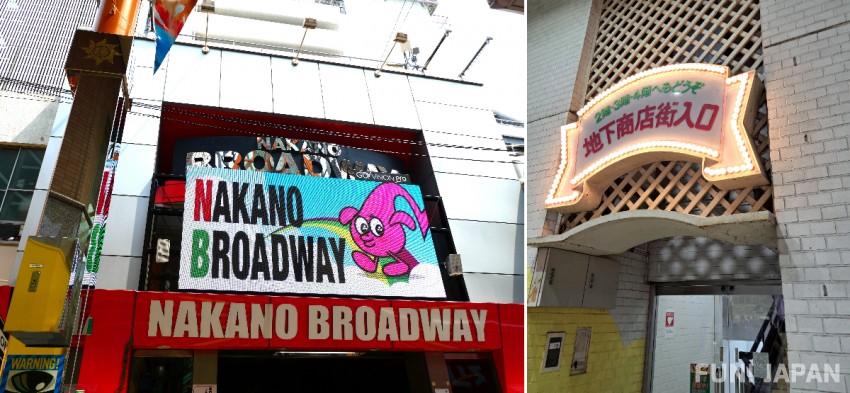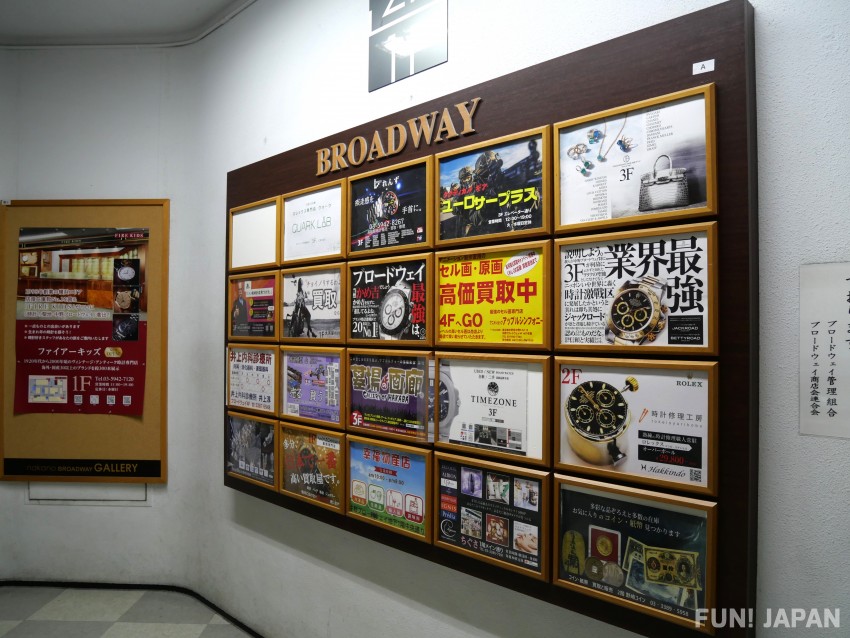 Nakano Broadway opened in 1966, an astonishing 57 years ago. This building, located at the end of the Nakano Sun Mall shopping street extending from the north exit of JR Nakano Station, is a complex building with 10 floors above ground and 3 floors underground. The upper floors are apartments, and the lower floors from B1 to 4F are the shopping center "Nakano Broadway Shopping Street (commonly known as Nakano Broadway)".

The basement floor is lined with specialty stores for vegetables and seafood, supermarkets, restaurants, and daily necessities. From the 1st floor to the 4th floor, there are shops of various sizes and genres, including manga and anime goods, figures and trading cards, watches and branded goods, antiques, etc., with an astonishing number of about 300 stores! It's a deep spot in Tokyo where local shops that locals use regularly and popular shops among tourists and enthusiasts of each genre coexist.
Introducing the charm of Nakano Broadway, from brand watches to toys and gourmet...

Here's how to enjoy your tour around Nakano Broadway!
After passing through Nakano Sun Mall Shopping Street and entering the building from the south entrance, you can stroll along "Broadway Street" that runs north-south inside Broadway. The main streets are this "Broadway Street" and "Elevator Street" one block behind it, and various genre shops are lined up along these main streets! By the way, since there are 5 floors in the building and there are many shops, it is recommended to decide what you want and what you want to enjoy before going around.
There are 33 stores of Mandarake, the sacred place for Japanese anime and manga fans!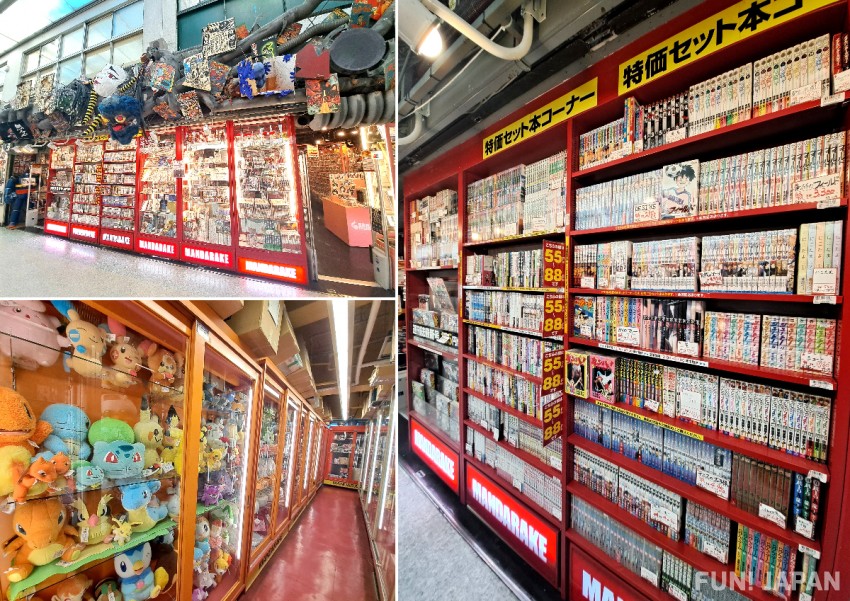 Mandarake is a popular second-hand store that deals with a wide range of subcultures, including manga and anime. Currently, there are 33 Mandarake stores from the 1st to the 4th floor of Nakano Broadway, and it is said that the reason why there are many shops for manga, anime, and game enthusiasts in Broadway is because of Mandarake. At the time of its founding, the specialty store that focused only on manga became popular among enthusiasts, and gradually, shops related to subcultures such as anime, games, and cosplay increased in the building.
Each store specializes in various items such as shonen manga, shoujo manga, professional books, manga and anime goods, figures, antique toys, games, card seals such as Pokemon cards, CDs, DVDs and Blu-rays related to anime and special effects, antique goods, and model trains.
One store you should definitely check out is the Mandarake Honten (main store) on the 3rd floor. The entrance to the Honten is a wall-to-wall bookshelf, with a flashy layout of huge monster masks and comic-related objects, making a big impact!
The bookshelves in the store are packed with manga and second-hand (used) books! Valuable art books, signed books by authors, and subculture books with limited distribution are displayed in the showcase. You can find used comics for less than 100 yen, complete sets of popular works, and the latest popular works, so if you like manga and second-hand books, check out the main store first.
On the 3rd floor near the Nakano Station side escalator, there are clusters of Mandarake's Honten, Honten 2, Special 2, Special 3, Special 8, Special 9, etc. Not only second-hand books, but also anime & game toys, stuffed animals, Gundam, Kamen Rider and other special effects related goods can be checked. The escalator on the 1st floor of Broadway goes directly to the 3rd floor, so if you are exploring with Mandarake in mind, it is recommended to start from the 3rd floor.

Also, the Mandarake Mon, which is right at the south entrance on the 1F, and the impressive giant row of torii gates at the entrance of the 4F Henya, are iconic landmarks of Broadway! These spots have been featured in various media, so be sure to visit them as a memento of your trip to Japan and brag to your friends!
Mandarake Main Store
Business hours: 12:00~20:00
Closed: Open all year round
※For those who want to know more about Mandarake, check here!
Enjoy gachapon & crane games while looking for souvenirs such as games and popular cards!

The Broadway building is full of specialty stores for games and trading cards! On the 2nd floor, Mandarake Galaxy is stocked with everything from the latest Nintendo Switch game software to retro game software for the Famicom and Super Famicom, making it a true paradise for die-hard game fans! The Card-kan also has trading cards such as Pokemon Cards (Pokeca) and Dragon Ball Heroes, as well as desk pads with popular character designs, making it perfect for finding souvenirs for your trip to Japan!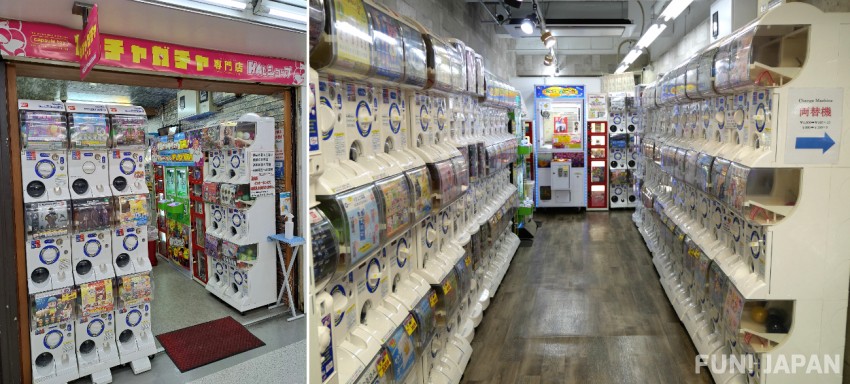 What's unique is that there are many spots in the building where you can play gachapon and crane games. The HAL shop, a gachapon specialty store that expands on the 1st and 2nd floors, is truly a gachapon heaven as soon as you step inside. From popular characters to fun gachapon goods, there's no doubt you'll be distracted by all the options!
In addition to this, there are also game centers where you can enjoy crane games and classic fighting games, so we definitely want you to experience Japanese game culture before you leave!
HAL Shop
Business hours: 11:00 to 20:00
Closed: Open all year round
Look for luxury watches and brand items here! A wide range of products that will impress even the most discerning collector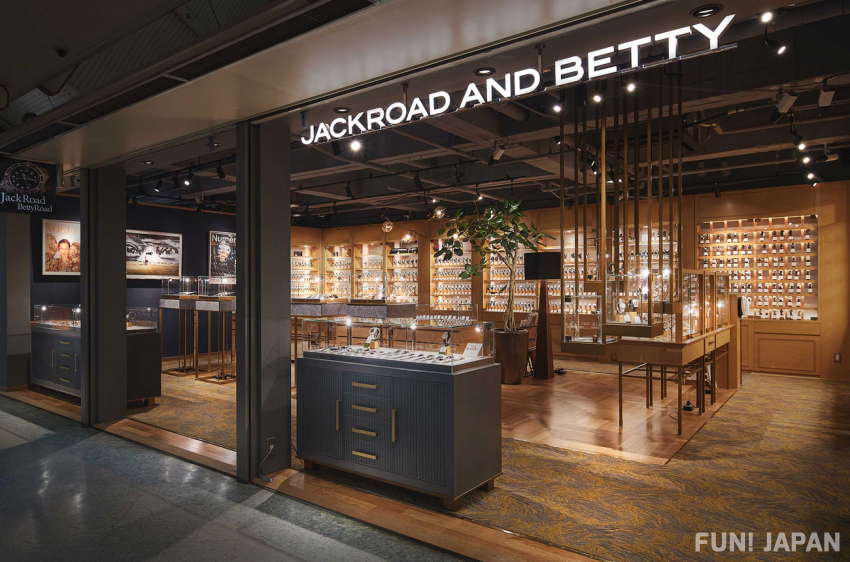 Nakano Broadway is famous as a sanctuary for subculture, but it is also known for its numerous watch specialty stores.
Among them, the men's wristwatch specialty store JACKROAD, which boasts 36 years of establishment on the 3rd floor, and BETTYROAD, a rare women's watch specialty store in Japan, are famous shops where you can purchase various brand watches from the latest new models to good condition used items and one-of-a-kind antique watches.
The number of items is always over 6,000, including those not displayed in the store! In JACKROAD, they handle popular brand watches including Rolex and vintage watches that are attracting attention from collectors around the world, and in BETTYROAD for ladies, you can check high-brand watches, jewelry, and accessories such as Cartier, Chanel, and Hermes.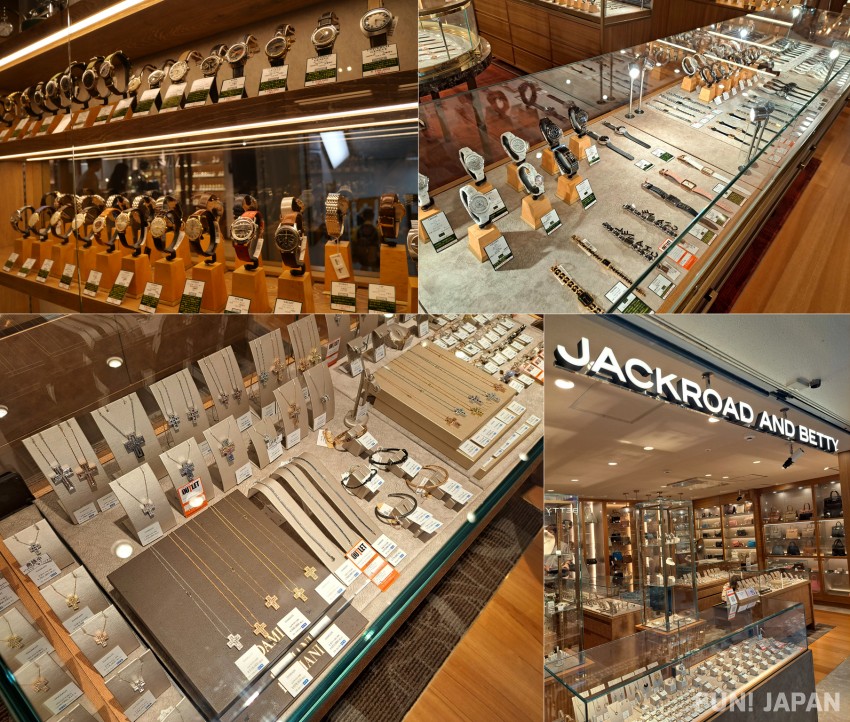 Also, next to the two stores, there is a shop specializing in brand jewelry and bags, so if you are looking for high-quality Japanese brand items, be sure to check it out! They can handle multiple languages such as English, Chinese, Thai, and Korean, and in addition to selling watches, they also buy them.
JACKROAD, BETTYROAD
Business hours: 11:00 to 20:30
Phone reception hours: 9:00 to 21:00
Closed: Open all year round
From Instagrammable sweets to seafood! In fact, Nakano Broadway is also rich in gourmet spots

If you're tired after exploring the upper floors, take a break in the basement floors! One must-try when visiting Nakano Broadway is the colorful soft serve ice cream from Daily Chico! Founded in the same year as Nakano Broadway in 1966, it's a long-established store that has been serving soft serve ice cream in Broadway for over half a century.
The specialty is a jumbo soft serve ice cream made with all 8 flavors. It has 8 layers, so the cream alone is about 30cm tall, and including the cone, it's a whopping 40cm. Even on a weekday afternoon when we visited for coverage, there was a line because it's a famous store.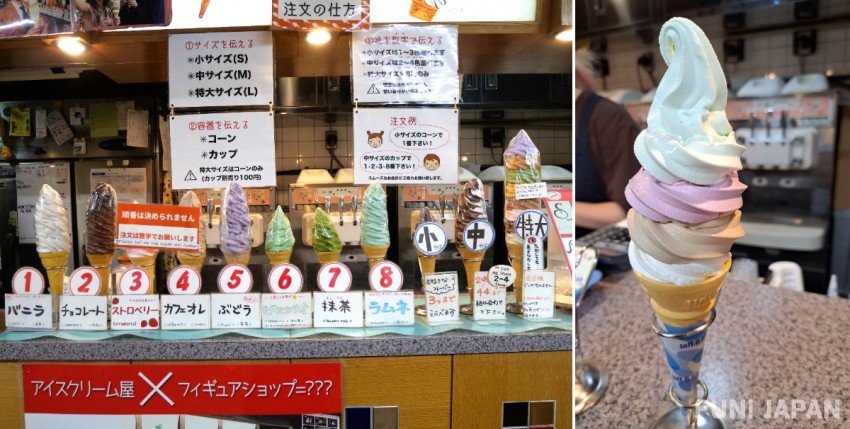 There are total 8 flavors of soft serve ice cream, and while vanilla and chocolate are standard, 2-3 flavors change depending on the season. So, be sure to try it when you visit Nakano! The flavors we ordered during this on-site visit were ①Vanilla, ④Cafe au lait, ⑤Grape, and ⑥Pistachio. (We refrained from ordering all 8 flavors as they seemed to melt quickly due to the season...)
By the way, there is also a standing udon noodle shop adjacent to it, so we recommend experiencing the unique Japanese standing gourmet together.

In the underground mall, there are several supermarkets, butcher shops, and greengrocers. The fishmonger was particularly crowded. At Nakamura Suisan (Nakamura Fisheries), which specializes in sushi and sashimi, they sell a variety of sushi and seafood bowls, including tuna, horse mackerel, salmon, and shrimp sourced from Shizuoka Prefecture, as well as eel bowls. They also sell a lot of ready-to-eat bento boxes that you can eat right after you buy them. With many fresh items priced under 1000 yen, it might be a good idea to buy some after sightseeing and take them back to your hotel to eat!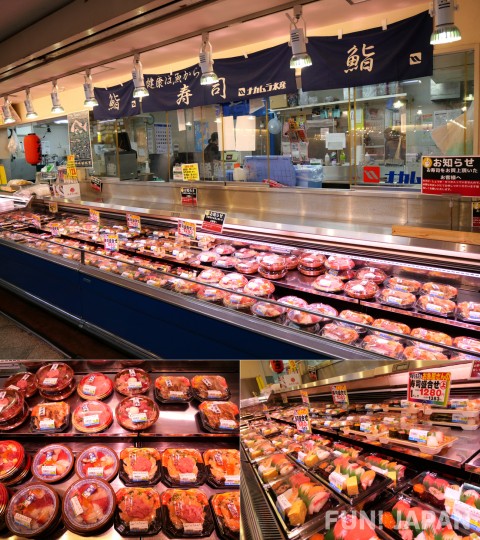 In addition to the two shops introduced this time, there are various cafes and restaurants on each floor of Broadway, and there are many specialty gourmet foods that can only be eaten here, including the flower pudding of the Coffee Zingaro.
When you visit Broadway, we hope you enjoy both shopping and Japanese gourmet food!
Daily Chico
Business hours: 10:00~20:00
Closed: Open all year round
Nakamura Suisan
Business hours: 10:00~19:00
Closed: No holidays
Coffee Zingaro
Business hours: 12:00〜19:00 (Pure Coffee Shop Jingaro)
Closed: Tuesday and Wednesday
Spot Information
Nakano Broadway
Address: 5-52-15, Nakano, Nakano-ku, Tokyo
Access: 5 minutes walk from the north exit of Nakano Station on the JR Line/Tokyo Metro Tozai Line
[Survey] Traveling to Japan
Recommend