Get a rare Japan-exclusive card as souvenir at the thriving Pokémon Trading Card Game specialty store "HARERUYA 2"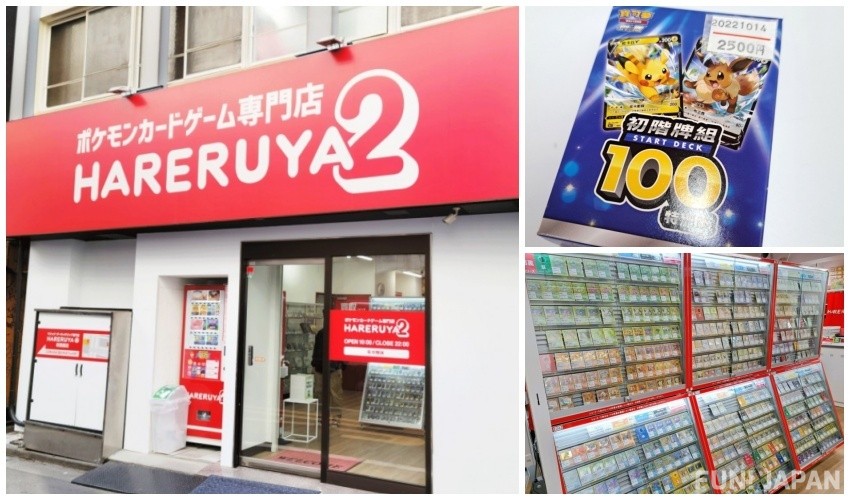 The Pokémon Trading Card Game (commonly known in Japanese as ポケカ / Pokeka, or "Pokémon TCG" in English) is now popular all over the world. Did you know that there are many shops in Akihabara, Japan that sell these cards and goods? This time, we did an on-site coverage at HARERUYA 2, which specializes in Pokémon Trading Card Game! From the latest information on valuable Japanese Pokémon cards, to the wide selection of products in the store, lotteries and vending machines where you can buy rare cards at random. This is how you can enjoy Pokémon cards only at a specialty store!
What is the Pokémon Trading Card Game?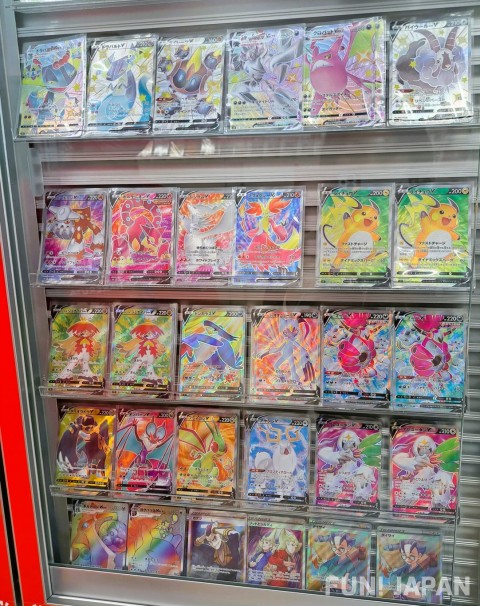 Part of the the worldwide smash hit Pokémon series born in Japan, the Pokémon Trading Card Game is a trading card game that was launched in 1996 and celebrated its 25th anniversary in 2021. It is now so popular that the Pokémon World Championships (Pokémon WCS) is held every year.

Trading card games generally use a stack of cards called a deck to play against an opponent. In the Pokémon card game, players battle using a "deck" that combines a total of 60 cards, including special cards such as Pokémon, Energy, Trainers, and Pokémon V.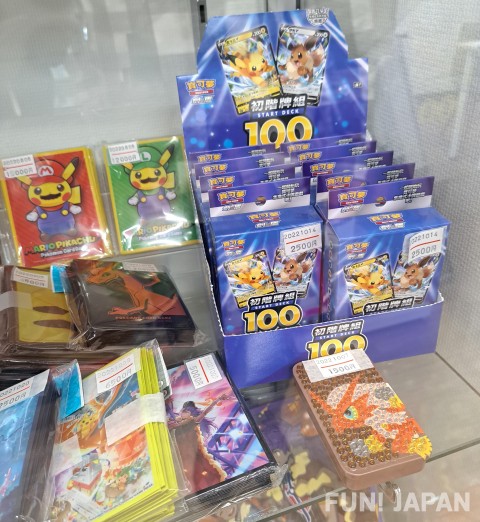 To get a deck, you can purchase a "starter set" or "deck set" that includes a deck and goods such as play mats and coins used in the game, or create your own deck. You need to purchase a "pack" containing 5 to 10 cards and collect them yourself.

However, in recent years, due to the popularity of Pokémon cards, new packs are sold by lottery across the board, and it is very difficult to obtain packs containing Pokémon V cards such as VMAX and VSTAR. So there are also many people who buy stronger cards at second-hand shops, or buy "oripa" (*オリパ - Japanese abbrevation for 'original pack') made by other players or shops.
What is HARERUYA 2, a store specializing in Pokémon Trading Card Game?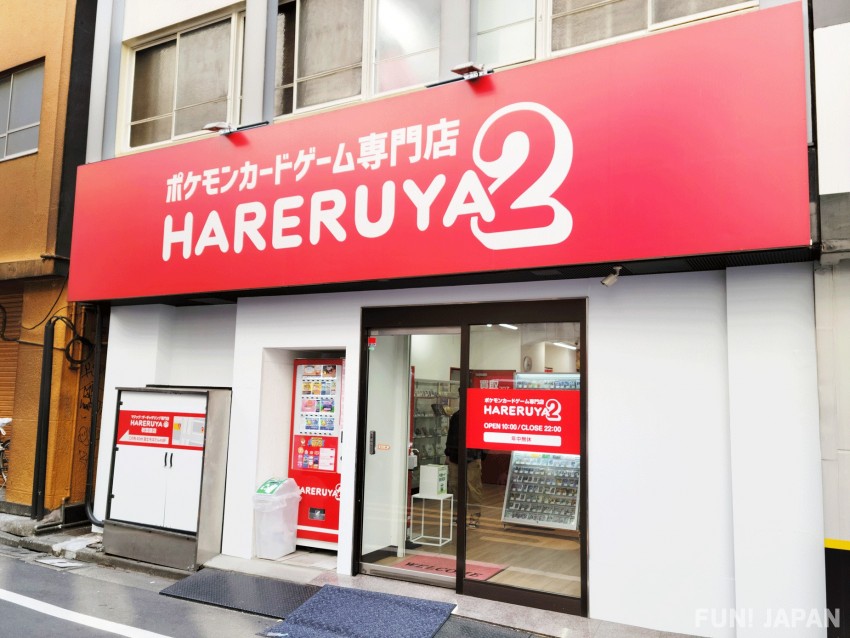 HARERUYA 2 is a Pokémon Trading Card Game specialty store. Located just a 2-minute walk from JR Akihabara Station's Electric Town South Exit, it's easy to access. The store carries a wide variety of Japanese Pokémon cards and goods of all ages, as well as overseas products.


The store has 6 floors from B1F to 5F. B1F is the purchase floor for selling your cards to the store, 1F to 3F are floors for card sales, while there are free play seats on 4F and 5F for Pokémon battles and events.
A paradise for Pokémon fans! The sales floor filled with Pokémon cards is the best part!
From here, we will introduce the card sales floors from 1F to 3F and the purchase floor on B1F.

1F Recent card sales floor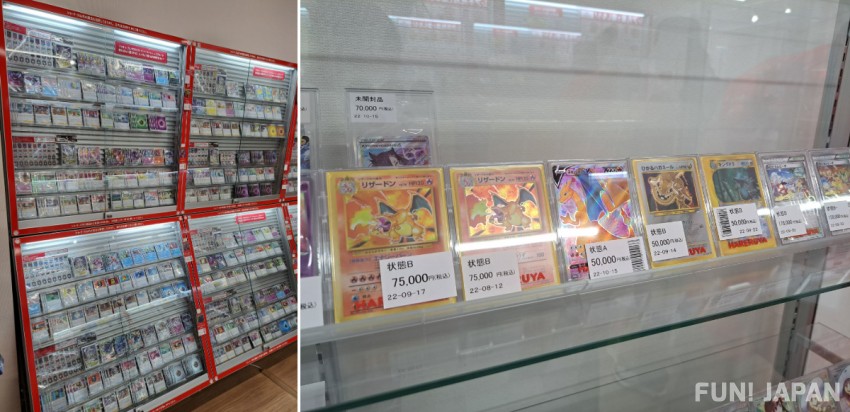 On 1F, you can buy the latest series of Pokémon TCG cards and goods, HARERUYA 2's original deck, and other discount outlet items.

People who visit HARERUYA 2 can be roughly divided into two types: those who want to enjoy official matches and card games, and those who want to add cards to their collection.
In official Pokémon Trading Card Game tournaments, the types of cards that can be used are determined by regulations, and basically only new cards from the last two to three years can be used. For that reason, people who are looking for strong cards, original packs, and decks from the latest series will carefully look around this floor.
Compared to the online shopping on the website, the products sold at the store are more outlet priced, and the popular local Pikachu, Jolteon, Mewtwo, and other cards are also available! There is a 4-level evaluation based on whether the card is dirty or scratched to determine each price. You may be able to purchase an unexpectedly rare card at a very low price!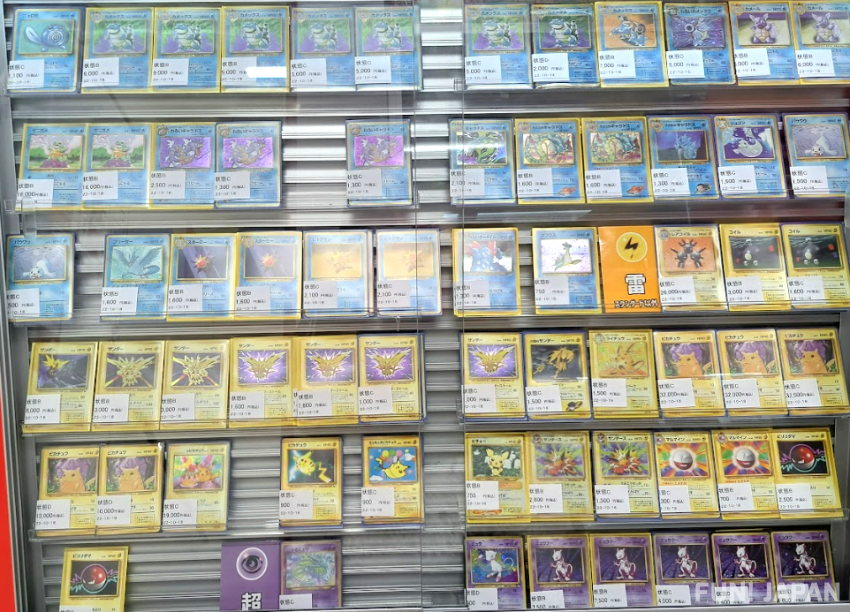 There are also unique initiatives such as a lottery where you can randomly win rare cards for 1,000 to 3,000 yen. If you come in group with friends, couples, or parents and children who are all Pokémon fans, you will surely get excited and have a blast!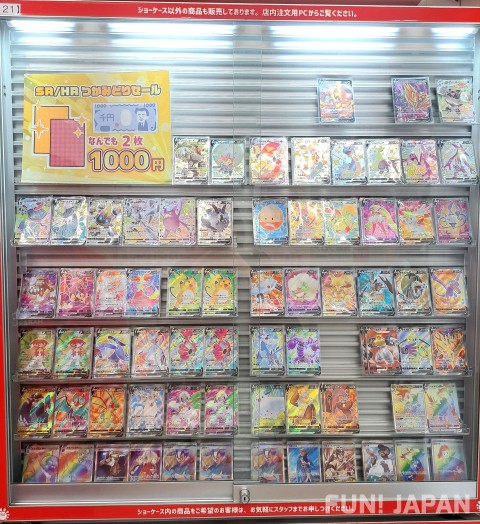 2F Out-of-print card sales floor

For Pokémon collectors who want to collect their favorite Pokémon and Japanese cards, we recommend 2F which is full of old and rare cards.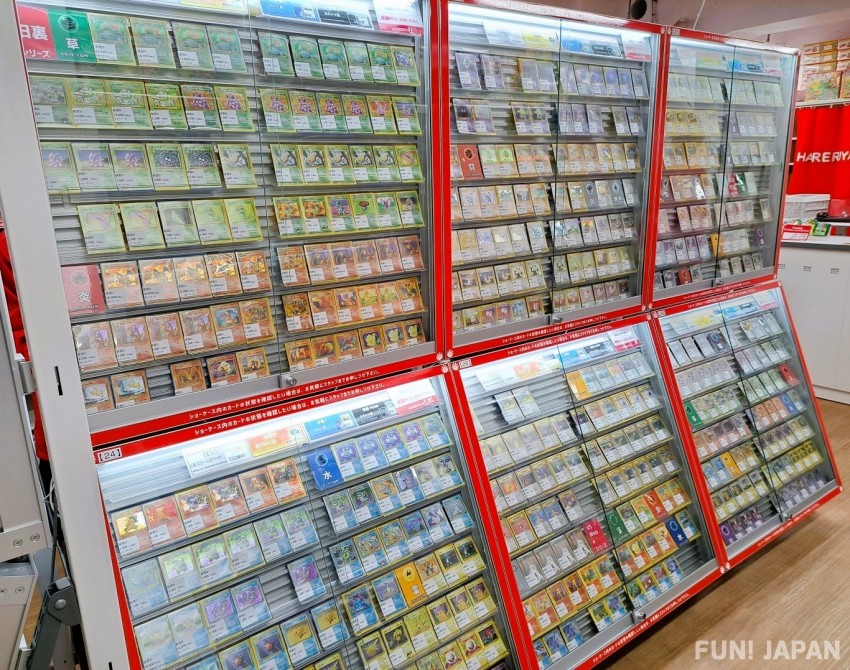 Pokémon TCG cards have been sold in 13 languages and 77 countries (source: 数字で見るポケモン - Pokémon by Numbers) so far, but the reverse side of the Pokémon cards currently in circulation differ between the Japanese version and the other overseas versions. For that reason, even overseas fans seem to have a large collection of Japanese cards.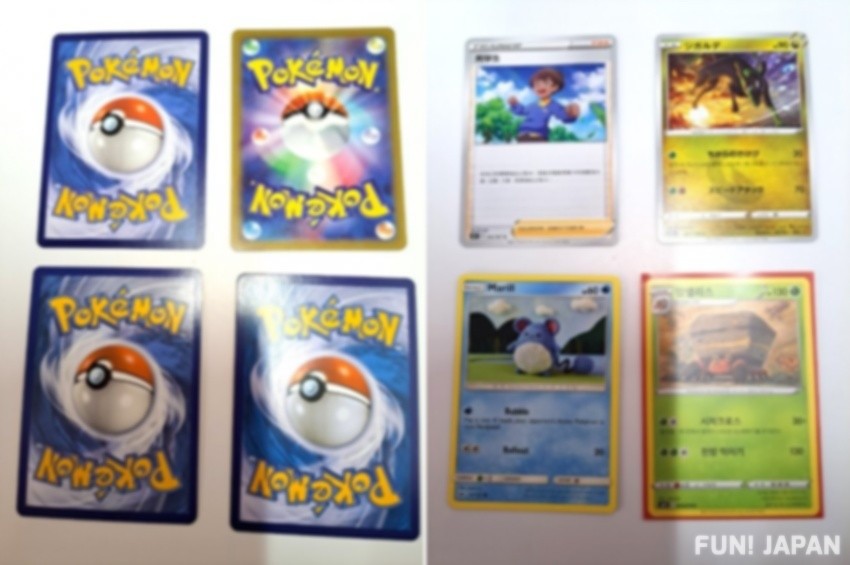 HARERUYA 2 also sells cards with rare designs on the back called "Kyuura" (旧裏 - old card back) which were released as early Japanese versions. Just by looking around the store, you can find a lot of familiar Pokémon!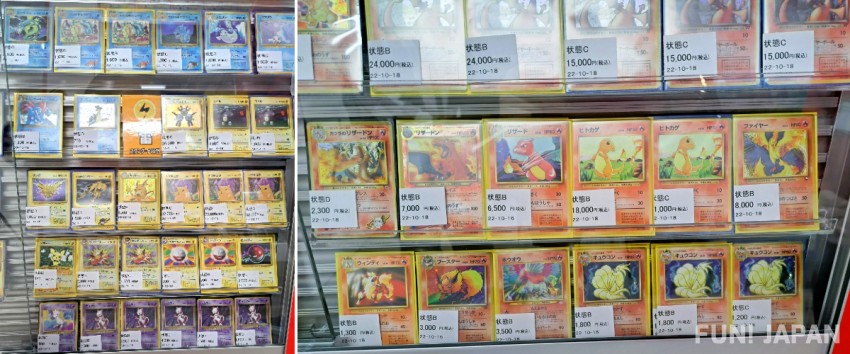 Another attraction of this floor is the special bargain card corner and bargain corner where you can purchase starting from 50 yen per card at the lowest price. Time will fly when you are so absorbed in taking out the cards one by one to search for the design or Pokémon you're looking for!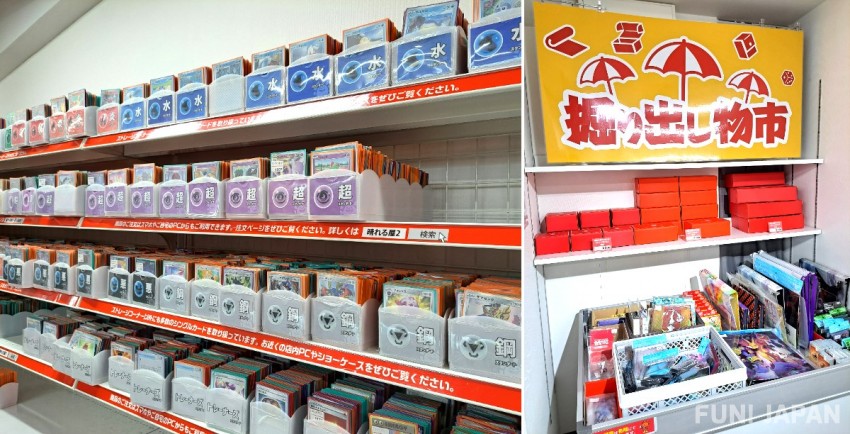 There are also plenty of Pokémon TCG battle-related goods, including items that are hard to find, such as limited edition items that were released in the past and goods from overseas! In card battle matches, the series of cards that can be used is specified, but other goods from the past or overseas versions are welcome, thus many people will bring along their favorite Pokémon and designs. Just looking at the goods in the store will make you excited!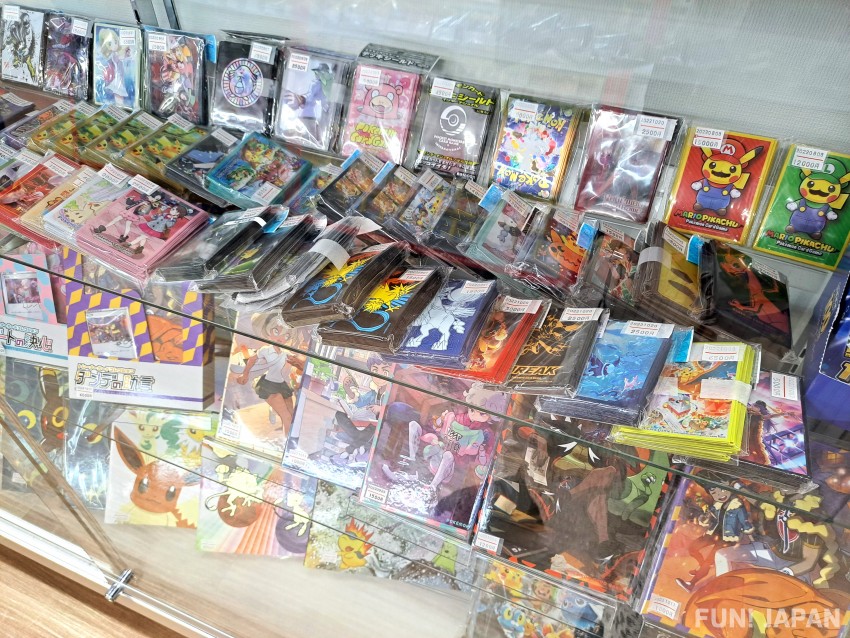 3F Receipt of mail order & store order card / B1F purchase counter

3F is the product reception counter. Here you can pick up items that you ordered in advance on the website or from the computers on 1F or 3F of the store. There is also an original pack vending machine. How about trying your luck here?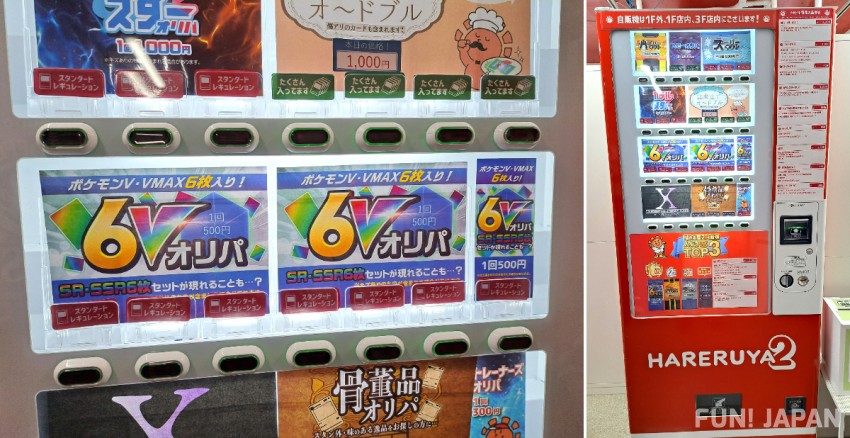 B1F specializes in purchasing cards from customers. If you wish to sell a card, the store will make a purchase of the card from you if you bring your residence card (if you are a tourist, bring your passport with your current address written in the address column). If you have cards or goods lying around at home, be sure to stop by the purchase counter during your sightseeing in Tokyo and make some money!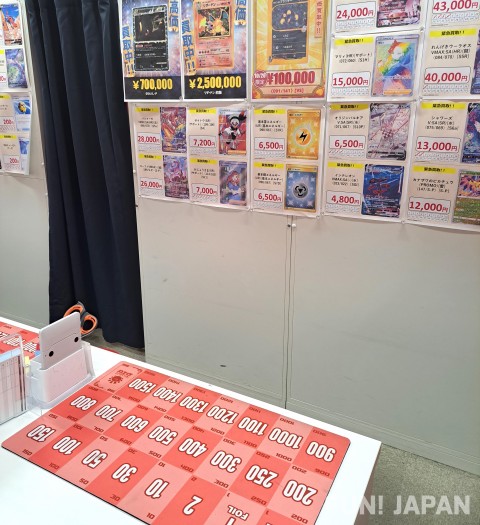 Shop Information
HARERUYA 2 (晴れる屋2)
Address: Mikasa Building, 1-2-5 Sotokanda, Chiyoda-ku, Tokyo
Access: 2 minutes walk from JR Akihabara Station Electric Town South Exit
Business hours: 10:00-22:00
Closed: Open all year round
Related links
[Survey] Traveling to Japan