【Japan's Famous Castle Series】Shiga Prefecture "Azuchi Castle", a castle built by Nobunaga Oda with Japan's first skyscraper tower keep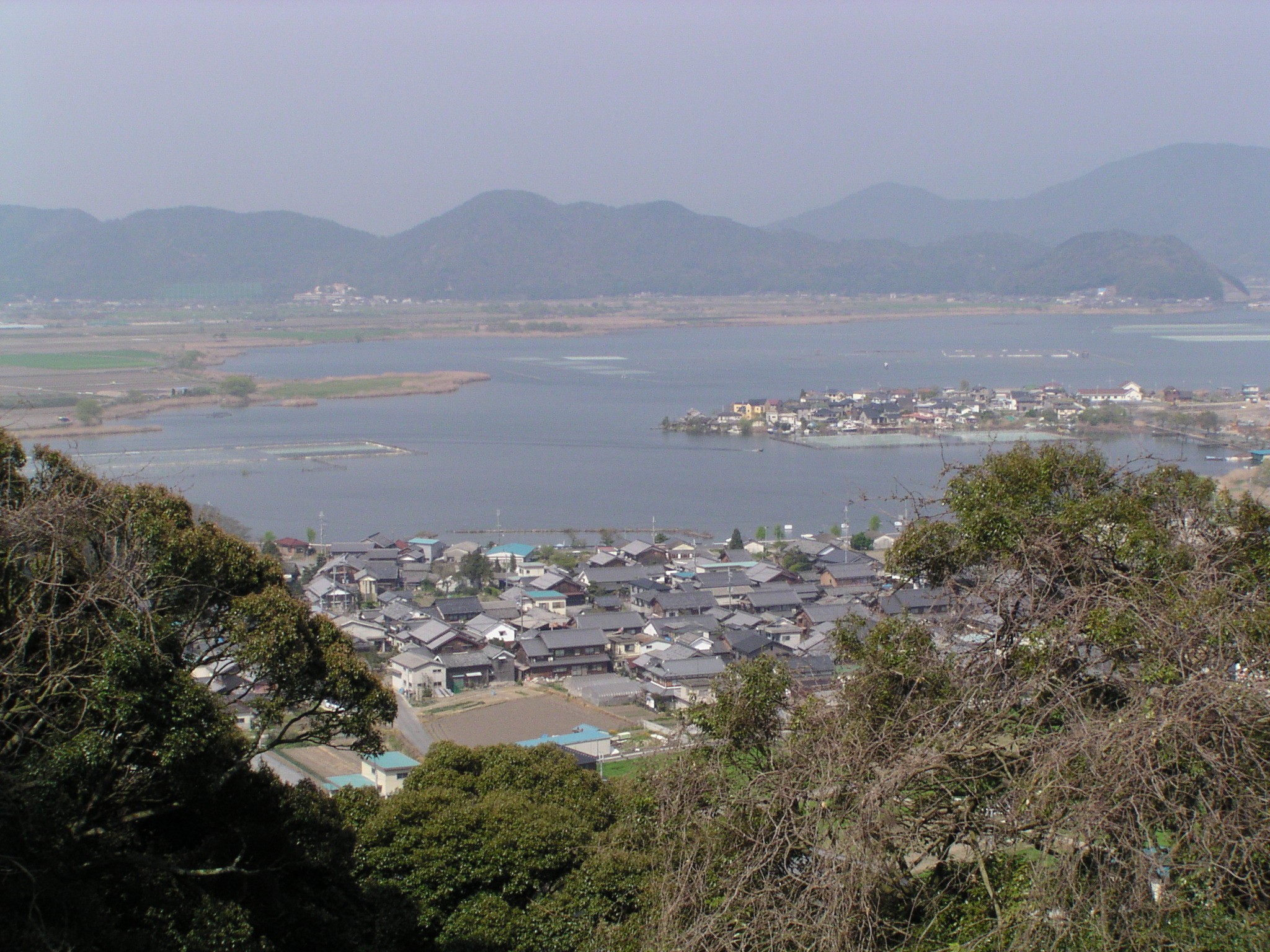 Shiga Prefecture is home to Hikone Castle, which is a national treasure of Japan and one of the 12 surviving castle towers. However, castle enthusiasts may find Azuchi Castle (安土城 / Azuchi-jo) with only the ruins of the castle remain more appealing than Hikone Castle. This is because this is the first castle in Japan to have a castle keep, and is also seen as the origin of modern Japanese castles.

What's even more noteworthy is that, this castle was built by the famous Sengoku warlord Nobunaga Oda himself!
"Nobunaga Oda" - the warlord who built Azuchi Castle in Shiga Prefecture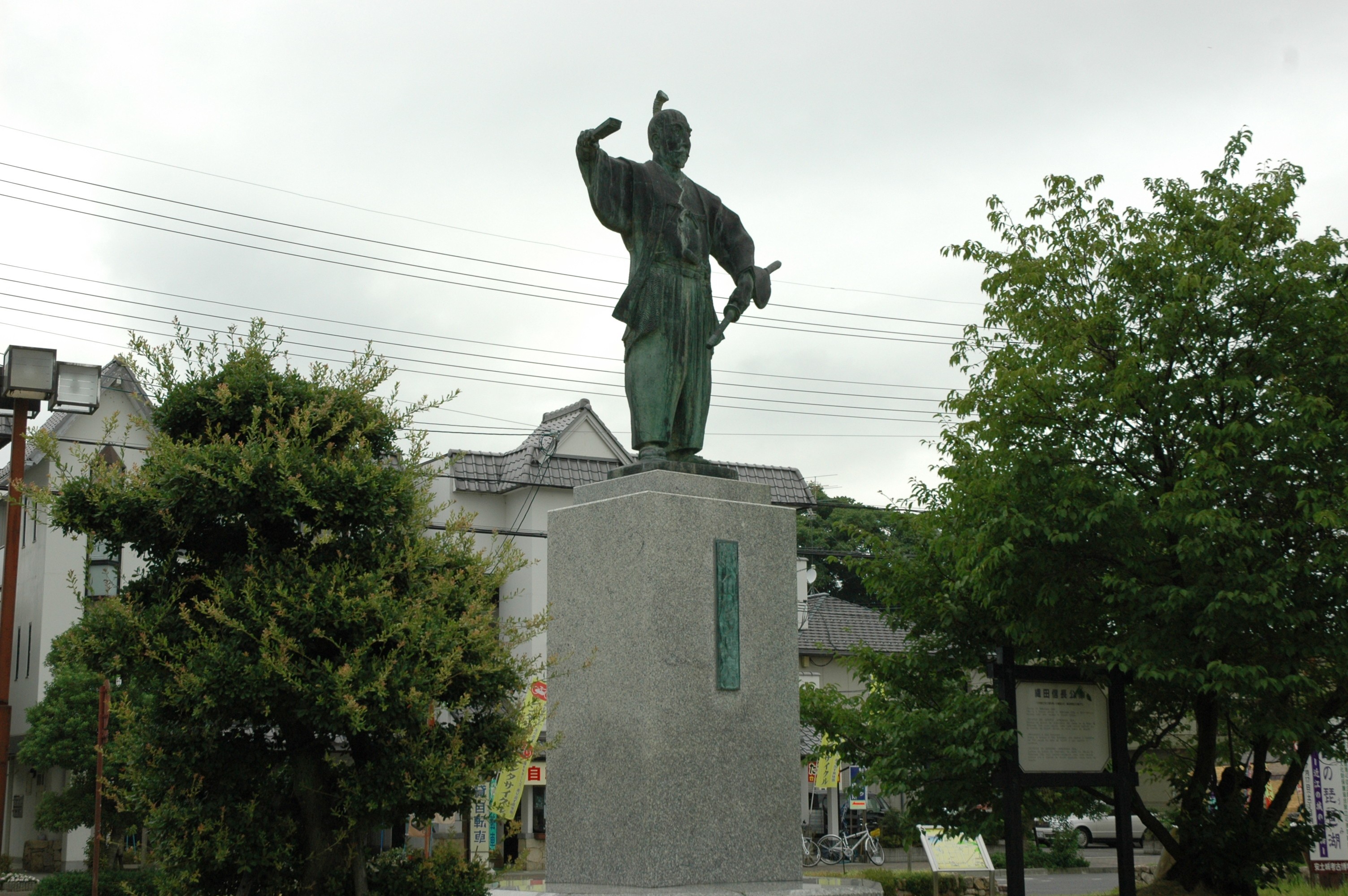 "Nobunaga Oda", who is highly popular in Japanese history as one of the three great warriors of the Sengoku period, has had capability, influential power, and fame since such time.

However, just as Nobunaga was about to extend his power to the Chugoku region, the "Honnoji Incident" occurred. Even to this day, his body has not been found and his whereabouts remain a mystery. The mainstream theory is that there were so many burnt corpses that they could not be identified, but there is also a theory among some fans that "Maybe Nobunaga actually got away?"
In Japan, there are only a few castles associated with Nobunaga Oda, who died at the age of 49. One of them is Azuchi Castle, which Nobunaga actually took part in building its stone walls, castle, and keep. The basis of Japanese castles that has been passed down to future generations was also established by Nobunaga.
"Azuchi Castle", Nobunaga Oda's base for unification of Japan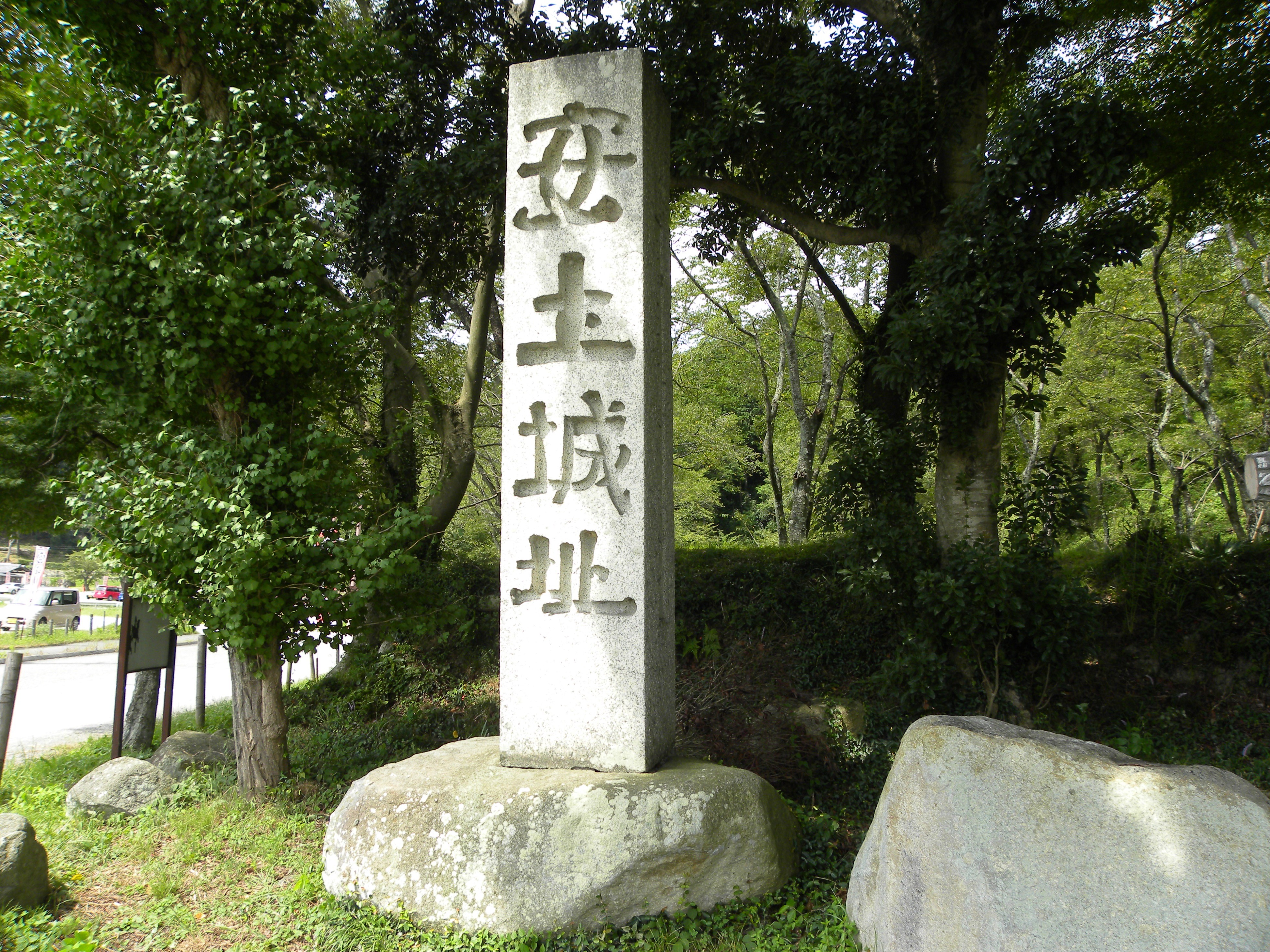 Construction of Azuchi Castle began in 1576 as a base for the unification of Japan and the residence of Nobunaga Oda. Nagahide Niwa acted as the construction magistrate, and the castle was built on the summit of Mt. Azuchi on the east coast of Lake Biwa in Shiga Prefecture (present-day Omihachiman City, Shiga Prefecture).

At that time, Nobunaga Oda was in conflict with Kenshin Uesugi in Echigo Province (now Niigata Prefecture). He wanted to accelerate the unification of the whole country, so it was important to build a castle in Azuchi, which is located between Kyoto and Echigo, and has the convenience of being able to use the water transportation of Lake Biwa.
Azuchi Castle and Tenshu (castle keep), the culmination of castle construction techniques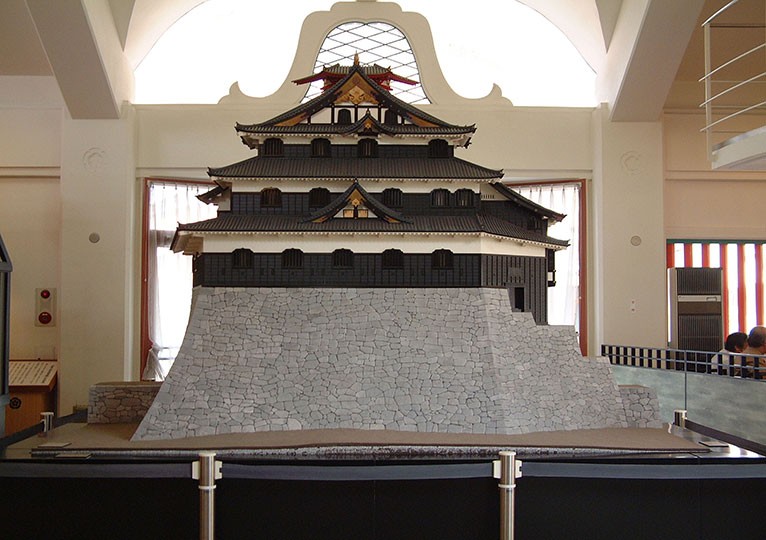 Azuchi Castle took about three years to complete. At that time, it was a castle with a novel design that broke the conventional concept of a castle.

This is because Azuchi Castle was the first castle in Japan to have a castle keep, known as Tenshu in Japanese (天守 - for Azuchi Castle it is sometimes written as '天主' which means owner of heaven). The castle keep of Azuchi Castle is about 32 meters high, almost the same as that of Himeji Castle. Because it is located on the summit of Mt. Azuchi at an altitude of about 199 meters, its appearance is even more magnificent.
Azuchi Castle's keep is not only high, but it is also characterized by being built with "5 layers of roofs and 7 floors". This is a structure with 5 layers of roofs on the outside and 7 floors on the inside (6 floors above ground and 1 floor below ground).
When viewed from the outside, the first to third layers were painted black, while the fourth layer was painted vermilion. The fifth layer was covered with gold leaf on both the outside and inside, and the inner room is said to have been decorated with sumi-e (ink paintings) and golden blue.
With gorgeous vermilion, blue, and gold leaf roof tiles, and a vermilion octagonal watchtower-shaped castle keep, Azuchi Castle is said to be the culmination of Japan's finest technology and art at that time. Its splendor was even praised by a missionary who visited from Europe, saying, "It is comparable to the most magnificent castles in Europe. It is far more elegant and magnificent than our towers."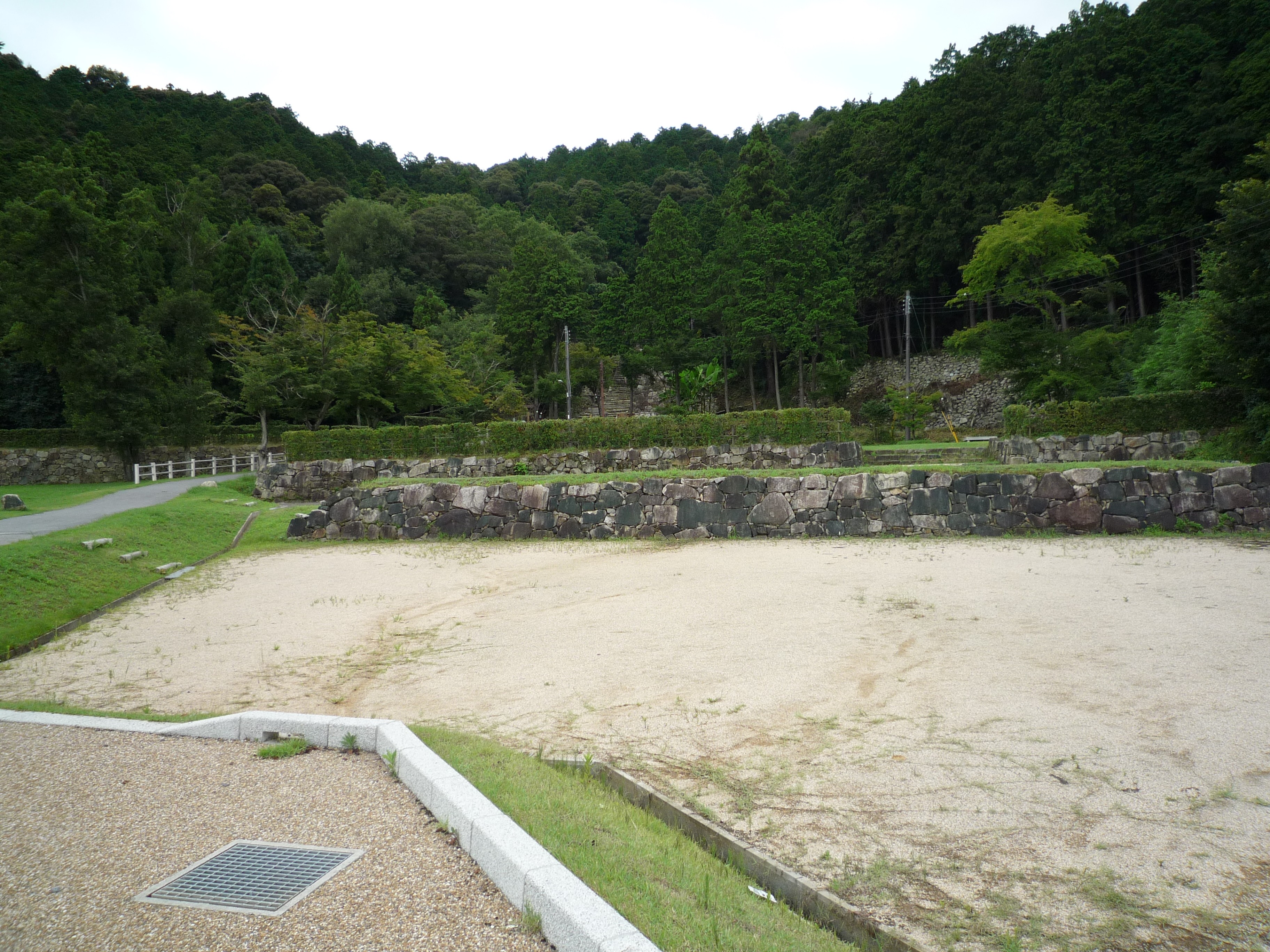 One of the features of Azuchi Castle is its stone walls. Azuchi Castle, made entirely of stone wall construction (stone arrangement), is known for being the first castle in Japan to have a stone wall over 10 meters high. The stone wall continues from the Otemon gate, the main entrance, to the "Otemichi" road leading to the castle tower and Honmaru (main enclosure) built at the top of the mountain.

Azuchi Castle is said to have become the prototype of early-modern castles, as castles built entirely of stone wall construction did not exist in conventional castles.
Azuchi Castle - The castle full of mysteries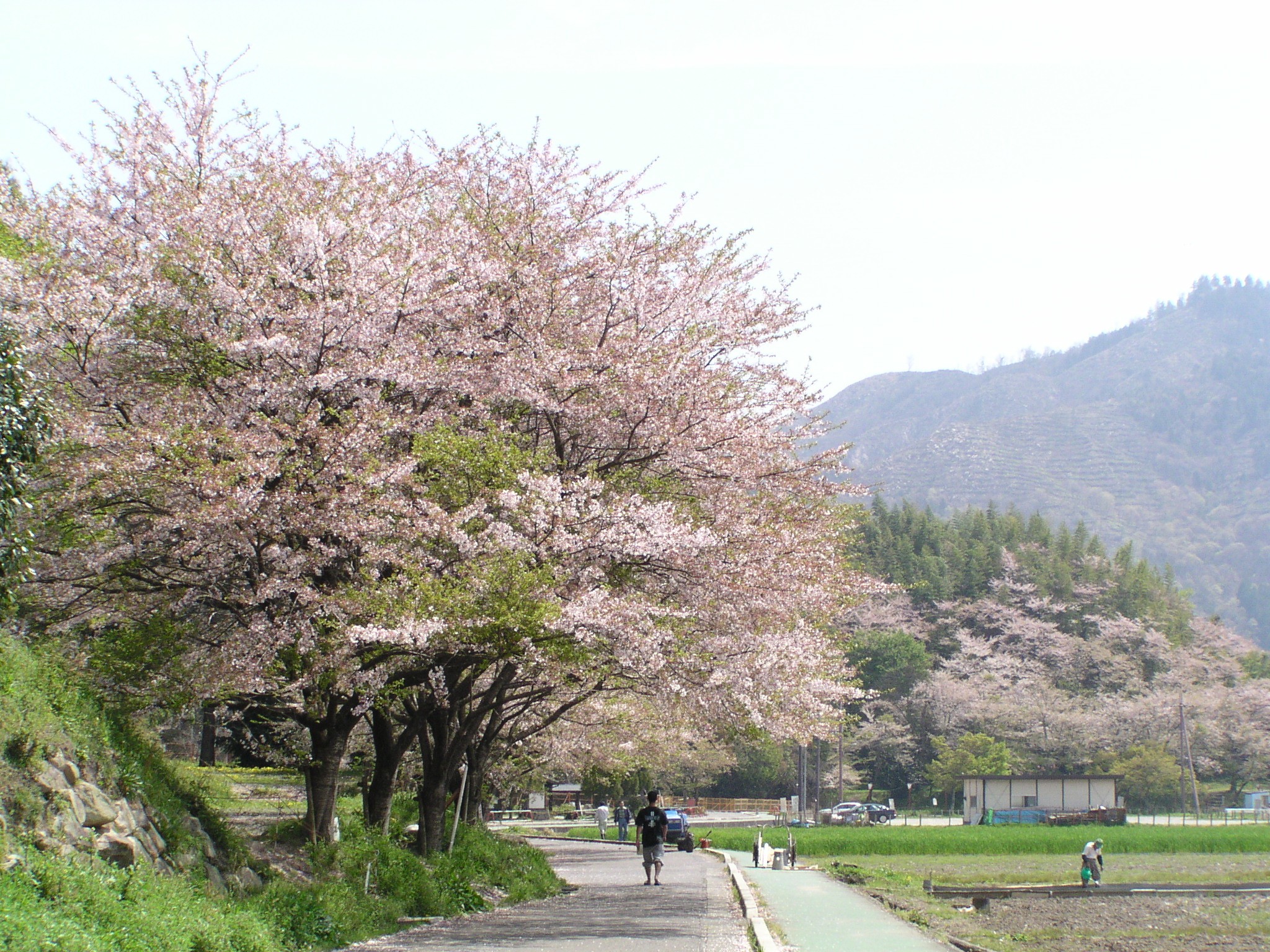 According to historical records, Azuchi Castle attracted a great deal of attention from the people of the time after its completion. It was so popular that even feudal lords and peasants of that time paid an admission fee just to visit it, just like museums and amusement parks in modern time.

However, such culmination of architectural technology was destroyed in a fire of unknown cause in 1582 after the "Honnoji Incident", just six years after it was built. Today, only the ruins of the castle remain, and just like the death of its builder, Nobunaga Oda, Azuchi Castle is still full of mysteries.
Learn about the history of Azuchi Castle at facilities in Omihachiman City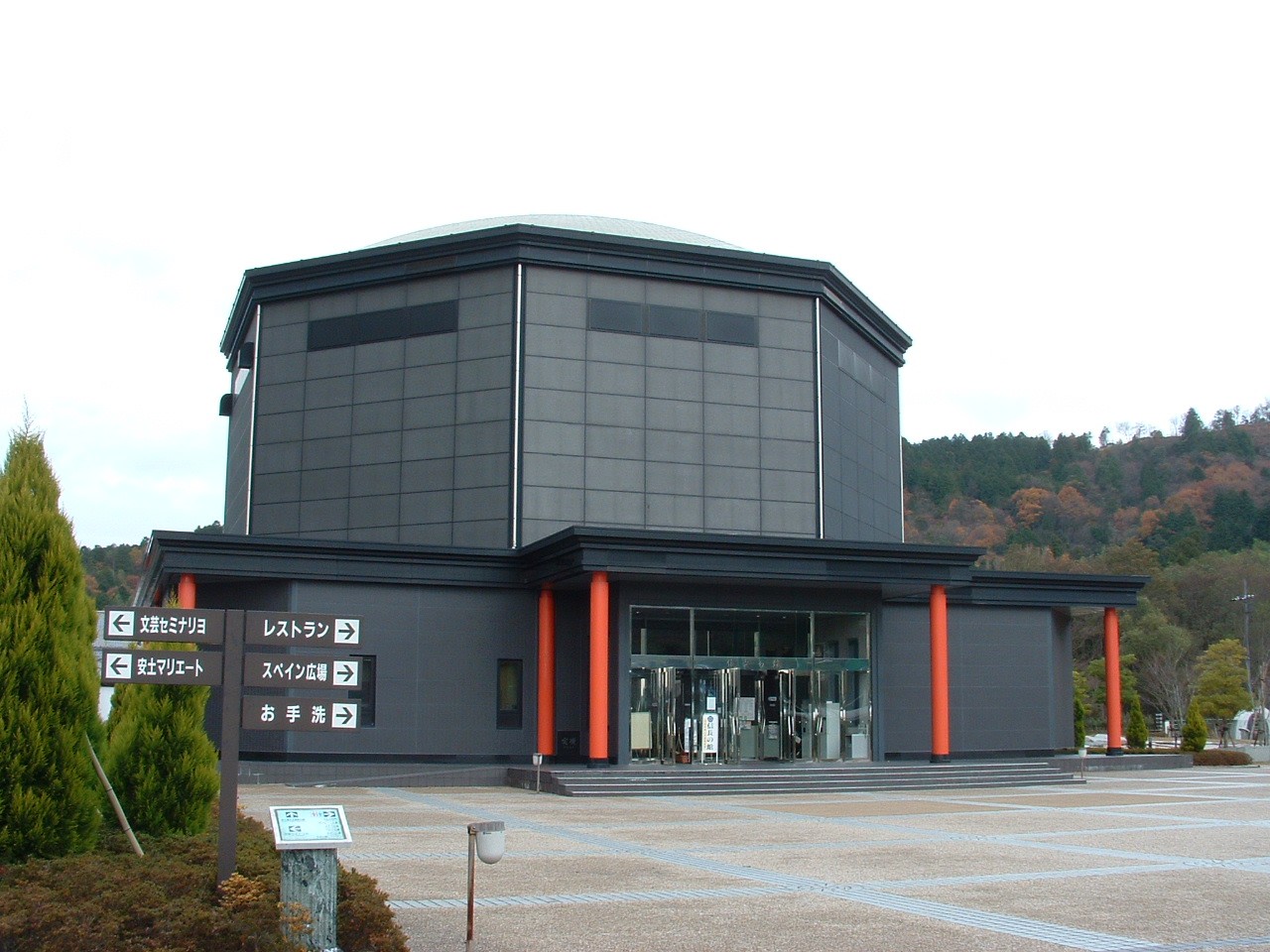 Azuchi Castle, which had a variety of influences on castle architecture in later generations, is now counted as one of "Japan's Top 100 Castles". Although the gorgeous architecture has been destroyed by fire, it is still visited by many tourists as a castle related to Nobunaga Oda.

Facilities such as the Azuchi Castle Museum in Omihachiman City, the Shiga Prefectural Azuchi Castle Archaeological Museum, and the Nobunaga's Castle Museum (above photo) display everything from historical materials related to Azuchi Castle to a gorgeous model of the castle tower. If you are interested, be sure to go take a look!
Azuchi Castle (安土城 / Azuchi-jō)
Address: Shimotoira, Azuchicho, Omihachiman City, Shiga Prefecture
Business hours: 8:30-16:00 (Last admission 16:00) *Changes depending on the season
Fee: 700 yen for adults, 200 yen for children (Admission fee for Mt. Azuchi)
Access: About 7 minutes by taxi from JR Biwako Line "Azuchi Station"
Azuchi Castle Museum (安土城郭資料館 / Azuchi Jōkaku Shiryōkan)
Address: 700 Konaka, Azuchicho, Omihachiman City, Shiga Prefecture
Opening hours: 9:00-17:00 (Last admission 16:30)
Closed: Mondays, year-end and New Year holidays
Fee: 200 yen for adults, 150 yen for students, 100 yen for children
Access: About 1 minute on foot from JR Biwako Line "Azuchi Station"
Shiga Prefectural Azuchi Castle Archaeological Museum (
滋賀県立安土城考古博物館 / S

higa-kenritsu Azuchi-jō Kōko Hakubutsu-kan)
Address: 6678 Shimotoira, Azuchicho, Omihachiman City, Shiga Prefecture
Opening hours: 9:00-17:00 (Last admission 16:30)
Closed: Mondays (closed the next day if Monday is a national holiday), December 28th to January 4th
Fee: 500 yen for adults, 320 yen for high school and university students, free for junior high school students and younger
Access: About 14 minutes by Omihachiman Citizen Bus bound for "Bungei no Sato" from "Azuchi Station" on the JR Biwako Line
Nobunaga's Castle Museum (安土城天主 信長の館 / Azuchi-jō Tenshu Nobunaga no Yakata)
Address: 800 Kuwanomiji, Azuchicho, Omihachiman City, Shiga Prefecture
Opening hours: 9:00-17:00 (Last admission 16:30)
Closed: Mondays (closed the next day if Monday is a national holiday), December 28th to January 4th
Fee: 610 yen for adults, 350 yen for high school and university students, 170 yen for elementary and junior high school students
Access: About 25 minutes on foot from JR Biwako Line "Azuchi Station", or about 5 minutes by taxi
[Survey] Traveling to Japan