【FUN! JAPAN Recommended】8 Best Cherry Blossom Viewing Spots in Hokkaido, Japan
Hokkaido, the northernmost part of Japan, is the region where cherry blossoms bloom the latest. Therefore, even if you miss the cherry blossoms in other areas, there are still chances that you can enjoy events such as cherry blossom viewing and cherry blossom festivals here.
Below are 8 cherry blossom spots selected by FUN! JAPAN from all of Hokkaido's cherry blossom spots. They are all full of highlights, such as spots where you can stroll while surrounded by many cherry blossoms, and splendid cherry blossoms that are over 100 years old - visit them when you go to Hokkaido in cherry blossom season!

1. Central Hokkaido Area: Hokkaido Shrine, Sapporo City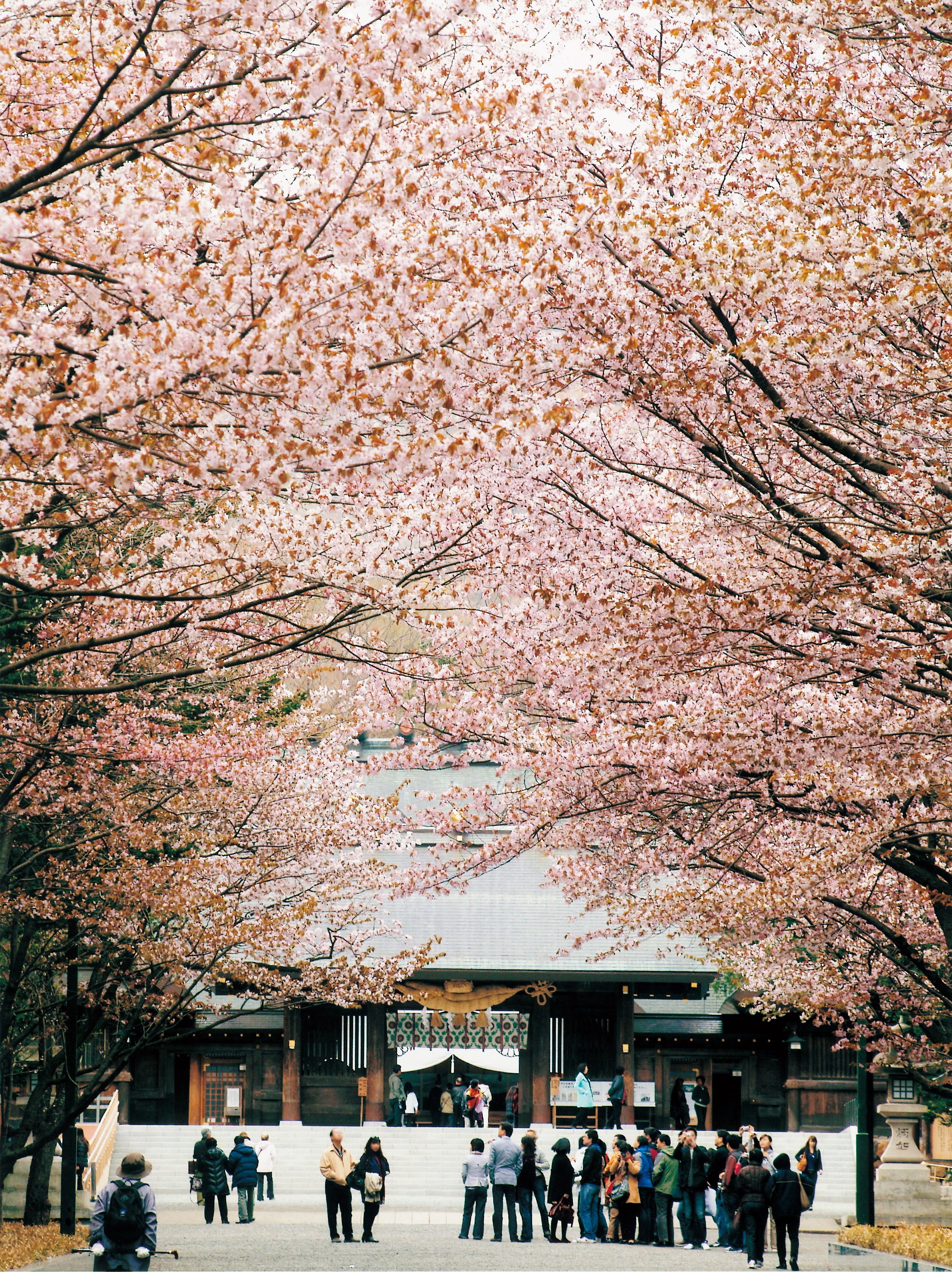 "Hokkaido Shrine" (北海道神宮 / Hokkaido Jingu) is one of the best power spots in Hokkaido. The main shrine was built at the current location in 1871 after the objects of worship (御霊代 / mitamashiro - object in which the deity resides) were relocated from Tokyo to Hakodate. About 1,400 cherry trees, such as Somei-yoshino and Ezoyama-zakura, plus about 250 plum trees are planted at Hokkaido Shrine. Especially, the row of cherry trees along the Omotesando leading from the second torii gate to the main shrine is spectacular. During the cherry-blossom viewing season, food stalls are set up and you can fully enjoy the festival atmosphere.

Spot Information
2. Central Hokkaido Area: Temiya Park, Otaru City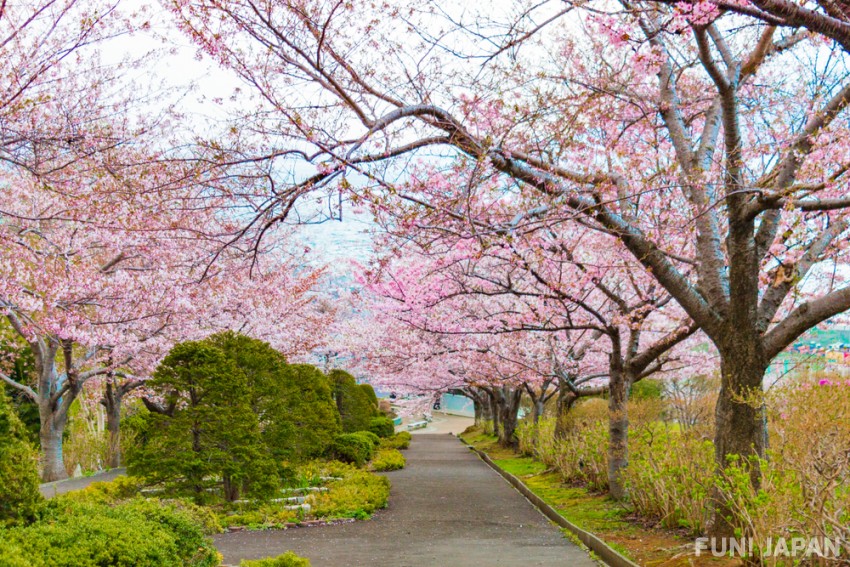 Temiya Park (手宮公園 / Temiya Koen) is located on a hill overlooking Otaru city. About 700 cherry blossom trees, such as the brightly colored Ezoyama-zakura that represents Hokkaido and the pale pink Somei-yoshino cherry blossoms, decorate the 19.7ha park. The view from the park is what makes the similar pink-color contest even more prominent. From this park on a hill, you can see the blue sea and snowy mountains - the green of the trees, the blue of the sky and the sea, and the color of the cherry blossoms create a beautiful contrast.

Spot Information
3. Central Hokkaido Area: Sakurayama Park, Fukagawa City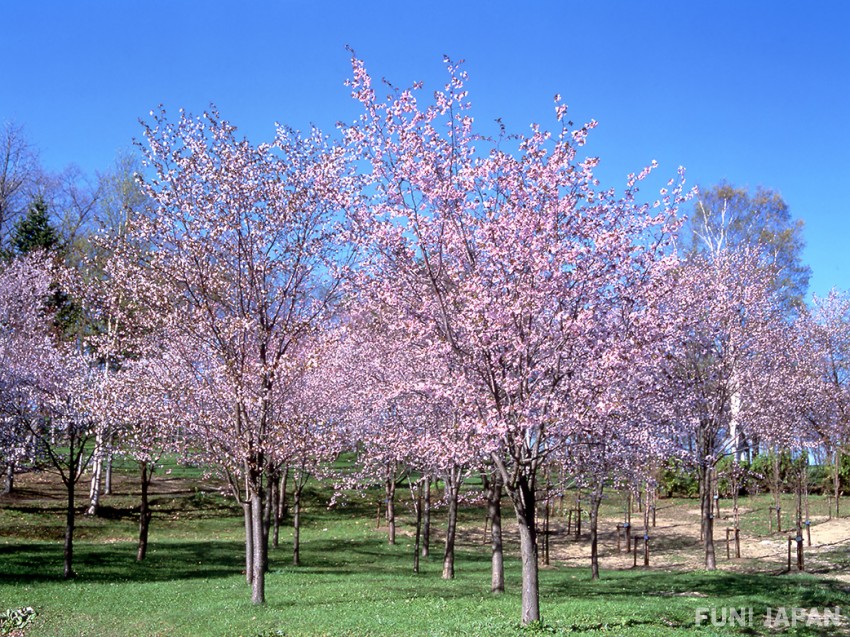 "Sakurayama Park" (桜山公園 / Sakurayama Koen) is a natural park where about 800 cherry blossom trees, such as Ezoyama-zakura and Chishima-zakura, bloom in their full glory. The "Citizen Sakura (Cherry Blossom) Festival" is held every year when the cherry blossoms are in bloom, and is crowded with many people visiting. Another charming point is that you can enjoy picnic while watching the cherry blossoms on a picnic sheet. There is also a steam locomotive on display in the park, creating a nostalgic atmosphere with the cherry blossoms.

Spot Information
4. Central Hokkaido Area: Nijukken Road Cherry Blossom Trees, Shinhidaka Town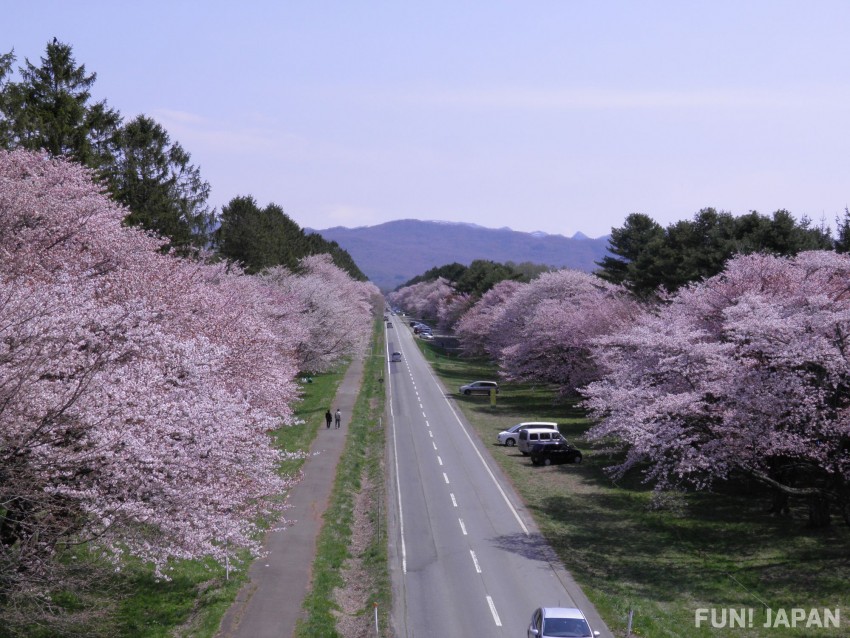 "Nijukken Road" (二十間道路 / Nijukken Doro) is a straight road lined with cherry blossom trees that stretches for 7km. When the cherry trees were transplanted, the width of the road on both sides was exactly 20 ken (approximately 36m), hence the name of the road. With more than 2,000 cherry blossom trees, it is one of the best cherry blossom trees in Japan and has been selected as one of the Top 100 Cherry Blossom Spots. 70% of the cherry trees planted here are Ezoyama-zakura, and more than half are over 90 years old. The "Shizunai Sakura (Cherry Blossom) Festival" is held every year when the flowers are in bloom, and stalls sell the local special products and more. Take a leisurely stroll through the tunnel of cherry blossoms in full bloom and enjoy an extraordinary experience.

Spot Information
5. Southern Hokkaido Area: Goryokaku Park, Hakodate City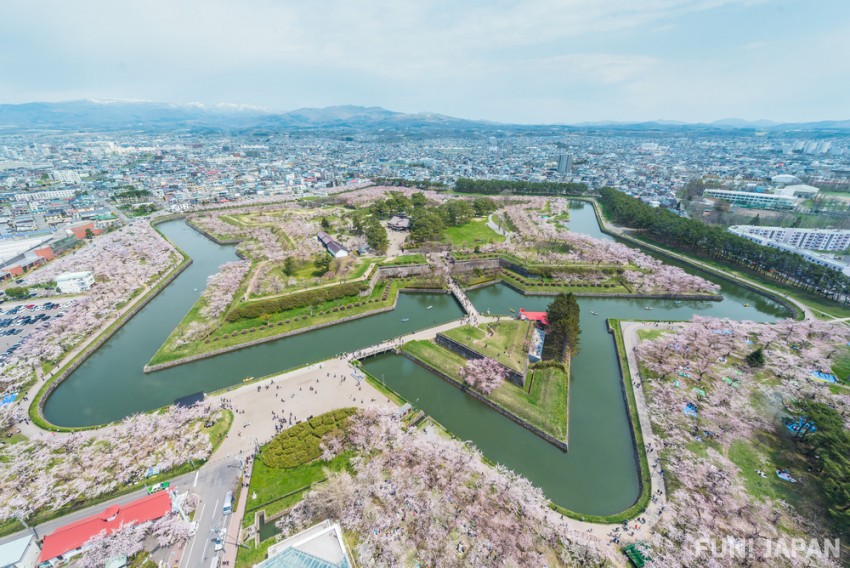 Goryokaku (五稜郭) was the last fortress of the Edo Shogunate army that fought against the new government army in the Meiji era. It was Japan's first Western-style fortress with a beautiful star shape. Approximately 1,500 cherry blossom trees bloom in full glory on the vast grounds of Goryokaku Park, the former site of the the fortress. In addition, it is lit up at night to create a fantastical world (cancelled in 2022). The adjacent Goryokaku Tower is a recommended spot to see the entirety of Goryokaku in bloom. It is a scenic spot where you can see the city of Hakodate and the Tsugaru Strait.

Spot Information
6. Southern Hokkaido Area: Aobagaoka Park, Mori Town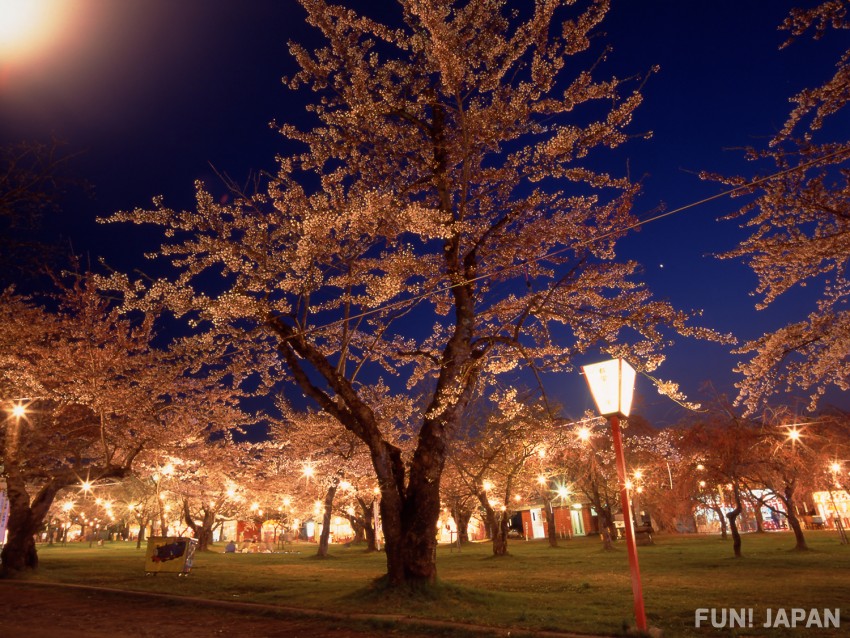 At Aobagaoka Park about 1,000 cherry blossom trees bloom beautifully together, including some Somei-yoshino cherry trees that are over 100 years old, originally planted when the park opened in 1914. There are also rare cherry blossom varieties unique to Mori Town, such as Morikomachi and Aoba Shidare. Moreover, every May, the "Mori-machi Sakura (Cherry Blossom) Festival" since 1950 is held. Apart from the light up- event, you can also find yakiniku using lamb called 'Genghis Khan' (ジンギスカン / Jingisukan) sold at stalls. Let's savour Genghis Khan while enjoying the cherry blossoms in Hokkaido!
Spot Information
7. Eastern Hokkaido Area: Higashimokoto Shibazakura Park, Ozora Town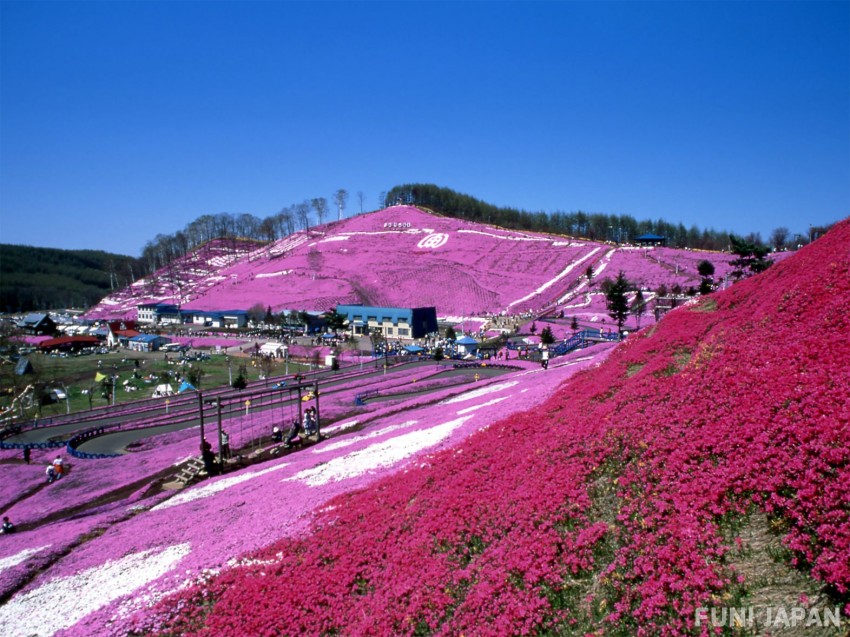 Higashimokoto Shibazakura Park (東藻琴芝桜公園 / Higashimokoto Shibazakura Koen) becomes a velvet carpet of pink, red, and white moss phlox (芝桜 / Shibazakura or 'grass cherry blossom') on a site that includes a small hill of about 10 hectares every may. During the peak season, the "Shibazakura Festival" is held. By the way, do you know the number of petals of moss phlox? Usually there are 5 petals, but in rare cases there are lucky moss phlox with 4, 6 or 7 petals. How about looking for them while walking around the park?

Spot Information
8. Eastern Hokkaido Area: Notsuke no Chishimazakura, Betsukai Town
"Notsuke no Chishimazakura" (野付の千島桜 - Kuril Cherry Tree at Notsuke) is said to be one of the trees that was transplanted to the grounds of Notsuke Elementary School by an elementary school student around 1906. It is estimated to be over 100 years old and has been designated as a Natural Monument of Betsukai Town. During the full bloom in May, white and pale pink flowers adorn the broadly spread branches. The trees are relatively low because they survived the severe cold and strong winds from the strait, so there is no need to look up at the flowers. Since it is on the premises of an elementary school, it is recommended to watch it when the children are not at school.

Spot Information
[Survey] Traveling to Japan
Recommend