Japanese Local Cuisine Reproduction Series ⑦: Fukushima Prefecture: Konnyaku Shiraae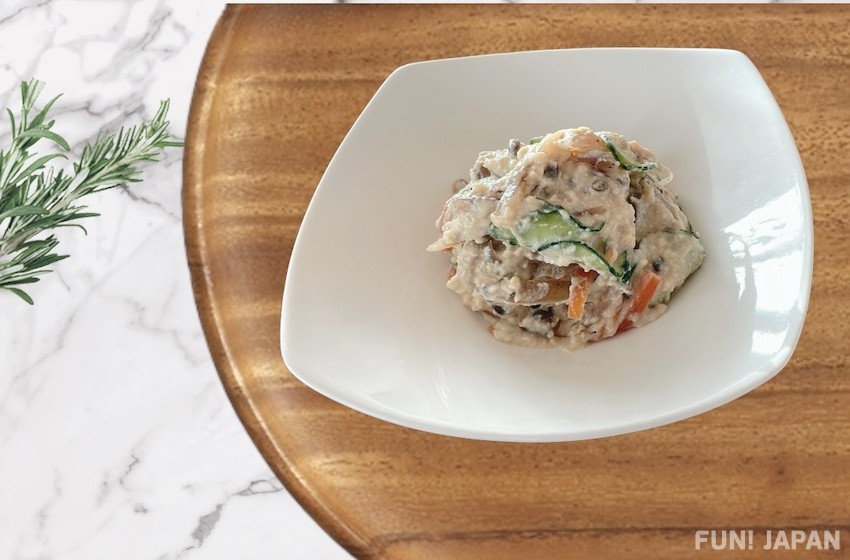 Those who see konnyaku shiraae (こんにゃく白和え - konjac mashed salad) for the first time may wonder, "Is this a shojin ryouri (精進料理 - Buddhist cuisine)?" It's not exactly a shojin ryouri, but it's meat-free, delicious, tender, and healthy - just as shojin ryori does.
Konnyaku shiraae is a local cuisine of Fukushima Prefecture. Let's learn how to cook konnyaku shiraae while exploring why it was born in Fukushima! Moreover, why not try making one yourself with our recommended recipe?
What is a Japanese local cuisine?
Local cuisine (郷土料理 / Kyodo-ryouri) refers to dishes suitable for the climate that have been eaten in a local area for many years by using regional products. Many of them are comfort food and are popular among Japanese for domestic gourmet trips.
Origin of konnyaku shiraae
Hanawa Town, located in Higashi Shirakawa District, Fukushima Prefecture, is known as a konnyaku production area, and the main venus of the "Toemon Festival" in honor of Toemon, who spreaded the method of making konnyaku throughout the town. Toemon Nakajima (中島藤衛門, also spelled as 中島藤右衛門) was born in the mountainous region of Yamagata Morosawa in the middle of the Edo period, and was the person who came up with the idea of turning konjac potatoes unsuitable for distribution into powder and popularized them

The production of konnyaku in Hanawa Town began in the Edo period and is said to have become more popular around 1955. Although the production volume has slowed down compared to its heydays, there are still many mills producing konnyaku in the town, and konnyaku is now a local specialty representating of Hanawa.
As for dishes using konnyaku, "sashimi konnyaku" is one famous example, while "konnyaku no shiraae" is often made at hosueholds. It is made by mixing drained and seasoned tofu and konjac. Tofu is used in dish as if it is a "tofu sauce".

In the past, konnyaku shiraae was prepared for big gatherings such as weddings, funerals, and etc. Currently, it is a dish that can be eaten all year round, but the ingredients used differ depending on their harvest seasons. By the way, until around 1955 when konnyaku production was popular, it is said that konnyaku digging was carried out from its harvest season to around November.
To learn more about this Fukushima local dish, here is a recipe for konnyaku shiraae.
Ingredients for konnyaku shiraae for 4 servings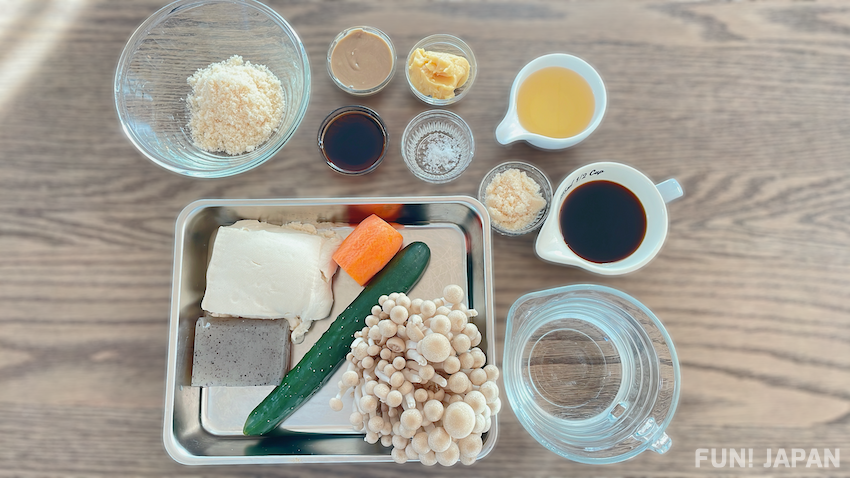 Konnyaku 50g



Firm tofu 1 block 350g
1 pack of shimeji mushrooms
½ carrot
1 cucumber
A little salt for rubbing cucumber
Seasoning:
40g sugar
25g sesame paste
40g white miso
1 teaspoon salt
1 teaspoon light soy sauce
Tsukedashi (soup stock for soaking):

400cc of dashi stock
50cc light soy sauce
50cc mirin
1 tablespoon sugar
How to make konnyaku shiraae - with video clip
Drain the tofu by putting a weight or other item on top for about an hour.



Slice the cucumber and mix it with 1/4 teaspoon of salt. When the cucumbers turn soft after about 10 to 15 minutes, rub them lightly.
Slice the konnyaku and cut into small pieces.
Slice the carrots into 2 to 3-cm lengths.
Remove the stems from shimeji mushrooms and tear by hand.
Add tsukedashi seasonings to the pot, add shimeji mushrooms, carrots, and konnyaku. Boil them over medium heat.
When it boils, discard the scum and simmer over low heat for 10 minutes. Once cooked, let it cool down for a while.
Put the drained tofu in a mortar and add the seasonings. Mix all together and mash until smooth.
Once everything is mixed, add the ingredients from ⑦ along with the prepared cucumber, and mix evenly.
Place on a plate and serve.
[Survey] Traveling to Japan