The CHOYA Ginza BAR, a hideaway umeshu specialty store in Ginza, Tokyo, is full of unique menus!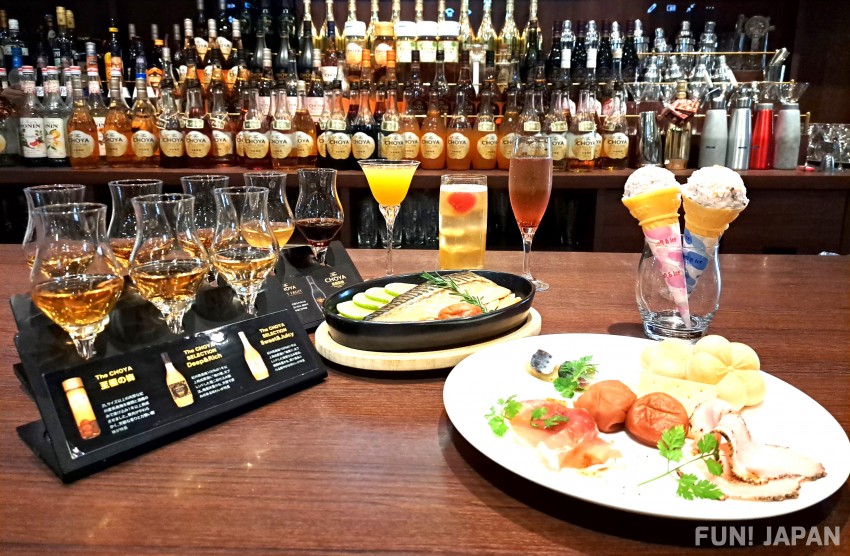 There are many alcohol specialty stores in Japan - from sake and craft beer specialty stores, low-alcohol and non-alcoholic cocktail stores to unique Kahlua milk stores... Out of such many specialty stores, this time, we visited "The CHOYA Ginza BAR" (The CHOYA 銀座BAR) developed by CHOYA UMESHU Co., Ltd., the largest manufacturer of umeshu (plum wine). What is the charm of this umeshu cocktail specialty store that is popular among the younger generation in the prime location of Ginza, a town for grown-ups?
*Ingredients and price information for food and drinks in the article are as of February 2023.
*Alcoholic beverages are only allowed for those who can drink legally according to each country's law. Drunk driving is prohibited by law. Drinking alcohol during pregnancy and lactation may adversely affect the development of the fetus and infants.
First, what kind of liquor is umeshu?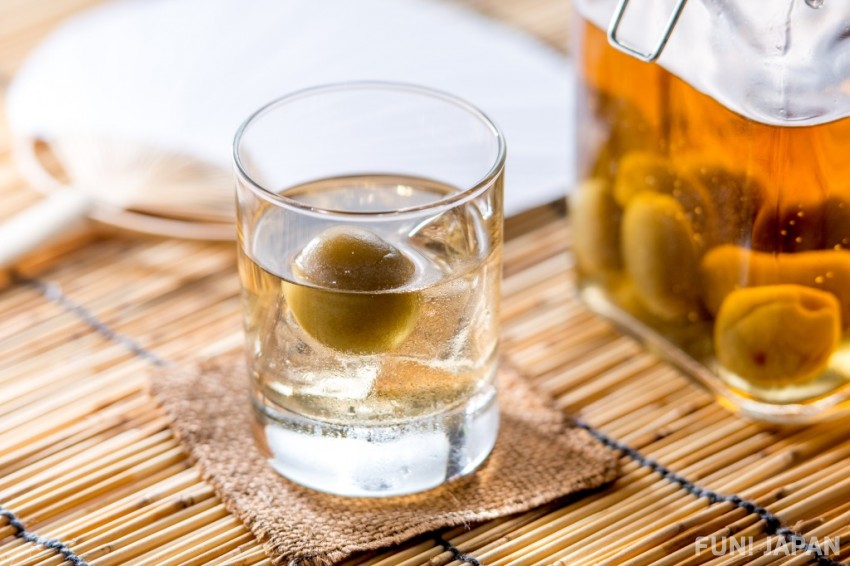 From the beginning of February to the beginning of March, "Japanese plum blossoms" (ume) bloom ahead of the cherry blossoms, giving you a sense of the arrival of spring in Japan. The Japanese plum, or ume fruit, is used to make various processed products, including umeboshi or umeshu, an alcoholic beverage made by soaking unripe and ripe ume fruits. Umeshu usually hit the market from the end of May to the end of June as distilled spirits (generally white liquor, shochu, and brandy).
There is no accurate record of when umeshu became popular, but one recipe for umeshu is recorded in a document called "Honcho Shokkan" (本朝食鑑) written in 1697, more than 300 years ago. At that time, sugar was a very valuable luxury item, so it is thought that only a limited number of people could drink umeshu. As times progressed, the culture of processing ume, such as "umeboshi" and "umeshu", seems to have taken root in Japan. In addition, a book written in the late Edo period mentions "growing profits for farmers by planting ume", indicating that there was a movement to promote ume cultivation and processed products as a side business. In this way, ume processing and umeshu culture were firmly established in Japan more than 300 years ago.
The CHOYA Ginza BAR is the first plum wine cocktail specialty store opened by CHOYA, the largest manufacturer of umeshu
CHOYA, the largest manufacturer of umeshu, has opened up The CHOYA Ginza BAR in 5-chome, Ginza, a town for grown-ups. The bar serves up a variety of ways to drink and paring food for customers to enjoy umeshu, which has been loved in Japan for a long time, .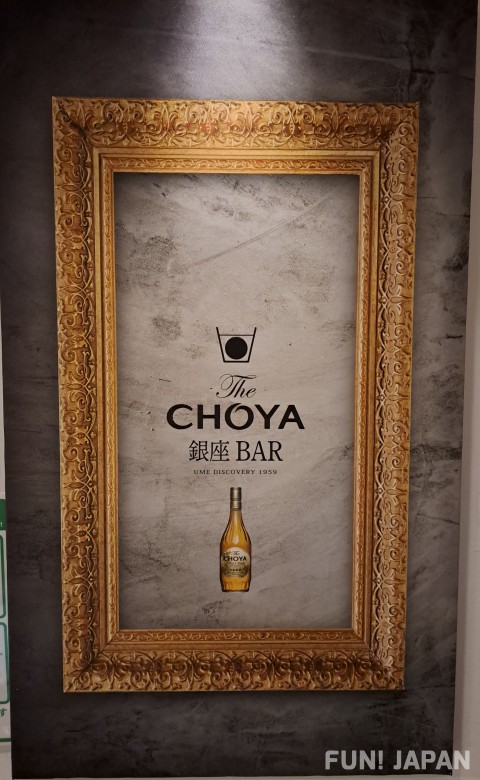 It is located on the 7th floor of a building just off the Ginza 4-chome intersection. As soon as you go up the elevator of the building, a show window with a chic atmosphere appears! Although it is located in the center of the gorgeous Ginza, it has a hideaway atmosphere.


Just like the show window on the outside, the wallpaper inside the store is bookshelf-motif, and the whole of the store from the inside looks like an old overseas library or the study of an aristocratic mansion. It is truly a hideaway for grown-ups with a profound and calm atmosphere!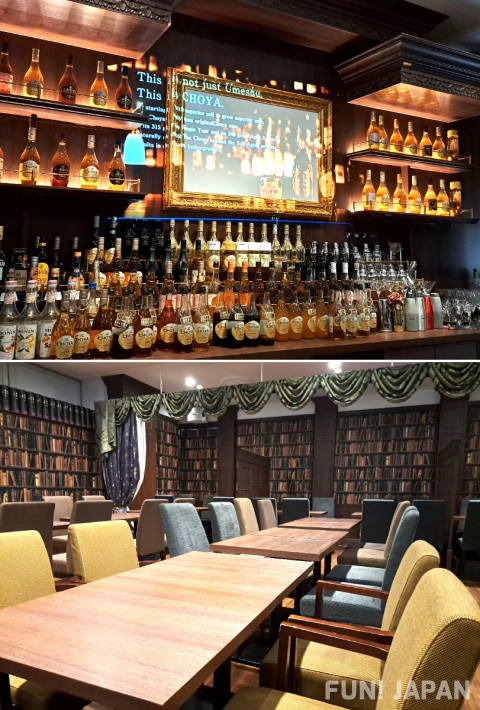 With its location in Ginza and the interior with a grownup-ish hideaway atmosphere, it may seem intimidating at first glance. Indded, there is a wide variety of cocktails using authentic umeshu from "The CHOYA", along with more than 100 kinds of drinks including non-alcoholic drinks and afternoon tea and sweets menus, so even ladies can enjoy drinking. For that reason, it is often used for girls' night outs and dates among young ladies.

Umeshu, cocktails, beer and chuhai are all available! Full of unique and easy-to-drink drink menus!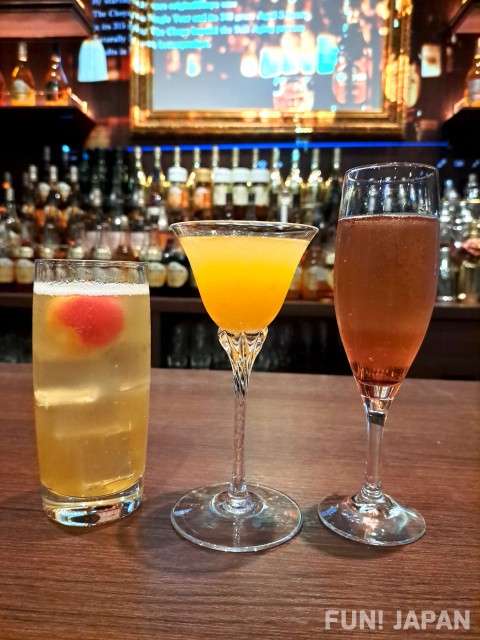 One of the attractions of The CHOYA Ginza BAR is its extensive alcohol menus. For example, despite being umeshu cocktail, there are various things and flavors to match, such as long cocktail like 'The CHOYA Sonic' with frozen plums, in which The CHOYA SINGLE YEAR, plum syrup, sonic water (tonic water + soda), etc. are combined, and a sweet short cocktail like 'Golden Rod', which is a combination of plum syrup and mango juice.

'The CHOYA Royale', a combination of The CHOYA SINGLE YEAR, Crème de Cassis, and sparkling wine, has a refreshing taste with the popping soda, perfect for celebrations and as a first drink for special occasions!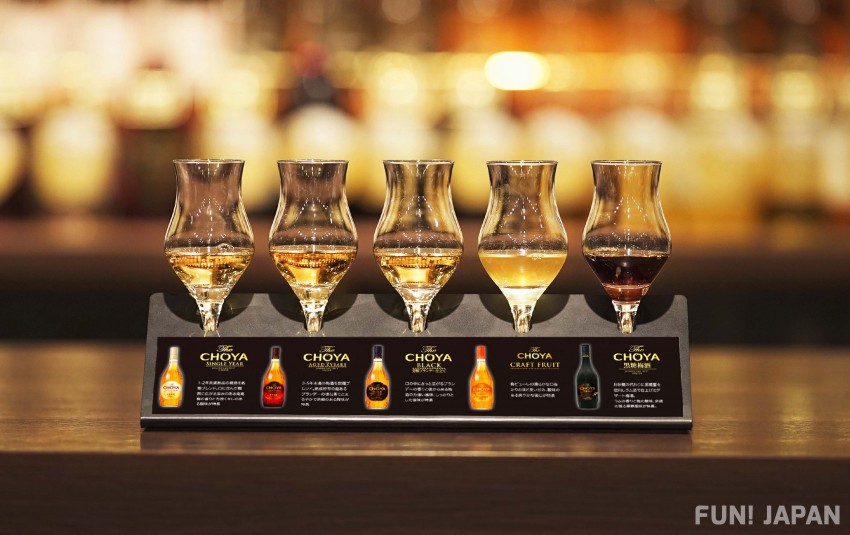 Not only the umeshu drink comparison menu, but also the highballs, lemon sours, and beers are all umeshu-mixed, so it's fun just to check out the lineup of menus that are different from typical izakayas and bars.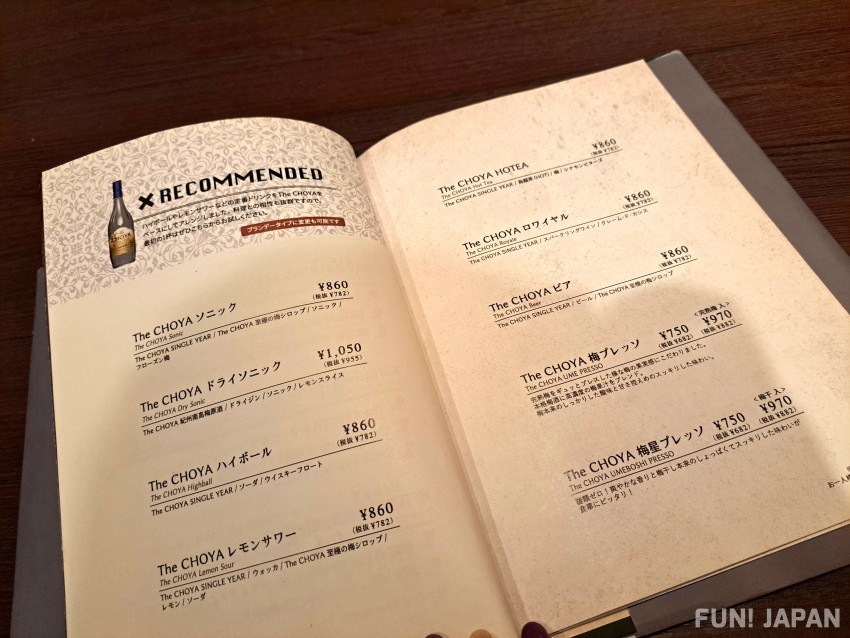 Such extensive drink menu is an idea born from the concept of wanting to expand the possibilities of umeshu, which has only been drunk on the rocks, with soda, and with water, and to have more people enjoy umeshu.

From snacks that go well with plum wine to main dishes, rice, and sweets! Food menus that are fun to pair with drinks
This bar is characterized not only by the drink menus, but also by the use of Japanese plum sauce and dressing in the food and sweets menus, and the use of umeshu as a secret ingredient.


Saba mixed rice (鯖炊き込みご飯 / saba takikomi gohan) is a popular dish in which you can enjoy the flavor and aroma of umeshu mixed with oily mackerel. If you would love to mainly enjoy alcohol, we recommend the Assorted UME Platter (5types) where you can enjoy 5 types of snacks, such as Whipped Cheese with The CHOYA, Smoked Ume, and Pork Pastrami!

By the way, umeshu contains citric acid extracted from ume fruit, as well as vitamin B2, vitamin B6, potassium, picric acid, and polyphenols. And it is said to have antibacterial effects that prevent acne and rough skin, anti-oxidant effects that work against aging, recovery from fatigue, and improvement of immune function. Eating delicious food that is good for health and beauty is just so perfect! Additionally, The CHOYA Ginza Bar uses umeboshi, ume fruit soaked in umeshu, and fully ripened ume for each drink and dish. Even people who are not a fan of its sour taste can eat it deliciously.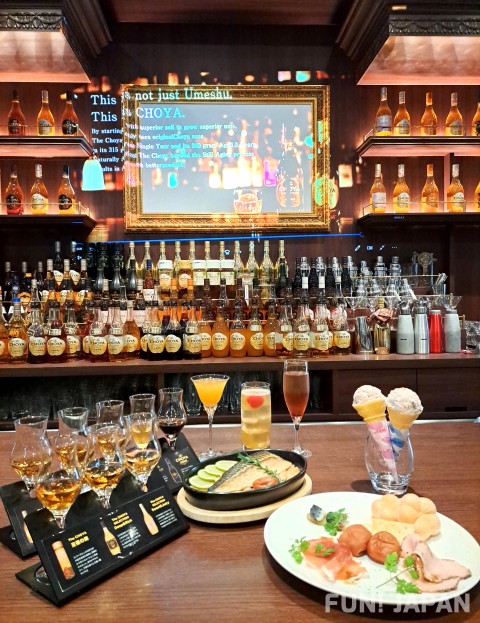 Afternoon tea is another highlight of The CHOYA Ginza BAR. Especially popular is the afternoon tea course with the ultimate smoked ume pudding. In addition to coffee and tea, over 100 types of drinks, including over 50 types of plum wine cocktails using The CHOYA, and over 20 types of non-alcoholic cocktails, are all-you-can-drink for 150 minutes.

The pudding is smoked in a glass dome before being served, so you can enjoy a mature taste that is not too sweet.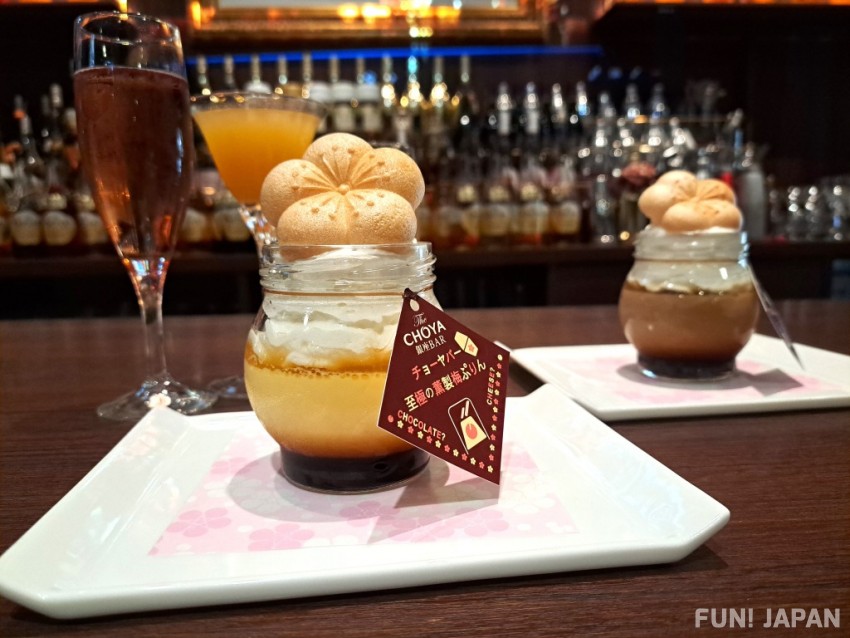 Another popular menu is the afternoon tea course with umeshu cocktail cream soda. Umeshu cocktail cream soda can be ordered separately, so please try it when you have a chance!
* Dessert information is as of December 2022. The contents of the dessert might change depending on the season.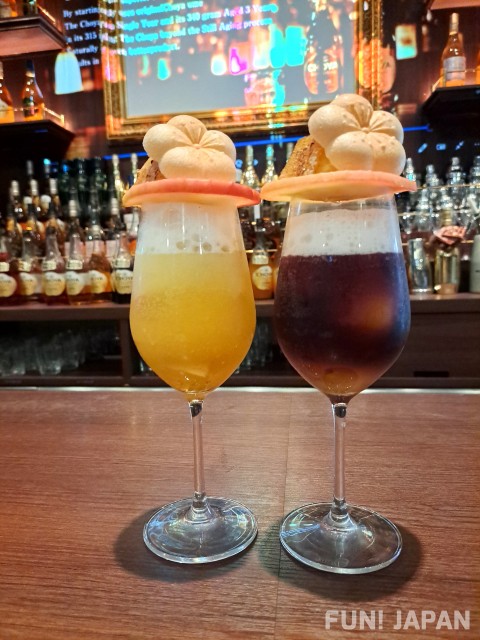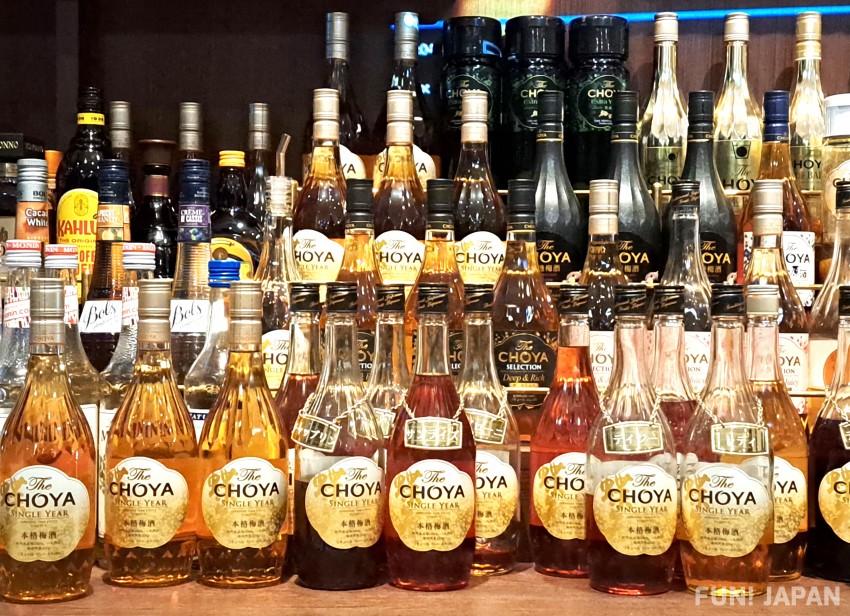 The CHOYA Ginza BAR (The CHOYA 銀座 BAR)
Address: NOCO Building 7F, 5-6-5 Ginza, Chuo City, Tokyo
Access: 1 minute walk from Ginza Station on the Marunouchi Subway Line
Business hours: [Mon-Fri] 16:00-22:00 (L.O. 21:30), [Saturdays, Sundays, and holidays] 13:00-22:00 (L.O. 21:30)

*Alcoholic beverages are only allowed for those who can drink legally according to each country's law. Drunk driving is prohibited by law. Drinking alcohol during pregnancy and lactation may adversely affect the development of the fetus and infants.



Alcohol related articles:

[Survey] Traveling to Japan